Sweet Creamed Corn Casserole is buttery, cheesy, Cornbread goodness that's easy to make and hard to stop eating! It is so good and with such simple ingredients, everyone loves this dish.
A must have at any family gathering, I made this Sweet Creamed Corn Casserole one time and now everyone wants it and it goes quick. A true Southern favorite!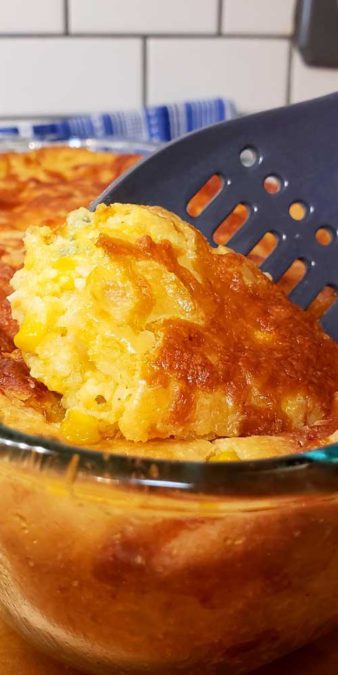 Someone should really call Oprah, she would definitely put this on her "New Favorite Things List".
It's hard to believe not everyone knows about the buttery, cheesy goodness that is this Sweet Creamed Corn Casserole a.k.a. Corn Souffle, Southern Spoon bread, Corn Pudding, or Paula Deen's Corn Casserole…among the other 100 or so names we have seen this under.
I'd not had any of those, ever. How could this be? I don't understand, but I'm happy to have this in my life now and hopefully you will be too!
A few years ago we went to a local restaurant and saw this on the menu. You might have heard of the restaurant if your a fan of Guy Ferrari and "Diners, Drive Ins and Dives". The restaurant is called "Highway 61 Roadhouse" just outside St. Louis, MO in Webster Groves. It's like our own little piece of New Orleans. The decor is awesome; huge murals on the walls, multi color chandeliers hanging everywhere, live music, and the food is to die for.
Guy only covered a few items on the menu from there, this wasn't one of them. When I saw this I thought, "That can't be bad, sounded good in fact."
When it arrived at the table it didn't look like anything to get that excited about, it's really not a thing of beauty. But when I tasted this simple creation, I thought "Where have you been my whole life?"
You don't know whether to be mad because you've never had it before or just be elated because you've found another new favorite thing.
Needless to say I've been making it for every holiday since then, plus a few times in between holidays just because it's that damn good.
It goes quick on holidays too, I mean it literally gets scarfed down and that's a double batch.
It's so easy to make anyone can throw this together in 5 minutes, no chef skills required. In fact the quicker you make it the better, because you don't want to over whisk it, kinda like pancakes if you whisk them too much they'll be flat.
Don't forget to follow along, so you don't miss out! Did you know you can get a notification on your phone now as soon something is published? People are loving this so much, more than the emails clogging up your inbox. If you happened to not accept the notification box earlier…now is a good time to click the small bell in the corner and get signed up!
So without further ado let's get cooking, and be sure to let me know if you love it as much as I do. Updated with more pictures!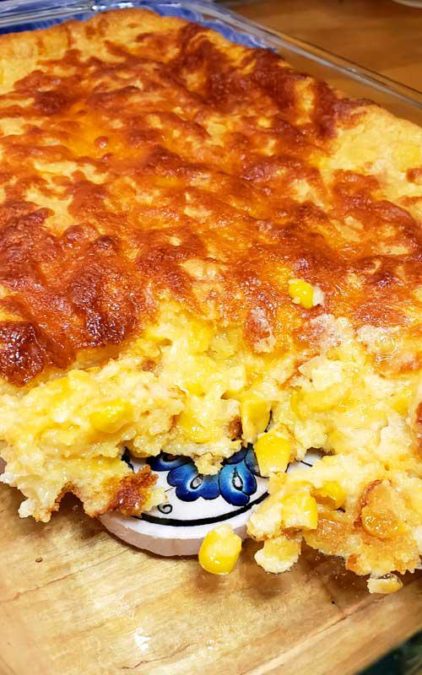 Ingredients
1 can creamed corn (15 oz)
1 can whole kernel corn (15 oz), drained
1 cup sour cream
1 package Jiffy Cornbread
1 teaspoon baking powder (optional)
1 egg
1/2 cup melted butter
1 1/2 cup cheddar cheese, divided
Instructions
Preheat oven to 350 degrees, and lightly grease a 8×8 or 7×11 inch baking dish.
In a medium bowl, combine butter, egg, corn bread mix, baking powder, whole and creamed corn, 1 cup cheddar cheese and sour cream. Pour mixture into prepared dish.
Top with remaining 1/2 cup cheddar cheese.
Bake for 45-50 minutes in the preheated oven, or until the top is golden brown
Notes
This can be doubled and baked in a 9×13 baking dish. Just make sure to cook it 10-15 minutes longer until toothpick poked in the center comes out clean.