The star of this cheesecake is the homemade apple butter swirl that blends beautifully with the smooth and creamy filling. This is an easy and flavorful dessert to make, and there is no need to turn on the oven!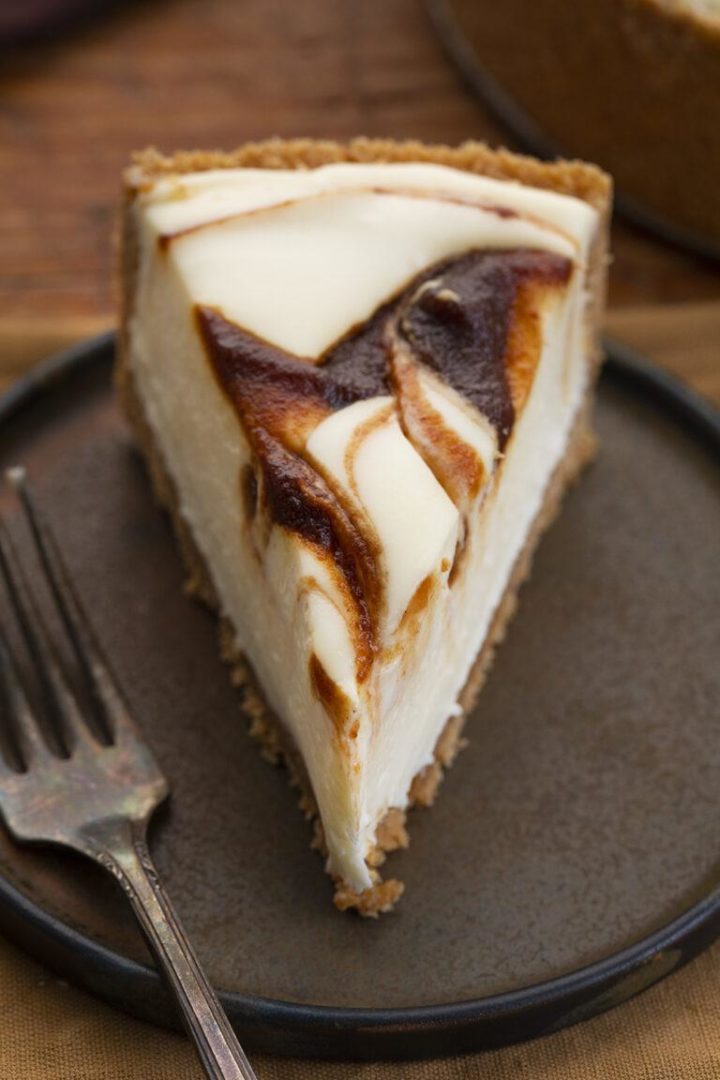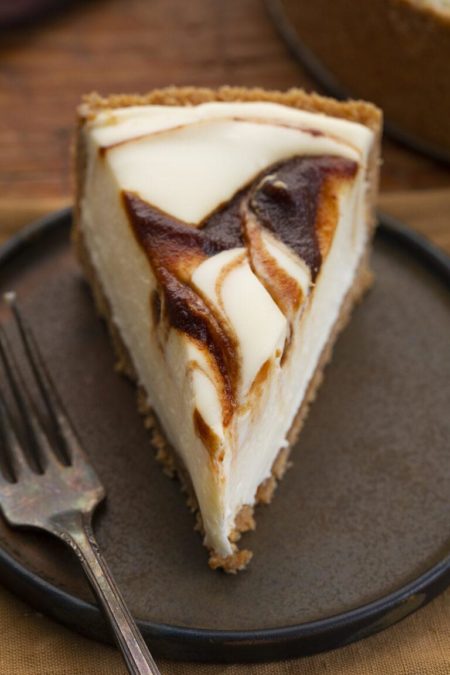 Apple Butter Cheesecake Recipe
The filling for this no-bake cheesecake recipe is made with a special ingredient, heavy whipping cream. I have made several no-bake cheesecakes with the traditional sweetened condensed milk and always find that it tastes a bit different, or noticeable.
Creamy Filling
Cream cheese
Granulated sugar
Heavy whipping cream
Fresh lemon juice–I don't recommend using a store-bought lemon juice as it doesn't work as well and you can almost taste the difference.
Apple Butter – Make your own apple butter for a flavor better than any storebought spread!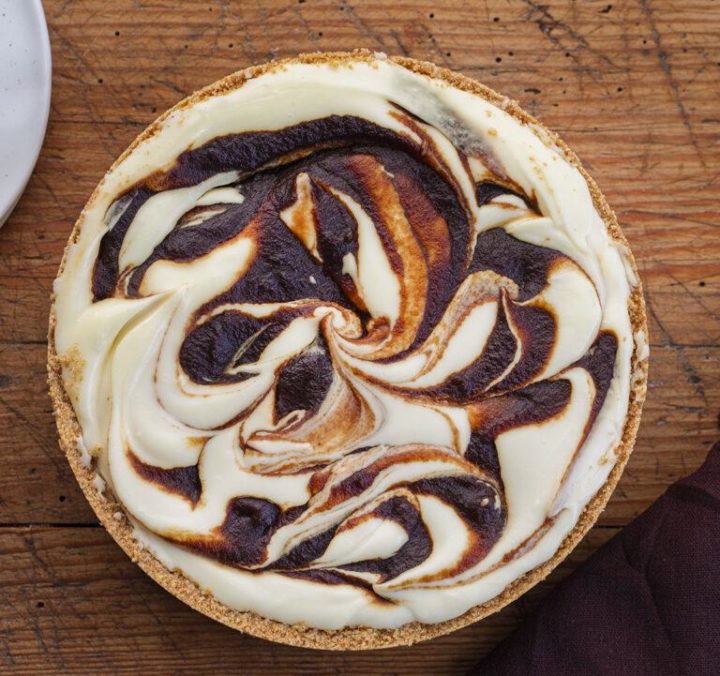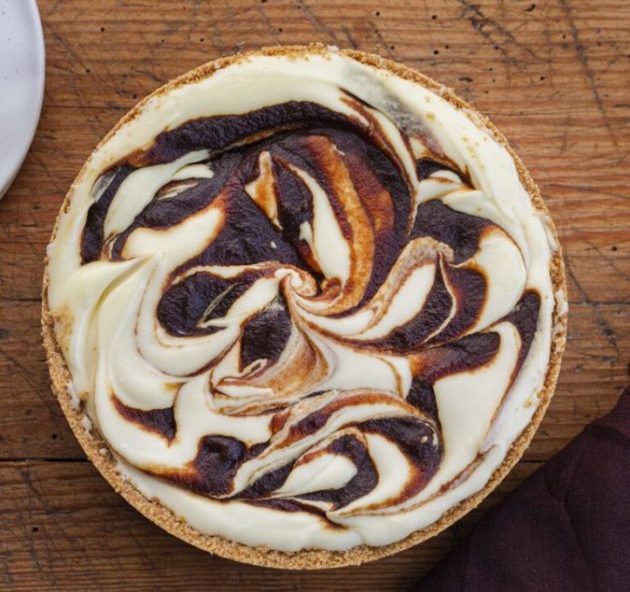 How to Make the Graham Cracker Crust
If possible, make your own crust. The store-bought crusts are okay, but they just aren't up to par with the homemade ones. To make the graham cracker crust, you could buy the graham cracker crumbs or crush about 16 full sheets of crackers.
If you have to crush your own crackers, add them to a food processor and process until you have a fine crumb. You could also use a rolling pin to roll over the cookies that are in sealed plastic baggies to get them into fine crumbs. A hammer also works, but just gentle taps!
Combine the crushed crackers, cinnamon, and melted butter in a medium bowl until the mixture is combined. When mixing together the ingredients (with a fork), make sure every single graham cracker crumb is coated in butter. The butter acts as the binding agent. When you see recipes that have piles of graham crackers left on the plate, it is usually because they were not coated with butter.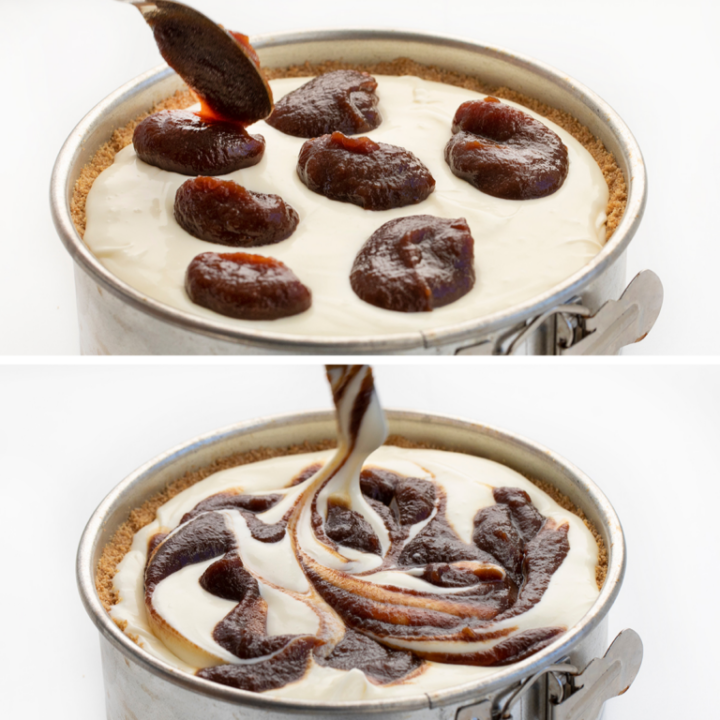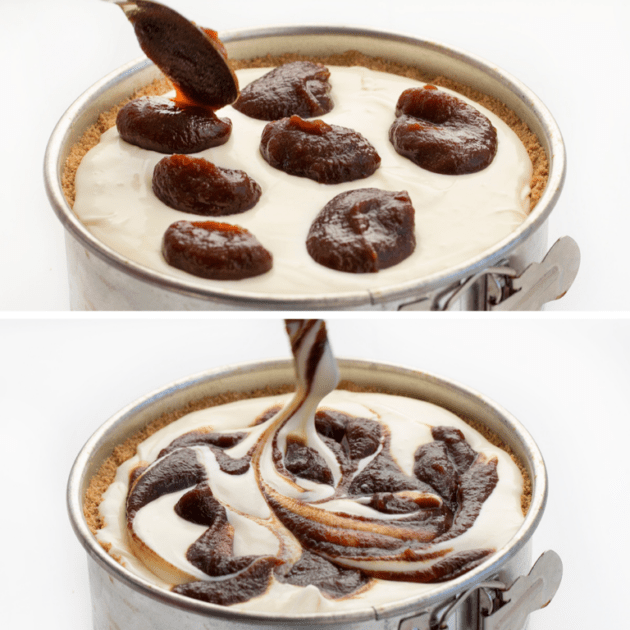 How to Make Apple Butter Cheesecake
After you have the graham cracker crust made press it into and up the sides of an 8-inch springform pan. Next, get the crust filled with the apple butter cheesecake!
To make the filling, first, beat the cream cheese and sugar with a hand-held mixer. It should be mixed until smooth and creamy. Next, stir in the heavy cream and fresh lemon juice. Spread the mixture into the crust and add dollops of apple butter on top. With a knife or offset spatula, swirl the apple butter into the cheesecake. Be careful not to scrape the crust as you are making the swirls.
Because we are using heavy whipping cream in this recipe it is essential that it chills in your refrigerator for at least 6 hours before serving. Overnight works best! Eat it as-is, or add a little homemade whipped topping to the top.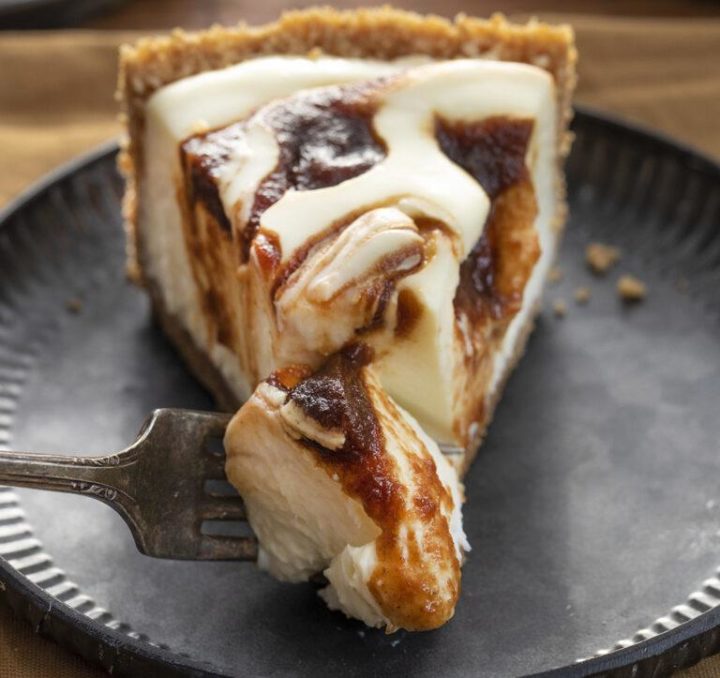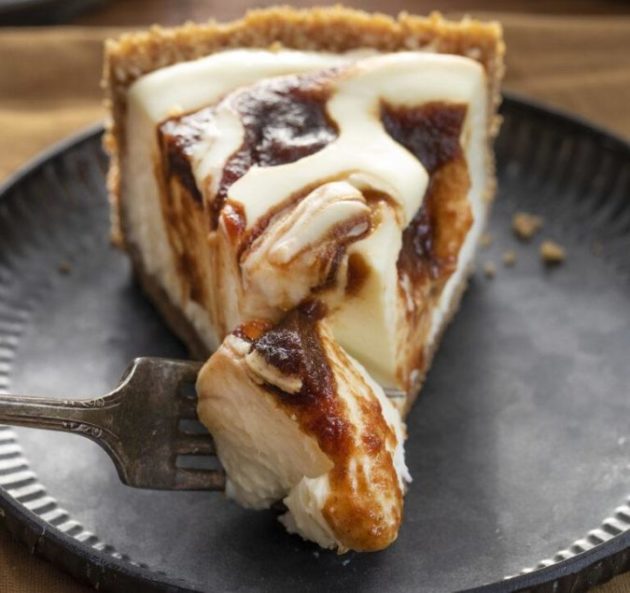 How to Store Cheesecake
Cheesecakes are rich and filling, so even though you may want to eat the entire cheesecake in one sitting, it's not always (if ever) possible. So, how do you store it to eat when you are craving a bite later?
One easy way is to cover the cheesecake and store it in the refrigerator for a day or two. If you tightly wrap the cheesecake in plastic wrap or store it in an airtight container, it will last up to 3 days in the fridge. You can also freeze a cheesecake.
To freeze a cheesecake:
Place the cheesecake (uncovered) in the freezer for about an hour.
After the hour in the freezer, take the cheesecake out of the pan (you may have to pry it out with a knife), and wrap it tightly in plastic wrap.
Place the wrapped cheesecake into a zipped freezer bag or wrap it in aluminum foil. Be sure to label and date the cheesecake. It will last up to 6 months in the freezer.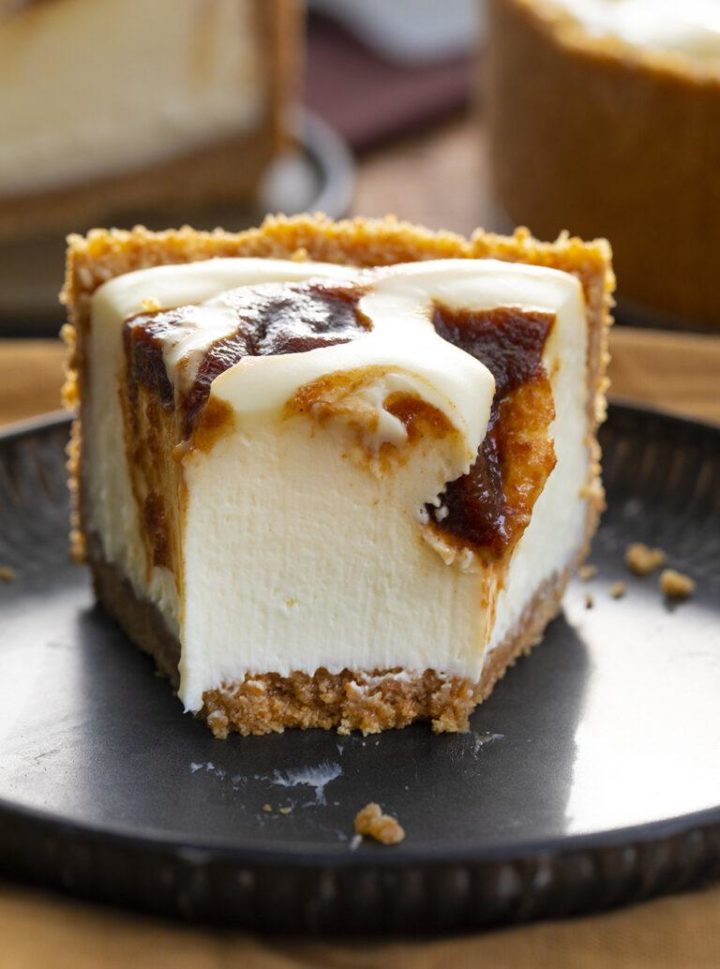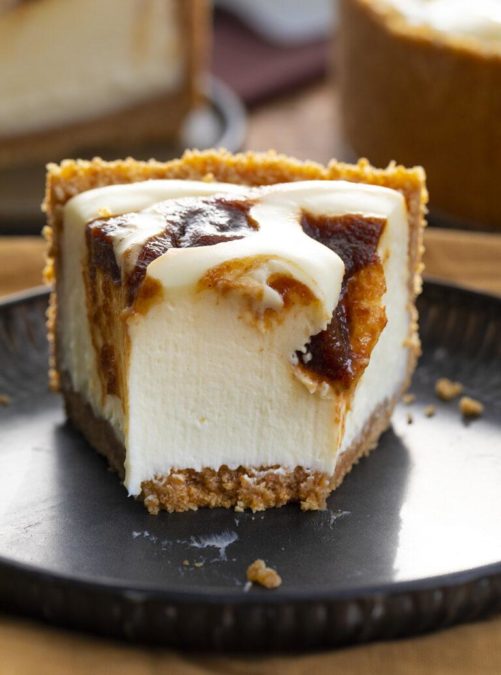 INGREDIENTS
CRUST
16 full graham cracker sheets, crushed (approximately 3 cups)
½ teaspoon cinnamon
½ cup (1 stick or 113g) unsalted butter, melted
FILLING
2 packages (16 ounces total) cream cheese, softened
1 cup (200g) granulated sugar
2 cups (476g) heavy whipping cream
¾ teaspoon fresh lemon juice
½ cup apple butter
INSTRUCTIONS
Spray an 8-inch springform pan with nonstick cooking spray.
CRUST
In a medium bowl, combine the graham cracker crumbs and cinnamon. Add the melted butter to the crumbs. Using a fork, mix well. (You want every crumb coated in the butter as this will be the glue that holds it together.)
Pour the graham cracker crumbs into the sprayed springform pan. Pat them flat with your hand and then use a kitchen glass to press flatter. Start at the center and work out to and up the sides. Set aside.
FILLING
In a large mixing bowl, beat the cream cheese and sugar with a hand-held mixer until creamy and smooth.
Add in the heavy cream and lemon juice and beat for 1-2 minutes, or until fluffier.
Pour the cheesecake mixture into the prepared crust.
Top with dollops of apple butter. Using a knife or offset spatula, swirl the apple butter into the filling, being careful not to scrape the crust.
Refrigerate until the filling is firm and cold, about 6 hours to overnight, before cutting and serving.