This easy recipe is so hearty and filling and just perfect for chilly weather! Loaded with three types of beans, bacon, and beef, this family favorite is frequently served up at holiday gatherings, potlucks, and parties and is a must for game day.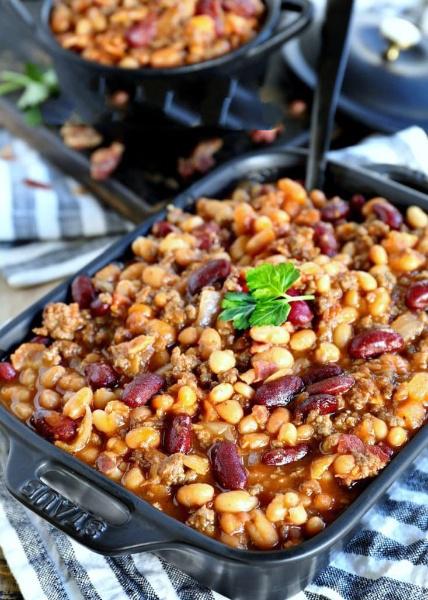 If you've never had Cowboy Beans before you're in for a treat. They are also called Calico Beans or even Calico Beans Casserole depending on your region.
What they are is HEAVEN.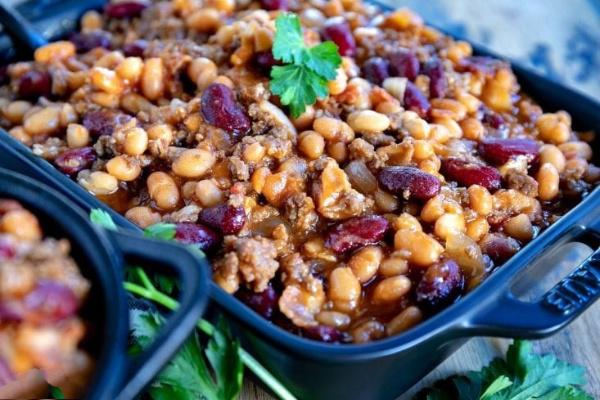 What Goes Into Cowboy Beans?
It's a seemingly simple combination of ingredients including canned beans that come together in the most glorious of ways. Here's what you'll need:
ground beef – I like to use lean ground beef but any will work as it gets cooked and drained before being added to the slow cooker.
bacon – because, why not? No, seriously. The bacon adds so much flavor to this Cowboy Beans recipe – don't leave it out!
onion – where there is bacon there should be onion, right?
kidney beans – make sure to drain and rinse your beans
white beans – there is some family debate about which beans to use here. Some use butter beans, some lima beans, I prefer white beans. But as you can probably tell, any beans will work here. Black beans would be delicious!
pork 'n beans – you'll need two cans and they should NOT be drained. Throw the whole can in there.
ketchup – helps create the sauce and thickens it a bit.
brown sugar – a nice touch of sweetness to balance out all this savory going on here.
liquid smoke – it's the combination of ketchup, brown sugar and the liquid smoke that gives these Calico Baked Beans their "barbecue" flavor. I like to use about a tablespoon, my Uncle Tim uses about two tablespoons.
barbecue sauce (optional) – I didn't add this to the ingredients below but if you'd like, a half cup or so of your favorite barbecue sauce can be added.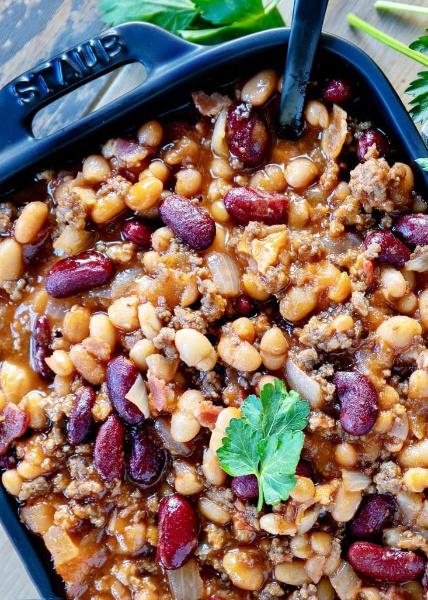 Are Cowboy Beans Chili?
These Calico beans or Cowboy Beans are not chili but can be treated like a chili would. Therefore, feel free to eat by itself or serve along with Fritos, tortilla chips, sour cream, cheddar cheese, etc. You're going to love how it's so filling and leftovers are even better the next day.
You can serve the Cowboy Beans right out of the crockpot on game day or scoop them into a serving dish for the family to serve themselves at the table. It's an anything goes kind of recipe. My favorite kind actually.
Can Cowboy Beans Be Made In The Oven?
Absolutely! Basically they become "baked beans". First you'll need to follow the first three steps in the instructions below using a dutch oven or large oven safe pot. Next, you'll add all of the remaining ingredients, stir, and place in a 350 degree oven for about an hour. Finally, just serve as you would chili!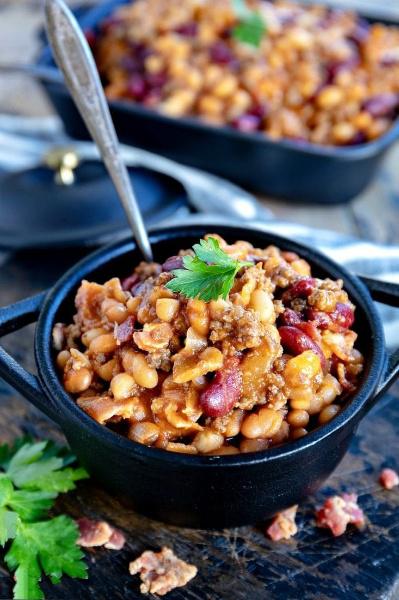 Ingredients
1 lb lean ground beef
12 oz bacon
1 med onion diced
16 oz can kidney beans drained and rinsed
16 oz can white beans drained and rinsed
32 oz pork 'n beans
1 cup ketchup
1/4 cup brown sugar
1 to 2 tbsp liquid smoke
Instructions
In a large skillet, brown ground beef. Drain and set aside.
Add bacon to the skillet and cook 5 to 7 minutes or until cooked through, stirring frequently.
Add onions and cook an additional 4 to 5 minutes or until onions are soft and translucent.
Add ground beef and bacon mixture to a large 6 quart slow cooker.
Add pork 'n beans, drained kidney and white beans, ketchup, brown sugar and liquid smoke.
Stir gently to combine. Place lid on slow cooker and cook on low for 4 to 5 hours or on high 2 to 3 hours, stirring as needed. If the mixture seems a little dry, add a few tablespoons of water.
Serve with tortillas chips, corn chips, sour cream, cheese, whatever you want. Anything goes!