Adding cream cheese to an amazing chocolate bundt cake makes for the best cake ever! I think you are going to flip over this Chocolate Bundt Cake with Cream Cheese Filling.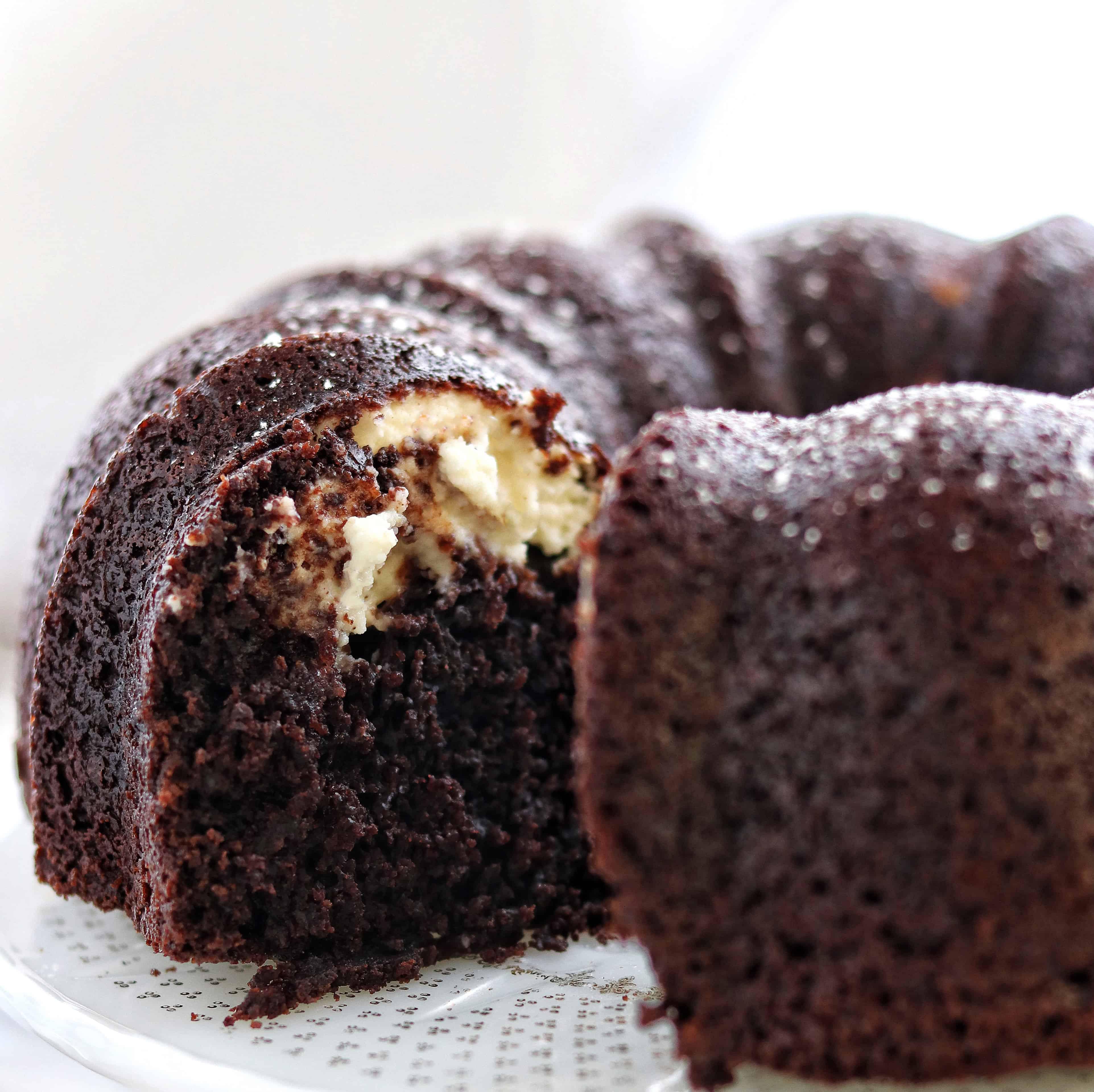 I can't say enough good things about this recipe. It has the perfect crumb, almost falling apart in your mouth. Let's talk about the ingredients:
granulated sugar
all-purpose flour
baking cocoa
baking soda
baking powder
kosher salt
large eggs
strong brewed coffee (my preference)
buttermilk
vegetable oil
McCormick vanilla extract
The eggs and buttermilk should be room temperature. If you happen to be short on time, try dropping your eggs into warm water for about 5 minutes. You could heat up the buttermilk in the microwave, I do this on 50% power and for 10 seconds at a time making sure I stir between each heating. It should not take more than 30 seconds. Or, if you have some time, make your own homemade buttermilk!
I highly recommend double sifting your flour. What is double sifting? Well, as flour sets it becomes more compacted or settles. Double sifting not only breaks up clumps, but it adds air to the flour which helps produce a lighter cake. Sift your flour, sift it again, and then measuring to ensure an exact measurement. You can sift flour by stirring and lifting gently with a fork or by adding a rough measurement to a strainer. Be sure to measure the flour for the recipe again after sifting.
Why Coffee in Chocolate Bundt Cake
I talk about this over and over again, so I apologize if I am a broken record. You cannot taste coffee in chocolate cakes, the addition of the hot crewed liquid simply enhances the cocoa flavor. If you do not drink coffee there are a couple of options; you can use hot water by itself or you can use espresso powder. If choosing the espresso powder, use about 2 teaspoons and mix it into the hot water.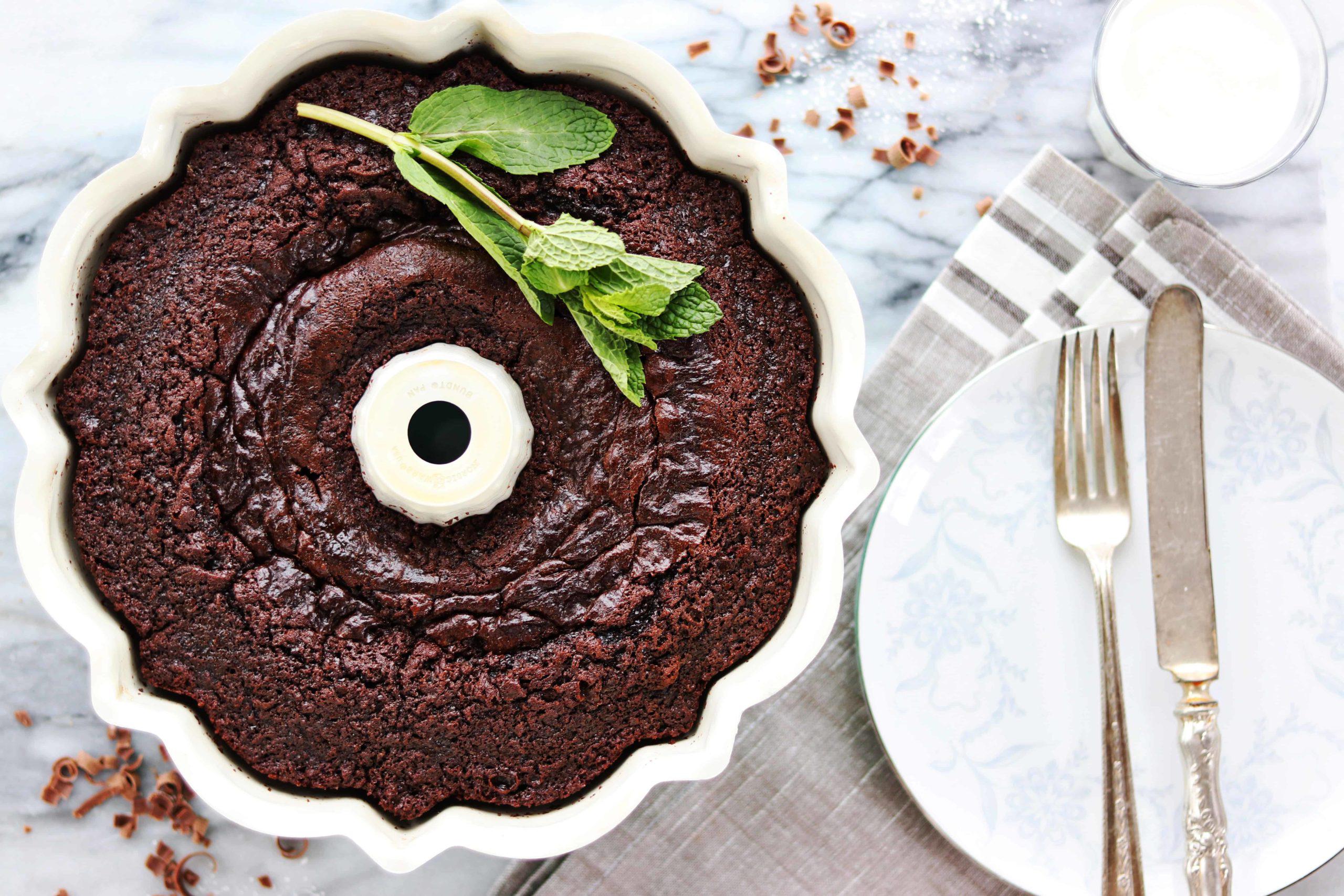 How to Prepare a Bundt Pan
A great way to prepare a bundt pan is with GOOP (as grandma calls it) or Pan Release. The recipe is simple and when you make it can be stored right in the refrigerator. I spread a generous coat around the bundt pan with a pastry brush. One important aspect of using Goop is when to remove the bundt cake. I prefer to let the cake set in the pan for up to 5 minutes, then invert onto a cooling rack. When allowed to cool to room temperature in the pan, I have found that it doesn't release as beautifully.
You can also use the traditional butter + flour method, which is buttering the pan generously then adding about a 1/4 cup cocoa powder. (Only for chocolate cakes, otherwise, use flour) Slowly turn the pan around and around making sure the cocoa powder covers every nook and cranny. Tip if over a garbage and shake out the excess.
You can also use bakers spray, which is an aerosol pan release spray. There is even a "bakers" version (says it contains flour) and that seems to work best on cakes.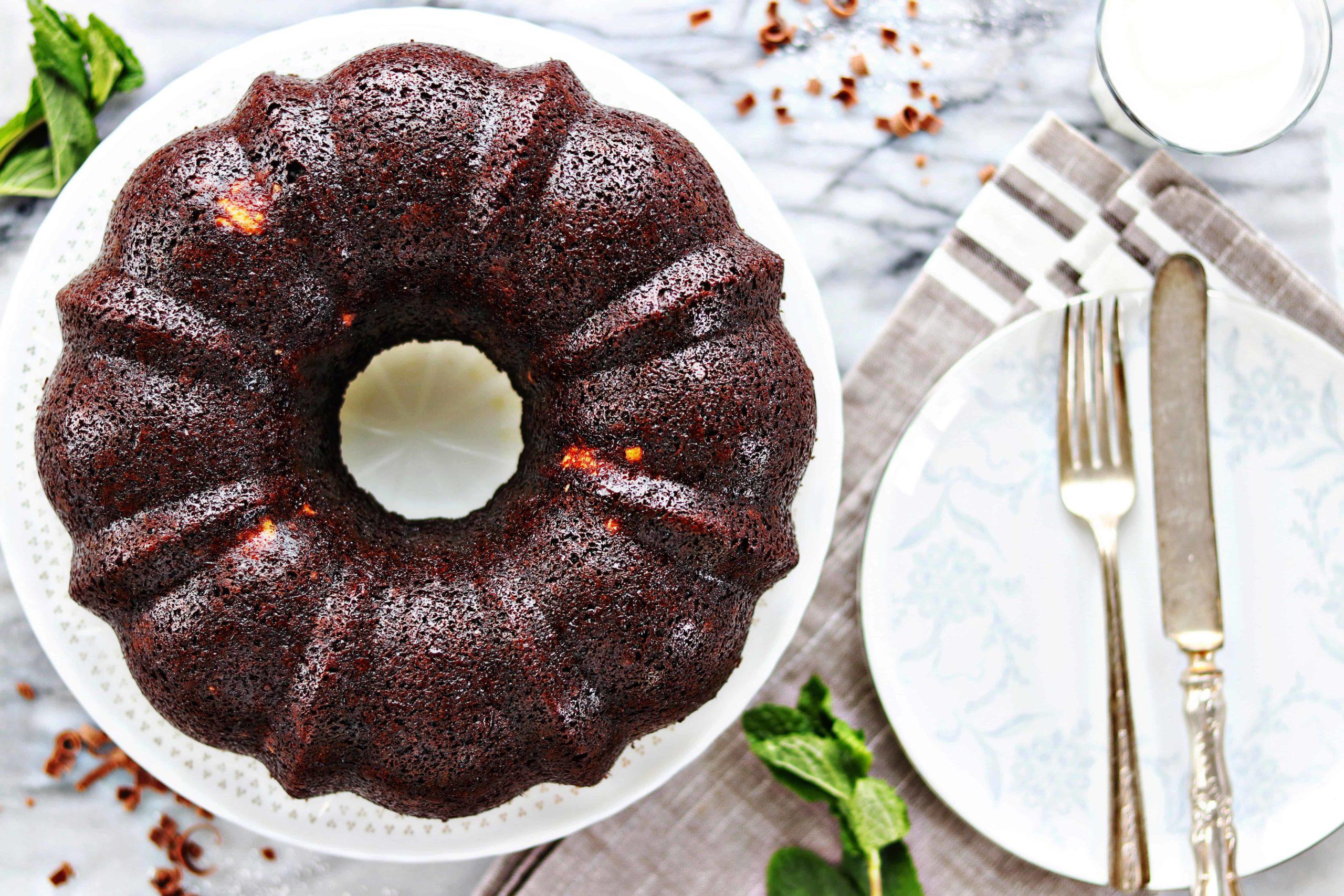 Cream Cheese Filling
I love that you can see the cream cheese poking through the pan in the image above, almost letting folks know there is a surprise inside! If that is not something you want to see, covering the cake in a rich, thick ganache is a wonderful option.
It is important to use room-temperature cream cheese for this recipe. Cold cream cheese could be lumpy and no one wants to bite into cream cheese filling. If you can't set out the cream cheese a couple of hours before baking, you can submerge the entire package (just make sure it's sealed!) into hot water for about 10 minutes. I don't recommend microwaving, as there are usually hot spots and cooked cream cheese bits.
The directions for this cake recommend allowing the cake to cool in the pan for a couple of minutes (5-10) and then inverting onto a cooling rack. Once the cake is room temperature, you place it in the refrigerator for at least an hour or up to overnight. I have found that this cake is best served when the cream cheese is room temperature or cold.
FUN TIP: Chill the cake until cool. When you are ready to serve, slice a piece and pour warm ganache over top. This is one of our favorite ways to enjoy this cake!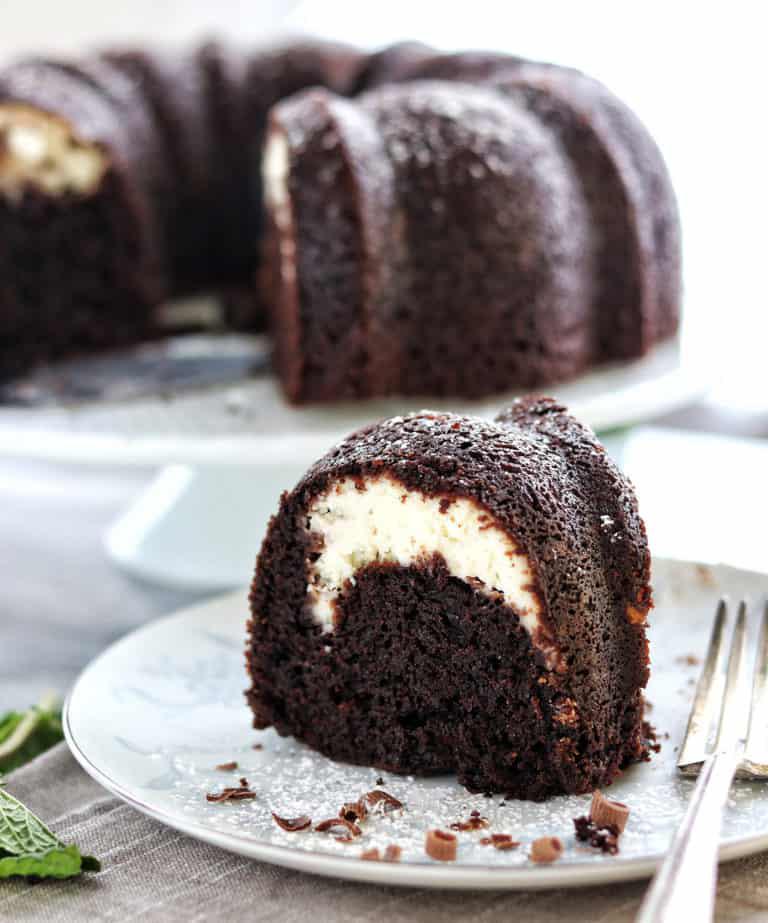 I can't stress enough that this cake needs to be made with room temperature ingredients. This will ensure easier mixing and helps achieve that perfect crumb. You will also want each ingredient to be fully incorporated before adding the next. I prefer to stir the ingredients by hand so that I can be gentle with my batter.
INGREDIENTS
1¾ cups (375g) granulated sugar
1¾ cups (219g) all-purpose flour
¾ cup (65g) unsweetened cocoa powder
2 teaspoons baking soda
1 teaspoon baking powder
1 teaspoon kosher salt
½ cup (109g) vegetable oil
2 large (or extra large) eggs, room temperature
¾ cup (173g) sour cream
½ cup (123g) buttermilk
½ cup (119g) prepared coffee
CREAM CHEESE FILLING
12 ounces (340g) cream cheese, softened
¼ cup (50g) granulated sugar
1 teaspoon McCormick vanilla extract
INSTRUCTIONS
Preheat the oven to 350°F.
In a large bowl, whisk together sugar, flour, cocoa powder, baking soda, baking powder, and salt. Set aside.
In a separate bowl, whisk together oil, eggs, sour cream, and buttermilk.
Pour the wet ingredients into the dry ingredients and stir to combine. Add the coffee, and whisk until the batter is completely combined. Set aside.
In a separate bowl and using a hand-held mixer, beat the cream cheese until it is smooth. Add in the sugar and vanilla and stir until combined.
Pour HALF of the chocolate batter evenly into the prepared bundt pan.
Spoon on the cream cheese filling and carefully spread it evenly on top, avoiding the sides of the pan.
Pour the remaining half of the chocolate batter evenly on top.
Bake for 55-60 minutes or until a toothpick inserted into the cake comes out mostly clean. (I like to use a long skewer here so that I can test the cake below the cream cheese.)
Remove from the oven and allow to cool for a few minutes in the pan. Invert the chocolate bundt cake onto a serving plate. Allow the cake to cool completely, then refrigerate for 2 hours.