Crockpot Peppered Meatballs are homemade meatballs smothered in a creamy, peppery sauce served over pasta noodles.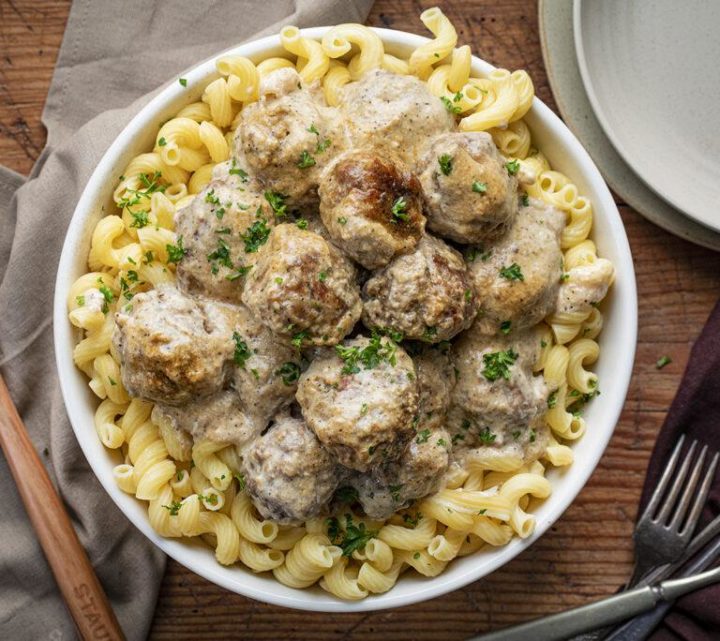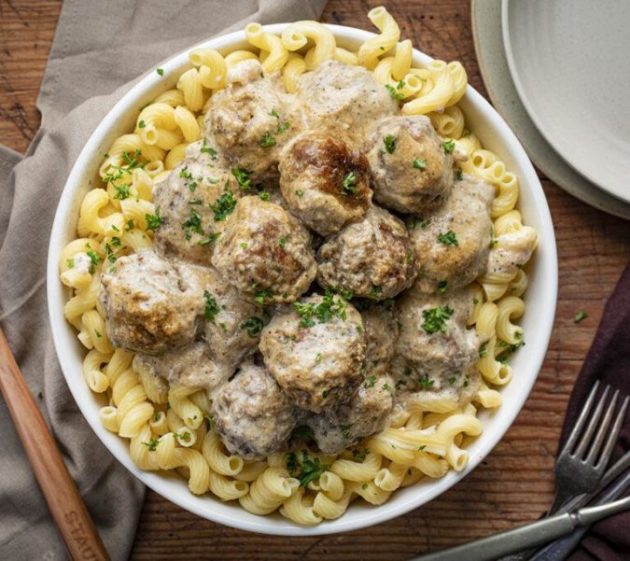 CROCKPOT PEPPERED MEATBALLS
I started with homemade fully cooked, basic beef and pork meatballs for this recipe. Then I sauced them up with some cream of mushroom soup, sour cream, and seasonings. It's nice to have a meal you can have in the slow cooker, ready to be served when you are ready to eat.
Note: You can absolutely buy premade meatballs to use in this recipe to make it 1000 times easier.
CROCKPOT PEPPERED MEATBALLS INGREDIENTS
This recipe is for fully cooked homemade meatballs. If you are using pre-cooked, frozen meatballs, you can put them right in the crockpot to cook. You can also let them thaw in the refrigerator overnight.
Whether you are using homemade or storebought frozen meatballs, make sure they are fully cooked before putting them in the slow cooker. Do not put raw meatballs in the crockpot; they will not cook fast enough and spend too much time in the food 'danger zone', which allows bacteria to multiply.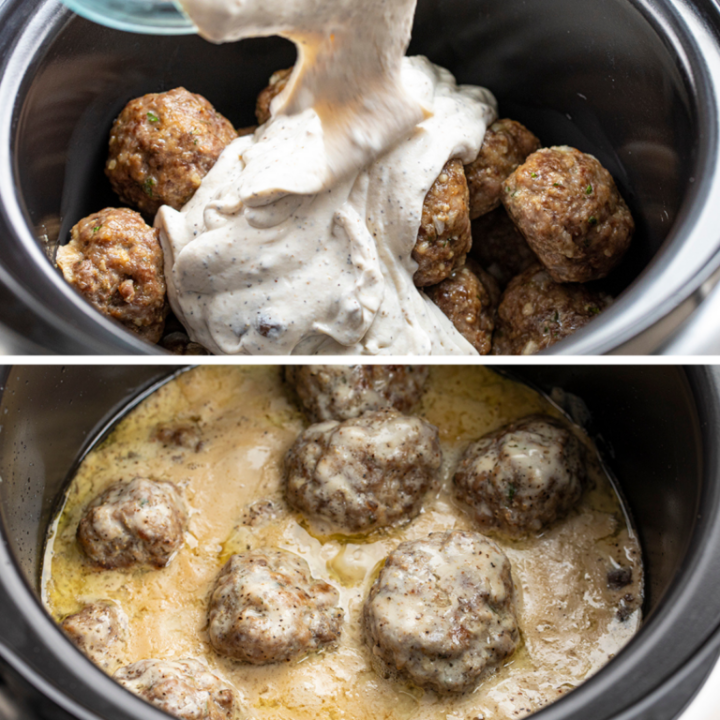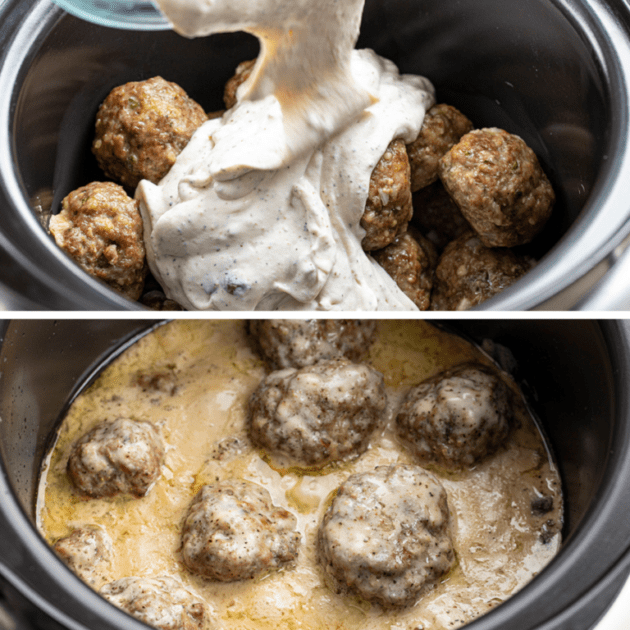 HOW TO MAKE MEATBALLS
It's easy to make these meatballs. In fact, you will probably choose to make your own meatballs from now on and skip the frozen ones. First, combine the ground beef, ground pork, egg, cheese, parsley, and salt in a large bowl. Then, in a separate bowl, combine the milk, breadcrumbs, garlic, and onion. Add the milk mixture to the ground beef mixture. Don't overmix all the ingredients. If you overmix the ingredients, it will make the meatballs tough.
I would suggest that you grease your hands before you start forming the meatballs. Finally, place each ball on a parchment-lined baking sheet to be baked. I was able to make 24 meatballs out of this batch, but it does depend on how big you want to make them. Just double-check that each meatball reaches an internal temperature of 165°F. Depending on the size of each meatball will determine the baking time.
You can choose to freeze the cooked meatballs until you are ready to make the crockpot peppered meatballs. Or, you can add them to the slow cooker after cooking them. To freeze the cooked meatballs, let them cool down completely. Put them into freezer bags and freeze them for up to 3 months. Remember to date the bags so you know how long they have been in the freezer!
Friendly reminder, you can use store-bought meatballs if you don't want to make them from scratch.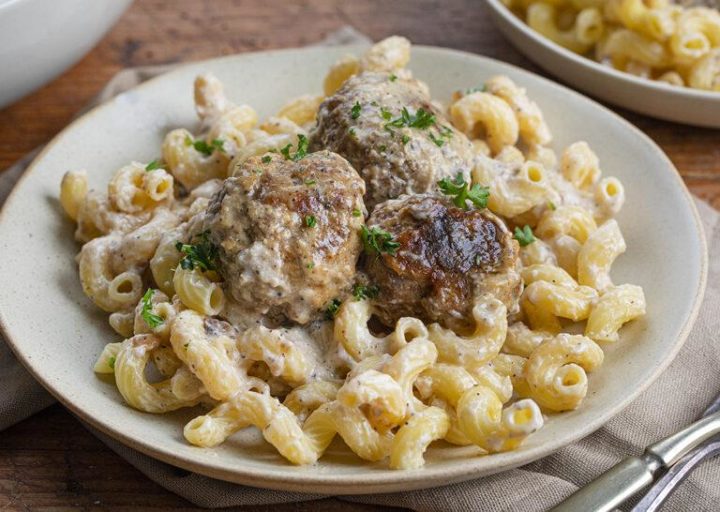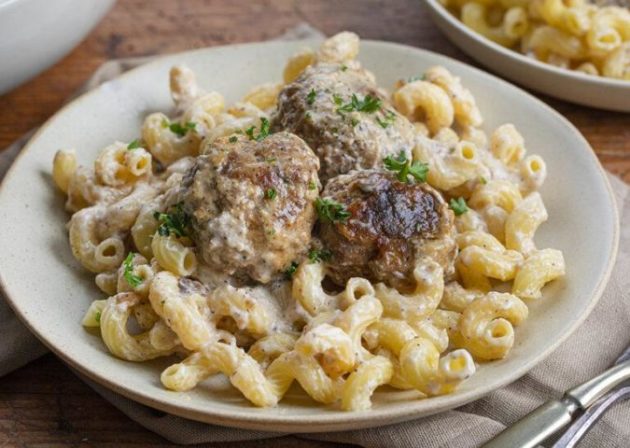 HOW TO MAKE CROCKPOT PEPPERED MEATBALLS
After you have the meatballs cooked, it's easy to get them in the crockpot with the delicious pepper sauce. Place the meatballs into the slow cooker. In a bowl, mix together the cream of mushroom soup, sour cream, onion powder, sugar, pepper, garlic powder, and salt.
Pour the sauce into the crockpot over the meatballs. To save some time (and a dirty dish) simply dump all the sauce ingredients into the crockpot with the meatballs. Cover and cook on high for 2-3 hours or on low for 5-6 hours. When ready, cook the pasta noodles al dente and serve topped with the meatballs and pepper sauce. Garnish with fresh parsley.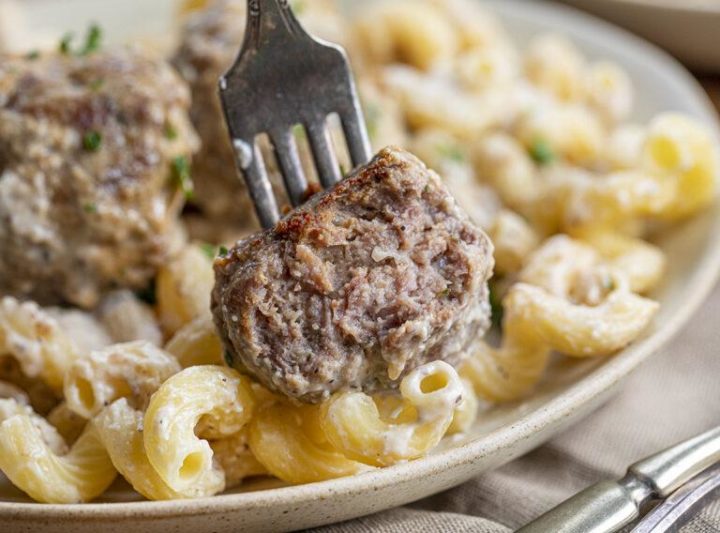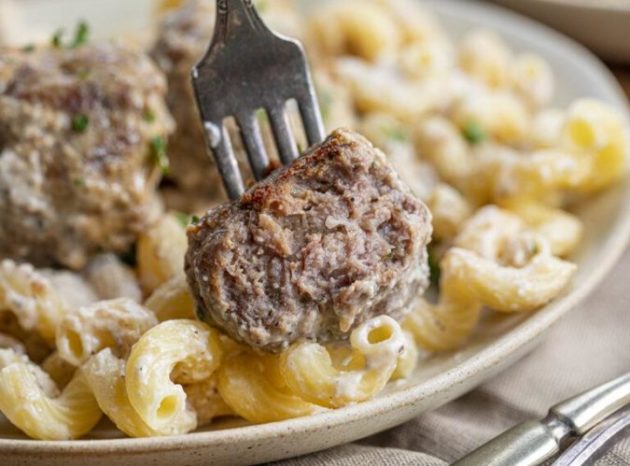 Ingredients
Meatballs
1 pound ground beef
1 pound ground pork
1 large egg, beaten
½ cup grated parmesan cheese
2 tablespoons flat-leaf parsley, chopped
2 teaspoons salt
½ teaspoon black pepper
½ cup milk
½ cup fine dry breadcrumbs
2 cloves garlic, minced
¼ cup onion, finely chopped
Sauce
1 can (10¾ ounces) cream of mushroom condensed soup
1 cup sour cream
2 teaspoons onion powder
½ teaspoon granulated sugar
2 teaspoons black pepper
¼ teaspoon garlic powder
1 teaspoon kosher salt
Pasta
16 ounces Cavatappi noodles, cooked al dente
Instructions
Meatballs
Preheat the oven to 350°F. Line a baking sheet with parchment paper. Set aside.
In a large bowl, combine ground beef, ground pork, beaten egg, cheese, parsley, salt, and pepper. Mix together until just combined.
In a medium bowl, combine the milk, breadcrumbs, garlic, and onion.
Add milk mixture to the meat mixture being careful not to overwork ingredients.
Form into desired size meatballs, greasing hands before starting to keep the meat from sticking, and place on the parchment-lined baking sheet.
Place in preheated oven and roast until the outsides are browned and they read 165°F on a meat thermometer (about 25 minutes).
Sauce
In a mixing bowl, combine the sauce ingredients until mixed well.
Assembly
Place the cooked meatballs in the slow cooker. Top with the pepper sauce and cook on high for 2-3 hours (or on low for 5-6 hours).
When ready, cook the pasta al dente. Serve the peppered meatballs over the cooked pasta. Garnish with fresh parsley (optional).