This easy one pot Chicken Enchilada Soup is ready to enjoy in under 30 minutes! This soup is loaded with shredded chicken, black beans, sweet corn, and tomatoes all simmered in a perfectly spiced, cheesy enchilada broth – and don't forget the toppings! This is sure to be a new family favorite! Love soup? Make sure to try my Zuppa Toscana Soup and Crockpot Chili!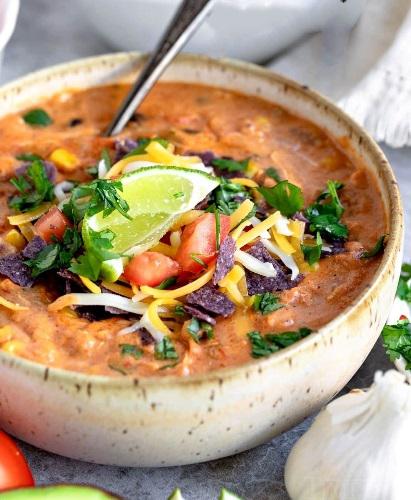 Chicken Enchilada Soup
This easy one pot dinner is a family favorite! Loaded with chicken, beans, corn, cheese, and TONS of flavor, this easy, cheesy Chicken Enchilada soup recipe will quickly become a new favorite in your home.
Enchiladas have been a long-time favorite in our house. We make them all the time because they're quick, easy comfort food. But you know what? This soup rivals the real thing and it tastes amazing. You simply can't go wrong with enchilada flavors in a soup!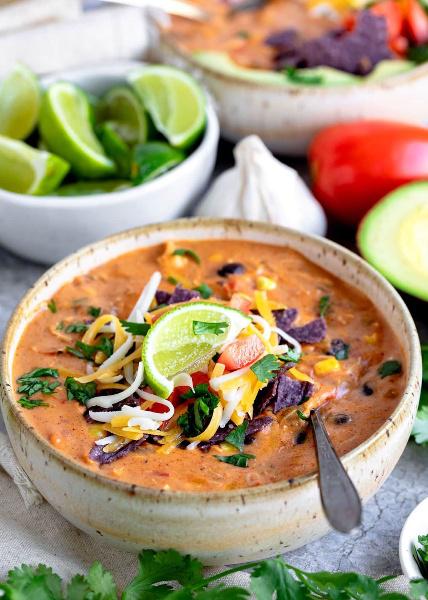 My kids think the best part about this soup is all the toppings they get to add. I usually pick four or five that I have on hand and let them just pile them on. Sitting down with a hot bowl of soup on a chilly day is one of the best feelings ever, and this soup delivers on all fronts. It's irresistibly delicious!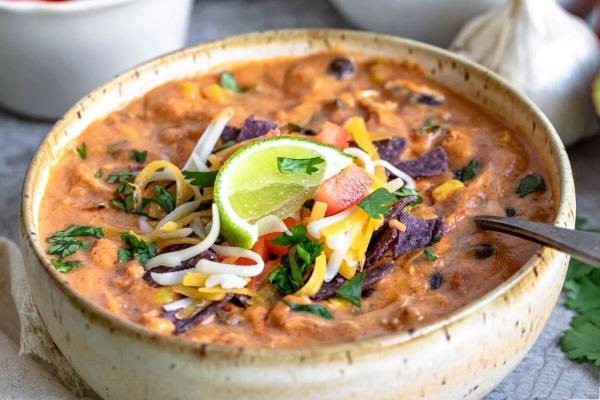 Soup Season
Last week I received a box of yummy products from Safeway for this post. Loaded with deliciousness but my boys immediately spied the O Organics Enchilada Sauce and said "use THAT!"
They are huge enchilada lovers and so we decided to make our favorite Chicken Enchilada Soup complete with all the yummy toppings we love. I took a quick trip to Safeway to grab the rest of the ingredients we needed (along with our weekly supplies) and whipped up this soup for dinner. So. Good.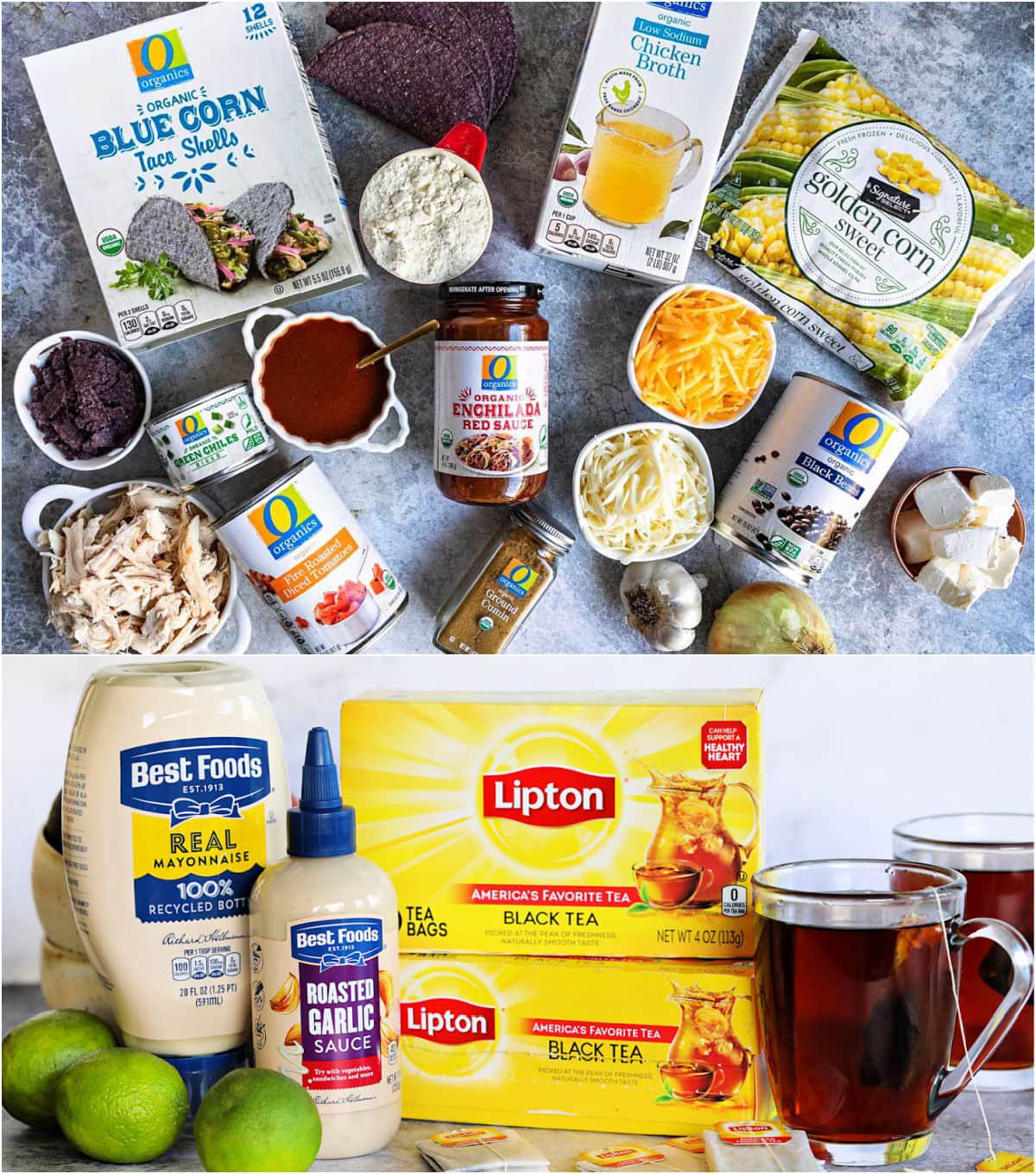 It takes less than 30 minutes to make – start to finish – and the flavor is unreal. Like chicken enchiladas – but better!
I was super excited to see some of my all time favorite products ever: Lipton Black Tea (which I drink almost every day of the week with a little honey and lemon!) and our favorite Best Foods Mayonnaise included in the box! (p.s. that Roasted Garlic Sauce turns every sandwich into a gourmet masterpiece!)
I love going to my local Safeway. The quality is just so fantastic and I'm simply obsessed with their floral department so I always find some new debi lilly design™ items that I have to have. This past trip it was all about Christmas and candles and I came home happy as a clam.
Lately, I've been doing most of my shopping through the Safeway mobile app. It makes it so easy to get my shopping done! Of course, you can shop however you'd like! In store or online – Safeway makes it easy! Check out your local Safeway for these great products!
It is always exciting to pick up old favorites and new products from my four favorite brands available exclusively at Safeway. I always fill my cart with O Organics, Open Nature, Signature SELECT and as much debi lilly design™ as I can. Amazing quality and exceptional value!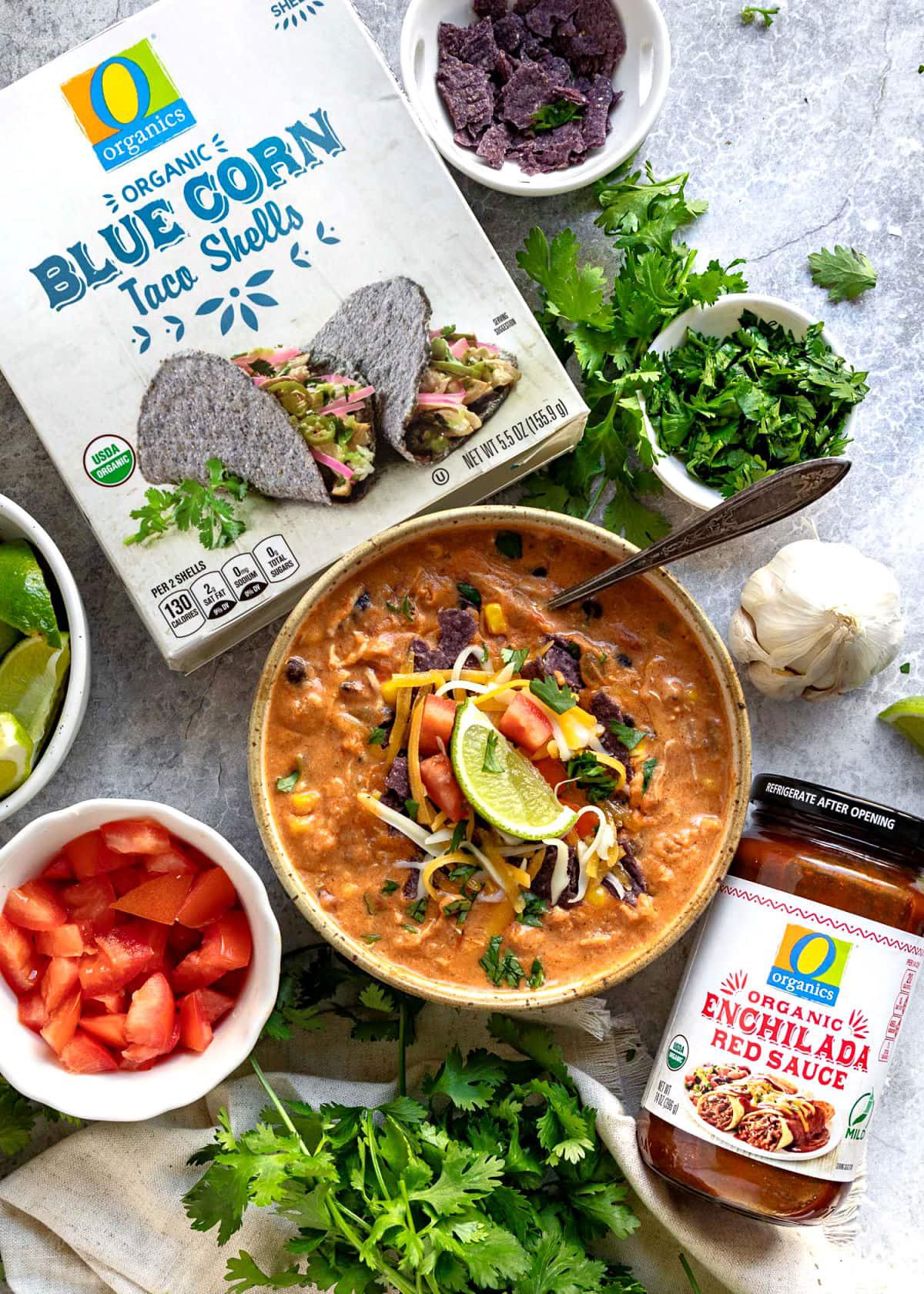 Chicken Enchilada Soup Recipe Ingredients
My chicken enchilada soup recipe includes a couple extra ingredients that give it really truly amazing flavor. Let's take a look at what you'll need:
extra virgin olive oil
onion and garlic
ground cumin
masa harina – thickens the soup and adds a lovely corn flavor, find this product in the Hispanic aisle
chicken stock or broth – I used low sodium so I can control the level of salt
cooked shredded or chopped chicken – I just use a rotisserie chicken but any cooked chicken will work
enchilada sauce – my jar was 14 ounces but 12 to 15 ounces will work too
black beans – make sure you rinse the beans well and let them drain before adding to the soup
frozen corn kernels – you can use canned as well, just make sure to drain well
diced tomatoes – fire roasted tomatoes are also delicious in this recipe
green chiles – love the flavor these add to this soup
salt and pepper – to taste
cream cheese, sharp cheddar, and Monterey jack cheeses – makes the soup extra creamy and rich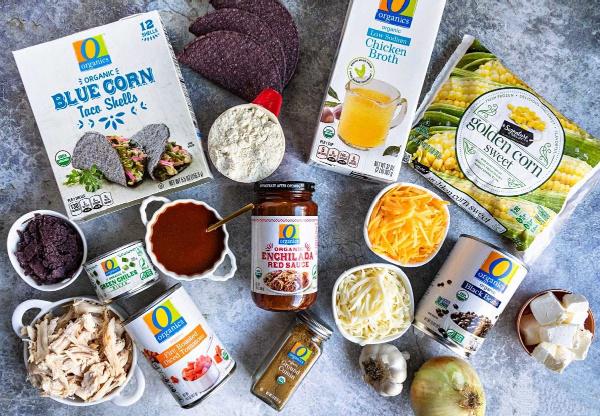 How To Make Enchilada Soup
Are you ready for this easy enchilada soup recipe? Dinner is going to be done in under 30 minutes are you're going to love it!
Get the olive oil heating up in a large pot or dutch oven. Sauté the onions and then add the garlic and cumin.
Stir in the masa harina and then gradually add the chicken stock.
Add the chicken, enchilada sauce, black beans, diced tomatoes, green chiles, corn, and salt and pepper to the pot. Let simmer.
Stir in the cream cheese until melted. Add in the cheddar cheese and Monterey Jack cheese a little at a time, stirring until melted.
Serve immediately with assorted toppings as desired.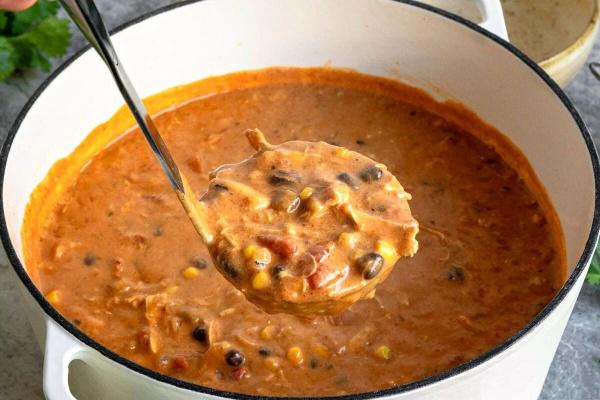 Enchilada Soup Toppings
The sky is the limit when it comes to toppings for this chicken enchilada soup. Here are some of our favorites:
tortillas strip or crushed tortilla chips
sour cream
avocado
tomatoes
cilantro
shredded cheese
green onions
olives
lime wedges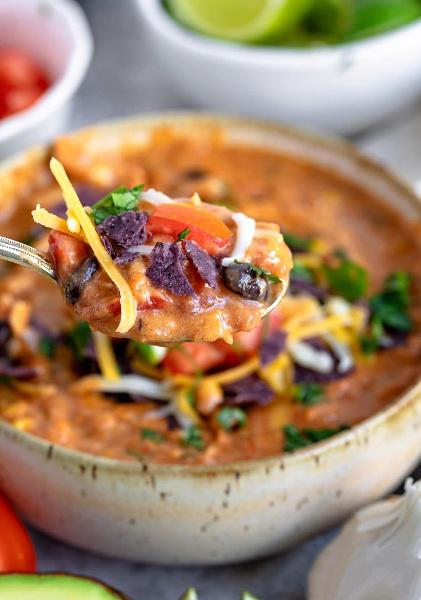 Tips for the Best Chicken Enchilada Soup
Use rotisserie chicken. It's quick and easy and makes this recipe so fast and delicious.
This soup cooks fast, make sure you have all the ingredients pulled out and prepped, if possible, when you start cooking.
The toppings really "make" this soup. I recommend having at least three options and more if you have them. The more the better in this case!
Can I Freeze Enchilada Soup?
You sure can! Let the soup cool completely before transferring to a freezer safe airtight container. Good for up to 3 months.
Ingredients
2 tablespoons extra virgin olive oil
1 medium onion diced
2 to 3 garlic cloves minced
1/2 teaspoon ground cumin
1/2 cup masa harina
3 cups chicken stock or broth low sodium
2 cups cooked shredded or chopped chicken I just use a rotisserie chicken
14 ounces enchilada sauce I used O Organics Enchilada Sauce
15 ounce can black beans rinsed well, drained
1 cup frozen corn kernels
15 ounces can diced tomatoes fire roasted tomatoes are delicious in this recipe
4 ounces can chopped green chiles
salt and pepper to taste
4 ounces cream cheese room temperature, cubed
4 ounces sharp cheddar cheese grated, about 1 cup
4 ounces Monterey Jack cheese grated, about 1 cup
Optional Toppings
cilantro, sour cream, tortilla chips or strips, avocado, diced tomato, shredded cheese, green onions
Instructions
Heat olive oil in a large pot or dutch oven over medium high heat. Add the chopped onions and cook until translucent, about 4 minutes.
Add the minced garlic and ground cumin and cook for an additional minute.
Stir in the masa harina and cook for one more minute. Whisk in one cup of the chicken stock until well combined. Whisk in remaining chicken stock.
Add the shredded chicken, enchilada sauce, black beans, diced tomatoes, green chiles, corn, and salt and pepper to the pot. Bring the soup to a simmer over medium heat and and cook for 10 minutes, stirring frequently to keep from sticking to the bottom.
Stir in the cream cheese until melted. Add in the cheddar cheese and Monterey Jack cheese a handful at a time, stirring until melted before adding more.
Serve immediately with assorted toppings as desired.