This soup ranks right at the top! It is everything you love about lasagna… the meats, cheeses, Italian seasonings, and adorable curly noodles… packed into an easy one-pot meal.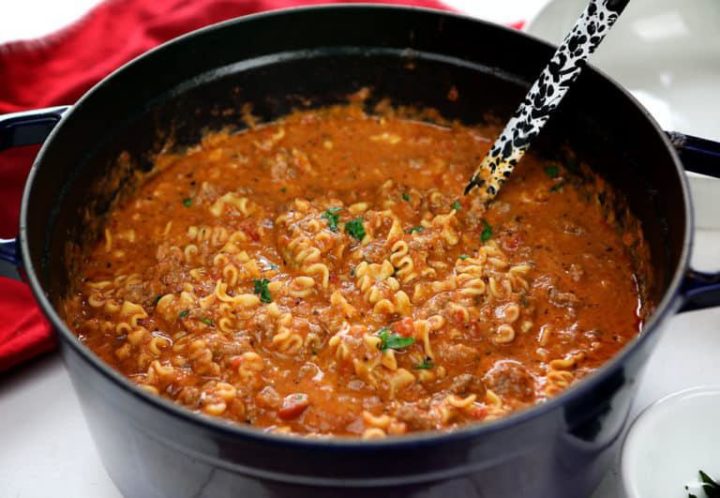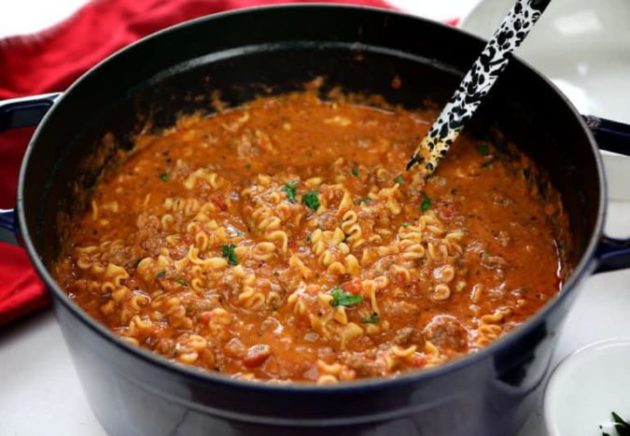 Noodles for Lasagna Soup
This might be the most controversial part of this recipe… my choice for the noodles.
When I talked to my MIL about her famous lasagna soup she told me that she will only use the best quality lasagna noodles and that they need to be broken up into the soup. I tried that and found that while it tasted great, people didn't immediately know it was a "lasagna" soup. The noodles flatten a bit and you don't always see those adorable little frills on the sides.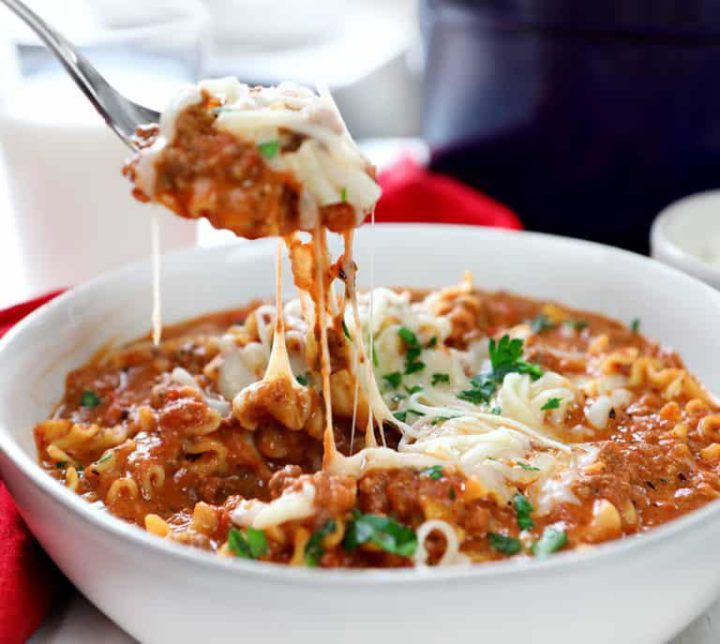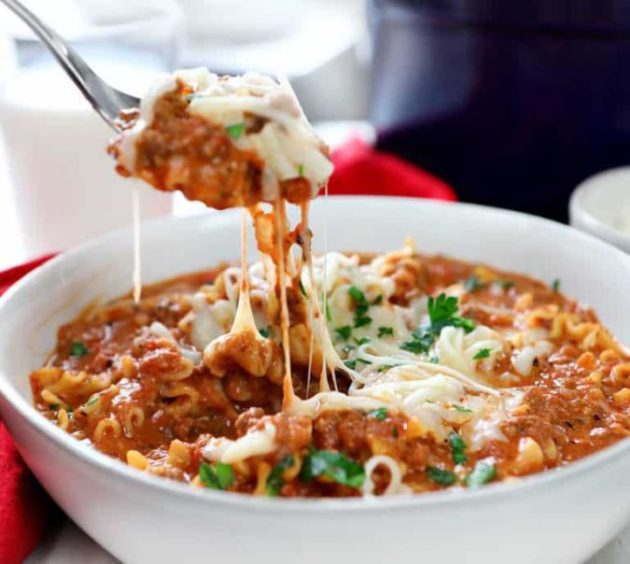 How to Season Lasagna Soup
I ran across quite a few recipes that call for 4-12 different seasonings. When testing this out I kept finding that I couldn't tell the difference between the soup seasoned with Italian seasoning and ones that had 12 different seasonings added. I believe that is because of the fact that this is a "quick" meal and the seasonings just don't have the time to develop like they would if you were cooking low and slow as an Italian grandmother would. So when you are making this, have no fear! The Italian seasonings will work beautifully and give you all the hints of authentic lasagna.
I recommend making the recipe as-is the first time and then experimenting. You may want to add an additional tablespoon of Italian seasoning, you may want less.
The beauty in this recipe is that you can experiment to your heart's content!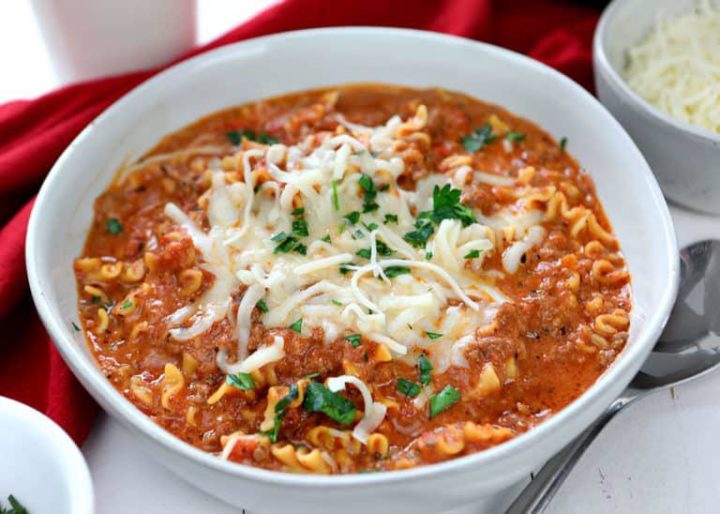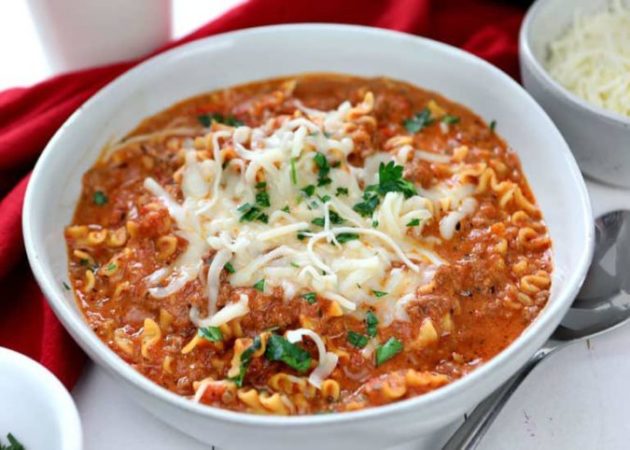 Can You Make This Lasagna Soup in a Slow-Cooker?
Yes! Crockpot Lasagna Soup is just as easy as the one-pot method!
Follow the directions for browning the meat, onions, and garlic and then add those ingredients to your slow cooker. Add remaining ingredients except for the pasta and cook on low for 6-7 hours or high for 2-3 hours. Thirty minutes before you are ready to serve, add in your noodles. Test the noodle at 15 minutes to see if it is done al dente. I have let them sit for 30 minutes without issue, but that may not be the case if you use a different style noodle or a noodle that is not good quality. (The longer the noodle sits the more chance it has to get gummy or sticky so I don't recommend adding the noodle until a few minutes before you are ready to dish up.)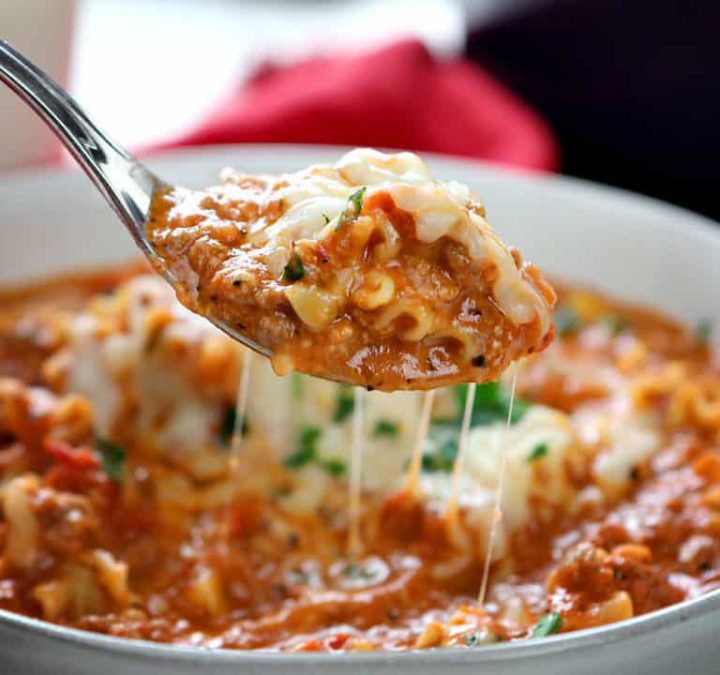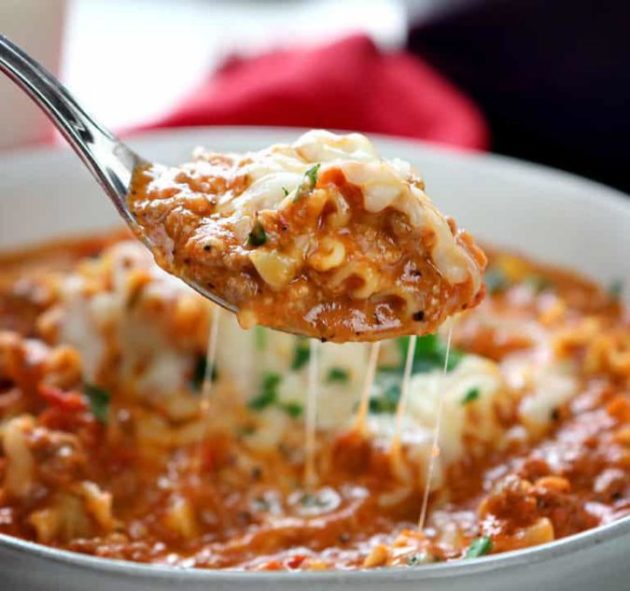 Other Variations for Lasagna Soup
As we are a homesteading family and can our tomatoes, I will often use my canned tomatoes and canned sauce in the recipe. This adds extra flavor as our canned sauce has peppers, onion, and garlic added. It's an amazing addition to this recipe! Feel free to buy different variations of pasta sauce to add a little kick to your final product.
Adding seasonal vegetables is also a fun variation. You can add red and green bell peppers, mushrooms, jalapeno, even spinach!
Play around with your cheeses. I added a jack blend because I am a midwestern girl and we add jack cheese to everything, but you can stick to the traditional cheeses with mozzarella, ricotta, and other Italian cheeses.
Only have chicken stock? You can definitely use that! I have to say, I almost prefer the chicken stock to the beef stock in this recipe, but my kids always seem to notice when I sub it out. Definitely try it at least once and let me know what you think!
INGREDIENTS
1 tablespoon oil
1 large yellow onion, diced
1 tablespoon chopped garlic
2 pounds lean ground beef
1 tablespoon heaping Italian seasoning
2 teaspoons pepper
2 teaspoons salt
1 jar (24 ounces) pasta sauce
4 cups beef broth (can add up to 4 more cups if you want a runnier soup)
1 can (28 ounces) crushed tomatoes
12 ounces Mafalda noodles, can use lasagna noodles broken
1/2 cup heavy cream
1 cup mozzarella cheese, shredded
1 cup jack cheese blend, shredded
parsley to garnish
INSTRUCTIONS
Heat dutch oven over medium-high heat.
Add in oil and then chopped onion. Cook for 3-4 minutes or until partly translucent. Add in garlic and cook for 1 minute.
Add in ground beef and sprinkle with Italian seasoning, salt, and pepper. Cook until browned, stirring occasionally.
(If necessary, drain)
Pour in pasta sauce, 4 cups beef broth, crushed tomatoes, and stir to combine.
Add in Mafalda noodles and allow soup to simmer for 8 minutes, or until noodles are al dente.
Add in heavy cream and cheeses, stir until combined.
Serve immediately.