If you Love the taste of Orange Creamsicle Popsicles, you'll Love this Orange Creamsicle Cake! And nothing says that warmer weather is on the way than the bright taste of citrus!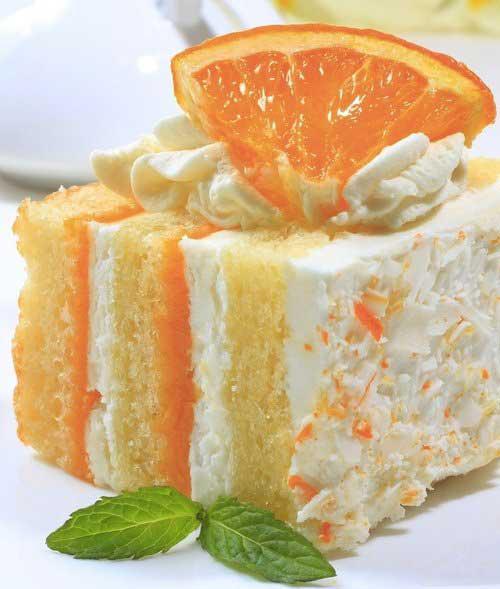 Ingredients
1 Pkg Yellow Cake Mix
2 Pk Orange Gelatin
1 Pk Vanilla Instant Pudding
1 Cup 2% Milk
2 Large Eggs
2 Tsp Vanilla
1 Tub Whipped Topping
orange slices for garnish
Instructions
Bake the cake as directed in a 9×13″ pan.
Let cake cool completely.
Poke holes in cooled cake.
Mix 1 package orange gelatin dessert with 1 c. boiling water and 1 c. cold water.
Pour over cake.
Cover and refrigerate for 4 hours.
Mix pudding mix with cold milk the other package of orange gelatin dessert and vanilla.
Beat by hand with a whisk until thickened.
Fold in the whipped topping.
Frost the cake with the pudding mixture.
Notes
For a layered Creamsicle Cake:
Make the cake batter as directed, then batter pour evenly into 3 round 9″ cake pans.
Bake cakes as directed and let cool.
Then, make the orange gelatin as directed on the package — but with this version, you'll let the gelatin set up instead of pouring it into the cake.
We recommend using your round cake pans, or using a 13×17″ jelly roll pan (1″ deep cookie sheet with edges).
Once you pour the liquid gelatin mixture into the pans, it will need to be refrigerated for about 4 hours.
Meanwhile, make the pudding mixture according to the original recipe.
Finally, layer in this order:
cake, gelatin pudding mixture.
Repeat once more for a 6-layered Creamsicle Cake.
Nutrition Information
Yield 12
Serving Size 1 piece
Amount Per Serving
Calories 217
Total Fat 3g
Saturated Fat 2g
Trans Fat 0g
Unsaturated Fat 1g
Cholesterol 33mg
Sodium 375mg
Carbohydrates 42g
Fiber 1g
Sugar 22g
Protein 4g