Cream Cheese and Avocado Wontons are made from scratch and fried. Serve them up with a side of cilantro-lime dipping sauce for a tasty party appetizer or game day food.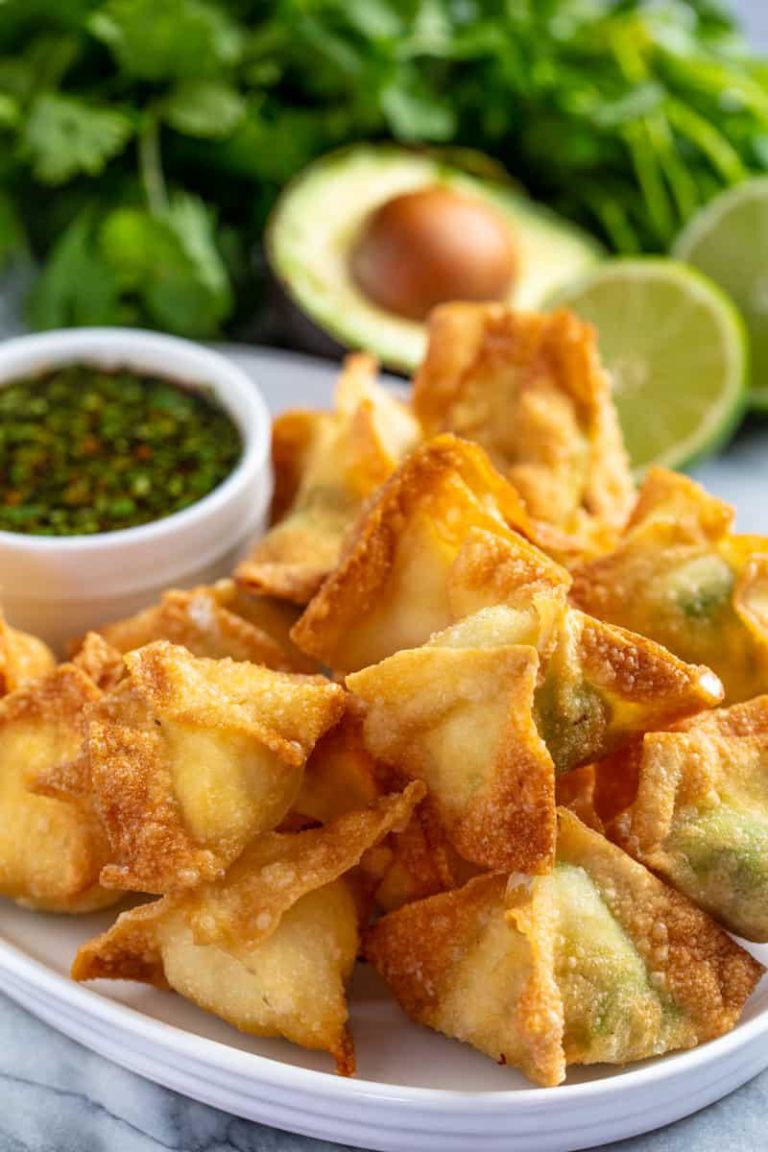 Appetizers may be miniature in size, but they can also be big in flavor. The cream cheese avocado wonton is a classic. The wonton itself is a pleasant bite, but the cilantro lime dipping sauce is where you get the big punch. Full of flavor and sure to please!
Dipping that warm, crisp wonton into the dipping sauce and then shoving it into my mouth to get that acidic flavor of the sauce, the still crispy wonton, and the slightly melted creaminess of the cream cheese and avocado is just heavenly. This may seem like it makes a lot of wontons, but once you start eating them you'll see it goes pretty quickly. They are that good!
DO I HAVE TO USE AVOCADO?
Avocado is not required to make these cream cheese avocado wontons. You can simply leave them out and have plain cream cheese wontons instead. We still recommend whipping the cream cheese before using it as a filling.
WHAT OTHER SAUCES GO WELL WITH CREAM CHEESE WONTONS?
Cream cheese wontons are often served with sweet and sour sauce. For a fun twist on sweet and sour sauce, try our cranberry sweet and sour dipping sauce. We've included a recipe for cilantro lime dipping sauce instead which has a savory soy sauce base with some zing from lime juice and vinegar.
TIPS FOR FRYING WONTONS
Watch your oil temperature. Use an instant read thermometer for best results. Letting the oil overheat is dangerous so be careful to watch the temperature and check it again in between batches of frying.
Put the oil in the bottom of a saucepan or pot with tall sides. This will let the oil pop and splash onto the sides of the pan, not on you or near any flames.
Carefully lower your items to be fried into the oil. Never drop them because they will splash and you could end up with burns.
With wontons, be sure to seal each one completely so that the filling cannot escape. Make sure there are no air pockets. If the filling escapes through a poor seal or when an air pocket bursts you'll get an annoying splattery mess when the filling hits the oil.
INGREDIENTS
Wontons
2 cups vegetable oil for frying
30 wonton wrappers
8 ounces cream cheese softened
1 ripe avocado peeled, pitted, and diced small
1 large egg lightly beaten
1 tablespoon water
Cilantro Lime Dipping Sauce
1/2 cup soy sauce
2 tablespoons rice vinegar
1/4 cup lime juice
2 tablespoons honey
2 teaspoons fresh ginger minced
2 cloves garlic minced
1/3 cup chopped fresh cilantro
INSTRUCTIONS
Heat vegetable oil in a medium saucepan over medium heat until it reaches 350 degrees. Monitor the temperature of the oil and adjust the heat source to maintain the temperature.
While oil heats up, whip the cream cheese with a hand mixer until fluffy and smooth. Add in the diced avocado and gently fold in with a spoon.
In a small bowl, whisk together egg and water to create an egg wash.
Lightly brush both sides of the wonton wrapper with the egg wash. Put about 1 teaspoon of the avocado cream cheese filling in the center of each wonton. Fold the wontons by bringing opposite corners together into the center, and repeat with the remaining corners. Pinch shut and be sure to remove any air pockets.
Working in small batches, fry wontons in the hot oil until golden brown, about one to two minutes. Using a slotted spoon, remove the golden brown wontons from the oil and put on paper towels to drain. Serve hot.
Cilantro Lime Dipping Sauce
In a medium bowl, whisk together soy sauce, rice vinegar, lime juice, honey, ginger, and garlic. Stir in cilantro. Serve with hot wontons for dipping.