Paninis are fun and easy. Try these top 10 recipes to find your favorite.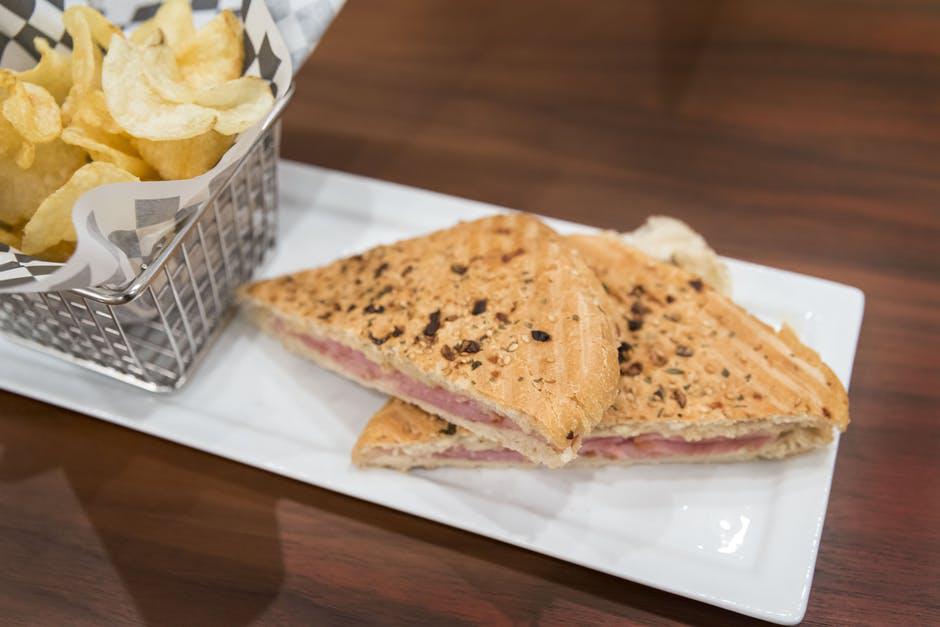 1. Turkey-Tomato Panini
Get out 2 skillets (nonstick) and 4 15-oz cans. Make a mixture of yogurt, mayonnaise, pepper, basil, lemon juice and Parmesan. Add this mixture to each bread slice. Add tomato slices and turkey. Then, top sandwich with second bread slice. Add 1 tsp. canola oil to the skillet (medium heat) and fry with a second skillet on top that is weighted with the cans. Cook for 2 min. Flip over, reduce heat to medium/low, press down on the panini again and cook another 1-3 min. Make more paninis in the same way as desired.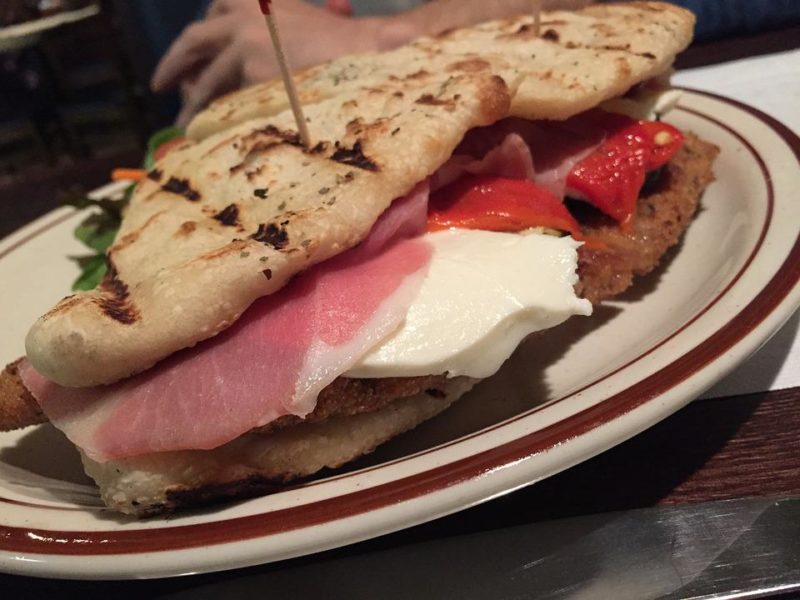 2. Ham-Pear Panini
Add mustard to two bread slices. Add ham (3 slices), pear slices (1/2), some pepper and ½ c. mozzarella on top. Top with second slice of bread. Add margarine on outside of each bread slice. Set griddle to medium heat and grill for approx. 3 min. on each side to melt the cheese. Serve the sandwich cut in half.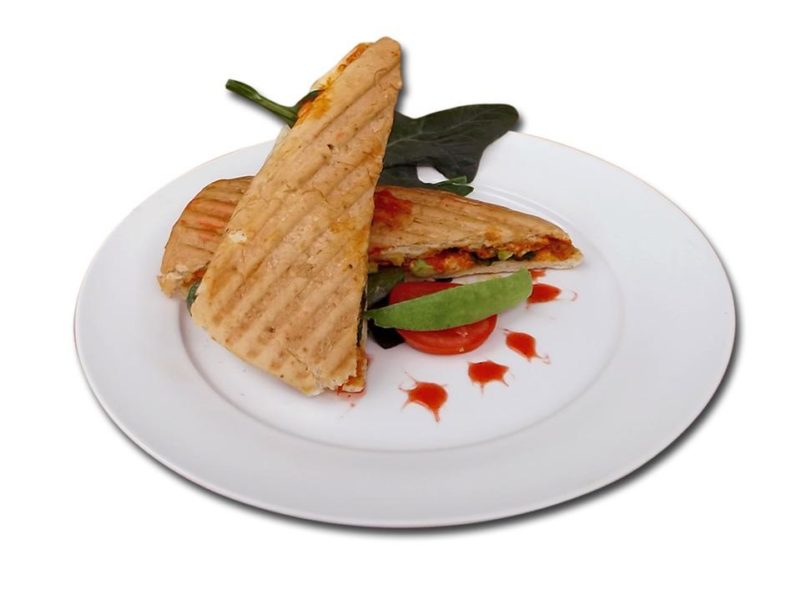 3. Turkey-Bacon Panini with Tangy Mayonnaise
Turn on panini press as directed by instructions. Brown bacon in a skillet on medium/high setting for approx. 10 min. Drain and then add butter to the same pan and set on medium. Add in onion and garlic and cook for approx. 10 min. Add in spinach and cook for 3 min. until wilted. Separately, make a mixture of minced chipotle peppers, mayo, and adobo sauce. Add to this focaccia bread slices. Add cheese on top and turkey. Add 2 bacon strips to each sandwich and some of the spinach mixture. Top with final bread slice. Grill in the panini grill for approx. 5 min. until golden and crispy.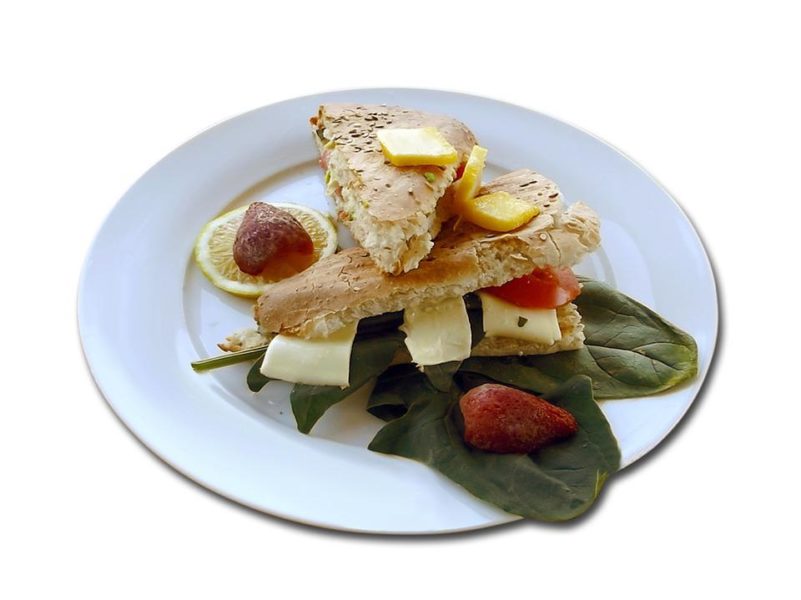 4. Chicken-Pesto Paninis
Turn on panini grill. Cut up focaccia bread in quarters and then in half (horizontally). Add pesto on each half. Add chicken, onion, bell pepper and cheese on the bottom half. Top with other focaccia half. Grill for 5 min. on the grill until cheese melts.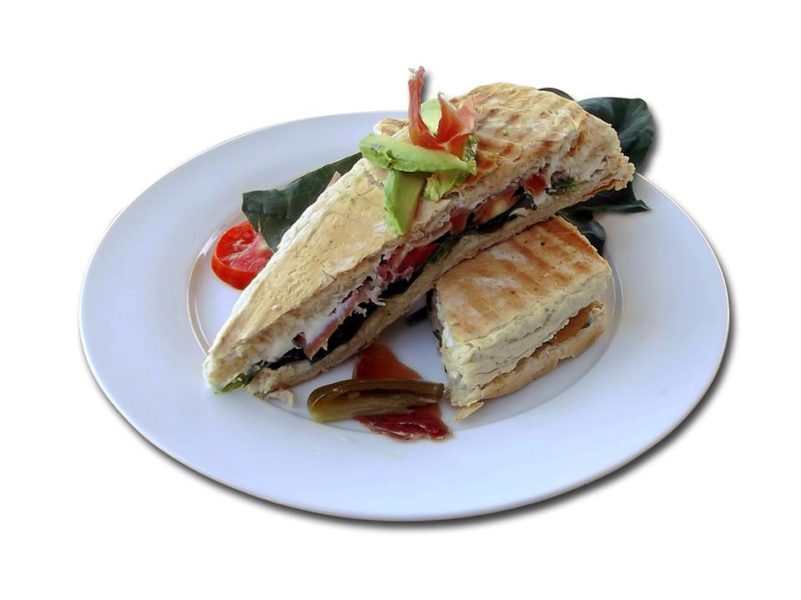 5. Portobello, Roasted Red Pepper, and Eggplant Panini
Turn oven broil on and put oven rack 6 in. from heat. Add foil to a baking sheet. Cut up peppers (1/2). Take out seeds, ribs and stem. Put them cut side down on the baking sheet. Broil to blacken them for approx. 5 min. Take them out and put them in a bowl wrapped in plastic wrap. Let them steam while cooling for 20 min. When done, take off skins. Then, put in the fridge overnight. Separately, add balsamic vinaigrette and Portobello mushroom caps to a plastic bag. Remove air and marinate in the fridge overnight. Then, turn on grill. Season eggplant slices with onion and garlic powders. Cook the marinated mushrooms on the grill for 4-5 min. Also, grill the eggplant slices for 4-5 min. until tender. Plate and add Parmesan cheese on top. Make sandwiches using focaccia slices. Add ranch dressing to each slice. Add cheese slice on top. Add on the eggplant, Portobello mushroom and roasted peppers. Add second bread slice to each sandwich. Add cooking spray to the grill and cook the sandwiches to melt the cheese for 4-5 min.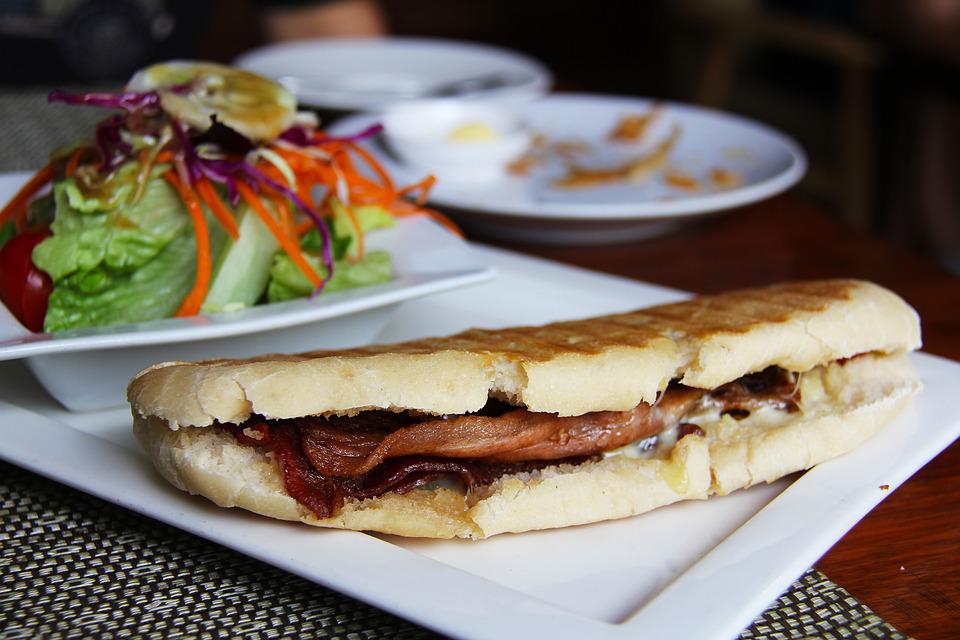 6. Panzanella Panini
Set skillet on medium/low heat. Add balsamic vinegar to each roll side and add on tomato slices, mozzarella cheese, basil leave and more cheese. Close up the sandwich. Add olive oil on the outside. Add the sandwich to the skillet and press down hard using another skillet on top. Cook for approximately 3 min. until toasted well. Flip over and toast other side for another 2 min., pressed with the same skillet.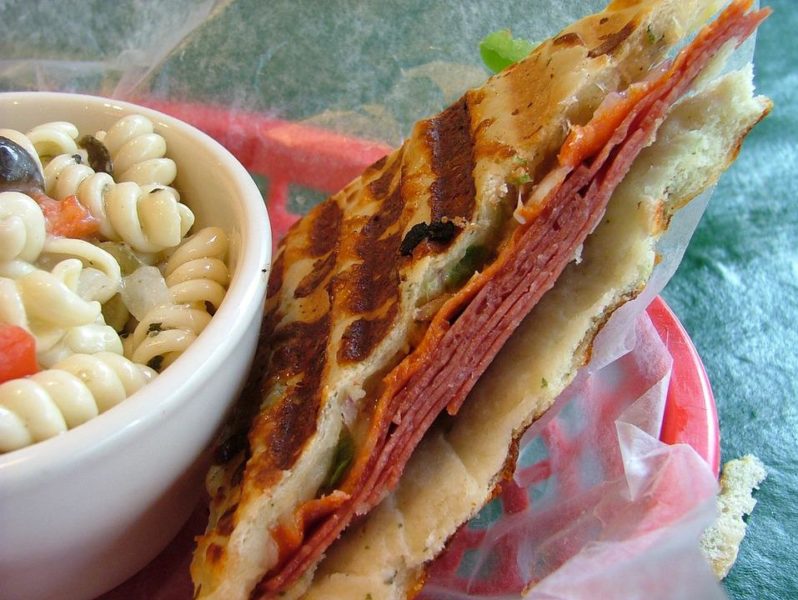 7. Avocado and Turkey Panini
Make a mashed mixture of mayo and avocado. Turn on the panini press. Cut open ciabatta rolls and add olive oil to each slice. Add bottoms to the press (olive oil side down). Add provolone cheese slice, spinach leaves, turkey breast (sliced), roasted red pepper (sliced). Add avocado mixture to the top roll piece and add to the top of the sandwich. Brush outside of the top roll slice with oil. Grill the sandwich in the press for approx. 5-8 min. to melt the cheese and toast the bun.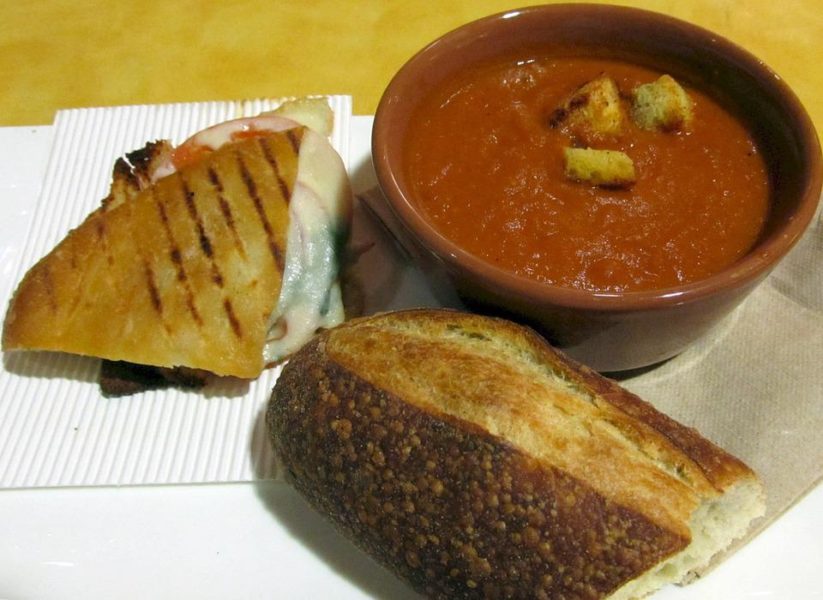 8. Pesto Panini
Set grill on medium heat and oil the grill grate lightly. Blend up a mixture of basil, garlic, oil, oregano, pepper and Romano cheese (high, 30 s). Grill chicken for approximately 5 min. on each side. Take off grill but keep grill on. Add 1 Tbsp. Caesar dressing to bread slices (2). Add lettuce and another bread slice to each. Add pesto on the second slices. Add chicken on top, a smoked mozzarella slice and a final piece of bread. To melt the cheeses, grill the sandwiches for 3 min. on each side. Bread should be warm and toasted.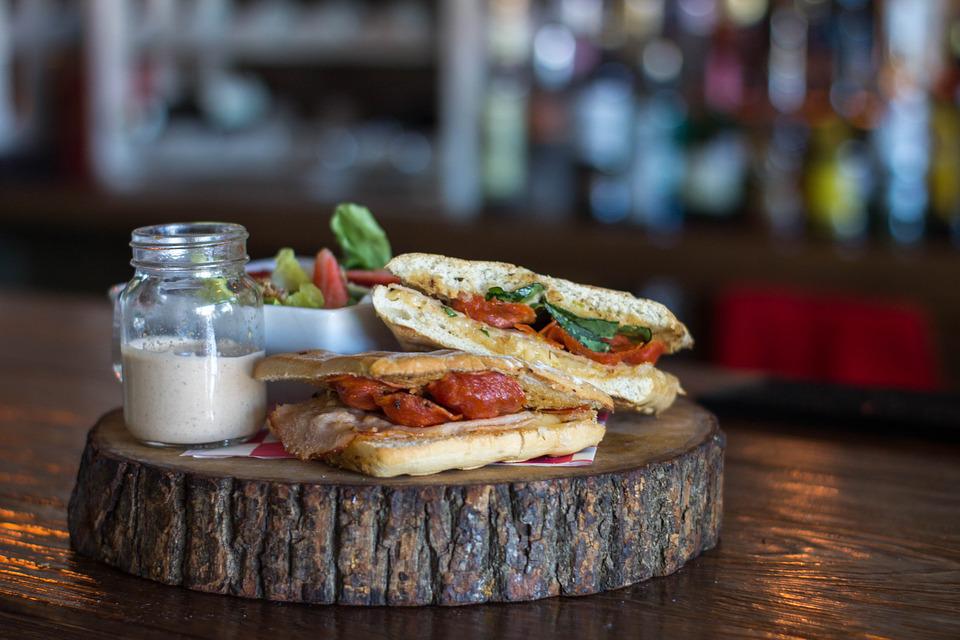 9. Sourdough Spicy Chicken Panini
Set panini press on medium/high heat. Add Caesar salad dressing to one bread slice. Add chicken, Cheddar cheese, chipotle chili powder and bacon pits. Top with other bread slice. Butter outside of each slice of bread (prior to making the sandwich). Cook on the grill for approximately 5 min. until crispy.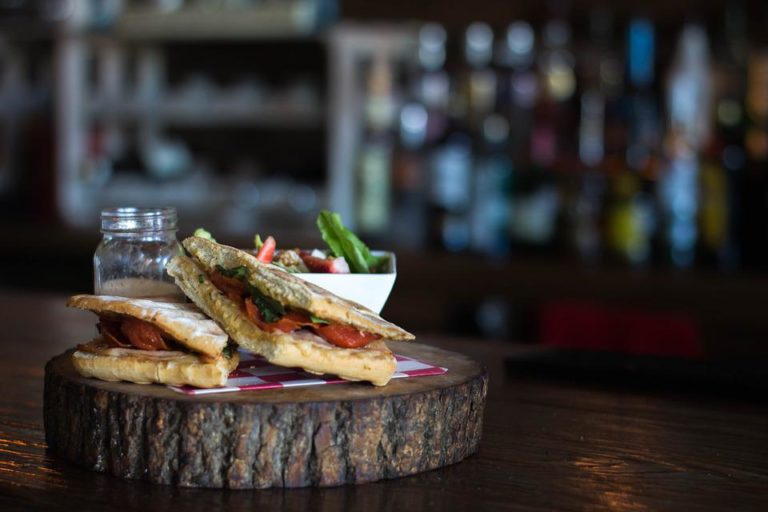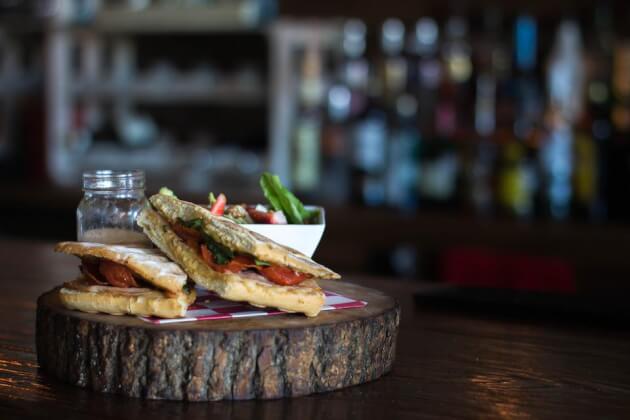 10. Roast Beef Panini with Shallots and Roquefort
Cook sliced shallots in melted butter in a skillet on medium heat setting for about 10 min. Add salt and pepper to taste. Take out and let sit. Then, turn on panini press as directed. Add Dijon mustard to cut slices of baguette. Add Roquefort cheese on top. Add roast beef (bottom slice) and shallots. Add second piece of bread. Cut into the size of the press and grill for approx. 4 min. to melt the cheese. Separately, beat heavy cream and add in salt, horseradish, and white pepper. Serve this cream with sandwiches.