Pumpkin Fry Bread is a fall treat your family will love! Spread on some cinnamon cream cheese butter and you will be in heaven with this pumpkin dessert!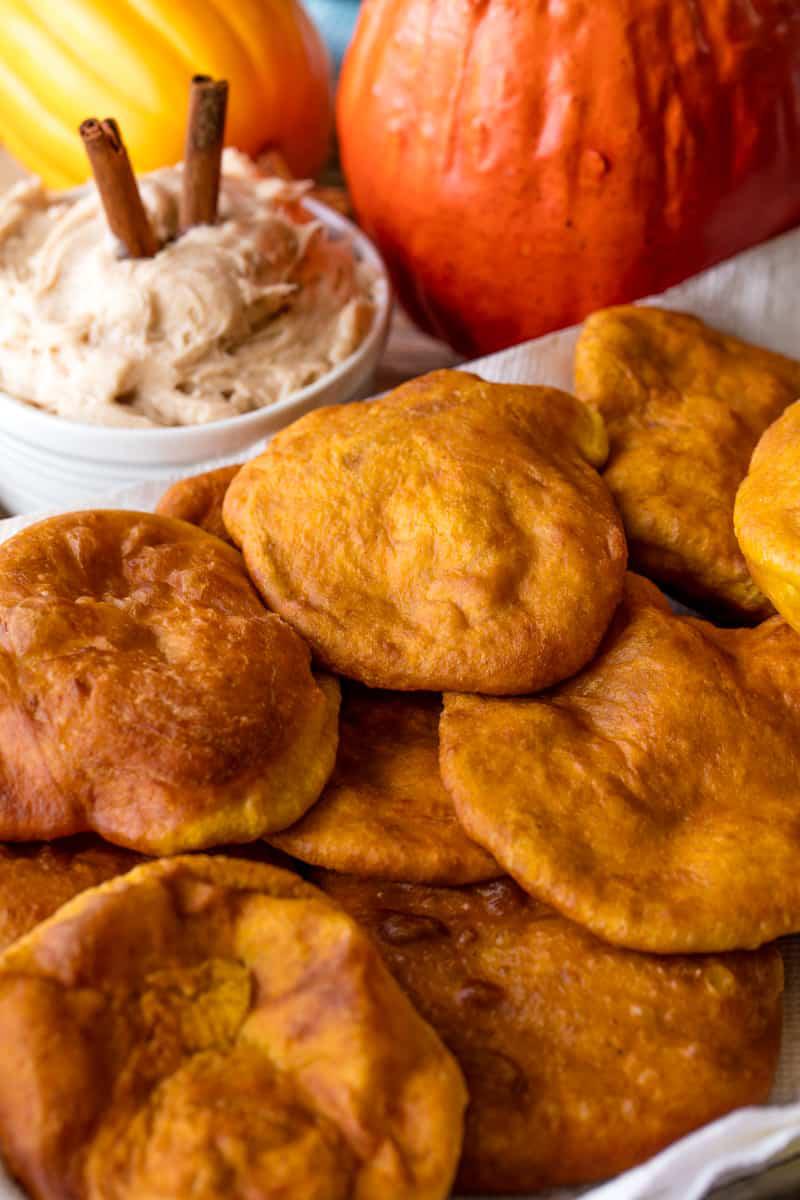 We are fully invested in turning all of our favorite recipes into pumpkin recipes for the fall, and this one will knock your socks off. Adding pumpkin puree to fry bread turns this favorite recipe into our new favorite fall dessert! The cinnamon cream cheese butter adds just the right amount of sweetness, and makes it difficult to stop at only one! Enjoy!
INSTANT VS. ACTIVE YEAST:
All yeasts will work in this recipe, it's simply a matter of understanding how each kind of yeast works and differs. Instant dry yeast can be added straight to dry ingredients and doesn't require any sitting or proofing. It also rises a bit quicker. Active dry yeast is a bigger size of granule and generally needs to be dissolved in a liquid before adding to a recipe. It activates a bit slower so expect 10-15 minutes extra in rise time.
CAN I SERVE PUMPKIN FRY BREAD WITHOUT CINNAMON CREAM CHEESE BUTTER?
Absolutely! The cinnamon cream cheese butter is a family favorite for us, but you can feel free to be creative and serve these up however you'd like!
MAKE AHEAD INSTRUCTIONS:
You can make your dough the night before, cover your bowl with plastic wrap, and let it rest in the fridge overnight rather than on the counter for 2 hours. In the morning, take out your bowl and leave it on the counter to get to room temperature. Then proceed with recipe.
Fry Bread is best served hot and out of the fryer. We do not recommend frying these up ahead of time.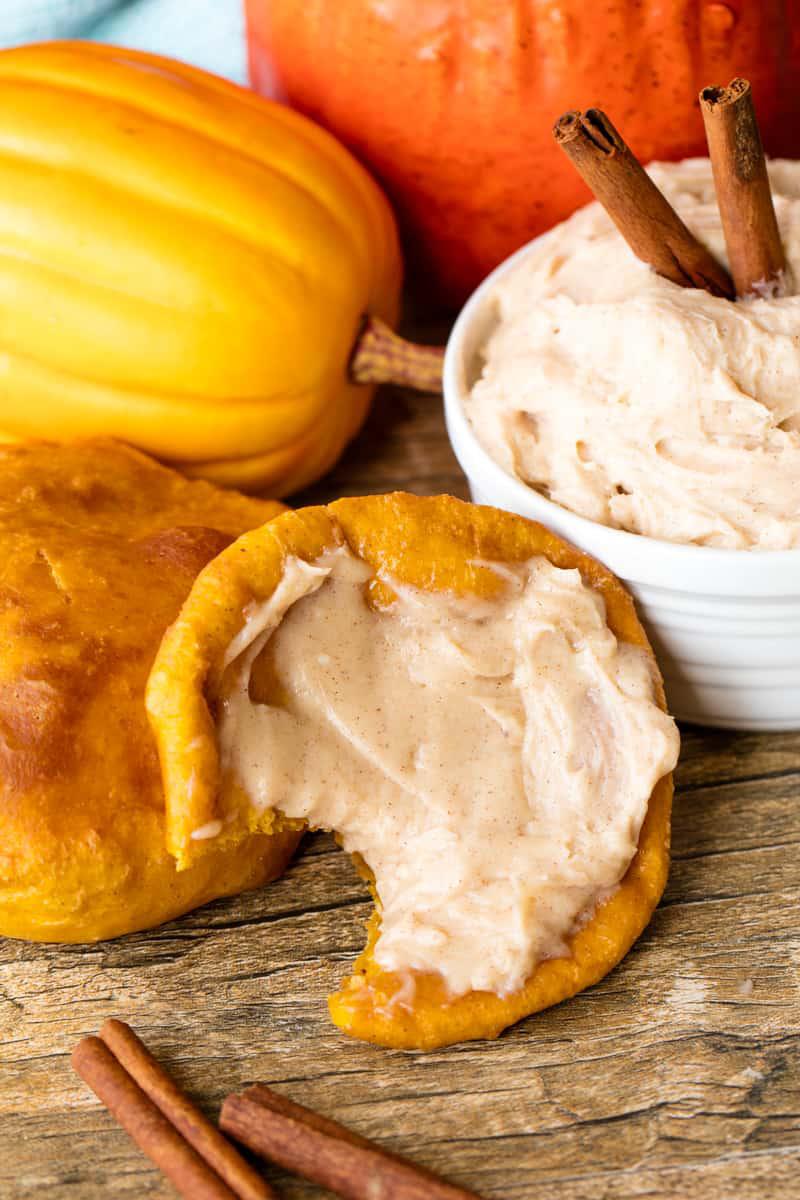 STORAGE INSTRUCTIONS:
Fry bread can be stored in an airtight container for up to 3 days.
INGREDIENTS
Pumpkin Fry Bread
1 1/2 teaspoons instant dry yeast
2 1/2 tablespoons sugar
1/2 cup milk warmed (warm to the touch)
3 1/2 – 4 cups all-purpose flour
1/4 teaspoon ground nutmeg
1 teaspoon ground cinnamon
1 pinch ground cloves
1/2 teaspoon salt
4 tablespoons cold butter cut in pieces
1 large egg
1 cup (8 ounces) pumpkin puree
About 4 cups vegetable oil for frying
Cinnamon Cream Cheese Butter
1 8 ounce package cream cheese softened
1/2 cup butter softened
1 cup powdered sugar
1 teaspoon vanilla extract
1/2 teaspoon ground cinnamon
INSTRUCTIONS
Pumpkin Fry Bread
In the bowl of a stand mixer combine the yeast, sugar, and warm milk. Let stand a few minutes, until foamy.
Meanwhile, in a second mixing bowl, combine 2 cups flour, nutmeg, cinnamon, cloves, and salt. Add cold butter, and cut in using a pastry cutter until mixture resembles cornmeal.
Put dry ingredients in large bowl with the yeast. Mix slightly on a low speed for 30-60 seconds.
Add egg and pumpkin. Beat on low until well mixed.
Continue to mix on low (knead), adding small amounts of the remaining flour until the dough pulls away from the sides of the bowl.
Knead on a medium speed another 3-4 minutes, and then transfer to a well greased bowl. Cover and let rise until double (about 1 hour).
Punch the dough down and transfer to a floured counter. Break off walnut sized pieces. Roll the balls out into flat pieces, fairly thin, but not transparent.
Fry in hot oil (350 to 375 degrees) on both sides until golden brown. Cool on a paper towel covered rack. Serve with cream cheese butter (recipe below).
Cinnamon Cream Cheese Butter
Put all ingredients in a small mixing bowl and whip with a hand mixer until smooth.
Refrigerate any leftovers.