Do everyone a favor and bring Cheesy Bacon Chicken Pinwheels to your next party. This amazing combination of juicy shredded ranch chicken, crispy bacon, all wrapped snuggly in a flour tortilla, will have you running back for seconds and thirds.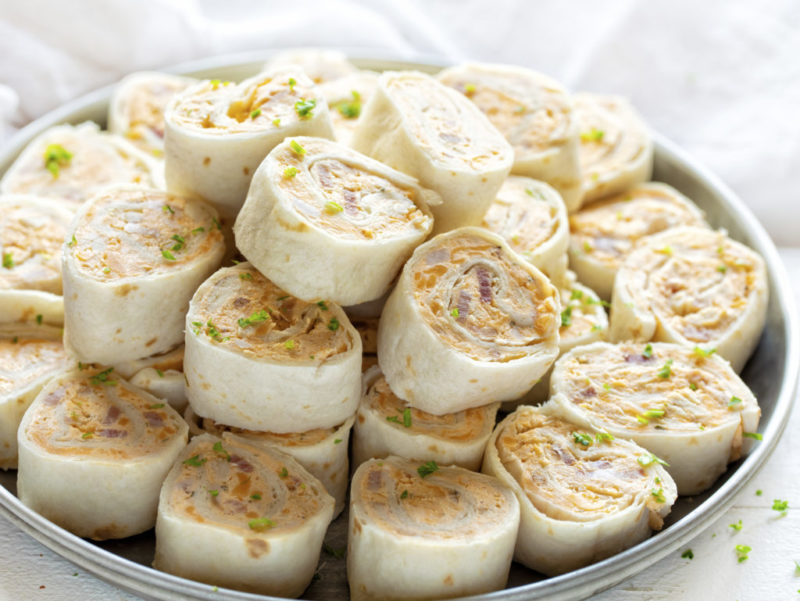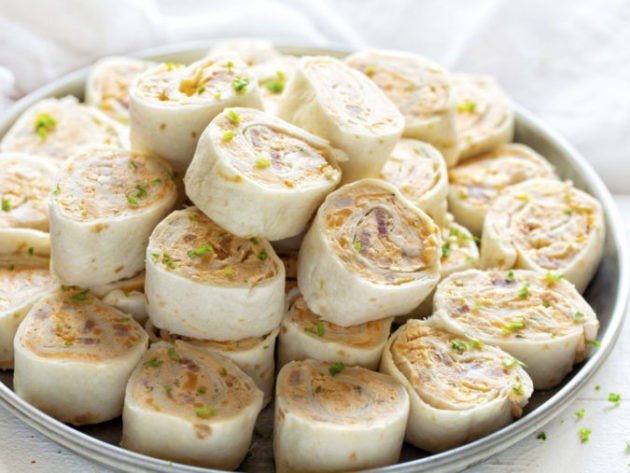 CHEESY BACON CHICKEN PINWHEELS
The inspiration for these tasty little bite-sized appetizers came from my cheesy bacon chicken dip, which is basically the hot version of cheesy bacon chicken pinwheels. It is a simple recipe that requires a little prep work, but I promise it is worth it. I love that I can do most of the work ahead of time, so when its time to hit the road for the party, I can be ready in less than 15 minutes.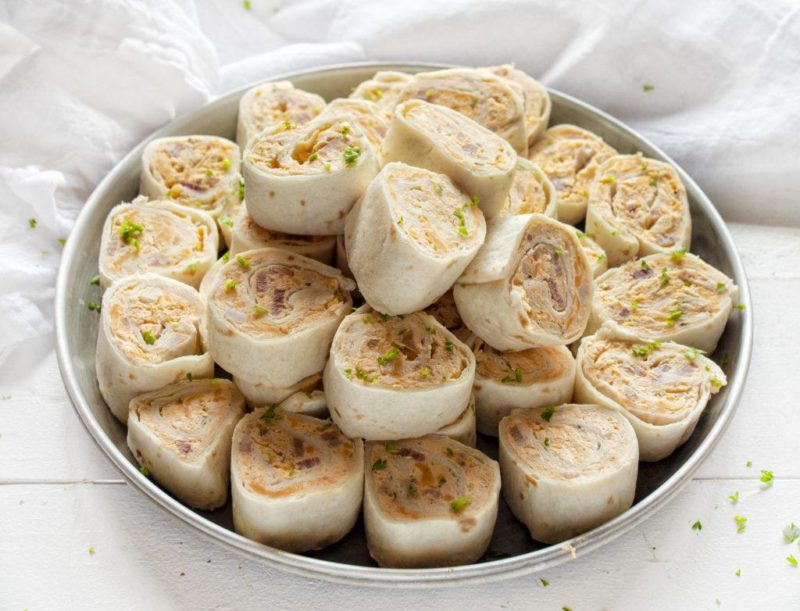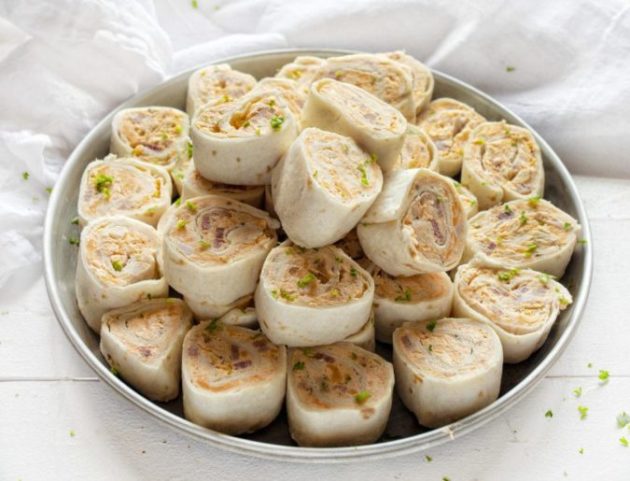 CHEESY BACON CHICKEN PINWHEEL RECIPE
You will need cooked chicken and cooked bacon before you get started. Which makes this a great recipe to prep the night before. I like to make a huge batch of shredded chicken the beginning of the week to use in my cooking. Shredded chicken is one of those staple items that if you have it ready, you can just pop it into your recipes like buffalo chicken wraps or BBQ chicken sliders and significantly cut your cooking time down. As far as the bacon goes, you can also cook that a few days in advance too. Just lay them flat on a baking sheet and pop them in the oven (cooking times vary but I like to cook mine at 415° F for 18-20 minutes). Once they are cooked through, set them on paper towels to drain and cool. You can chop them when you are ready. Other items you will need are:
Cream Cheese
Sour Cream
Dry Ranch Seasoning
Cheddar Cheese
Hot Sauce
green onions
Burrito Sized Tortillas – for this recipe I choose a plain flour tortilla, but I have tried some of the flavored tortillas in the past and they are amazing. I have used a sundried tomato tortilla and a jalapeno tortilla and both turned out great!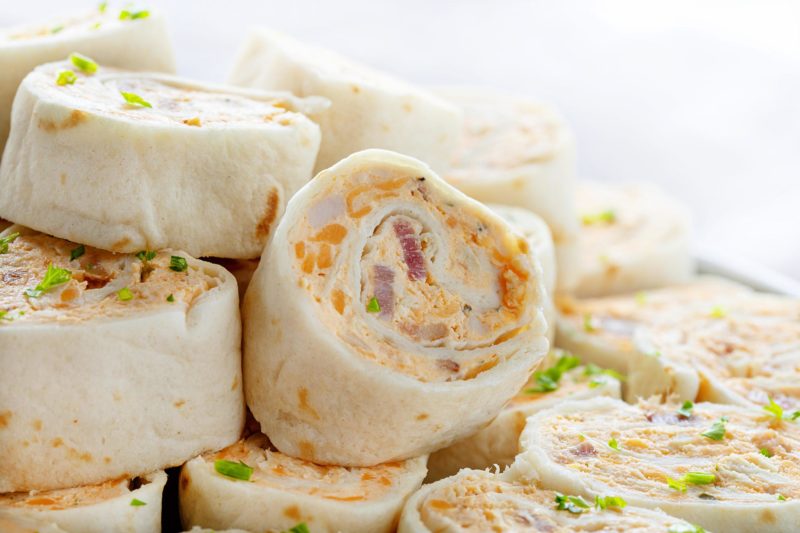 HOW TO MAKE CHEESY BACON CHICKEN PINWHEELS
The first step in making cheesy bacon chicken pinwheels is to combine the ranch seasoning, sour cream, and cream cheese in a large bowl. Once those ingredients are fully combined, you should have a creamy ranch base.
NOTE: It is best to use room temperature cream cheese. One trick to get the cold cream cheese to room temperature fast is to fill a metal dish with hot water and submerge the contents of the foil packet into the water. The cream cheese will be at room temperature in about 5-10 minutes.
Next, add in the chicken, cheese, bacon, and hot sauce and combine that into the mixture. One at a time, set out your tortilla and drop one scoop of the cream cheese mixture onto the top. Spread it out as thinly as possible and then tightly roll the tortilla. Set aside and make the next wrap. Pop the wraps into a ziplock baggie or other container and refrigerate for about 1 hour (up to overnight). This helps firm up the cream cheese mixture so that they are easier to slice.
Ingredients
12 ounces cream cheese softened
1 cup sour cream
1 package dry ranch mix
5 slices bacon, cooked and crumbled
2 cups shredded cheddar cheese
1 ½ cups cooked and shredded chicken breast
1/4 cup hot sauce
6 large tortilla shells
Instructions
In a large mixing bowl, stir together cream cheese, sour cream, and dry ranch mix until well combined. Stir in bacon, cheddar cheese, shredded chicken, and hot sauce.
Divide cream cheese mixture between the tortilla shells and spread out evenly.
Roll each shell up tightly and refrigerate for 1 hour, up to 24 hours.
Slice the tortillas into 1-inch pieces. Serve!