Sweet, creamy, and satisfying homemade Creamed Corn definitely deserves a spot on your dinner table, and not just during the holidays! Save the canned cream corn for another day and give this recipe a shot! For other delicious side dishes you can make at home, try my Mashed Potatoes and Roasted Parmesan Green Beans.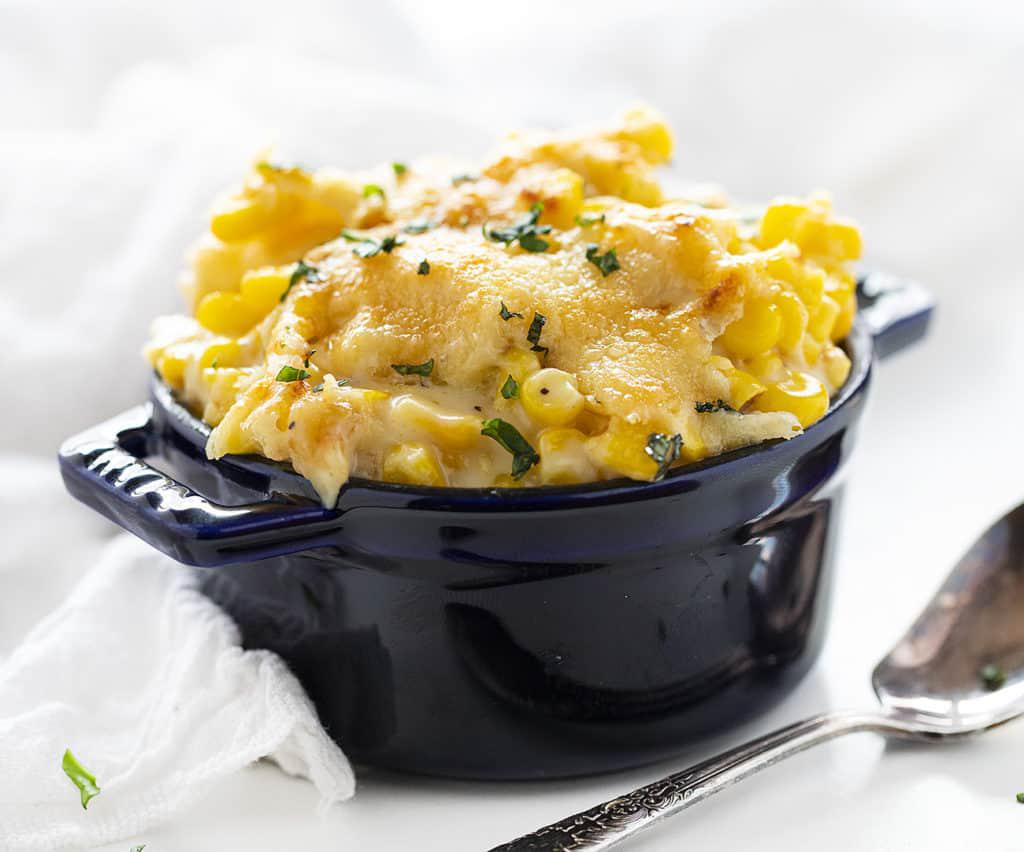 CREAMED CORN
I admit I remember loving the creamed corn that came out of a can. Little did I know that canned cream corn doesn't even contain cream! I guess all the liquid counted as the creaminess?!? I wanted to make a creamed corn with a little more substance and density, and actually have some cream in the recipe! This is one of the BEST tasting creamed corn recipes you will ever try, this I can guarantee. Everyone who has ever tried it asked for the recipe and now I can share with everyone at once!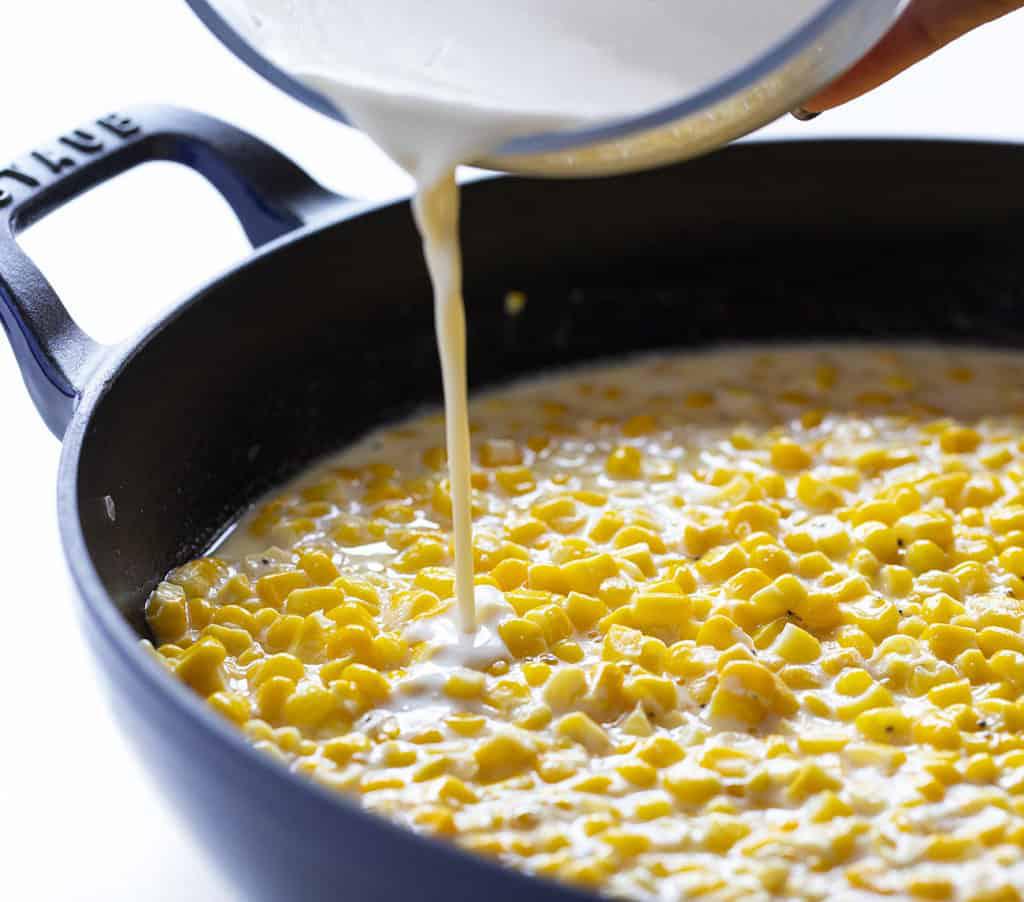 CREAMED CORN INGREDIENTS
You will notice there is cream as one of the ingredients in my recipe, which is fitting since this is a Creamed Corn recipe!
Corn Kernels–I used frozen corn that I let thaw, but you could use fresh corn as well! It will be sweeter, be sure to salt to taste.
Heavy cream
Granulated sugar
Salt
Black pepper
Whole milk–Whole milk adds to the creaminess….if you choose 2% or less, the corn may not be as thick and creamy.
Flour–All-purpose
Parmesan cheese–Freshly grated is best!
Basil–Always optional, but it does add a little color to the corn dish!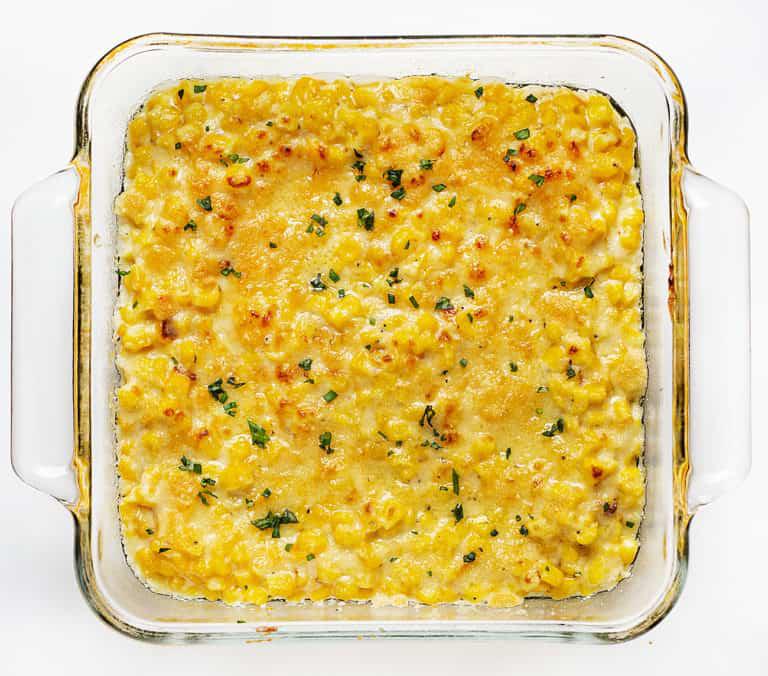 HOW TO MAKE CREAMED CORN
This side dish is really easy to make, and it will replace all those cans of creamed corn you may have stocked up on! You will impress everyone by making your own, especially at your next holiday gathering! You will be baking this dish, so set your oven to 400°F as you combine the ingredients on the stovetop.
In a skillet over medium heat, combine the corn, cream, sugar, salt, pepper, and butter.
Off to the side, in a small bowl, whisk together the milk and the flour.
Add the milk and flour mixture to the corn mixture that is in the skillet and heat it up, stirring often, until it thickens.
Finally, pour the mixture into an 8×8-inch casserole dish and sprinkle on the parmesan cheese.
Bake the dish for 5-10 minutes, or until the cheese has melted. Garnish with the basil if you choose.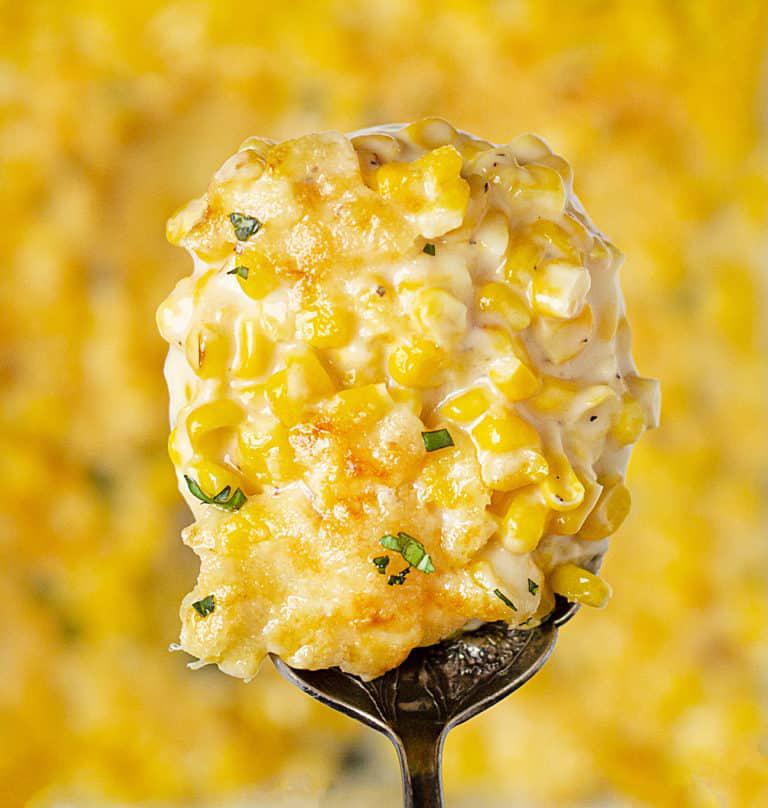 CREAMED CORN ADD-INS
Although this dish is delicious on its own, you can always bump it up a notch by adding some toppings. Here are a few of my favorite add-ins for Creamed Corn:
Pair this with my Roasted Chicken for a complete meal that is sure to be a winner!
Ingredients
2 packages (10 ounces) frozen corn kernels, thawed
1 cup heavy cream
2 tablespoons granulated sugar
2 teaspoons salt
1/2 teaspoon freshly ground black pepper
2 tablespoons butter
1/2 cup whole milk
3 tablespoons all-purpose flour
1/4 cup freshly grated Parmesan cheese
1 teaspoon basil, chopped (optional)
Instructions
Heat oven to 400° F.
In a skillet over medium heat, combine the corn, cream, sugar, salt, pepper, and butter.
In a small bowl, whisk together the milk and flour, and pour into the corn mixture.
Heat, stirring occasionally until the liquid begins to thicken.
Pour mixture into an 8×8 casserole dish and top with parmesan cheese.
Bake for 5-10 minutes, or until cheese is melted.
Garnish with fresh basil. (optional)