Chicken Bacon Ranch Pasta Salad is a creamy and refreshing cold pasta salad that is loaded with shredded chicken, vegetables, and crispy bacon seasoned with ranch seasoning.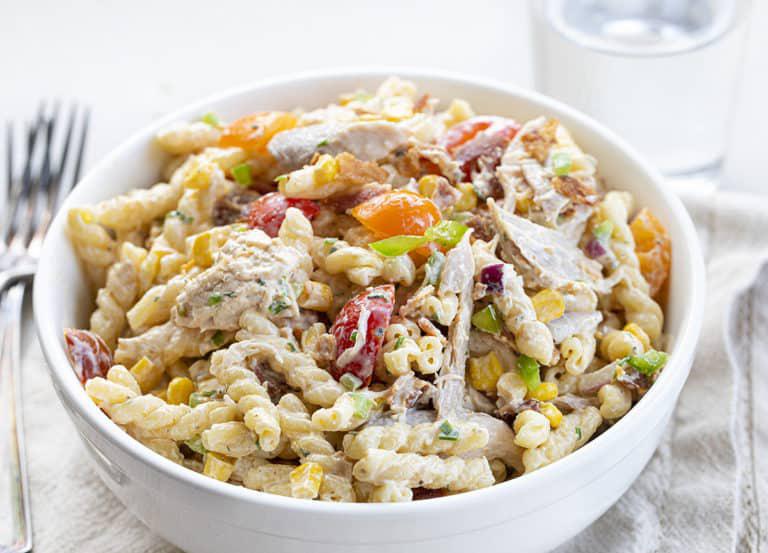 CHICKEN BACON RANCH PASTA SALAD
With ranch in the title, you know that flavor is going to stand out. And that complements all the other ingredients in this delicious salad. With the added chicken, it is definitely satisfying enough to be a lunch, perfect with some homemade breadsticks. Or you could serve it as a side at the dinner table or at a get-together with family and friends.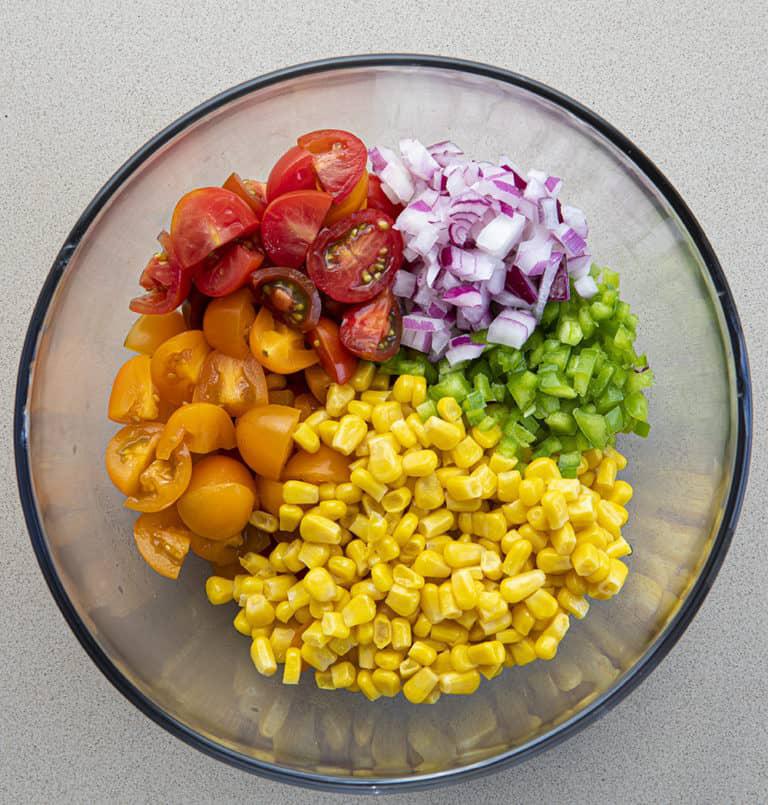 CHICKEN BACON RANCH PASTA SALAD RECIPE
This salad is full of vegetables that make it easy to tweak to your liking. If you don't like a particular vegetable, leave it out. Or, add extra ingredients to make it your own. In fact, the green peppers I added to this recipe was a wonderful suggestion from a viewer of the recipe testing video!
Ingredients (full recipe below)
Sour cream
Mayonnaise
Whole milk
Dry ranch seasoning
Chives
Salt
Pepper
Gemelli pasta–Pasta with nooks and crannies are best for cold salads.
Rotisserie chicken–You can sometimes find rotisserie chicken already shredded at the grocery store;
Bacon–I will let you know how to bake the bacon ahead of time to get a jump on things!
Cherry tomatoes
Corn kernels–Drain the corn and pour in the entire can!
Red onion
Green pepper
This is a cold pasta salad, so you do want all the ingredients to be cold before mixing everything together.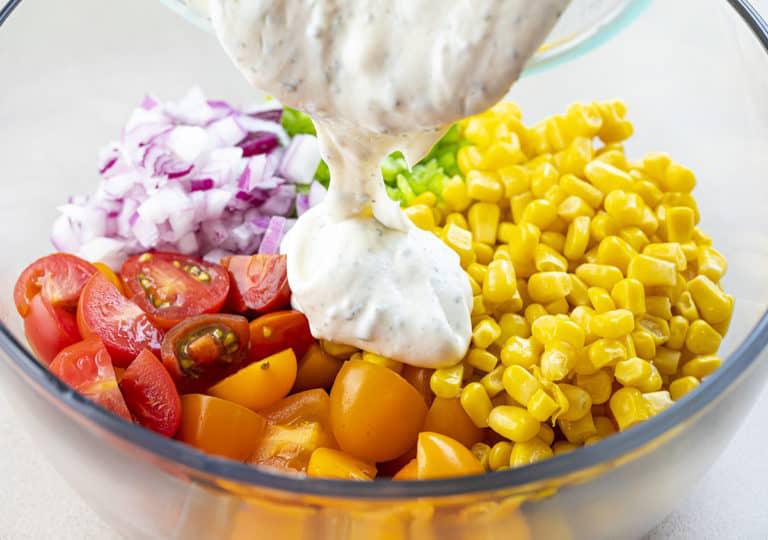 COOKING THE PASTA
When it comes to pasta salad, the kind of pasta you choose does matter. Yes, you can technically use any type of pasta for pasta salads, but pasta that is short and has nooks and crannies is best to absorb all the dressing that is added. In addition, choose dry pasta. Fresh pasta is sometimes too delicate to handle all the ingredients mixed in the dish. Plus, dry pasta is cheaper!
When cooking the pasta for a cold salad, add a little extra salt to the water. Also, cook it just past al dente (maybe an extra minute), but don't let it get mushy. Rinse the pasta in cold water to stop the cooking process and keep it from clumping together. It's now ready to be drenched in all the delicious dressing you are using! (Of course, rinsing pasta is ONLY for cold salads, never when serving it hot.)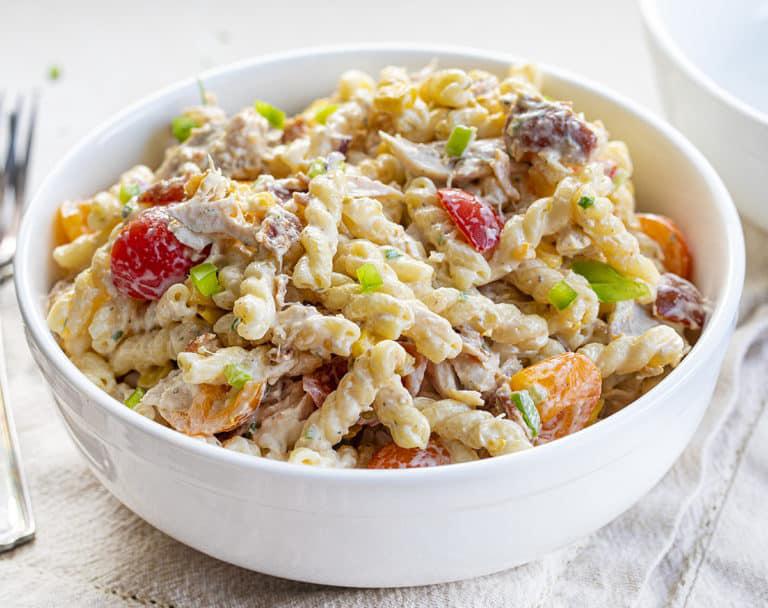 HOW TO BAKE BACON
When I cook bacon, I do it in the oven. I set the temperature to 415°F and while it is preheating, I lay out the individual slices of bacon on a foil-lined rimmed baking sheet. (Yes, right on the pan! No rack needed.) They are perfectly crispy in 18-20 minutes. No flipping and easy cleanup! Then, crumble the strips of bacon into little pieces.
Use this trick for other recipes calling for bacon like my Cheesy Bacon Chicken Pinwheels. You can store the bacon, wrapped in aluminum foil or in a shallow airtight container, in the refrigerator for up to five days, or until you are ready to use it.
HOW TO MAKE CHICKEN BACON RANCH PASTA SALAD
Once you have the pasta cooled, it's time to get the pasta salad mixed together and served! To make the salad, get out a large bowl and combine the sour cream, mayonnaise, milk, dry ranch seasoning, chives, salt, and pepper. Be sure to mix well.
Then, add the cold pasta, shredded chicken, chopped bacon, tomatoes, corn, red onion, and green pepper. Coat everything as you toss it all together. If this is the main course, serve with a side of dinner rolls or roasted parmesan green beans. Serve immediately, or store it (covered) in the refrigerator until you are ready to serve the salad. It will last 3-5 days in the refrigerator.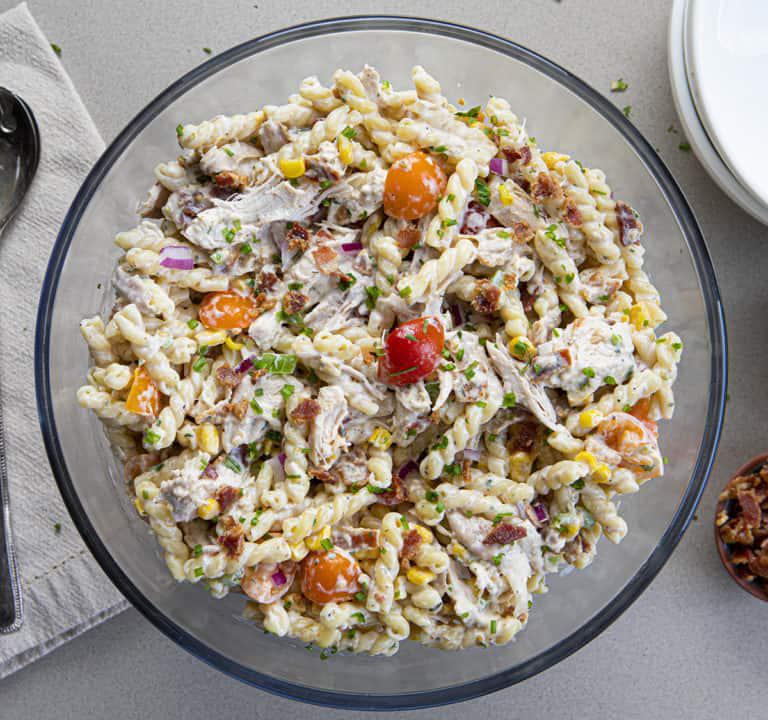 Ingredients
1/2 cup sour cream
1/2 cup mayonnaise
1/4 cup whole milk
3 tablespoons (1 package) dry ranch seasoning
1/4 cup chives, chopped
1/4 teaspoon salt, or to taste
1/4 teaspoon pepper, or to taste
1 box (16 ounces) Gemelli pasta, cooked al dente and cooled completely
3 cups Rotisserie chicken, shredded and cold
12 slices bacon, chopped and cooked crispy
2 cups cherry tomatoes, quartered
1 can (15.25 ounces) corn kernels
1/4 cup red onion
1/4 cup green pepper, diced
Instructions
In a large bowl combine sour cream, mayonnaise, milk, ranch seasoning, chives, salt, and pepper. Mix well.
Add the cold pasta noodles, chicken, bacon, tomatoes, corn, red onion, and green pepper. Toss to combine, being careful to coat everything well. (All ingredients should be cold.)