Indulge in the luscious goodness of homemade baklava that's bursting with flavors and oozing with honey and nutty goodness.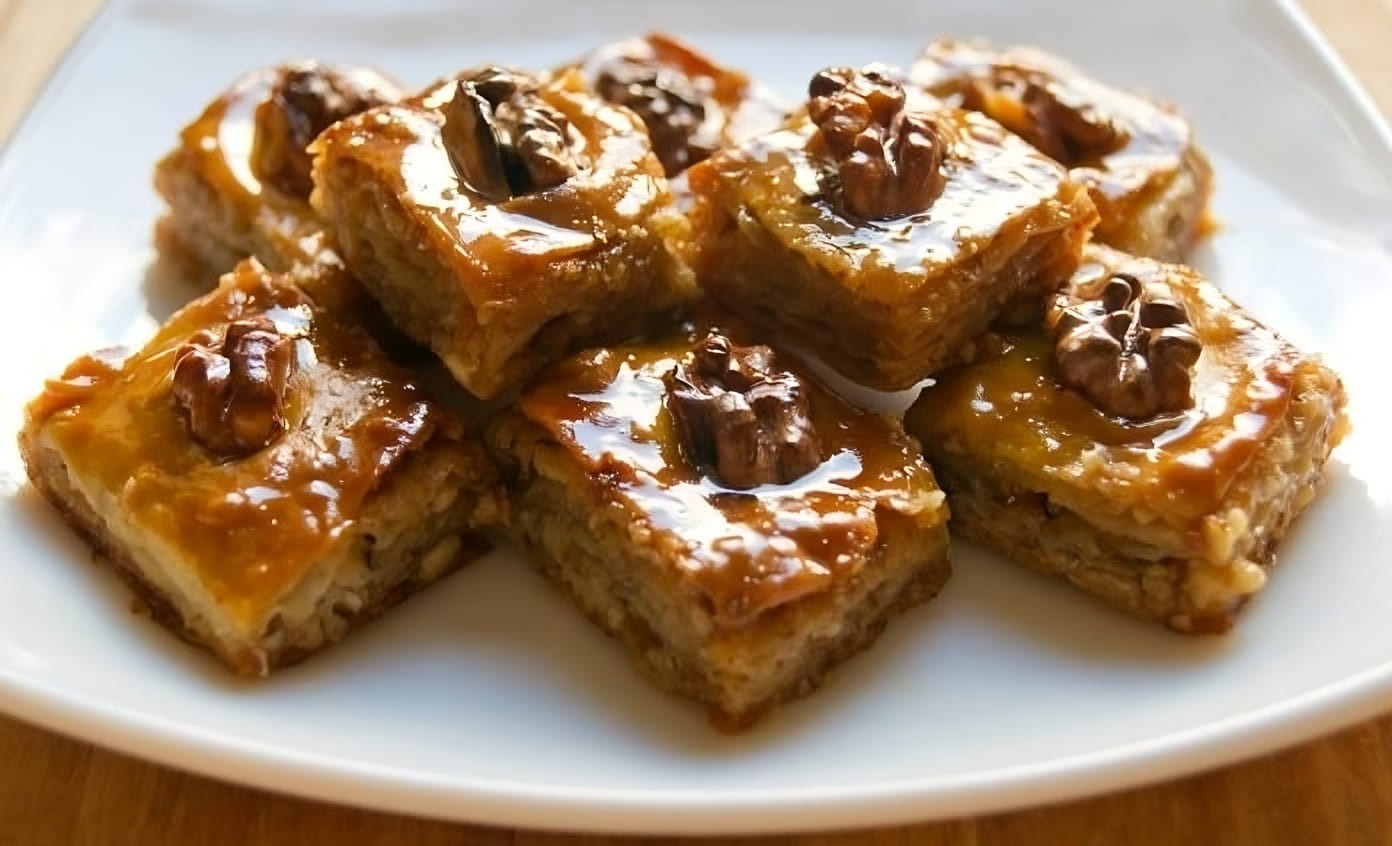 This beloved treat is a masterpiece of soft, delicate dough layered with a delectable walnut filling. With each bite, you'll savor the perfect harmony of textures and the enticing aroma of fresh baklava. Bake this delightful dessert, and your home will be filled with the fragrance of sweet satisfaction.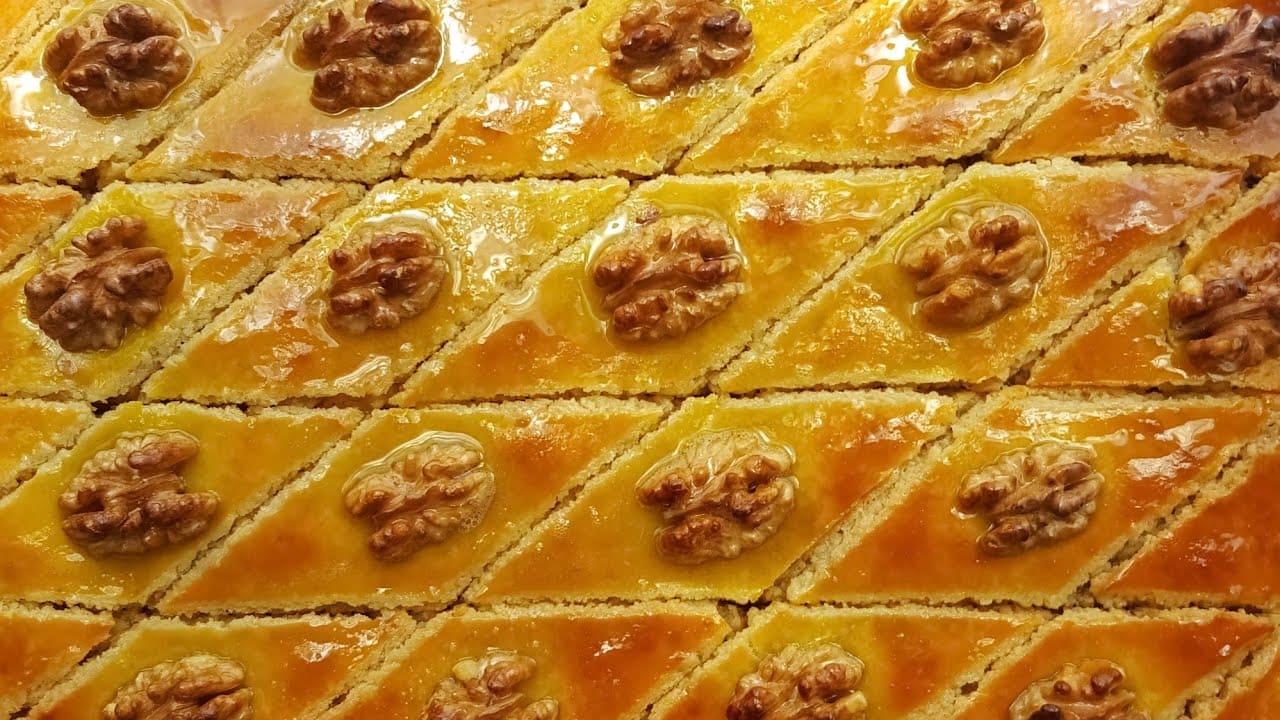 Ingredients:
Butter – 12.3 oz (350g)
Sour Cream – 10.6 oz (300g)
Chicken Eggs – 4
Flour – 4 cups
Baking Soda – 1 teaspoon
Sugar – 2.5 cups
Walnuts – 2 cups
Honey – 2 tablespoons
Instructions:
First, prepare the dough.
Combine the flour with 10.6 oz (300g) of butter, rubbing it into crumbs. Add 3 egg yolks, sour cream, and baking soda.
Knead the dough, then refrigerate it for 1 hour. After that, divide it into 3 small balls.
Prepare the filling: grind the walnuts, but not into flour, leaving some pieces. Beat 4 egg whites with sugar until frothy, but not too stiff. Mix the beaten egg whites with the walnuts.
Roll out each ball of dough thinly to the size of a baking tray and spread the filling on top.
Roll out the next ball of dough, slightly smaller than the previous one, and spread the remaining filling over it.
Mark the resulting pie into diamonds (without cutting all the way through), brush with beaten egg yolk, and decorate with walnut pieces.
Bake for 40-50 minutes at 200°C (392°F).
About 5-10 minutes before it's done, take it out and drizzle with honey mixed with 1.8 oz (50g) of melted butter.
Return it to the oven and bake until fully cooked.
Once it cools down, cut the pie into diamonds all the way through.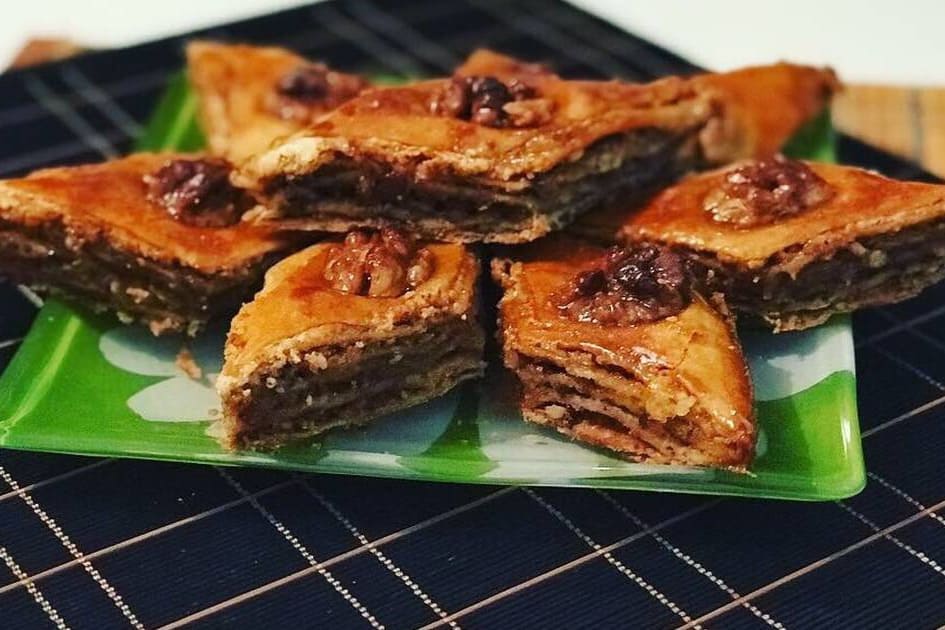 Enjoy this delightful and aromatic homemade baklava, a treat that will surely impress your family and guests alike!