Yoder's Amish Chocolate Pie is smooth, silky, and practically melts in your mouth. Each slice transports you staight to Granma's kitchen. This pie is satisfying without being overly rich. We love topping it with gobs of whipped cream and sprinkling with chocolate shavings.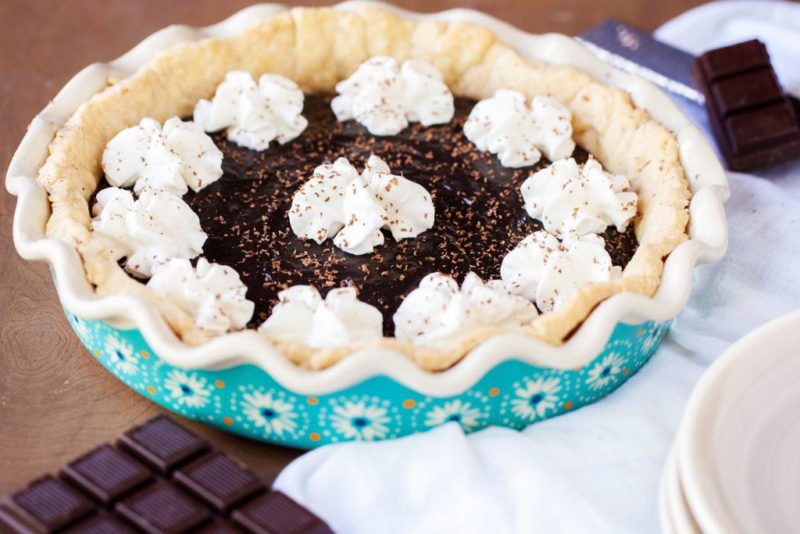 YODER'S AMISH CHOCOLATE PIE
Each slice is satisfying without being overly rich. We love topping it with gobs of whipped cream and sprinkling with chocolate shavings. The key to making this chocolate pie amazing and over the top is the fourth and fifth steps. Chill for a minimum of 2 hours. This pie takes a bit of time to firm up and the chilling time allows the flavors to build up a bit. Trust me! If you can stand it, I would wait even longer if you can. I know that is asking a LOT. Just look at this amazing pie. The whipped cream and chocolate shavings are a must as well. They add texture and complimenting flavor to the already amazing chocolate pie.
WHAT KIND OF CHOCOLATE IS IN A CHOCOLATE PIE?
I have tried this pie with many different variations of chocolate. It works any number of ways. You can use cocoa powder (like I do), or semi-sweet chocolate, unsweetened chocolate, dark chocolate, or bittersweet. My personal preference is cocoa powder. You can play around with the different chocolate options to see what you like the best. If you do choose to go with a chocolate bar or chocolate chip, be prepared for the extra melting time. I would highly suggest having all of your chocolate chopped up before you start heating the saucepan. If you go this route, you will add the chocolate pieces in AFTER you add the melted butter. Its a slight and subtle change, but an important one. You want to add the chocolate after the dish has already started heating (versus in the begginng with a powdered chocolate).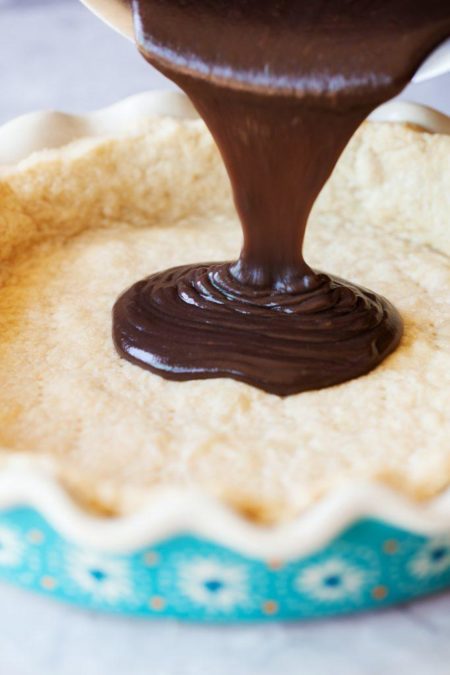 HOW TO MAKE A CHOCOLATE PIE
You might assume that making a chocolate pie would be a complex process. Timely? Yes. Complex? Not at all. There are only a handful of simple steps in making this chocolate pie recipe. You will have the whole thing assembled in 10-15 minutes. But you will have to wait a while to enjoy your tasty treat!
Combine dry ingredients: Starting with a large saucepan, combine the sugar, flour, and cocoa.
Combine liquid ingredients: In a separate bowl, milk, egg yolks, and vanilla. Whisk that together and pour it into the saucepan with the dry ingredients.
Simmer: Add in the melted butter and (stirring occasionally) bring it to a simmer (this allows the mixture to thicken).
Assemble Pie: Once thickened, pour directly into a baked pie crust.
Chill: One of the most critical steps in the chocolate pie recipe is the chill time. Allow the pie to chill a minimum of two hours. This gives the pie the time to firm up.
Ingredients
1 cup sugar
2 1/2 tablespoons flour
2 tablespoons cocoa
1 1/2 cups milk
2 egg yolks
1 teaspoon vanilla
3 tablespoons butter, melted
1 9- inch baked pie crust, Try my Amish Never Fail Pie Crust recipe above!
Whipped cream
Chocolate shavings
Instructions
In a large sauce pan, whisk together the sugar, flour, and cocoa.
In a medium bowl, whisk together the milk, yolks, and vanilla. Pour into the sauce pan.
Turn the heat to medium and stir in the butter. Bring to a simmer and allow to thicken.
Pour into the baked pie crust and smooth the top. Let cool at room temperature for 2 hours and chill in the refrigerator for an additional 2 hours.
Top with whipped cream and chocolate shavings.