The taste of this dish resembles the popular southern Filipino recipe known as humba. The texture of the meat is a big factor for the success of this dish. The meat should be as tender as possible. This can be done in 2 ways: simmer the meat for a long time or use a pressure cooker. Either way will work. However, I will go to the simmer route for this recipe.
Although this dish is really good, let me remind everyone to eat this in moderation. The fat from the pork can literally melt in your mouth if done the right way – as good as it might sound, try to control yourself though.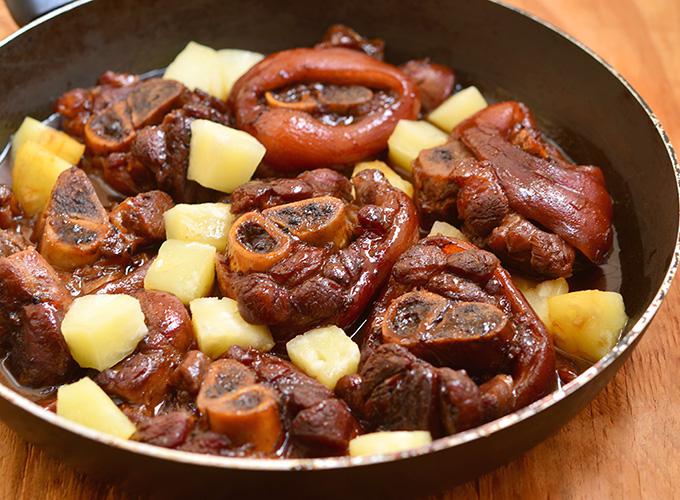 Ingredients
1 pork pata front
3 cups pineapple juice
1 medium onion, diced
1 teaspoon minced garlic
3 tablespoons soy sauce
250 grams tomato sauce
3 tablespoons brown sugar
2 cups water
1 teaspoon salt
1 teaspoon whole pepper corn
2 tablespoons cooking oil
Instructions
Deep fry pork pata until golden brown. Set aside.
Heat the oil in a deep cooking pot and sauté the garlic and onions.
Now add the tomato sauce and the whole peppercorn and stir.
Add the pork pata and cook all the sides for 5 minutes.
Pour in the pineapple juice and water. Let boil.
Add the soy sauce, cover and simmer for 60 to 90 minutes.
Add water, if needed. Put in the brown sugar and stir.
Now add the salt and let the liquid evaporate until the sauce is thick enough.
Transfer to a serving plate and top with pineapple slice and serve.