Air Fryer Chicken Wings are hands down the best wings we've ever had!
If you like your wings extra crispy on the outside and tender inside (and who doesn't!?) this is the answer!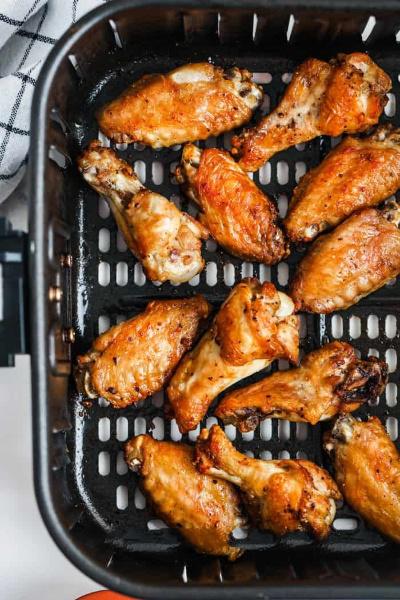 More Crispy Flavor, Less Fuss
We love air frying wings because they have heaps of flavor and crispy goodness.
The air fryer means less fat, no deep-frying, and all of the crunch!
These cook up in a fraction of the time of our favorite oven-baked wings.
Enjoy crisp with salt and pepper or toss in your favorite sauces from garlic to buffalo sauce!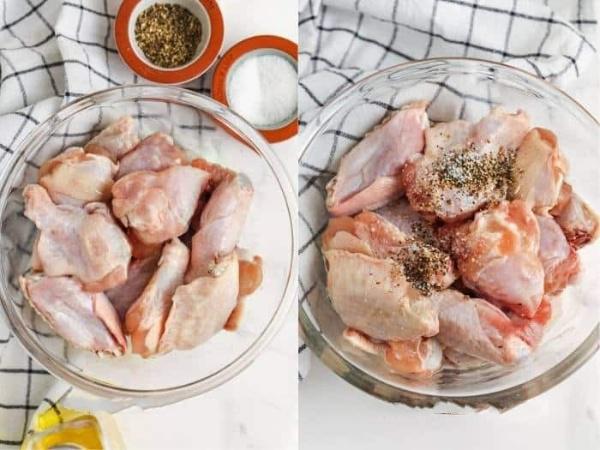 How to Make Air Fryer Chicken Wings
If needed, separate the flat part of the wing from the drummettes, snip off the tips, and pat dry with paper towels.
Toss with a touch of oil and some salt & pepper.
Place in a single layer in your air fryer and cook until the skin is sizzling crisp – about 20 minutes.
FROZEN WINGS: You can also make frozen wings in an air fryer, add 5-7 minutes extra cooking time.
When making baked wings, I toss them with a touch of baking powder to crisp up the skin. While I used to do that with air fryer wings, I find they crisp up just as well without it!
How Long to Air Fry Chicken Wings
Air Fryer chicken wings take about 20 minutes (and clean up is so much easier than with oil)!
For frozen wings in the air fryer, add another 5 minutes to the cooking time! A thermometer inserted into the chicken wings should read 165°F.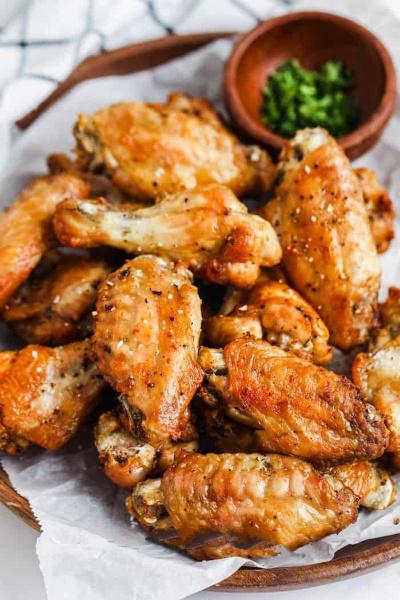 Tips for Crispy Wings
Pat the wings dry before cooking, liquid causes them to steam instead of crisp
Gently toss with a touch of oil, this helps the seasonings stick.
Shake or flip the wings every 10 minutes to allow all sides to brown evenly
Don't overcrowd your air fryer. If needed, make a few smaller batches and then place them all back into the air fryer for 3 minutes to heat/crisp before serving.
To Serve
Serve as salt & pepper wings, no sauce required.
Optionally, toss the wings in buffalo sauce, garlic sauce, or even bbq sauce.
Serve with a veggie plate of carrot and celery sticks, pepper slices or Ranch Dressing as a dip.