Honey garlic chicken wings are absolutely delicious. They're sweet and sticky and the perfect addition to any appetizer plate. These chicken wings are oven baked until crispy and then coated with a honey garlic sauce.
It contains some of my favorite Asian flavor combinations too: soy, garlic and ginger. This magic threesome is a never-fail basis for salad dressings or marinades.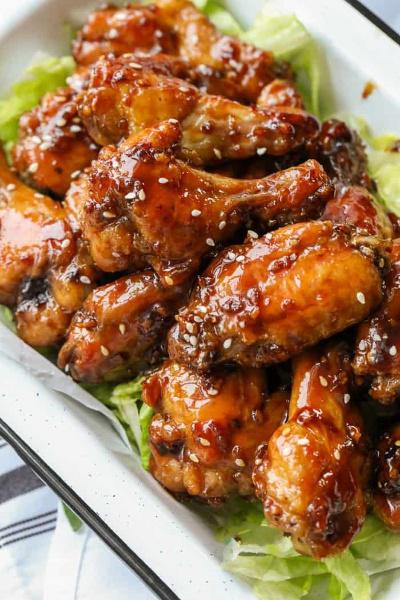 Honey Garlic Chicken Wings
This Chicken Wings recipe is easy to make. It starts with wings dabbed dry and dusted with a flour mixture. The wings are baked until crisp, we love making chicken wings in the oven. A little sweetness and a lots of ginger and garlic make these honey garlic chicken wings hard to resist!
Chicken Wings in the Oven
When you order chicken wings at a restaurant, they deep fry them. It's so much better to make chicken wings in the oven at home!
Chicken wings in the oven come out every bit as crispy and a whole lot less greasy. Plus, you don't have all the oil spatter or cleanup to worry about. Just toss the parchment paper and foil when you're done.
The secret to making homemade chicken wings crispy:
Dab them dry them thoroughly with paper towels before coating them with the flour
Ensure the flour is just a dusting (not clumped or thick)
Make sure your oven is good and hot before popping them in so the skin will crisp up quickly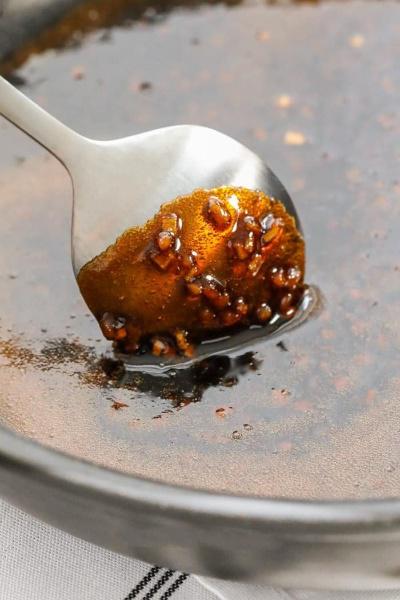 Chicken Wing Sauce
You can use any kind of chicken wing sauce for this recipe from Buffalo Sauce to simply salt and pepper. In this chicken wing recipe, a simple homemade sweet and sour sauce is baked until delicious and sticky.
For this wing sauce, I pump up the volume by adding extra garlic and ginger. The result is a perfectly heavenly combination of sweet, salty and meaty umami flavors.
How to Make Wing Sauce
The trick to the best wing sauce is making sure it's thickened so it sticks to the wings.
Combine the wing sauce ingredients in a small saucepan
Simmer until thickened, the sauce should coat the back of a spoon
Use a foil lined pan (easy clean up) topped with parchment paper (so the wings don't stick)
Allow the wings to bake/caramelize
Cool 10 minutes before serving which will help the sauce to thicken further
Honey garlic chicken wings are perfect as party wings. Serve them with a veggie plate containing celery sticks, broccoli florets and a variety of dipping sauces. Ranch dressing or your favorite blue cheese dressings are easy dips.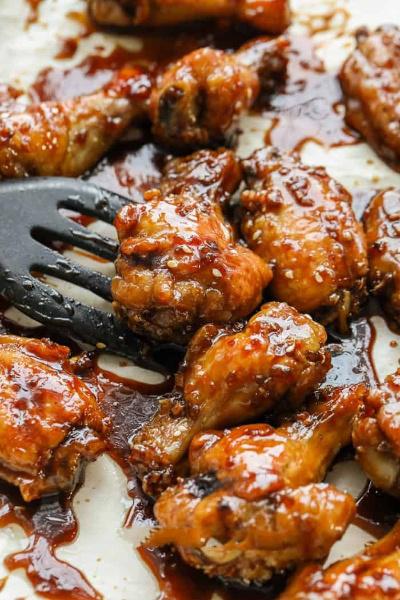 Ingredients
50 split chicken wings
¼ cup flour
salt & pepper to taste
1 tablespoon olive oil
Sauce
½ cup honey
4 tablespoons soy sauce
4 large garlic cloves crushed
1 tablespoon ginger finely diced
½ teaspoon chili flakes
⅓ cup water
1 teaspoon corn starch
Instructions
Preheat oven to 425°F. Dab wings with paper towels until completely dry.
Toss wings with flour, salt and pepper. Remove any excess flour and brush with olive oil (or use an olive oil spray).
Line a pan with foil and then place parchment paper on top (you may need 2 pans) and bake 35 minutes turning at 20 minutes.
Meanwhile, combine sauce ingredients in a small pan. Bring to a boil, reduce heat and simmer about 10 minutes or until slightly thickened and sauce coats the back of a spoon.
Take wings from oven, toss with sauce and return to the oven for 10 minutes, turning after 5 minutes.
Allow to cool 10 minutes. As the sauce cools, it thickens. Stir the wings every few minutes to coat in the sauce as it thickens.