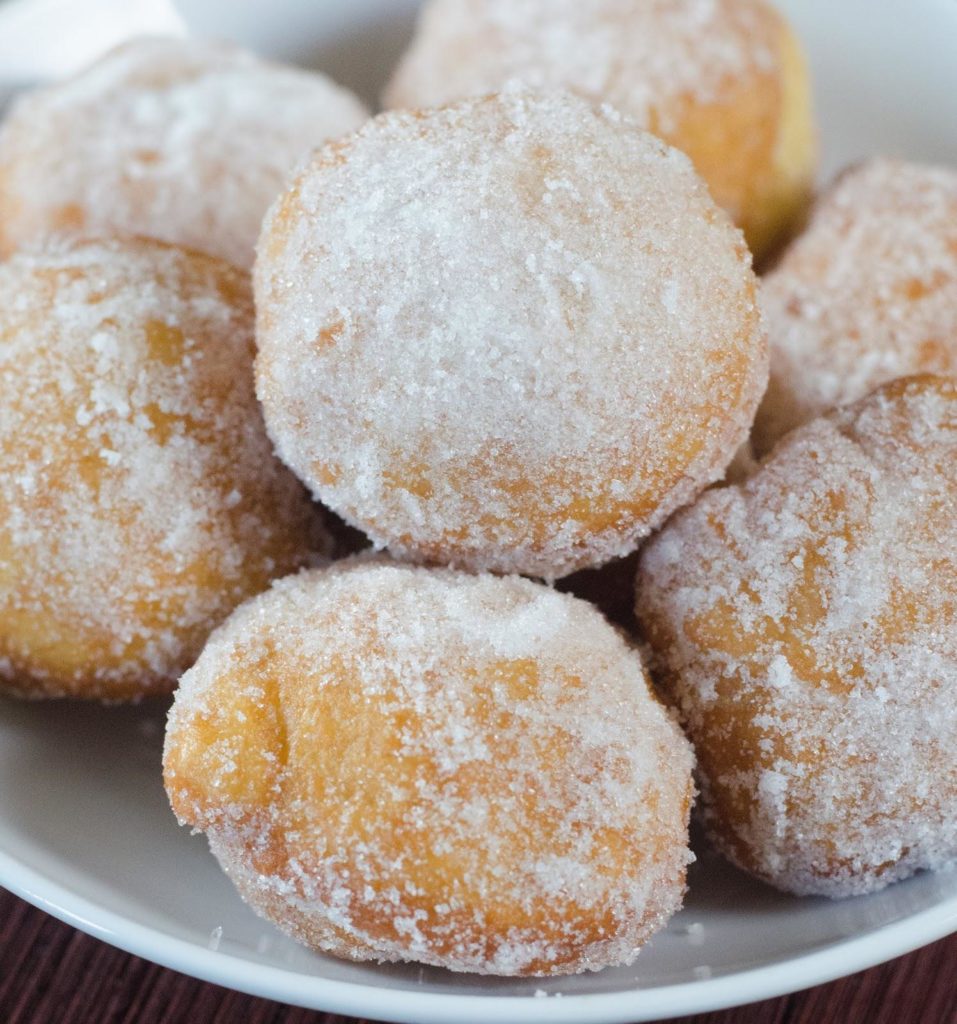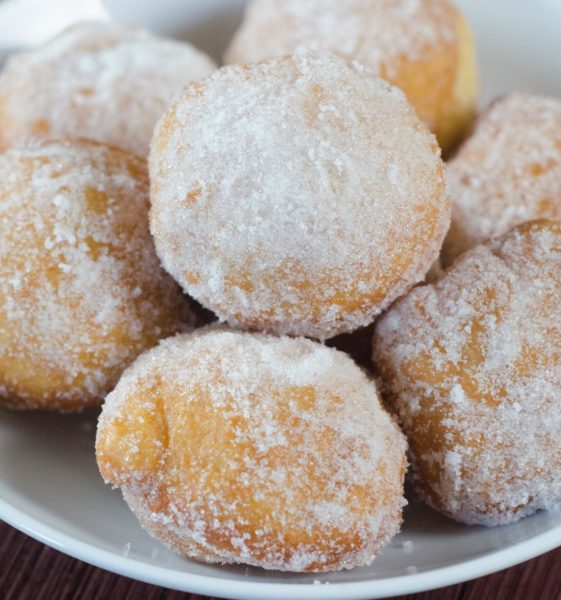 Ingredients :
Cook Time : 20 Minutes Serves: 15
1/2 cup milk
1 teaspoon dry yeast
1 Whole Egg
1 egg yolk
2 teaspoons sugar
1/2 teaspoon salt
2 cups all purpose flour
1 tablespoon butter
Vegetable oil for frying
2 cups sugar; for dusting
1 tablespoon olive oil
Directions :
Add lukewarm milk to a mixing bowl and sprinkle your yeast on top. In 5 minutes bubbles will start to form on the surface. Once this happens add your eggs, 2 teaspoons sugar, salt, flour, and butter.
In a bowl of a stand mixer with dough hook knead the ingredients for 10 minutes or until they form a smooth, tacky dough that pulls away from the sides of the bowl. If your dough is too wet, add flour 1 teaspoon at a time until it is the proper consistency.
Turn the dough onto a flat surface. Use both hands to work it into a nice large ball. Do not flour surface.
Once you formed a ball, place it in a lightly greased bowl with olive oil and cover it with plastic wrap. Let the dough rest for an hour and a half until the ball has doubled in size.
Take the total weight of your dough and divide by twelve. You will yield 12 to 15 donuts. Cut the dough into small chunks the weight of your divided by twelve. Work it in a circular motion between the flat work surface and the palm of your hand until a each donut is rolled and compact. If you do use flour here use a very tiny amount on your hands.
Line a baking sheet with parchment paper. Set all the donuts on it. Cover and let the dough rise again until doubled in size about one hour.
Place the frying oil into an small pot and heat it to 350 degrees approximately between a 2 and 3 on the stove. It's best to have a deep frying thermometer that will read the temperature of the oil. Fry no more than two donuts at a time not to crowd the pan.
Remove the donuts from the oil when they a golden brown in color. Place them on a baking rack to cool slightly. The total cook time for your donuts is about 4 minutes. Before the donuts are completely cooled toll them in the two cups of sugar and set back on the rack.
ENJOY!