Indulge in the magic of quick and easy homemade puff pastry with this recipe for Fast-Rising Yeast Layered Dough! With just a few simple ingredients and some patience for the dough to rise, you'll have a versatile pastry dough that can be used to create a variety of delicious baked treats. From flaky croissants to scrumptious turnovers, the possibilities are endless. Join us in the kitchen and let's create culinary magic together with this easy-to-follow recipe. Get ready for a baking adventure that will impress your family and friends, and leave you craving for more. Happy baking and bon appétit!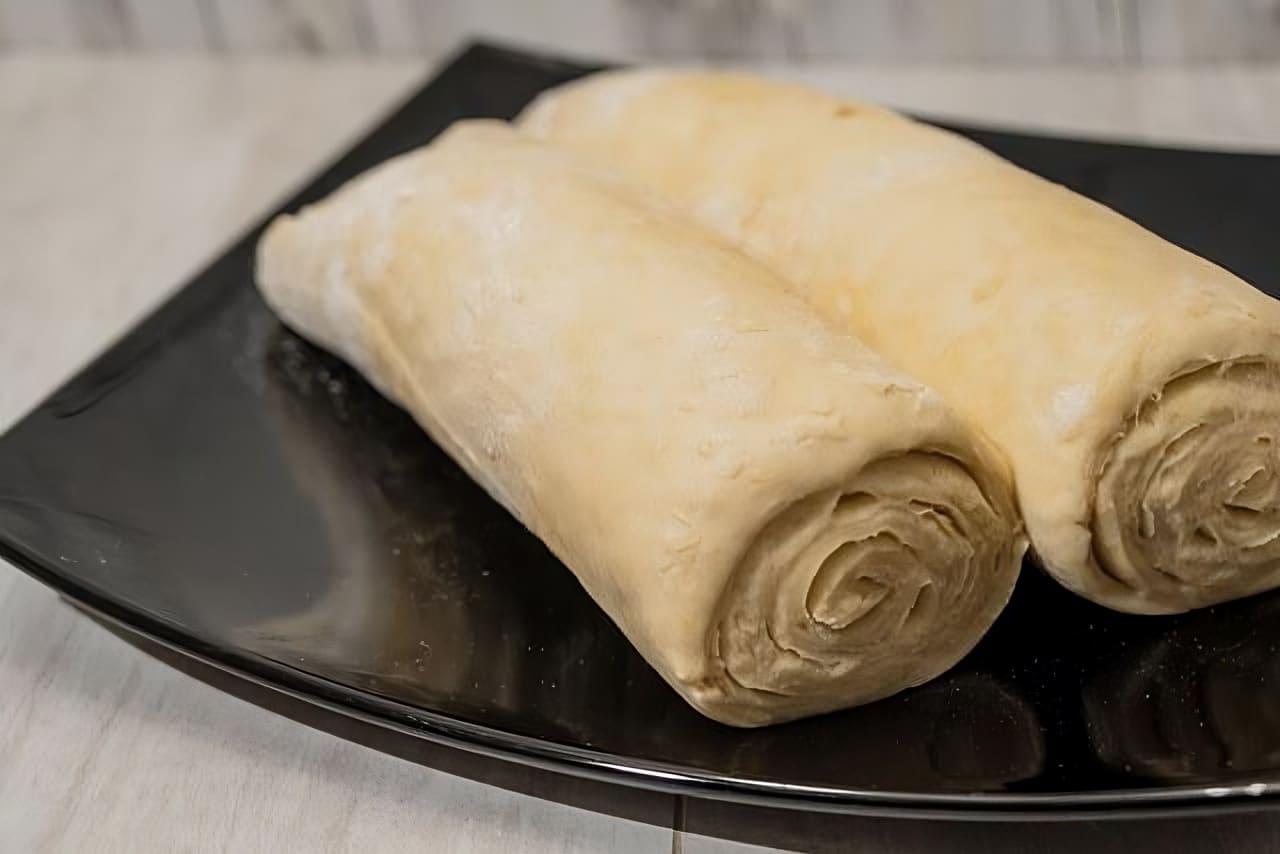 INGREDIENTS
1 chicken egg
70 ml water
2 tbsp sugar
150 ml milk
600 g flour
10 g dry yeast
1 tsp salt
150 g butter
Instructions
Prepare all the necessary ingredients for this quick and easy yeast puff pastry recipe.
In a bowl, combine 10 g of dry yeast with 150 ml of warm milk and 2 tbsp of sugar. Stir well and set aside in a warm place to activate the yeast.
Sift 550 g of flour twice, the second time onto a clean countertop. Add 1 tsp of salt for flavor.
Sprinkle 150 g of frozen butter cubes onto the flour and chop them with a knife until crumbly. Then mix the butter with the flour using your hands.
Break one chicken egg into the bowl with the liquid base for the dough, mix well with a whisk, and then add 70 ml of warm boiled water to make a total of 250 ml of liquid base. Stir again.
Add the liquid base to the flour with butter and knead the dough.
Quickly form the dough into a ball, adding 50 g of the remaining flour as needed.
Place the prepared puff pastry dough in a plastic bag and refrigerate for 2-4 hours.
After the time has elapsed, take the dough out of the refrigerator and roll it out on a floured surface using a rolling pin.
Roll out the dough to a thickness of 0.5 cm, flouring the rolling pin beforehand to prevent it from sticking to the dough.
Roll up the rolled out dough into a tight roll and then cut it in half with a knife.
You can use the prepared puff pastry to make a variety of exquisite pastries, or you can freeze it for later use.
Let's cook together, let's cook simply, let's cook the most delicious homemade dishes from available ingredients using our recipes!
Happy baking and Bon Appétit!