These sliders are the perfect snacking sandwich. Whether it be a backyard BBQ or just a normal day of the week, these cheesy burgers are sure to win over the crowd, all year long! A sweet and savory buttered dinner roll, filled with seasoned cheesy ground beef and topped with tomatoes and pickles to round out a simple meal or to feed a hungry crowd. It doesn't get any easier!
Cheeseburger Sliders Recipe
Not all cheeseburger slider recipes are made the same. Some like to make individual patties, and some do a crumble as I did in this recipe. At the end of the day, what makes this slider recipe unique is what is actually inside of the hamburger mixture, and the toppings. Why is a slider called a slider? Sliders are simply referring to mini hamburgers. The name originated in the 1940's when sailors in the U.S. Navy would refer to mini-burgers as "sliders" because of their extreme greasiness. I love that the greasiness is still socially acceptable today.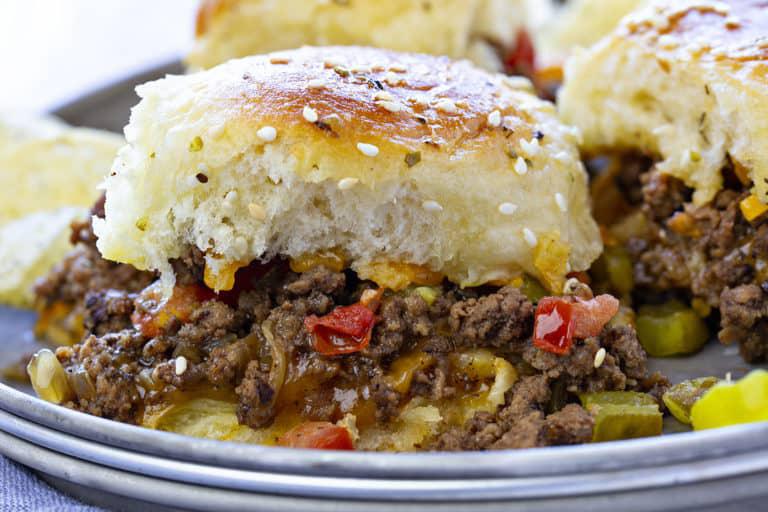 Slider Ingredients (full recipe in the recipe card below)
For the Hamburger:
80/20 grass-fed ground beef
diced yellow onion
garlic
seasoned salt (we use Lawry's Seasoned Salt)
hamburger seasoning (we use Hamburger Seasoning from McCormick)
Worcestershire sauce
salt
pepper
How to Make Cheeseburger Sliders
Sliders are really simple to make. When we initially made these sliders, we actually made up a big batch of classic cheeseburger recipe, and then broke up the leftover hamburger patties for sliders the next day! You can make this from scratch (as in the recipe below) or from leftover hamburger patties which have been crumbled, but no matter how you slice it, they are just delicious. I also have air fryer cheeseburger hand pies for another cheeseburger appetizer.
Once the ground beef is ready it is all about toppings. We start by slicing the entire loaf of Kings Hawaiian Rolls. I used Kings Hawaiian Rolls because they have that sweet flavor that we were looking for but another alternative would be to use our homemade potato dinner rolls or homemade Hawaiian Rolls! Top the bottom half of the buns with slices of cheddar cheese. We used medium cheddar, but you could use mild, or even American cheese if you want to modify this recipe. Next, a layer of seasoned ground beef, a layer of pickles, a layer of tomatoes, and a final layer of shredded cheese. This is typically pretty high, so when I put the top layer of buns on, I will press down a bit to make sure it all sticks together.
Finally, we add the best finishing touch anyone could ever ask for. Seasoned Butter. This is the stuff, guys. I know it sounds simple but these sweet rolls, topped with melted butter just adds that something special. It's magical and a little bit hard to describe.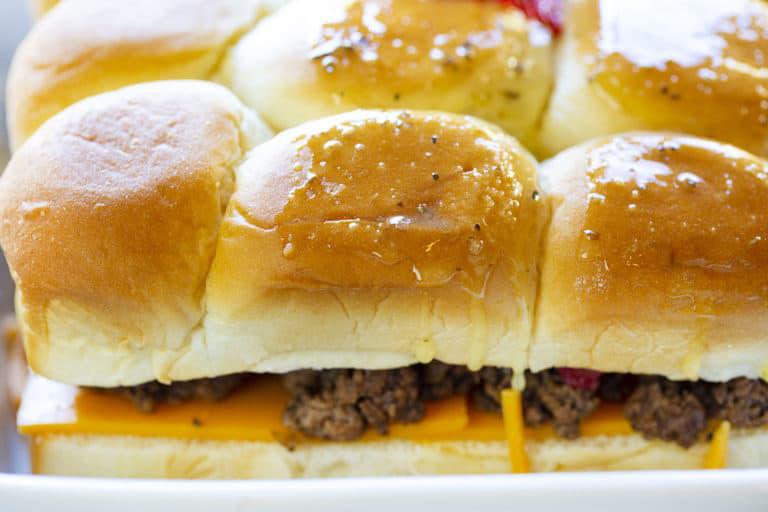 Hawaiian Roll Cheeseburger Sliders
You can really make these pull apart Cheeseburger Sliders your own by modifying a few things. As I mentioned, the cheese is one thing you can do to make these your own. However, just like ordering a custom cheeseburger at a restaurant, you can do that same thing here. Craving a bacon cheeseburger? Add bacon for bacon cheeseburger sliders. Looking for a western burger? Add some BBQ sauce and some fried onions. The sky is really the limit with this recipe. No matter how you make it, I can tell you, you will not be disappointed.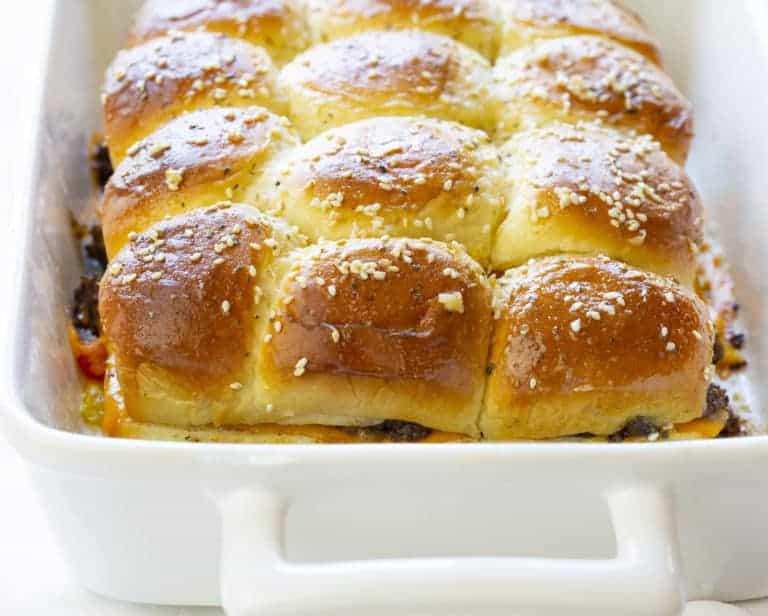 INGREDIENTS
HAMBURGER
1 tablespoon canola oil
1/2 teaspoon seasoned salt
1 tablespoon McCormick Hamburger seasoning
salt and pepper to taste
1/2 yellow onion, finely chopped
1 clove garlic, minced
1 pound ground beef
1/2 teaspoon Worcestershire sauce
SEASONED BUTTER
1/4 cup (57 g) butter melted
1/2 teaspoon salt
1/2 teaspoon coarse ground black pepper
2 teaspoons sesame seeds
SLIDERS
1 package Kings Hawaiian Rolls (12 count)
6 slices cheddar cheese
1 medium tomato, diced
1 cup dill pickle slices, diced
1 cup shredded cheddar cheese
INSTRUCTIONS
Preheat oven to 350°F.
HAMBURGER
In a small bowl, mix together the seasoned salt, hamburger seasoning, salt, and pepper.
Add oil to a non-stick pan and add the onions and garlic. Cook about 1-2 minutes. Add the ground beef to the pan. Break up the meat with a wooden spoon. Add the Worcestershire sauce. Sprinkle with seasoning mixture.
Cook for about 8-10 minutes, or until no pink remains in the meat. Remove from heat.
SEASONED BUTTER
In a small bowl, mix together the melted butter, salt, coarse ground pepper, and sesame seeds, set aside.
SLIDERS
Split your rolls in half, place the bottom half in a prepared 9×13 baking dish. Set the top half aside.
Add cheese slices and then the cooked hamburger to the top of the buns
Top with diced pickles, tomatoes, shredded cheese, and the top half of the buns.
Brush generously with seasoned butter then cover with foil.
Bake for 15 minutes or until the cheese is hot and bubbly.
Remove foil, and bake for an additional 5 minutes (or until the tops of the sliders turn a golden brown).
Remove from oven, slice and serve. (Best served hot)