Skillet Garlic Butter Pork Chops are made in one pan with green beans for an easy dinner that is super tasty!
Pork chops are a family favorite dinner recipe. You'll need only a handful of simple ingredients to make this delicious dinner. These chops are made in a skillet along with green beans and are coated in a garlic butter sauce.
WHAT CUT OF PORK CHOPS SHOULD I BUY?
This recipe will work with both boneless center cut chops and bone-in center cut chops. The bone will ensure more even cooking, but boneless will also be delicious.
WHAT TEMPERATURE DOES PORK NEED TO BE COOKED TO?
Pork needs to be cooked to a minimum internal temperature of 145 degrees Fahrenheit. Cooking times for pork chops will vary slightly based on how thick your chops are cut. Use a meat thermometer to ensure accuracy.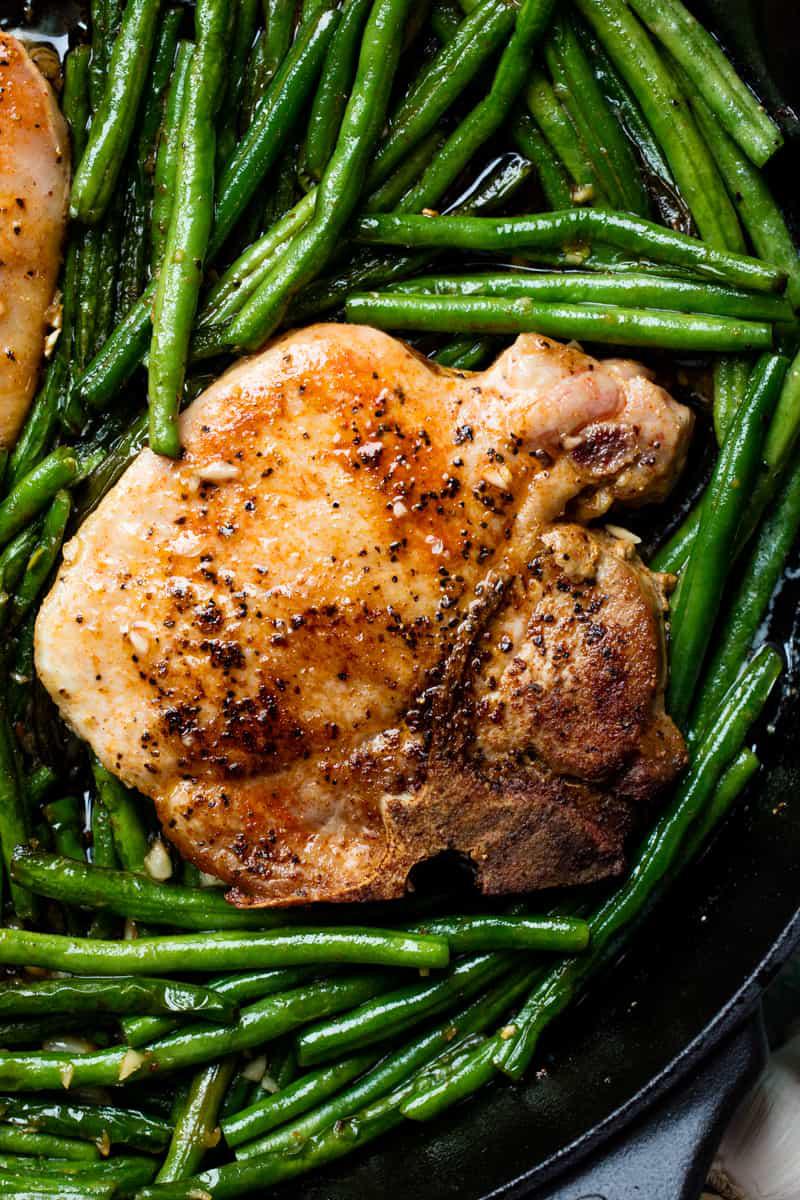 INGREDIENTS
2 bone in center cut pork chops 1/2 inch thick
1/2 teaspoon salt divided
1/2 teaspoon black pepper divided
1 teaspoon smoked paprika
1/2 cup unsalted butter
4 cloves garlic minced
1 pound green beans trimmed
INSTRUCTIONS
Season both sides of pork chops with 1/4 teaspoon salt, 1/4 teaspoon black pepper, and paprika.
Heat a large heavy skillet over medium high heat.
Melt butter in skillet. On one side add in pork chops and sear 3-5 minutes on each side. On the other half of the skillet, add in green beans and saute 7 to 10 minutes until tender crisp while the pork chops cook on the other side.
Add garlic to butter in bottom of skillet and saute in with the green beans, and cook one minute. Spoon garlic butter over chops. Check temperature of pork and continue cooking, if needed, until pork reaches an internal temperature of 145 degrees Fahrenheit.
Serve hot and season to taste.