Asparagus Stuffed Chicken is one of the most impressive dishes you can make with very little effort. It is an incredibly easy dish, that looks gorgeous and tastes delicious!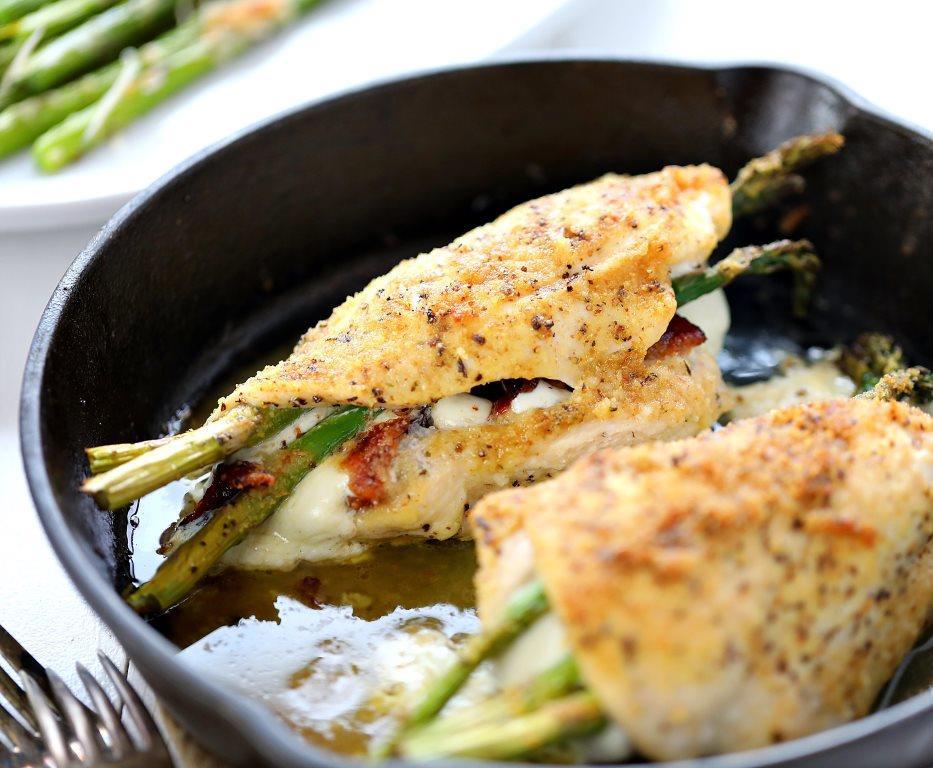 Asparagus Stuffed Chicken
When I was younger, asparagus wasn't even an option for me. I don't know if it was just that it got a bad reputation in the 10 through 14-year-old crowd, or if there was some truth to my intolerance of this infamous vegetable. At some point, I gave in and gave asparagus a seat at the table (literally). I am so glad I did!
There are a million ways to cook this delicious vegetable (like this Roasted Asparagus), but this is one of my favorites. It takes very little effort, looks stunning, and the taste is a perfect match. The flavors blend together so perfectly it is like they were meant to be.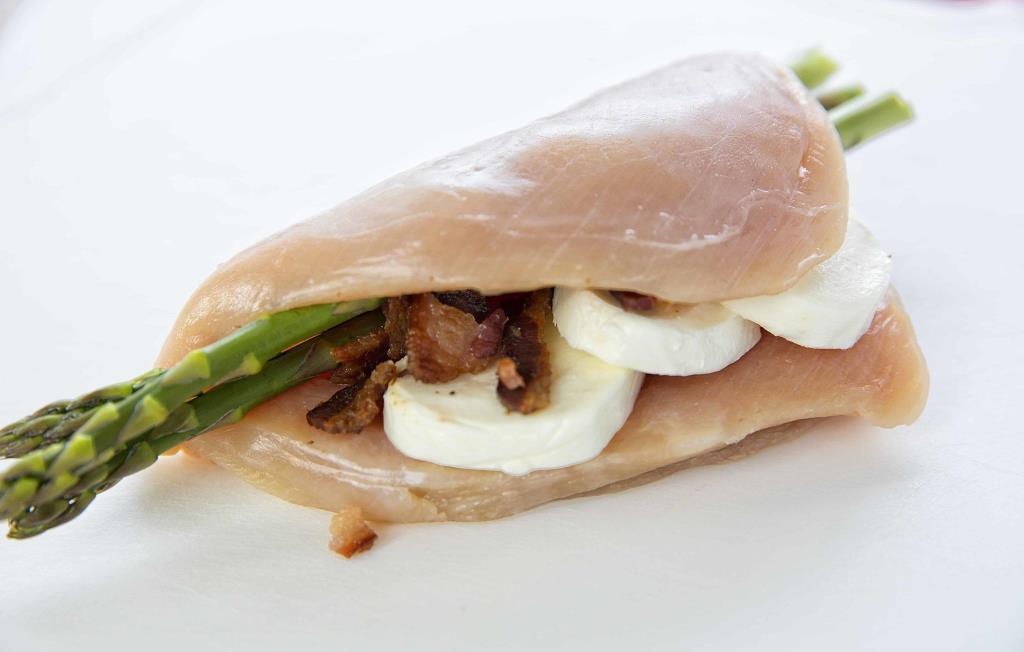 Asparagus Stuffed Chicken Breast
Do not let the simplicity of this recipe fool you. The flavor will make this an instant favorite in your house. A couple of tips on ingredients to make the best version ever.
Asparagus: I always try to get the thick stalk asparagus if I can, but not for this chicken. You may notice that smaller asparagus has more flavor and crispiness, and that is perfect in this recipe! No matter the thickness though, I always cut or snap off the woody ends. Those will not soften in the oven (or in any version of asparagus) and you will not be happy when you take a bite into your asparagus and find a chewy tasteless bite.
Mozzarella: Go for fresh mozzarella from the deli. I like to buy mine presliced because slicing mozzarella is not much fun, but you could go with any version. I have even used the 'mozzarella pearls' before and it turned out amazing. If you go for the pre-shredded version this will taste and look completely different. These types of mozzarella cheese are considered "low-moisture" which means they dry them out a bit as well as coat them so they don't stick together. This version will be a little saltier (read preservatives) and a little more "stringy".
Bacon: I consider myself somewhat of a bacon connosieur…which basically means I like to eat a lot of bacon. ? Thick cut is the only way to go. I have read article upon article of people saying there is no difference between thin and thick cut. I wholeheartedly disagree! Thick cut bacon, if cooked properly will melt in your mouth. That's the goal folks.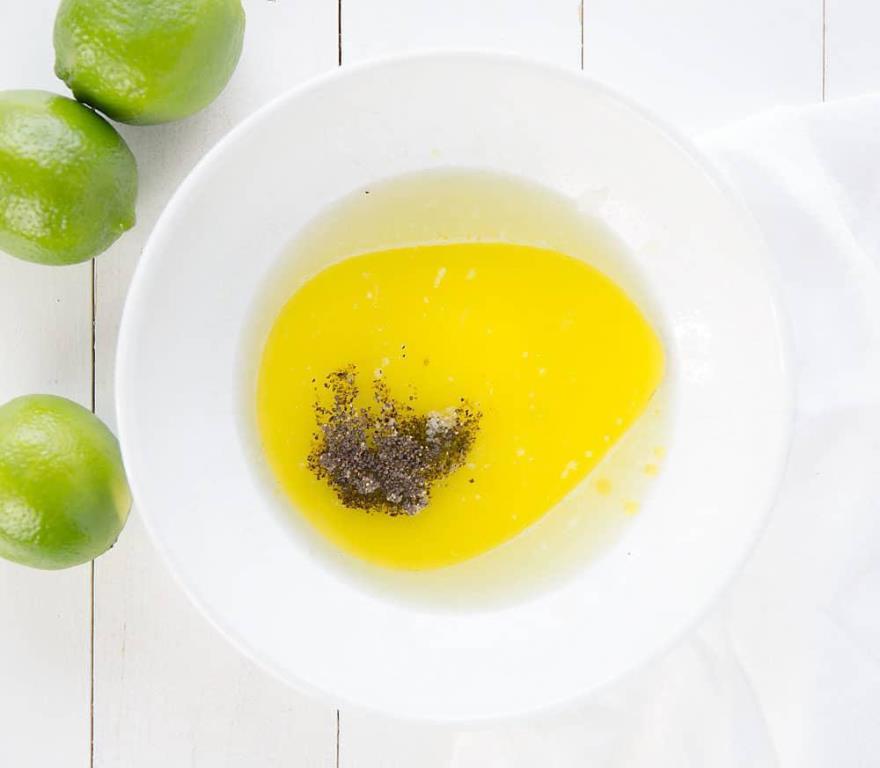 How to Make Asparagus Stuffed Chicken
Could it really be any easier? I doubt it. Here are the simple steps to make this meal:
Butterfly: To butterfly the chicken put your chicken breast on a chopping board and, with your hand flat on top of it, use a sharp knife to slice into one side of the breast, starting at the thicker end and ending at the thin point. Be careful not to cut all the way through to the other side. You are essentially doubling the size of the chicken breast without cutting it in two. Another method is to use a meat mallet and flatten the chicken breast. Both work, you should be working towards about a 1/4 inch in thickness.
Layer: In the fold of the newly sliced chicken, layer mozzarella, bacon, and asparagus. If you got thick stalk asparagus, just three will do, if not, you can go up to 4 or 5. It also depends on how big the chicken breast is. The goal would be to get the chicken breast to close fully.
Coat: You will coat the outside of the chicken with a mixture of salt, pepper, lime juice, and olive oil. (this is the image above) Mix these ingredients together and then brush them liberally on the outside of the chicken.
Topping: Place the chicken in your baking dish. You can use a baking pan (greased) or a skillet, and then top everything with bread crumbs. I like to use seasoned breadcrumbs like Italian, or garlic. If you want the outside to get a little more crispy, give it a good spray of cooking spray before you pop it in the oven.
Bake: Some chicken breasts are thin and some are thick and the weight doesn't always determine the thickness. But generally speaking, for a 5-6 ounce chicken breast, this will need to cook for about 25 minutes. You will want to keep a close eye on it at around the 20-minute mark. Your best bet is to use a meat thermometer and make sure the thickest part of the chicken is at least 165 °F.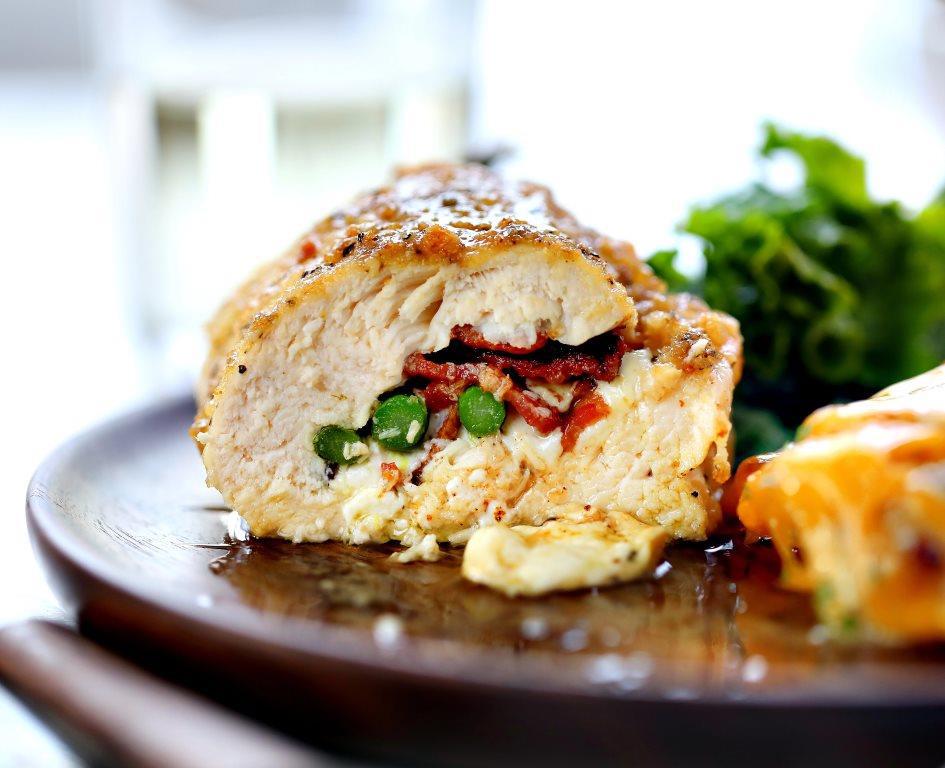 INGREDIENTS
4 boneless skinless chicken breasts
FILLING
8 ounces fresh mozzarella cheese
12-16 asparagus spears, woody ends trimmed
3 strips thick cut cooked bacon, crumbled
COATING
1/2 cup seasoned bread crumbs
1 lime juiced, about 2 tablespoons
1 tablespoon olive oil
1/8 teaspoon salt
1/8 teaspoon pepper
INSTRUCTIONS
Preheat oven to 425°F.
Wash, dry and butterfly chicken breasts. (To butterfly put your chicken breast on a chopping board and, with your hand flat on top of it, use a sharp knife to slice into one side of the breast, starting at the thicker end and ending at the thin point. Be careful not to cut all the way through to the other side.).
Open butterflied chicken breasts and place mozzarella, 3-4 raw asparagus spears, and 1/4 of the crumbled bacon into the fold (optional: secure the fold with a toothpick).
In a medium bowl, mix together oil, lime juice, and salt and pepper.
Brush both sides of the chicken breast with the oil mixture, and place on a baking dish, sheet pan lined with foil, or into a cast iron skillet.
Top with breadcrumbs.
Repeat with the other remaining chicken breasts.
Bake for 20-25 minutes, serve immediately.