Pink Velvet Cake is a soft vanilla cake with food coloring to give it the pink color and topped with vanilla buttercream.
The texture of this cake justifies the velvet name in the title. Unlike my red velvet cake, which is really a chocolate cake, this is a vanilla cake with some food coloring for that pink color.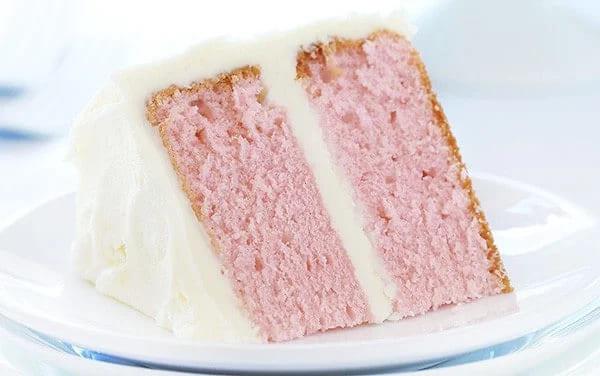 Cake Ingredients
There are two parts to this cake–the cake and the buttercream.
Room Temperature Ingredients: I can't stress enough that this cake needs to be made with room temperature ingredients. This will ensure easier mixing and helps achieve that perfect crumb.
Cake Flour: Cake flour brings a finer crumb to cakes. It is lower in protein than all-purpose flour, which gives baked goods a delicate, tender crumb. You can make your own homemade cake flour if you don't have any on hand.
Food Coloring: I needed 6-7 drops of red food coloring to blend with the ingredients to result in a soft pink color. You can add as much or as little as you prefer.
Confectioners' Sugar: Yes, the whipped buttercream calls for 7 cups of sugar. However, you could use as little as 3 1/2 cups if you want to use less sugar.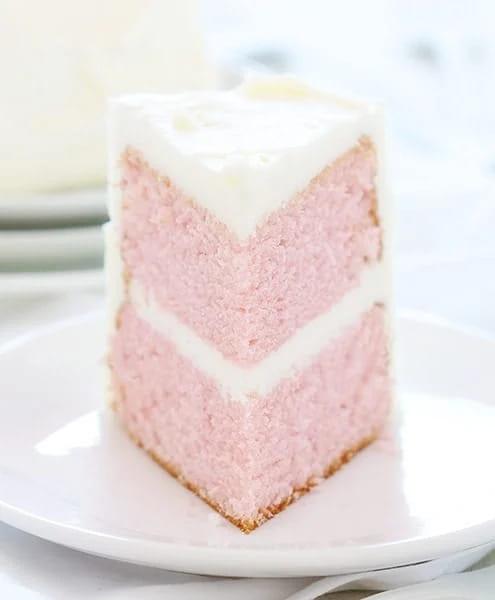 Can I Make the Pink Velvet Cake Ahead of Time?
Yes! If you are making this cake in advance, try adding Simple Syrup to make sure the cake stays perfectly moist and delicious! When the cake is done baking and cooled, level the cake and then add simple syrup. About 1-2 tablespoons per layer. Chill until ready to frost or frost immediately.
Can I Make the Buttercream Ahead of Time?
Just like you can make the cake ahead of time, you can also make the buttercream in advance. It will last up to 2 weeks in the refrigerator.
Can I Make this Without Food Coloring?
You can definitely make this cake without food coloring. Or, you could use your favorite color to fit your mood or occasion.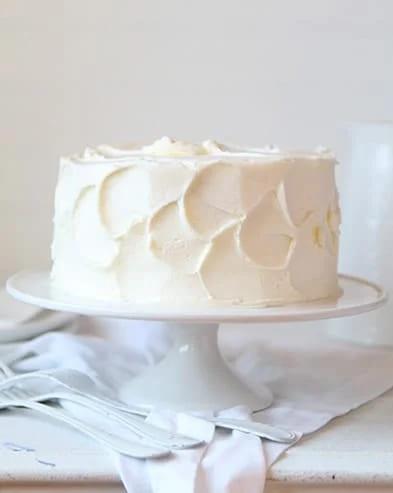 INGREDIENTS
CAKE
½ cup (1 stick, 113g) unsalted butter, room temperature
1½ cups (300g) granulated sugar
3 large eggs, room temperature
3 cups (300g) cake flour
½ teaspoon kosher salt
2 teaspoons baking powder
1 cup (245g) whole milk, room temperature
½ cup (109g) vegetable oil
1 teaspoon vanilla
red food coloring, 6-7 drops
VANILLA BUTTERCREAM
1 cup (2 sticks, 227g) unsalted butter, room temperature
2 teaspoons vanilla extract
¼ teaspoon almond extract
32 ounces (7 cups) confectioners' sugar, sifted
5 tablespoons whole milk, or enough to reach desired consistency
1 pinch kosher salt
INSTRUCTIONS
CAKE
Preheat the oven to 350°F. Spray 2, 8-inch round cake pans with nonstick cooking spray or line each with parchment paper. Set aside.
In the bowl of a stand mixer with the paddle attachment, add the butter and cream until pale in color (about 2 minutes).
Add the sugar to the creamed butter and mix for an additional 1-2 minutes, or until light and fluffy, scraping the sides of the bowl as needed.
Add the eggs, one at a time, making sure each egg is incorporated before adding the next one.
In a separate bowl, whisk together the flour, salt, and baking powder.
In another bowl, combine the milk, oil, and vanilla.
With the mixer on low speed, alternate between adding the flour mixture and the milk mixture to the butter mixture, beginning and ending with the flour mixture. Mix until the ingredients are fully incorporated, adding your desired amount of food coloring.
Remove the bowl from the stand mixer.
Pour the batter equally between the two cake pans. Bake the cakes for 30-35 minutes, or until an inserted toothpick comes out clean.
Allow cakes to cool in the pans for 10 minutes before turning them over onto a wire rack to cool completely.
VANILLA BUTTERCREAM
In the bowl of a stand mixer with the whisk attachment, cream the butter on medium-high speed until light and fluffy (about 3 minutes).
Add vanilla and almond extract.
With the mixer on low, slowly add confectioners' sugar, milk, and salt, scraping the sides of the bowl as needed.
Once the ingredients have been incorporated, whip the frosting on medium-high to high for 3-7 minutes.
If frosting is too thick to spread, gradually beat in additional milk until it reaches your desired consistency.
Frost cooled cakes. Store leftovers buttercream in the refrigerator for up to 2 weeks.