Spinach Stuffed Salmon is a simple dish that looks complex. Perfectly seasoned, flaky salmon fillets, stuffed to the brim with a creamy and delicious spinach filling.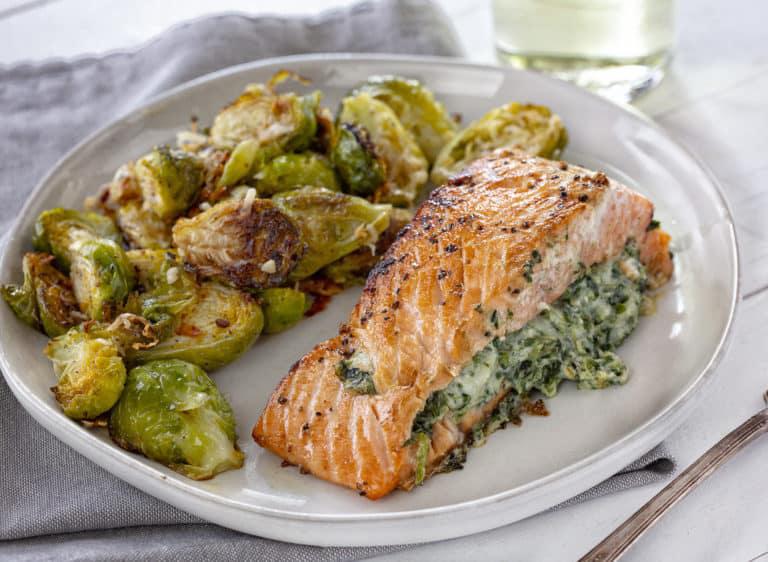 When it comes to fish, salmon is one of my favorites to make. As a kid, I didn't eat it much. But I do remember the first time I tried this tender and juicy cut of fish. It was forcibly placed on a plate in front of me (as was every vegetable known to man). I was not happy about it, but like a good Midwestern girl, I ate it. Boy was I pleasantly surprised! Ever since then I have loved it and could honestly eat it with breakfast, lunch or dinner. I don't feel bad eating it because on top of the flavor, it is such a nutrient-rich choice too!
This spinach stuffed salmon recipe is one of my newest favorites. Perfectly pan-seared and then stuffed with a creamy spinach filling, this dish will make even the pickiest fish-eater clean their plate.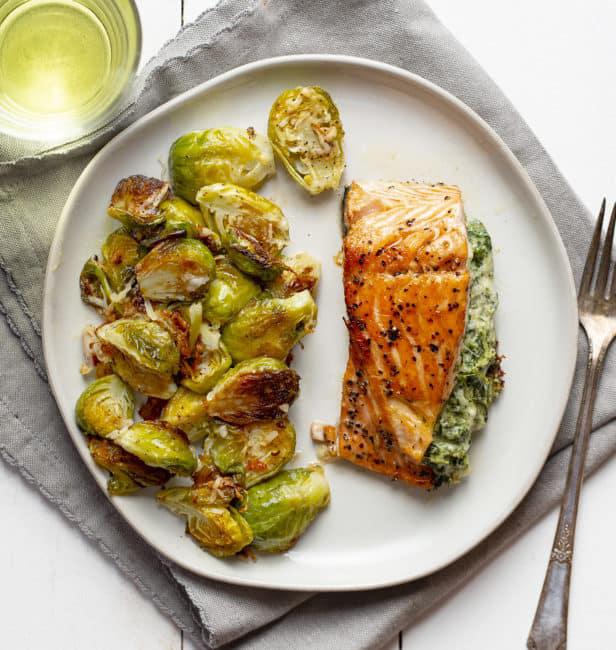 Spinach Stuffed Salmon Recipe
One of my favorite things about cooking fish is that for the most part, the ingredients are relatively simple. As is my advice for cooking or baking anything, your recipe is only as good as your ingredients. It is important to pick quality ingredients.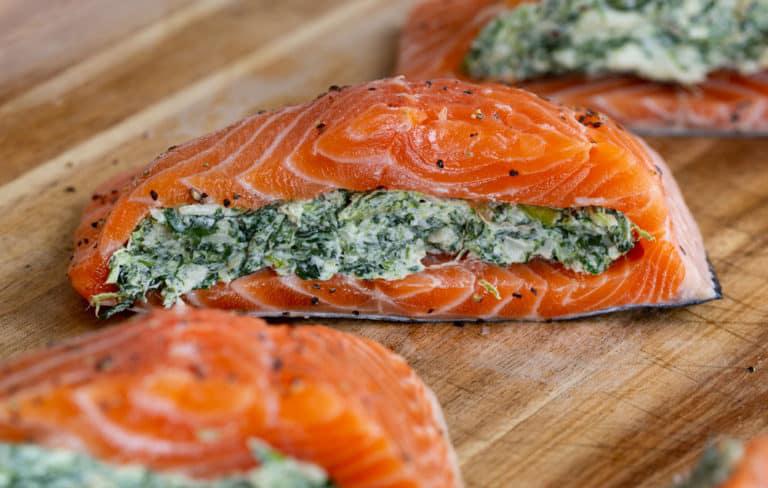 Salmon
The key ingredient in spinach stuffed salmon is (you guessed it) salmon. This isn't just a fish that you buy without thought, you need to understand a few basics. First off, you will want a salmon fillet (not a salmon steak or a salmon side). Salmon fillets are the most commonly used cut of the fish, served with or without skin. If you are debating skin or no skin, you need to look at how you plan to cook the fish. For this recipe, we are pan frying, so skin-on is best. The pan frying method will crisp the skin and trust me, it is delicious. If you opt to purchase a salmon side, that works too. This is a just a larger piece of the fish, that will cut down into fillets. If you purchase a full side, the traditional serving size for a salmon fillet is about 6 ounces.
Cheeses
This includes parmesan, mozzarella, and cream cheese. Go for full-fat if you can. Why? Well, it will taste better. Also, low-fat, pre-shredded cheeses have been reduced in moisture. This will affect cooking time, flavor, and texture. Also, as a rule, if it says "low-fat", "reduced-fat", or "fat-free" we don't buy it. If the label has ingredients that we cannot pronounce, we usually read them as "preservatives" and steer clear.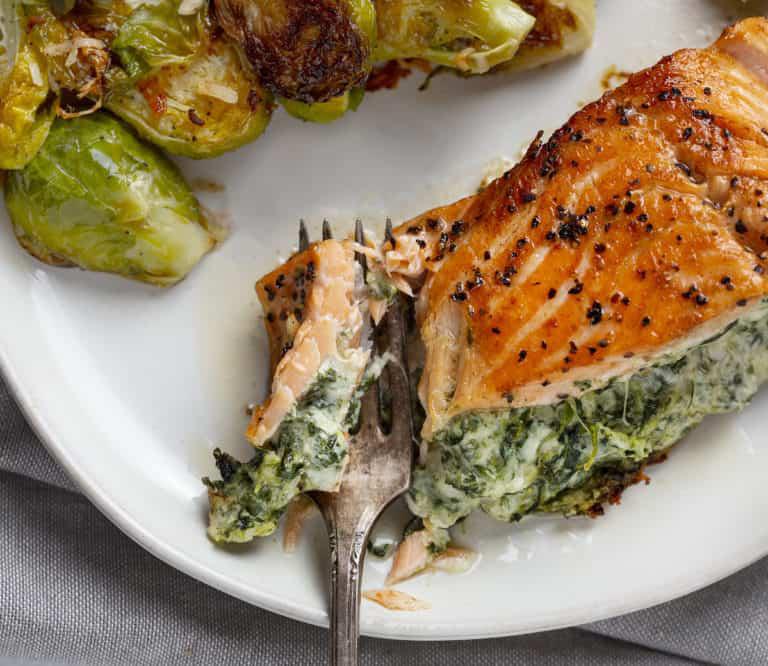 How do You Cook Salmon in a Pan?
For this easy, creamy spinach stuffed salmon recipe, I usually start with the cream cheese mixture. Mix those ingredients and set it aside until just before the filet goes into the pan. I do not recommend chilling the cream cheese mixture. When this is chilled, it will change the temperature of the fish and the cooking time will vary greatly. I recommend cooking everything (fish and cream cheese mixture) at room temperature. This will ensure that the fish cooks entirely through. There is nothing worse than cutting into a steaming perfectly cooked salmon fillet, filled with lukewarm (or worse, cold) cream cheese.
Once you are ready with the filling, prepare the salmon filets by topping with oil, salt, and pepper. Make sure to rub this in, you want the seasoning to stick. Next, with a sharp knife, cut a large pocket into the salmon fillet. Be careful to not cut all the way through the fillet. Stuff this pocket with the cream cheese mixture.
Pan frying salmon is really the best way to go. When you are ready to move to the pan frying step, heat up the oil, butter, and lemon in the pan. We like to use a skillet for this portion. Once it starts to sizzle, you are ready to go! Place the salmon in the pan, skin side down. Sear on each side for about 6 minutes. I typically will cover the dish for a few minutes and then remove the cover and baste with the juices in the pan to make sure that fish comes out juicy and full of the lemony flavor.
How to Know When Salmon Is Done Cooking
Doneness is really a matter of opinion when it comes to salmon. Some prefer a medium salmon and some prefer their salmon well done. Salmon is officially cooked through when the meat is a solid pink through the center. Try to keep in mind that the fish will continue to cook for a few minutes after you remove it from heat.
Best Wine to Pair with Spinach Stuffed Salmon
As a general rule, an oily fish like salmon pairs really well with full-bodied white wine like Chardonnay. From what I understand it brings out the rich flavor of the fish. I tend to be a rule breaker when it comes to wines though, my personal rule is, if you think it tastes good, then it pairs with what you are drinking. Is generally frowned upon in the wine world? Probably so. But the wine world isn't eating this delicious salmon with me, so I'll take my chances.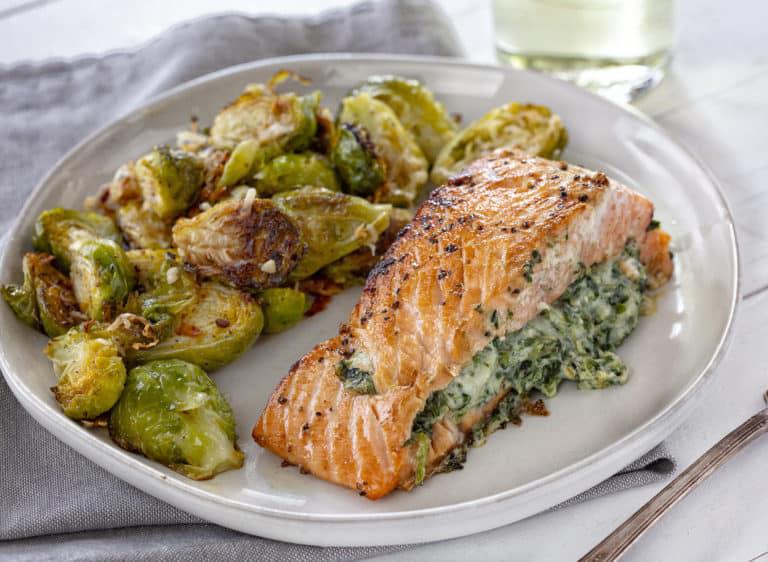 INGREDIENTS
SPINACH MIXTURE
4 ounces (113g) cream cheese softened
½ cup (57g) mozzarella, shredded
⅓ cup (33g) parmesan cheese, grated
½ cup (15g) frozen spinach, thawed and drained of water
¼ teaspoon garlic powder
⅛ teaspoon red pepper flakes
SALMON
4 (6-ounce) salmon fillets, skin on
3 tablespoons olive oil, divided
1 teaspoon Kosher salt
½ teaspoon freshly ground black pepper
2 tablespoons butter
Juice of ½ lemon
INSTRUCTIONS
SPINACH MIXTURE
In a large bowl, mix together cream cheese, mozzarella, parmesan, spinach, garlic powder, and red pepper flakes.
Set aside (leave at room temperature)
SALMON
Lay the salmon filets out on a cutting board, skin side down.
Drizzle salmon with 1 tablespoon olive oil and then sprinkle with salt and pepper. Use your hands to rub the seasonings into the surface of the fish.
Using a sharp knife, cut a pocket into each fillet.
Spoon 1/4 of the spinach mixture into the salmon filet.
In a large skillet over medium heat, heat remaining oil, butter, and lemon juice. Once the liquid begins to sizzle, add the salmon skin side down and cook until seared, about 6 minutes.
Flip salmon and use the liquids in the pan to baste the top of the salmon.
Cook until skin is crispy, about another 6 minutes. Serve warm.