Taco Stuffed Shells have all the flavors and fixings you would get from a traditional taco, but stuffed inside a jumbo shell. It's fun to have another option for Taco Tuesdays, or any day of the week, for that matter!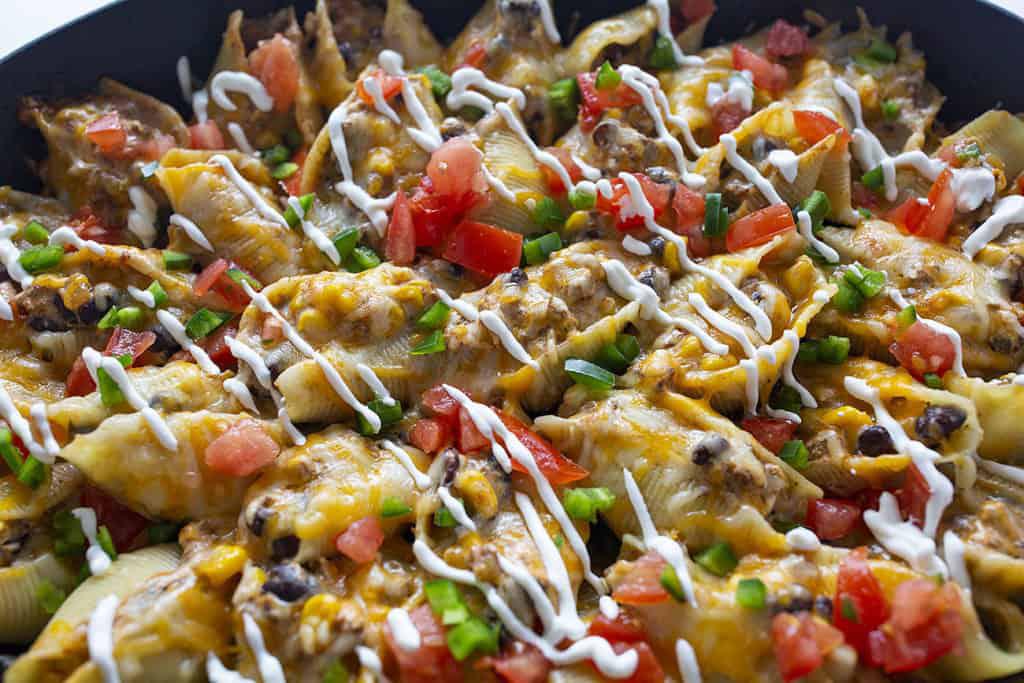 TACO STUFFED SHELLS
The options for variations of tacos are endless. They are no longer just served in a wheat or corn tortilla. Tacos are so popular, they even have a day set aside for them. October 4th is known as National Taco Day, but there is no way I could eat tacos just once a year. Taco Stuffed Shells is one such variation of tacos. They are easy to make, and they can be on the dinner table in just a few minutes!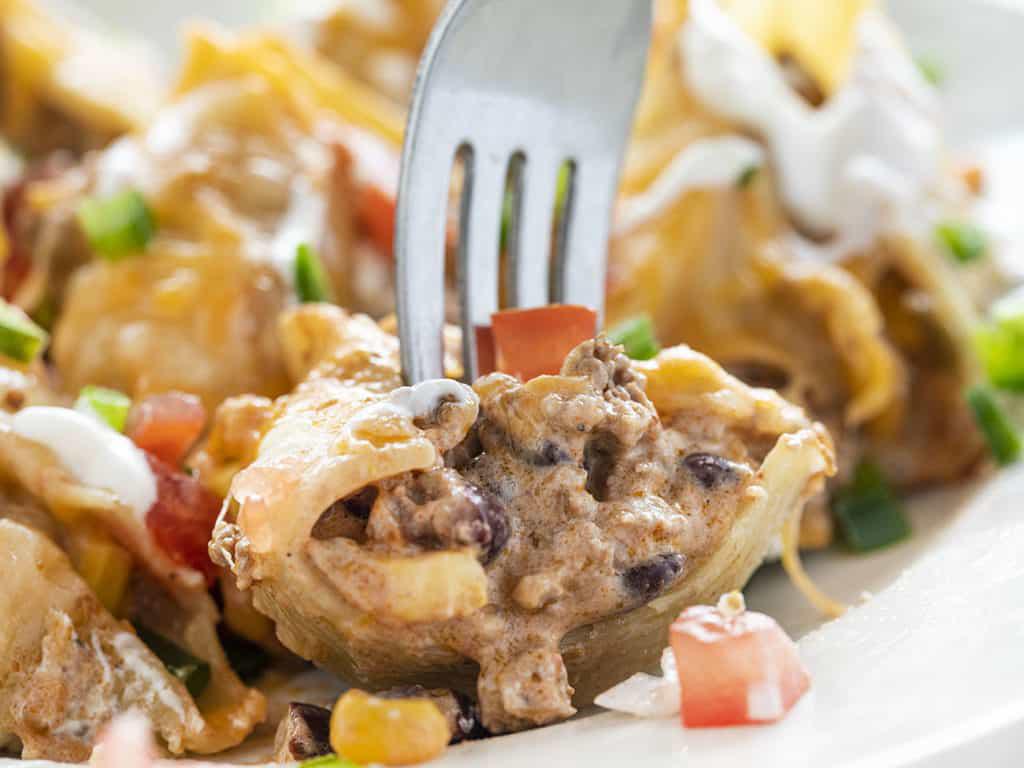 TACO STUFFED SHELLS RECIPE
With just a few ingredients and as many toppings as you want to add, you can have a delicious and satisfying meal on the table in less than 30 minutes.
Ingredients
Jumbo shells
Ground beef
Taco seasoning
Salsa
Corn
Black beans
Cream cheese
Mild cheddar cheese
Mexican cheese
Tomato
Jalapeno pepper
Sour cream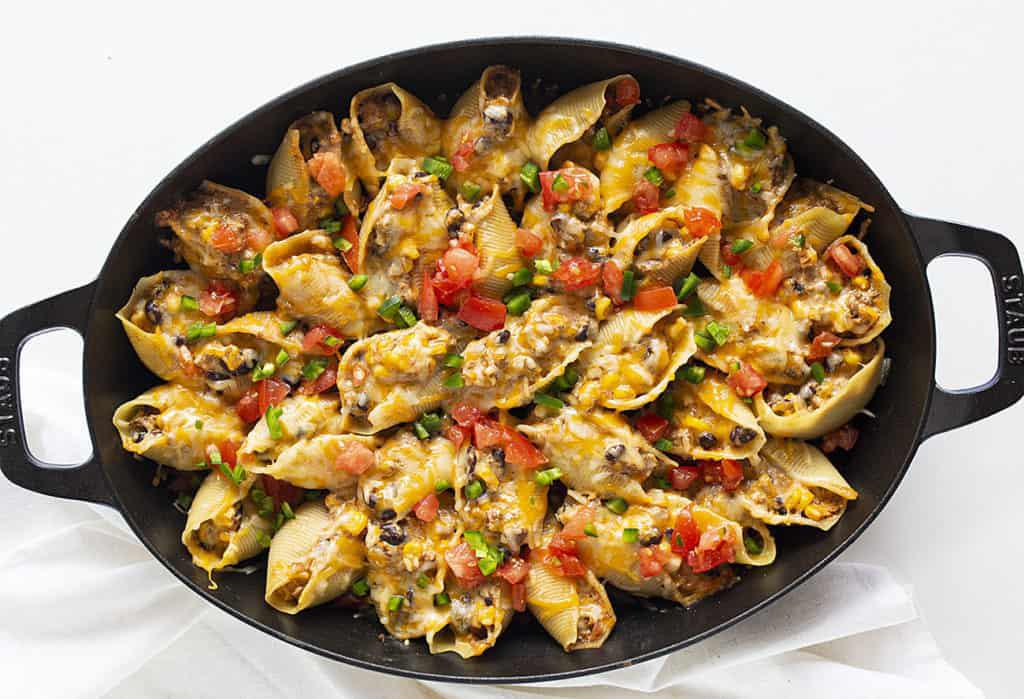 HOW TO MAKE TACO STUFFED SHELLS
It's all about cooking the jumbo shells al dente before you fill them with the seasoned beef, cheese, and vegetables. While the shells are cooling, brown the ground beef. After the ground beef has been browned, put it into a large bowl and mix the beef with the taco seasoning, cream cheese, cheddar cheese, salsa, corn, and black beans. Stuff the beef mixture into each shell and place them into a greased 9×13-inch baking dish. Top with shredded Mexican cheese and bake for 15-20 minutes at 350°F. The fun part is adding as many or as few toppings as you want! I added tomato, jalapeno pepper, and sour cream. But, if you are feeling adventurous, there are lots of toppings you could try like lettuce, cilantro, guacamole, and onions.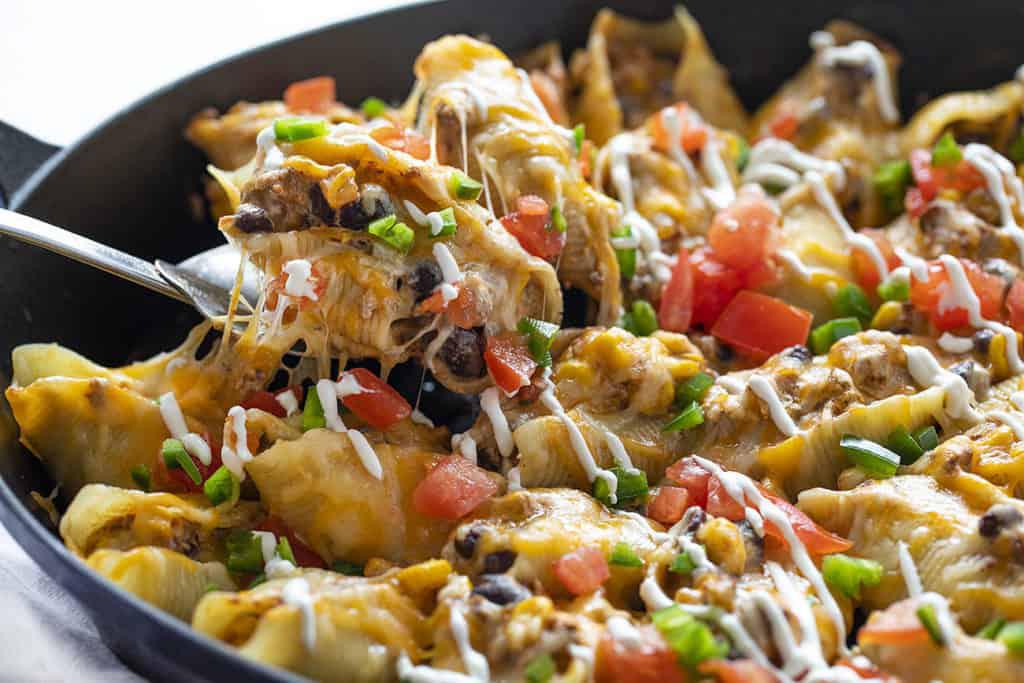 HOW TO MAKE HOMEMADE TACO SEASONING
The beauty of this simple, homemade taco seasoning recipe is that it is highly adaptable. I will add about 1 tablespoon to ground beef for a delicious mild effect or 3 tablespoons to ground beef for a "hotter" more distinct flavor. Here are the ingredients you need to have your own taco seasoning on hand!
1 tablespoon chili powder
1 teaspoon sea salt
1 1/2 teaspoons ground cumin
1/2 teaspoon paprika
1/4 teaspoon dried oregano
1/4 teaspoon crushed red pepper flakes
1 teaspoon onion powder
1 teaspoon garlic powder
1 teaspoon coarse ground black pepper
1/2 teaspoon cinnamon (optional)
Mix all the spices together and store in an airtight container. Consider using this taco seasoning recipe on chicken for chicken tacos, and in cream cheese for the world's BEST Taco Dip.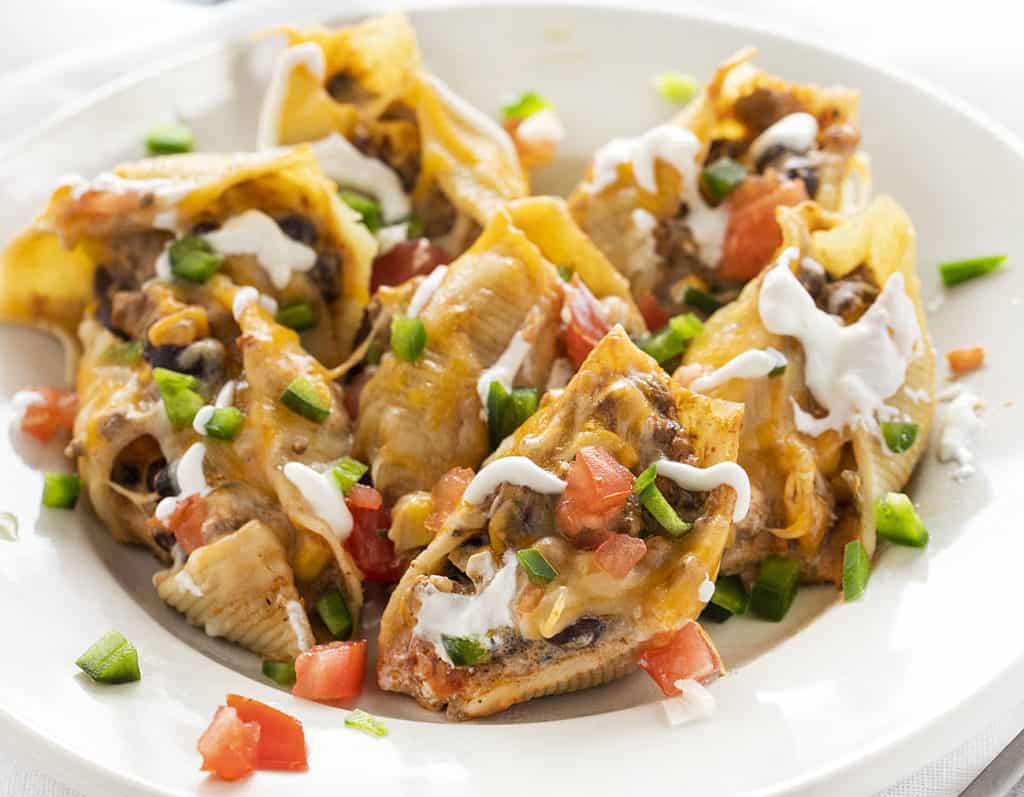 Ingredients
1 box jumbo shells, cooked al dente
1 pound ground beef, browned
2 tablespoons homemade taco seasoning
1 cup salsa
1 cup corn
1 cup black beans, drained and rinsed
8 ounces cream cheese
1/2 cup mild cheddar cheese, shredded
1 cup Mexian cheese, shredded
1 medium tomato, diced for topping
1 medium jalapeno pepper, diced for topping
1/4 cup sour cream, for topping
Instructions
Preheat oven to 350°F.
In a large bowl, combine ground beef, seasoning, cream cheese, cheddar cheese, salsa, corn, and black beans. Make sure you have drained and rinsed the black beans well.
Stuff the ground beef mixture into each shell.
Top with the Mexican cheese.
Bake for 15-20 minutes, or until bubbly.
Top with tomato, jalapeno, and sour cream.