The name of this dish may be a bit intimidating but actually, this recipe is so simple and easy to cook.
If you are looking for something new way to cook your pork chops, this recipe is just right for you.
Pork chops are made crispy using flour, egg and bread crumbs made even flavorful using magi magic sarap.
Its satisfying taste is also complemented by the sauce mainly made from bacon, tomato paste, and cheese, with the added spices of dried oregano and bay leaf.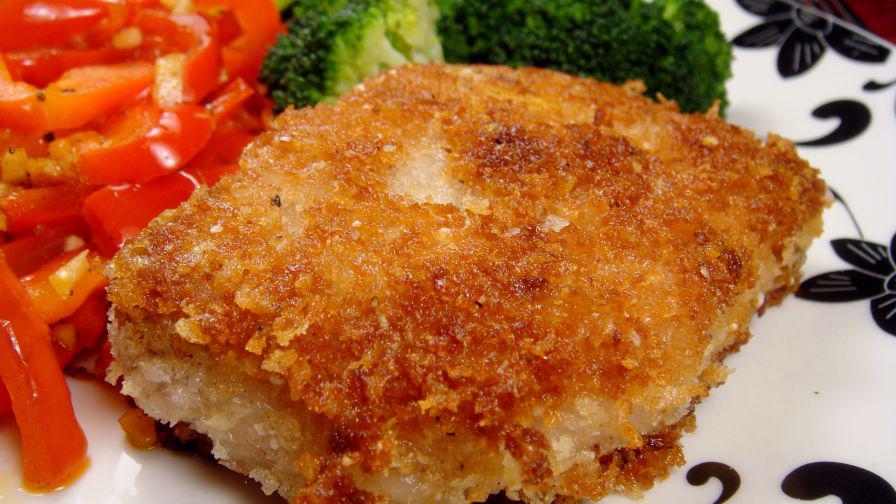 Ingredients
1 kg 8 pcs. pork chop
2 sachets 8g MAGGI MAGIC SARAP
½ cup all-purpose flour
2 pcs. egg, beaten
1 cup bread crumbs
1 cup vegetable oil for pan frying
For the Sauce:
4 slices bacon, thinly sliced
4 cloves garlic, minced
1 pc. medium onion, minced
¼ cup tomato paste
2 cups canned crushed tomato
¼ tsp. dried oregano
1 pc. bay leaf
1 sachet 8g MAGGI MAGIC SARAP
⅛ tsp. freshly ground pepper
1 tbsp. brown sugar
½ cup grated melting cheese
Instructions
To prepare the sauce, place bacon in a sauce pan and render the pork fat. Add garlic and onion and sauté for 2 minutes.
Add tomato paste and cook for 5 minutes while stirring continuously over low heat. Add crushed tomato, oregano and bay leaf. Simmer for 20 minutes or until thick and chunky. Season with MAGGI MAGIC SARAP, pepper and sugar. Check seasoning.
Meanwhile season pork with MAGGI MAGIC SARAP. Lightly coat with flour, dip in beaten eggs and coat with bread crumbs. Bread the rest of the pork chop and set aside.
Preheat oil and pan fry pork chops over medium heat for 2-3 minutes per side or until golden brown. Immediately transfer into a serving plate, pour the sauce on top and garnish with cheese. Serve immediately.