I stumbled upon an interesting recipe at the bakery and loved the idea! I tried it out, and it turned out great! These sandwich buns are perfect for any filling. In this recipe, I'll share a small kitchen hack with you.
Looking for a delicious and satisfying snack? Look no further than these homemade sandwich buns! With a soft and fluffy texture, these buns are perfect for stuffing with your favorite fillings, from cheese and deli meats to fresh veggies and more. This recipe includes a clever kitchen hack for making the folding process easier, as well as tips for ensuring your buns rise perfectly every time. Whip up a batch of these buns for your next picnic, road trip, or snack break, and enjoy the tasty results!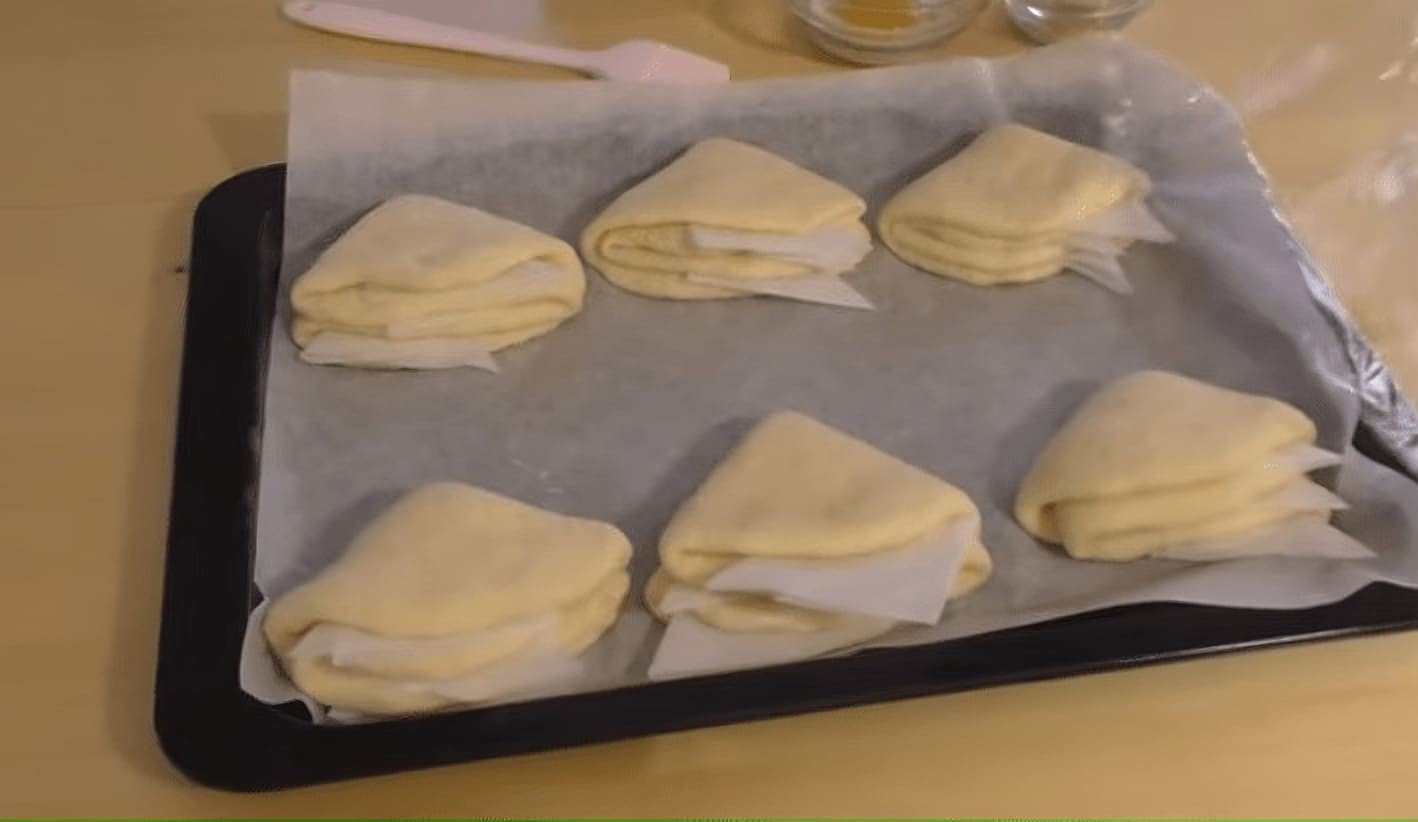 INGREDIENTS:
Dough:
320 g flour
5 g pressed yeast (or 1 tsp dry yeast)
1 egg
180 ml warm milk
1 tbsp sugar
A pinch of salt
25 g soft butter
Filling:
100 g cheese
100-150 g baked meat
Lettuce leaves
2 tomatoes
1 purple onion
1 egg yolk for brushing
Sesame seeds for sprinkling
INSTRUCTIONS:
The dough is very simple, but before kneading, check the yeast for activity (quick starter).
Combine all ingredients in a bowl and knead for several minutes, adding the soft butter last.
The dough should be soft and slightly sticky to the touch.
To make it easier to knead, grease your hands with vegetable oil.
Cover the dough with a plastic wrap or lid and let it rest in a warm place for 40-60 minutes.
Today's filling is very sandwich-like, but you can add cucumbers or substitute the meat for sausage.
Cut small triangles of parchment paper and grease them with oil if necessary (I use silicone-coated paper).
Divide the dough into six equal parts and let it rest on the table.
Dust each piece with flour and roll it out into a small round.
Fold in half, then fold in half again.
This creates a triangle, and each fold pocket is lined with the parchment paper triangle.
Let the buns rise for 10-15 minutes.
Brush with egg yolk and sprinkle with sesame seeds before baking.
Bake in a preheated oven at 360°F for 10-12 minutes.
Let the buns cool completely and remove the parchment paper (it comes off easily).
These buns can be prepared in advance, filled, and taken on a picnic, road trip, or as a snack.
Fill each pocket with your favorite filling. They are absolutely delicious!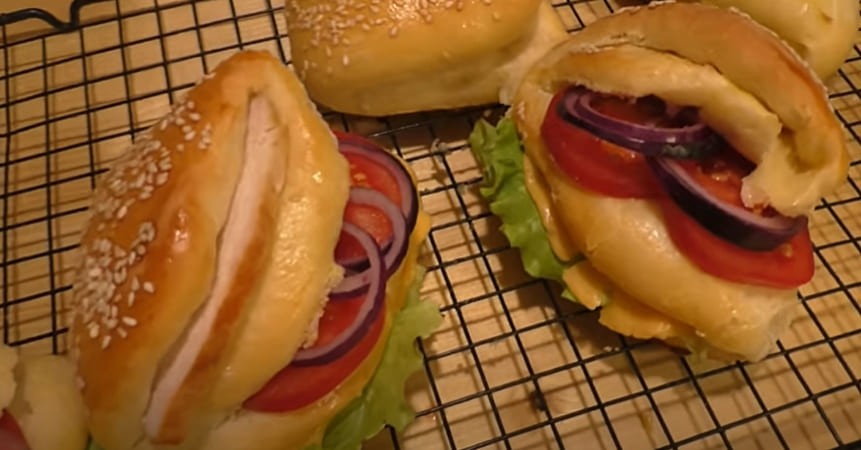 Enjoy these delicious and easy-to-make sandwich buns for a quick snack or a fun picnic. With a little effort, you can enjoy fresh and homemade buns filled with your favorite ingredients.