This dish have an astonishingly full-flavor. Spaghetti aglio olio or spaghetti pasta with garlic and oil is a traditional Italian dish. This dish is made of sauteed garlic in olive oil then toss in spaghetti pasta. Sometimes chili flakes is added, clams and basil to contribute an extra-ordinary taste. Aglio olio is usually serve as meryenda (mid-afternoon snack) or in any special occasion.
Spaghetti Aglio e Olio Recipe may look intimidating, but there is one dish that is so simple to cook that even beginners in the kitchen will find it easy to prepare.
This oil-based sauce pasta is close to the heart of most Italians since many consider it as a comfort food. Back then, mothers usually serve a hot bowl of Aglio e Olio to their kids after school.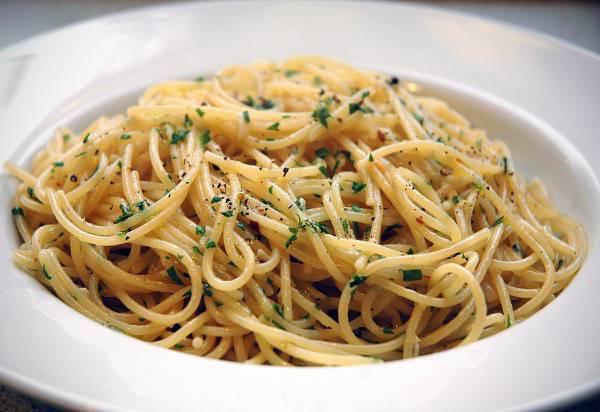 Ingredients
250 grams spaghetti noodles
½ cup olive oil
8 large garlic cloves, cut into thin slivers
½ tsp crushed red pepper flakes
½ cup minced parsley
1 cup Parmesan cheese, freshly grated
1 tsp salt
Salt for pasta water
Instructions
cups of the pasta cooking water before draining the pasta.
On a large pan, heat the olive oil over medium heat.
Add the garlic and cook for two minutes, stir until it just begins to turn golden on the edges.
Add the red pepper flakes and cook for 30 seconds more.
Add the cooked pasta to the oil mixture and add one teaspoon of salt.
If the mixture is a bit dry, add the pasta water.
To plate, add the parsley and Parmesan then toss.
Season according to taste.
Serve warm with extra Parmesan on the side.