Spicy Szechuan Shrimp and Broccoli is a super easy way to enjoy this American-Chinese takeout favorite at home, and it's ready in just 15 minutes! No one will believe it's not takeout!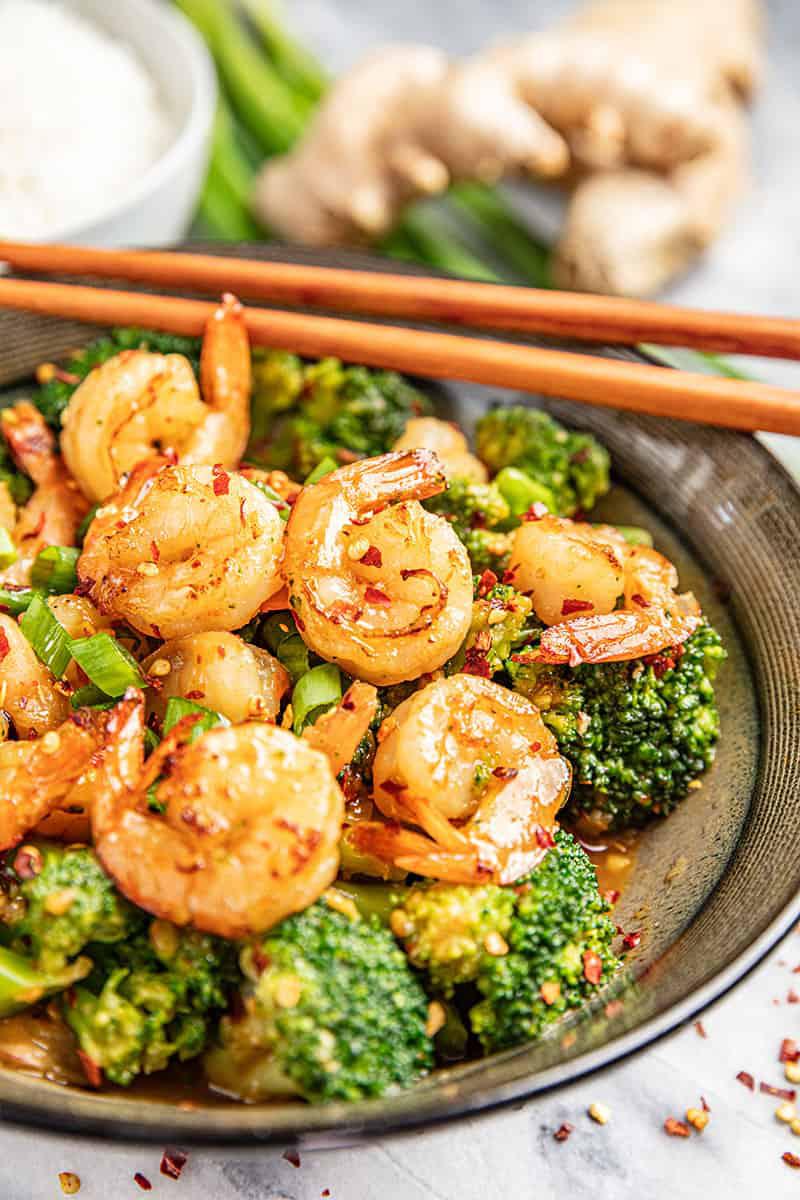 Who loves ordering Chinese-American takeout? Sometimes you just need some Kung Pao Chicken or Chinese Peppersteak or Fried Rice or some Szechuan Shrimp. But guess what? It's incredibly easy to make all of these things at home! We're all about bringing you restaurant quality recipes you can easily make at home, and this recipe is no exception. You can put this entire meal together in under 15 minutes. That's faster than any takeout we've ever ordered! Bonus: it's 100% hot and fresh to eat.
Spicy Szechuan Shrimp and Broccoli is not an authentic Chinese recipe, but rather a typical American version of Chinese-American takeout restaurants. The Stay At Home Chef uses ingredients that are easily accessible for most people in the United States and Canada so that anyone can easily celebrate world cuisines even if their opportunities for travel or access to regional ingredients are limited.
WHERE TO FIND ASIAN CHILI GARLIC SAUCE?
You should be able to find Chili Garlic Sauce in the Asian food aisle or section of your local grocery store. It should be located near the curry pastes and sauces. The most common national brand is Huy Fong.
HOW TO PEEL AND DEVEIN SHRIMP:
If you did not purchase already peeled and deveined shrimp, you will need to do this yourself before you start cooking. Start by removing the shell, it should come off pretty easily. To devein, slice into the top with your knife to expose the vein, and then use the tip of your knife to pull it out. Keep in mind that not every shrimp will have a vein, so do not worry if some shrimp are missing one.
SPICE LEVEL OF SPICY SZECHUAN SHRIMP AND BROCCOLI:
This recipe is quite spicy as written. If you want to tone it down a bit, consider reducing or leaving out the crushed red pepper flakes. Now, this dish is meant to be spicy, but everyone has different levels of heat tolerance, so feel free to make this to your desired spice preferences.
MAKE AHEAD INSTRUCTIONS:
Save yourself some time by making your sauce early! Simply follow Step 1 and then pour into a jar. You can store your pre-made sauce in the refrigerator for up to 5 days.
STORAGE AND REHEATING INSTRUCTIONS:
Store any leftovers in an airtight container in the fridge for up to 4 days. Reheat on the stovetop over medium-low heat until warmed through.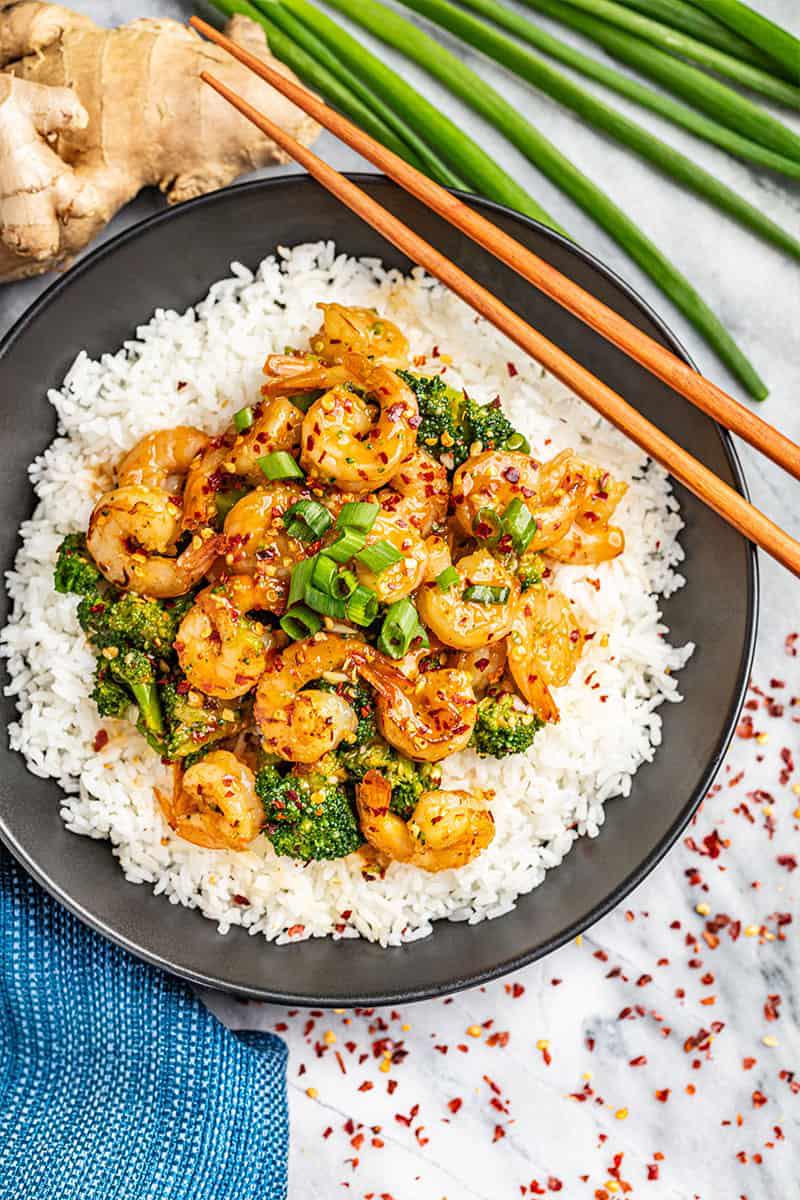 INGREDIENTS
1/4 cup water
1 1/2 tablespoons soy sauce
1 1/2 tablespoons Asian chili garlic sauce
1 tablespoon freshly minced ginger
2-3 cloves crushed garlic
1/2 teaspoon crushed red pepper flakes
2 teaspoons cornstarch
1 teaspoon honey
1 tablespoon vegetable or canola oil
2 cups frozen broccoli florets thawed
1 pound jumbo shrimp peeled and deveined
1/4 cup sliced green onions
INSTRUCTIONS
In a small mixing bowl, whisk together water, soy sauce, chili garlic sauce, ginger, garlic, red pepper flakes, honey, and cornstarch.
Heat a wok or large skillet over high heat. Pour in cooking oil and add in broccoli and shrimp. Pour sauce over.
Toss and allow shrimp to cook until it turns pink. Turn off heat and stir in green onions. Serve hot.