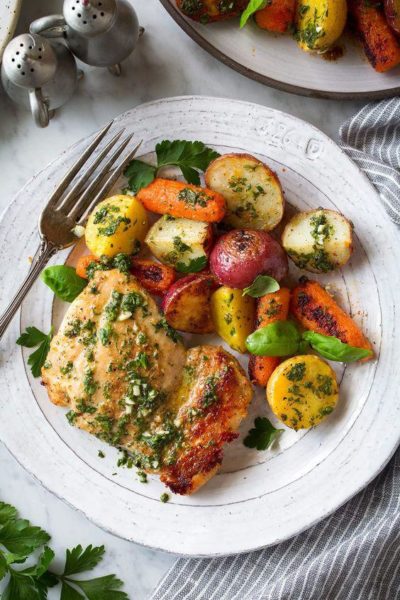 Ingredients :
4 – 5 large boneless skinless chicken thighs, trimmed of excess fat
20 oz. baby red or yellow potatoes, quartered or halved is very small
10 oz. baby carrots
2 Tbsp olive oil
1 tsp onion powder
1 tsp garlic powder
3/4 tsp paprika
Salt and freshly ground black pepper, to taste
Vinaigrette
2 Tbsp olive oil
2 Tbsp white wine vinegar
1/2 tsp dijon mustard
1 1/2 Tbsp very finely minced fresh parsley (from a handful)
1 1/2 Tbsp very finely minced fresh basil (or more parsley)
1 Tbsp very finely minced fresh oregano (or 1 tsp dried)
1 clove garlic, minced (1 tsp)
Instructions :
Preheat oven to 450 degrees. Spray a rimmed 18 by 13-inch, preferrably dark, baking sheet with non-stick cooking spray.
Place chicken on upper half of the baking sheet then place potatoes and carrots on lower half.
Drizzle everything with olive oil and toss (keeping both chicken and veggies separate. I know they aren't in the photos, I just moved them after roasting).
Season everything with onion powder, garlic powder, paprika, salt and pepper and toss veggies.
Turn chicken and season opposite side with salt and pepper.
Roast in preheated oven until chicken is cooked through and veggies are tender, about 25 – 28 minutes, while tossing veggies during the last 8 minutes if needed (I didn't need to toss mine but the were a shade away from being too dark on bottom so you may need to toss).
Meanwhile, for the vinaigrette, in a small small mixing bowl whisk together olive oil, white wine vinegar, mustard, parsley, basil, oregano, garlic and season with salt and pepper to taste.
Once chicken and veggies are done roasting pour vinaigrette over everything and spread across chicken. Serve warm.
ENJOY!