Get ready to impress your guests with this delicious and festive pancake cake with chicken and mushrooms! Made with layers of fluffy pancakes and a savory filling of boiled eggs, cheese, cooked chicken, marinated mushrooms, garlic, mayonnaise, and black pepper, this dish is easy to make and sure to be a hit at any celebration.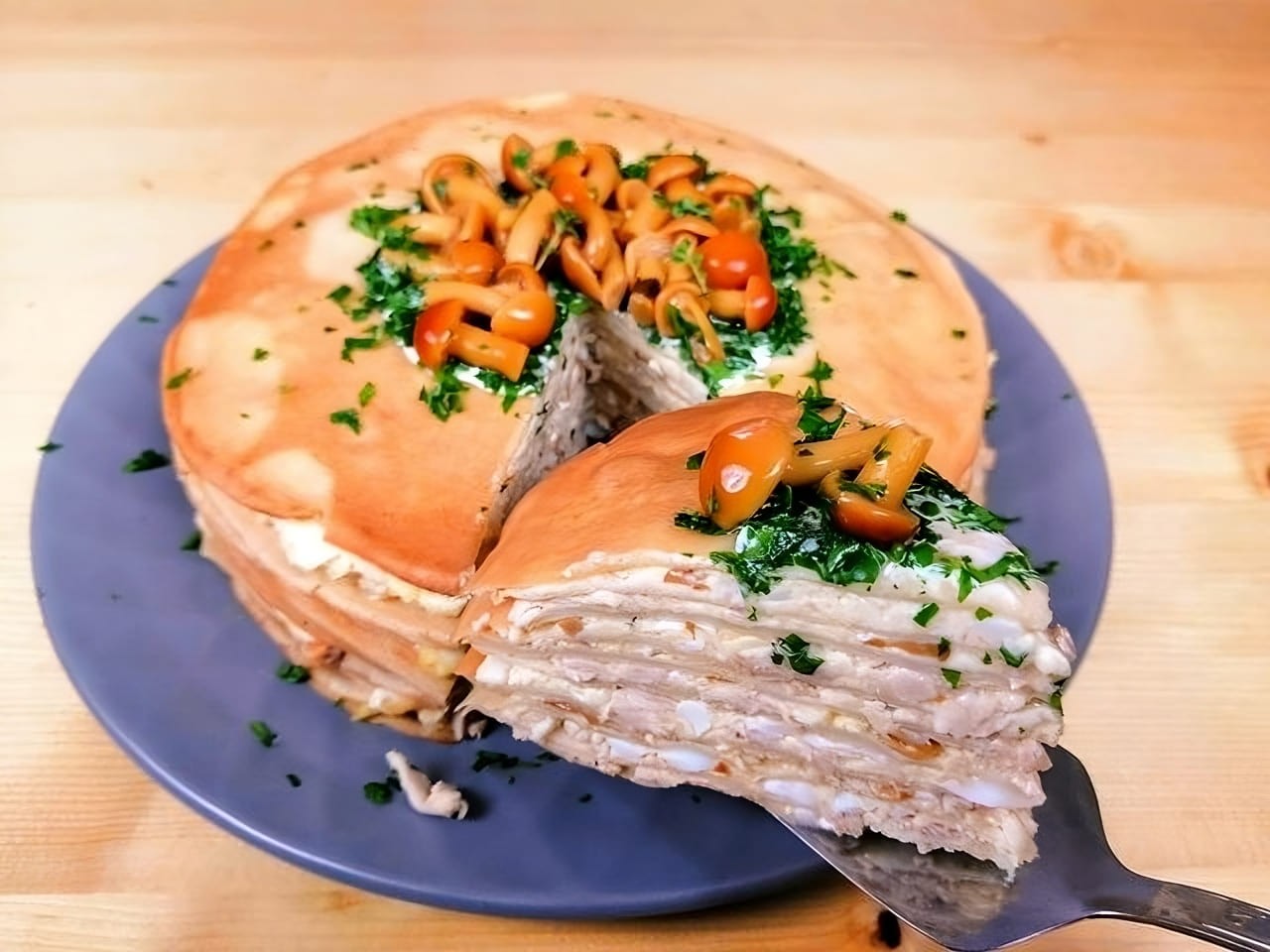 Ingredients
For the pancake batter:
2 cups of milk
2 eggs
1 teaspoon of sugar
1 teaspoon of salt
2.5 cups of flour
60 ml of vegetable oil
For the filling:
3 boiled eggs, finely chopped
150g of cheese, grated
2 cooked chicken legs, meat removed and shredded
150g of marinated mushrooms, finely chopped
1 clove of garlic, minced
Mayonnaise
Black pepper
Instructions
Start by making the pancake batter. In a bowl, lightly beat the eggs with salt. Add sugar, part of the milk, and flour. Gradually add the remaining milk until you reach the desired consistency. Finally, add vegetable oil and mix well. Let the batter rest for a few minutes.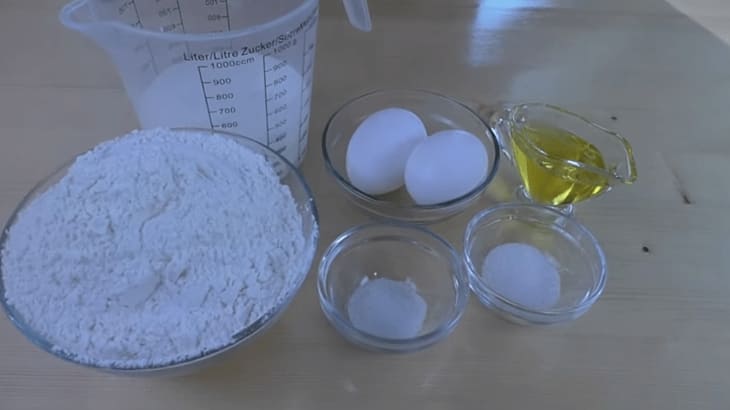 Heat a non-stick skillet over medium heat and pour a ladleful of the pancake batter onto the skillet. Cook until bubbles form on the surface, then flip and cook for another minute or until golden brown. Repeat with the remaining batter to make several pancakes.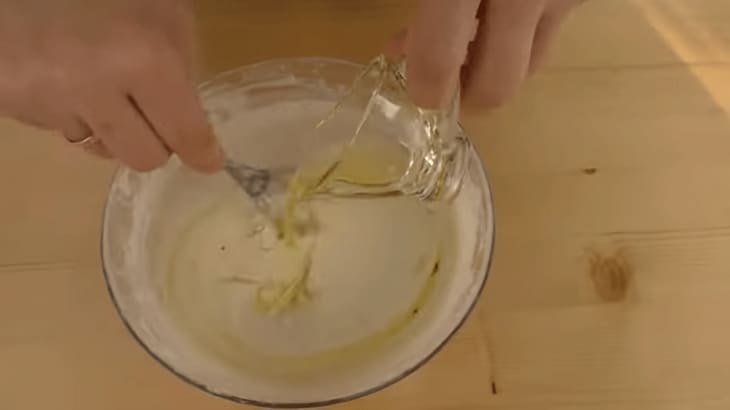 In a separate bowl, combine the boiled eggs, grated cheese, shredded chicken, minced garlic, marinated mushrooms, mayonnaise, and black pepper. Mix well and adjust seasoning with salt if needed.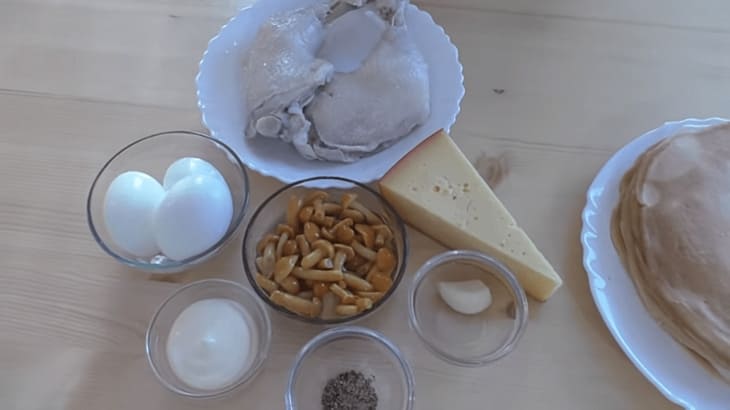 To assemble the pancake cake, place one pancake on a serving plate and spread a layer of the filling on top. Repeat with the remaining pancakes and filling, creating layers.
Chill the pancake cake in the refrigerator for about an hour to allow the flavors to meld and the cake to set.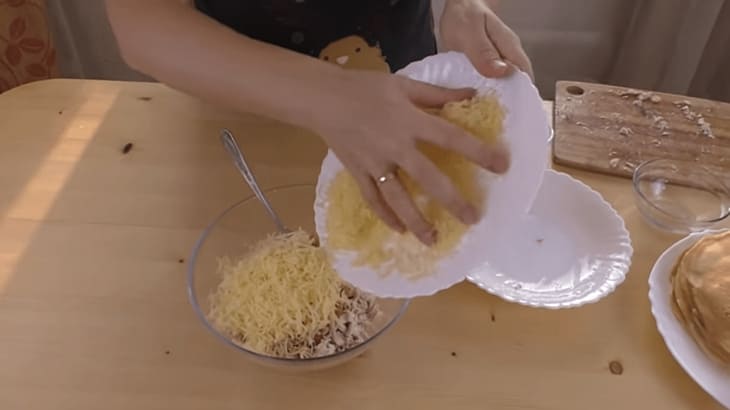 Before serving, you can garnish the pancake cake with some extra marinated mushrooms for a minimalistic decoration.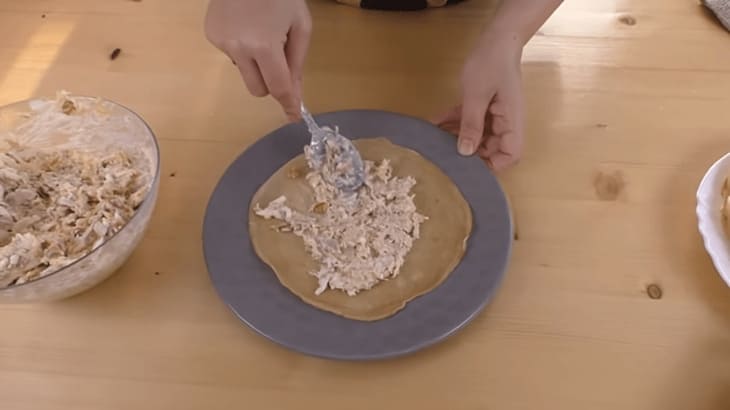 Slice the pancake cake and enjoy! It's easy to cut, looks impressive with its layers, and most importantly, tastes delicious!
Looking for a show-stopping dish for your next celebration? This pancake cake with chicken and mushrooms is not only visually stunning with its layers of fluffy pancakes, but it's also packed with savory flavors that will impress your guests. Easy to make and incredibly delicious, this dish is sure to be the star of your festive table.