Crockpot Cheesy Corn is corn that is covered in creamy, melted cheese cooked in a slow cooker. This will be your new favorite way to serve corn as a side dish!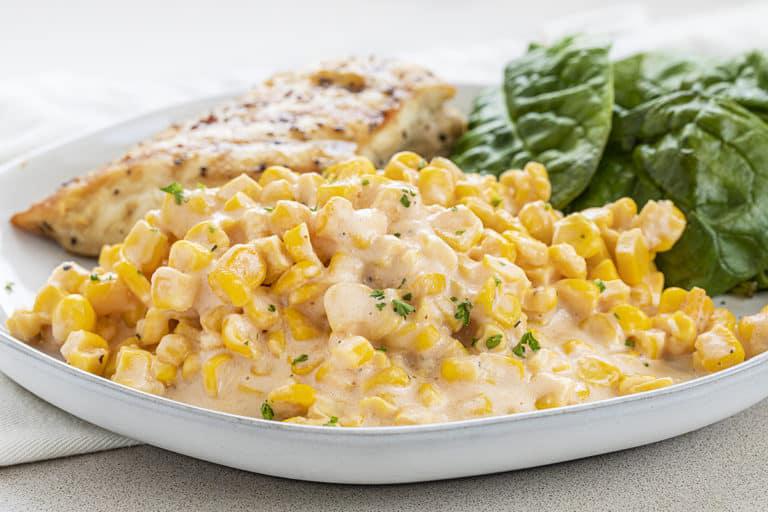 CROCKPOT CHEESY CORN
I have to say, this Crockpot Cheesy Corn is right up there with my Cheesy Crockpot Scalloped Potatoes when it comes to cheesiness, flavor, and the ease of putting it all together. Both are tasty and delicious side dishes that go with everything from Roasted Pork Loin to Pepper Crusted Beef Tenderloin.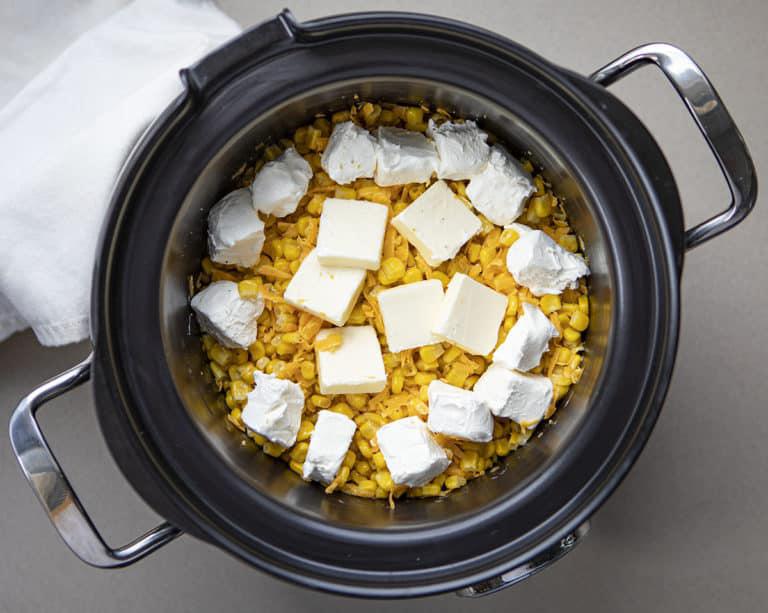 CROCKPOT CHEESY CORN RECIPES
Crockpot meals are my favorite. I love putting all the ingredients into the slow cooker and just letting it do its job of cooking while I can go about my day. Just wait until to see and taste all this cheesy corn! For reference, I used a 4-quart slow cooker for this recipe.
Ingredients (full recipe below)
Corn kernels–I used canned, but you could also use thawed and drained frozen corn or fresh corn.
Sharp cheddar cheese
Monterey jack cheese
Whole milk
Granulated sugar
Garlic powder
Kosher salt
Ground black pepper
Butter
Cream cheese
Corn starch
Water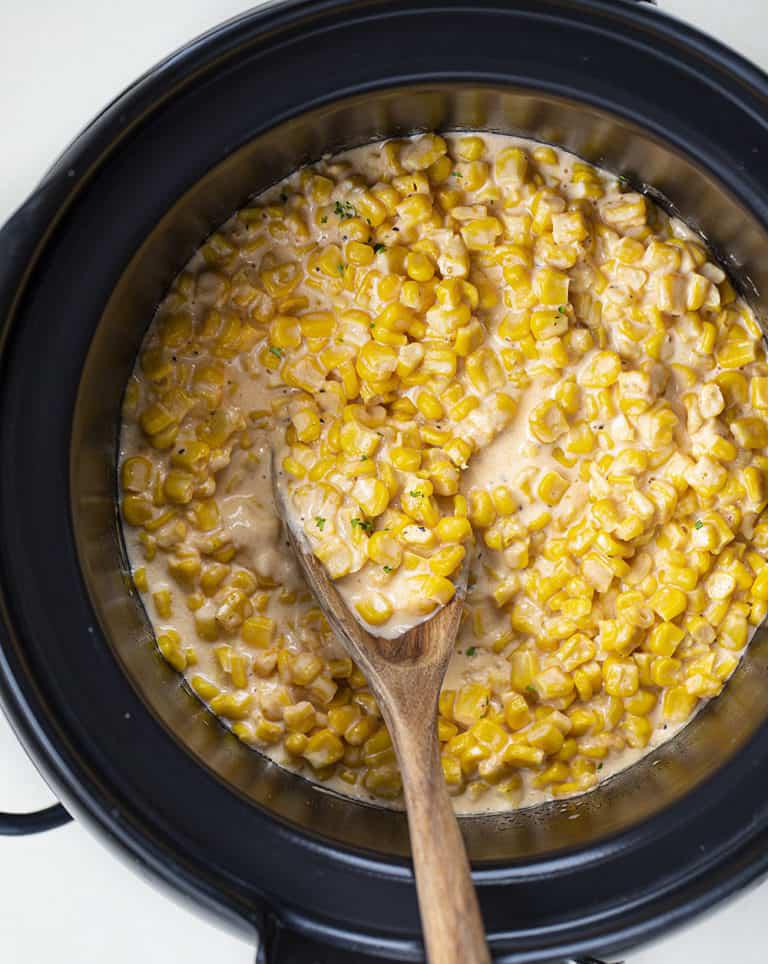 HOW TO MAKE CROCKPOT CHEESY CORN
Once you have your ingredients and your slow cooker out and ready to go, you can put together this side dish to serve with any meal. Begin by adding the drained corn, shredded cheeses, milk, sugar, garlic powder, salt, and pepper to your slow cooker. Top these ingredients with the cubed butter and cream cheese. Cook on high for 2 hours (or low for about 4 hours).
After the cooking time, in a separate bowl, combine the corn starch and water to make a slurry, making sure you use cold water. Drizzle and stir that into the corn mixture, cooking for 20 more minutes. This will help thicken the mixture. Serve the cheesy corn warm.
HOW TO STORE CROCKPOT CHEESY CORN
To store leftovers of the cheesy corn, keep it in an airtight container for up to 3 days in the refrigerator. Heat it up in the microwave or on the stovetop. If you freeze the corn, it will last up to a month. Let it thaw in the refrigerator before warming it up. Don't forget to label and date your freezer-safe container.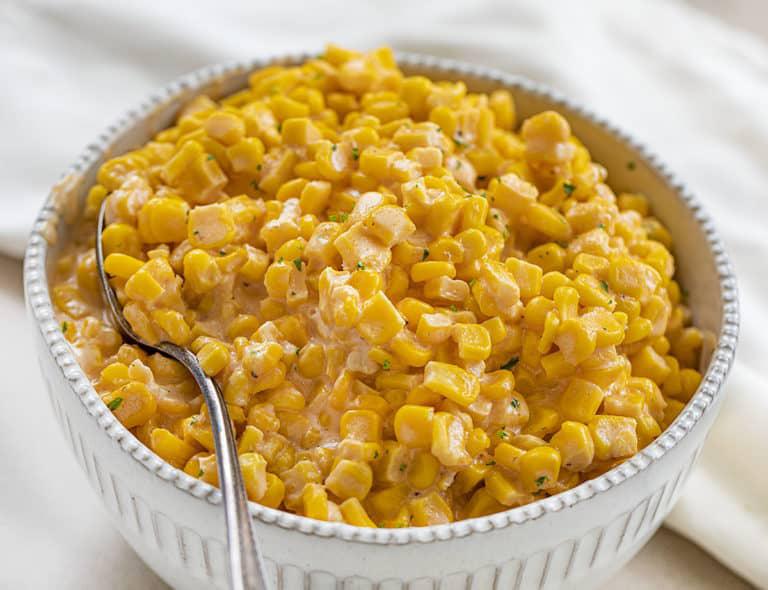 Ingredients
5 cans (15.25 ounces each) corn kernels, drained
2 cups sharp cheddar cheese, shredded
1 cup Monterey jack cheese, shredded
¾ cup whole milk
1 tablespoon granulated sugar
1 teaspoon garlic powder
1 teaspoon Kosher salt
½ teaspoon ground black pepper
4 tablespoons butter, cubed
8 ounces cream cheese, cubed
2 tablespoons corn starch
1 tablespoon water
Instructions
Add corn, shredded cheeses, milk, sugar, garlic powder, salt, and pepper to the bowl of a slow cooker. Top with cubed butter, and cubed cream cheese.
Cook on high for 2 hours.
In a small bowl, mix together corn starch and water. Drizzle into the corn mixture and stir to combine.
Cook an additional 20 minutes in slow cooker, stirring occasionally. Serve warm.