Ham and Cheese Breakfast Casserole is an easy and delicious combination of ham, cheese, hashbrowns, and eggs. Easily prepared in advance or thrown together in the morning. We have used leftover Honey Baked Ham and Crockpot Honey Ham for this recipe, but you can use a store bought version as well.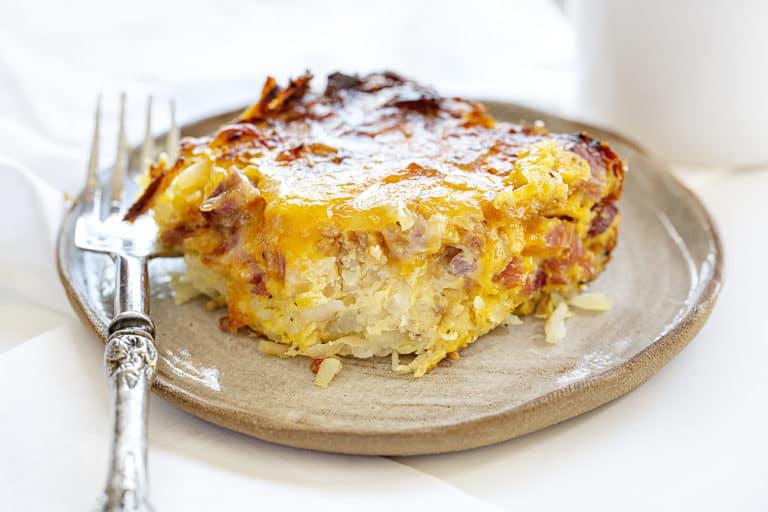 Ham and Cheese Breakfast Casserole
Sometimes shaking up the breakfast routine is important. We get so busy in our day to day that sometimes it is easier to hit the repeat button and just move on. We were feeling a little blah in the breakfast department so we thought we would try something a little different. The kids loved the taste of this breakfast casserole, and I loved that I could make it without a whole lot of effort.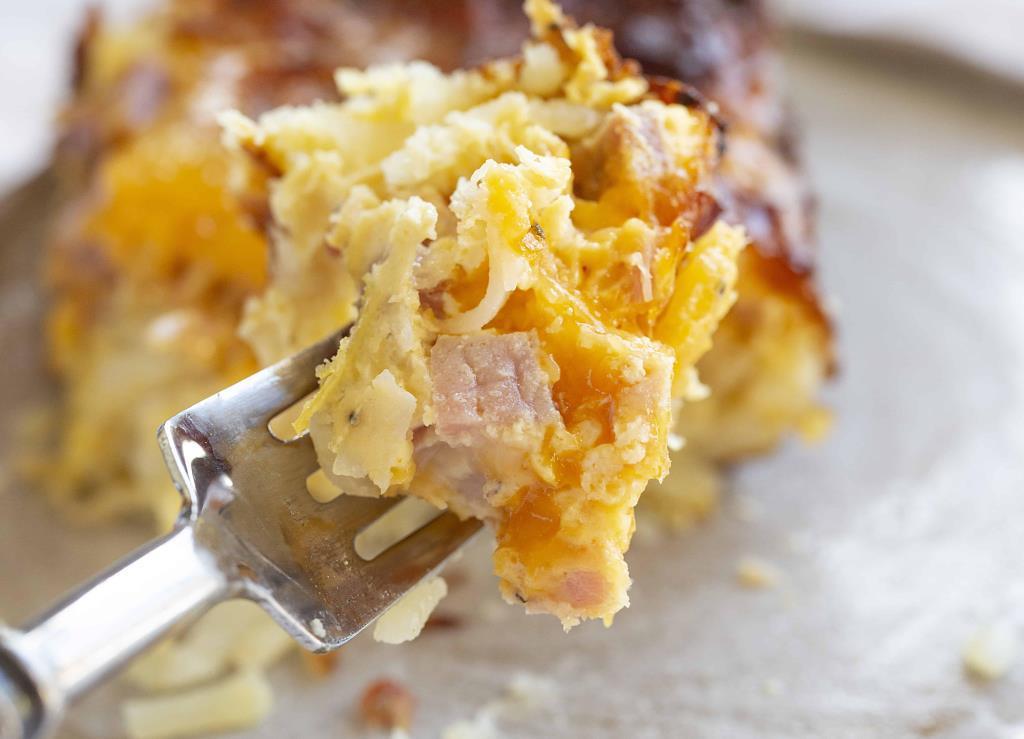 Ham and Cheese Breakfast Casserole Recipe
A recipe is only as good as the ingredients. The staple ingredients in this breakfast casserole recipe are relatively simple, but let's talk about how you can make them even more special.
Ham – We love to use our leftover ham for this recipe. In fact, breakfast casserole will be found after any holiday featuring ham. You know there will always be leftovers and this is the perfect way to deal with them. When we make a ham, we use one of two methods. Either Crockpot Honey Baked Ham or Oven Honey Baked Ham. You can use store-bought ham, but I suggest purchasing a ham steak versus deli ham. You want those nice big bite-sized pieces.
Cheese – A blend of Monterrey jack cheese and cheddar cheese makes this breakfast casserole perfect. You can save on some calories by lowering the amount of cheese in this recipe. I won't tell anyone if you don't though.
Eggs – Farm fresh is the best. If you can't get them right off the farm though, go for organic.
Hashbrowns – We cut up our own potatoes that we grow. We grate them with the large side of a cheese grater. A couple of things to note about this method. The potatoes will look brown. Rinse them well and they will be good as new. Don't let them sit in water, potatoes hold moisture so you will want to drain them well or your breakfast casserole will come out soggy. If you are using frozen hashbrowns, allow them to thaw for at least 30 minutes before baking.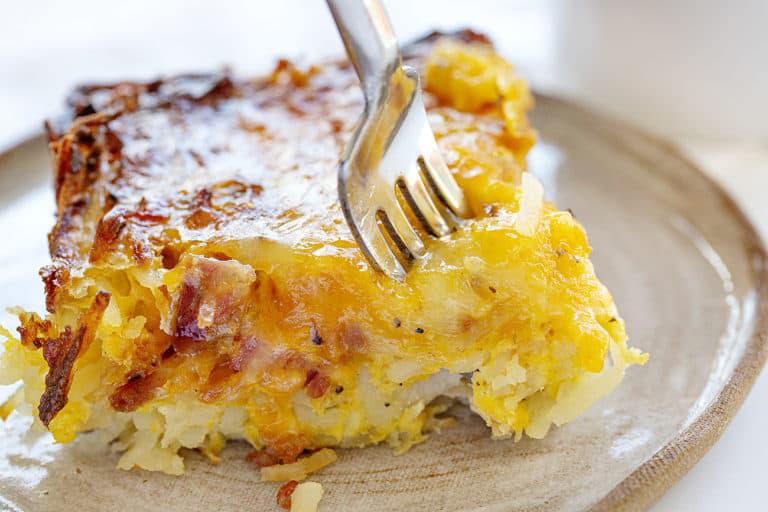 How to Make Ham and Cheese Breakfast Casserole
We use the double bake method to get the hash brown crust extra crispy. This is done in two steps. If you are looking for overnight potatoes, you can skip the first step, but the hashbrowns may not be as crispy. It will still taste great though!
Step 1: Prebake the Potato Crust
Heat up your oven and grease your baking dish well. You don't want the bake to stick to the edges. Pour in the shredded hash brown potatoes and cover them with melted butter, salt, and pepper. Toss it all up and pat it down. Pop it into the oven until it starts to get crispy. I will sometimes take it out of the oven halfway through and flip the potatoes so they bake evenly on both sides. This should cook solo for about 30-40 minutes. While that is cooking you can start on the next step.
Step 2: Prepare the Egg Mixture
Mix together eggs, evaporated milk, seasoned salt, salt, pepper, onion powder, and dry mustard. Combine well. Add in the ham and cheese and combine everything. Pour it over the top of the cooked hash browns and pop it back into the oven for about 40 more minutes. You want to make sure the center cooks, so as a rule of thumb, it shouldn't jiggle when you shake the pan.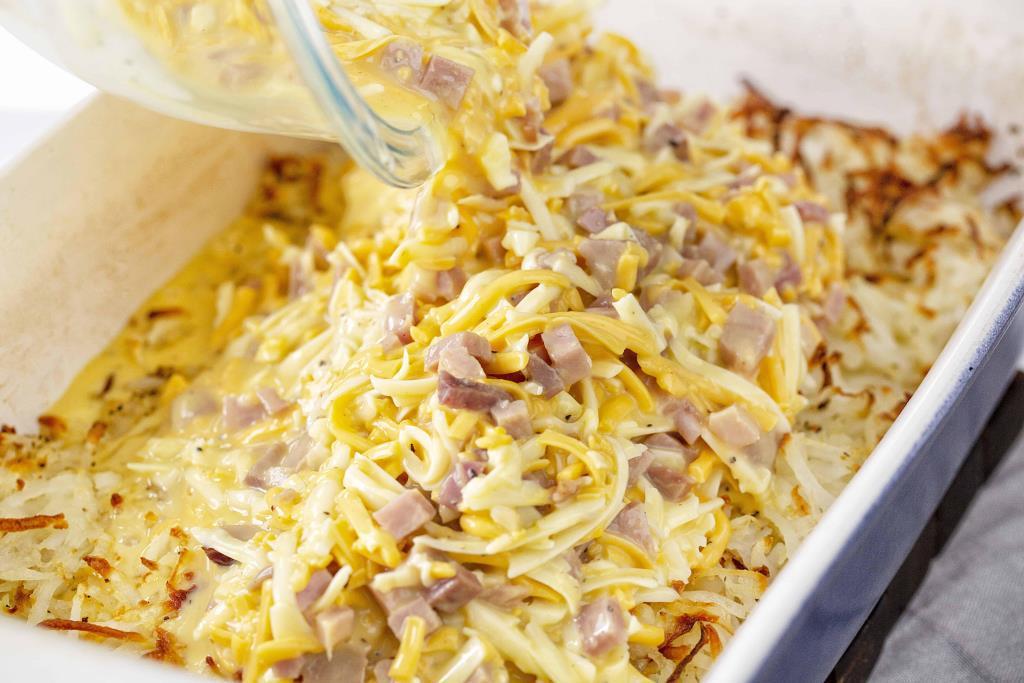 Variations for Breakfast Casserole
The sky is the limit with this casserole. You can add cooked veggies like onions, mushrooms, and peppers to the egg mixture to make it a western Breakfast Casserole. Switch the ham to breakfast sausage for a change of pace. Other toppings to consider: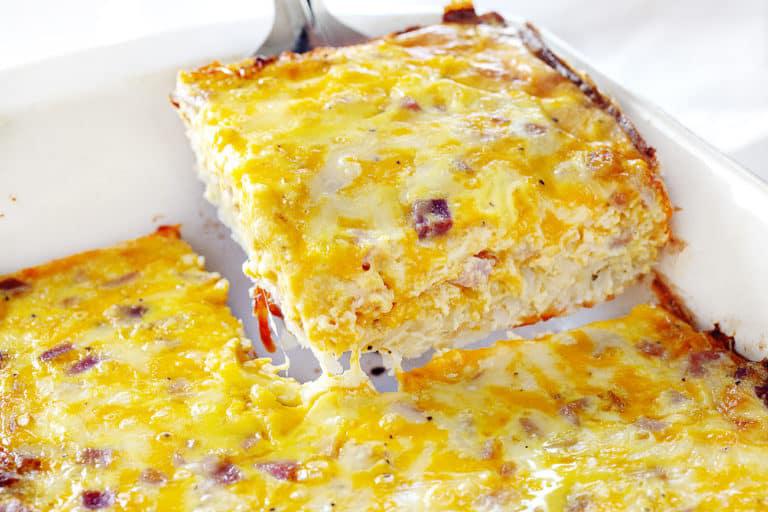 INGREDIENTS
8 cups shredded hashbrowns*
½ cup (1 stick or 113g) melted butter
¼ teaspoon salt
¼ teaspoon pepper
1½ cups (170 g) Monterey Jack cheese, shredded
1½ cups (170 g) cheddar cheese, shredded
2 cups cooked ham, diced
8 large eggs
1⅓ cups (327 g) evaporated milk, you can also substitute heavy cream
1 teaspoon seasoned salt
½ teaspoon kosher salt
½ teaspoon pepper
½ teaspoon dry mustard powder
¼ teaspoon onion powder
INSTRUCTIONS
Preheat your oven to 400°F.
Spray a 9×13 inch pan with nonstick spray, or grease with butter.
Add the shredded hashbrowns into the pan.
Melt a stick of butter in a small bowl, and pour evenly over the potatoes. Sprinkle the potatoes with salt and pepper. Use a spoon to gently toss it all together, then spread it out so that it's even.
Bake for 25-30 minutes, until the potatoes are tender and lightly browned on top. Remove from oven, stir, and cook for 10 more minutes.
Remove the hashbrowns and reduce the oven temperature to 350 °F.
In a large bowl whisk together 8 eggs, evaporated milk, seasoned salt, kosher salt, pepper, dry mustard, and onion powder.
Add ham and cheese, and stir to combine.
Pour the mixture evenly over the top of the hashbrowns.
Bake for approximately 40 minutes, or until the edges start to brown and the center doesn't jiggle when you shake the pan.