Carrot Cake Bars are dessert bars loaded with shredded carrots and chopped walnuts with a cheesecake swirl and a crumble topping. Check out my Homemade Carrot Cake with Cream Cheese Frosting for the best carrot cake recipe!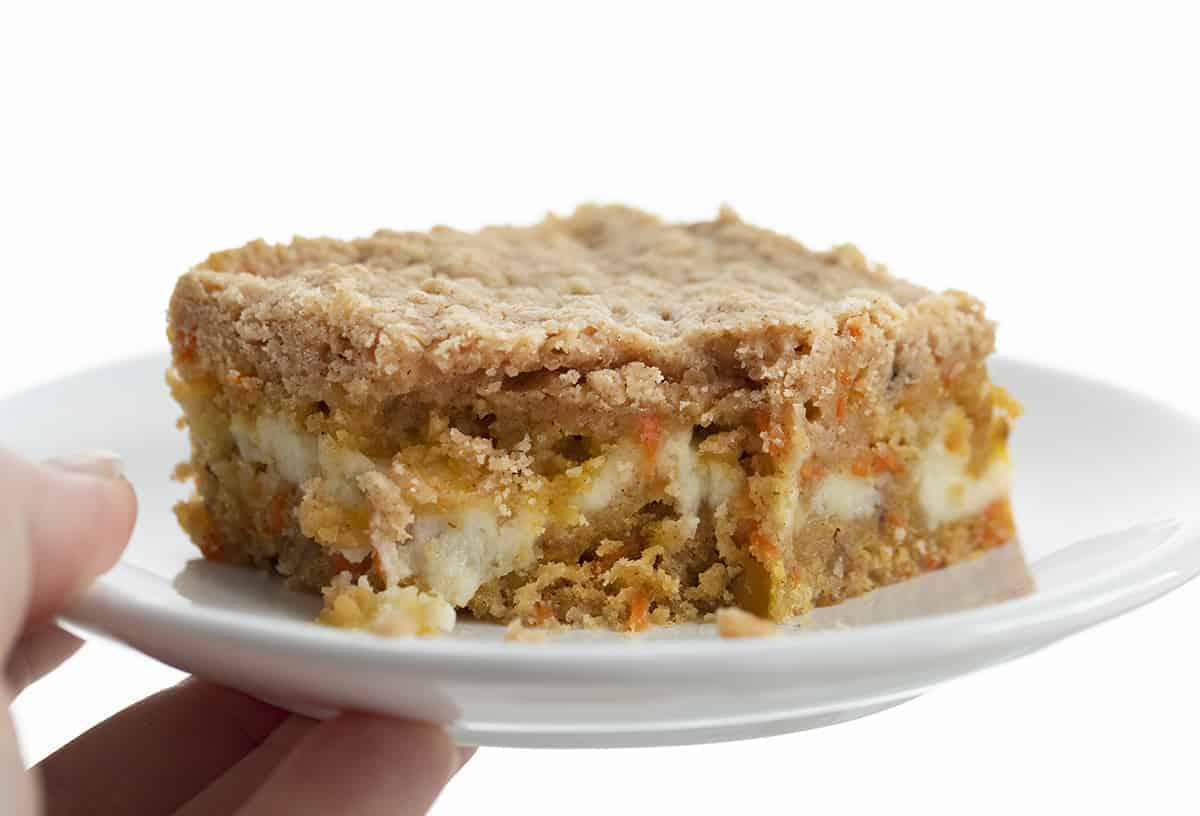 The thing that sets these carrot cake bars apart from the rest is the cream cheese frosting swirl INSIDE the bars! So, you still get the cream cheese frosting with the carrot cake, but also leave room for the crumble topping! The delicious bars also have walnuts added to the batter for a little nutty crunch in every bite.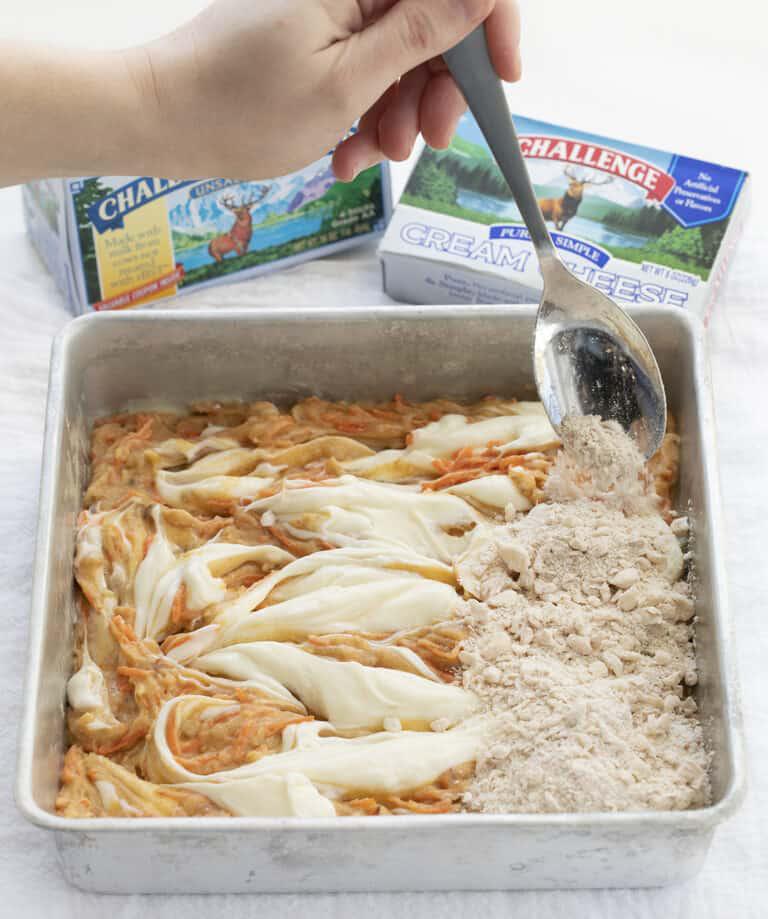 Carrot Cake Bars Ingredients
There are three important parts to this recipe–the crumble topping, bars, and cheesecake frosting swirl.
Butter: You will use a stick of butter for both the topping and the bars (a total of two sticks), so I chose to use Challenge Butter. Challenge Butter is made the old-fashioned way, churned fresh daily from the freshest milk and cream from happy cows at family-owned dairies since 1911.
In fact, Challenge is the only major U.S. dairy product company that controls the whole process when it comes to making its butter, from milking the cows, to transporting milk, to making the butter to packaging and distributing.
Carrots: You can't have carrot cake without shredded carrots! You will need 2-3 large carrots for this recipe. Freshly shredded carrots are best; pre-shredded can be too dry.
Walnuts: I like adding walnuts to these bars for a crunch. However, you can definitely leave them out. If you do leave out the nuts, I recommend that you grate the carrots even finer.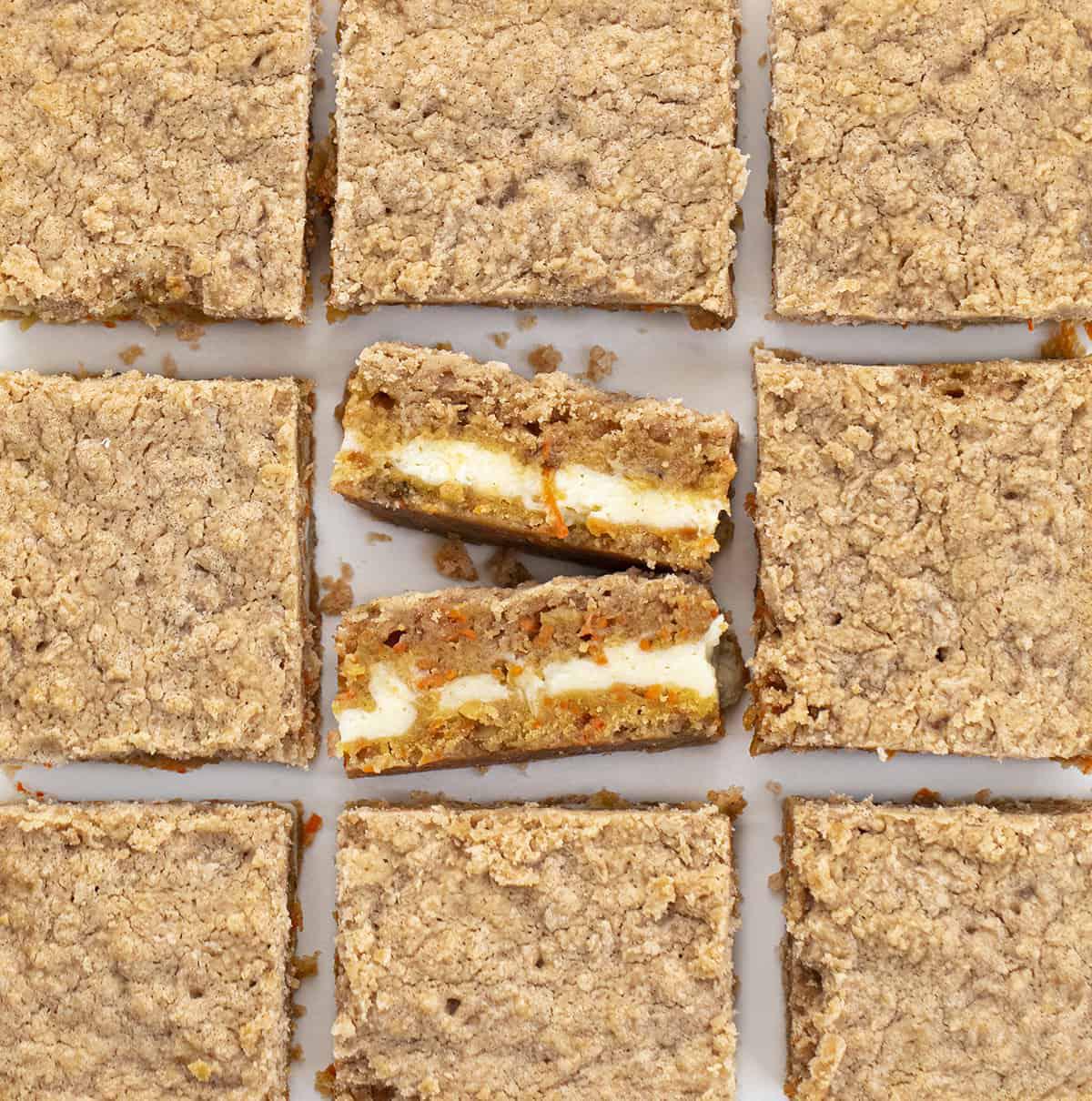 How to Store Carrot Cake Bars
Allow the bars to cool completely before storing. Store the leftover bars in an airtight container in the refrigerator for up to 4 days. You can freeze the bars for up to 3 months. If freezing, wrap the bars in plastic wrap and store them in a freezer-safe container that has been labeled and dated.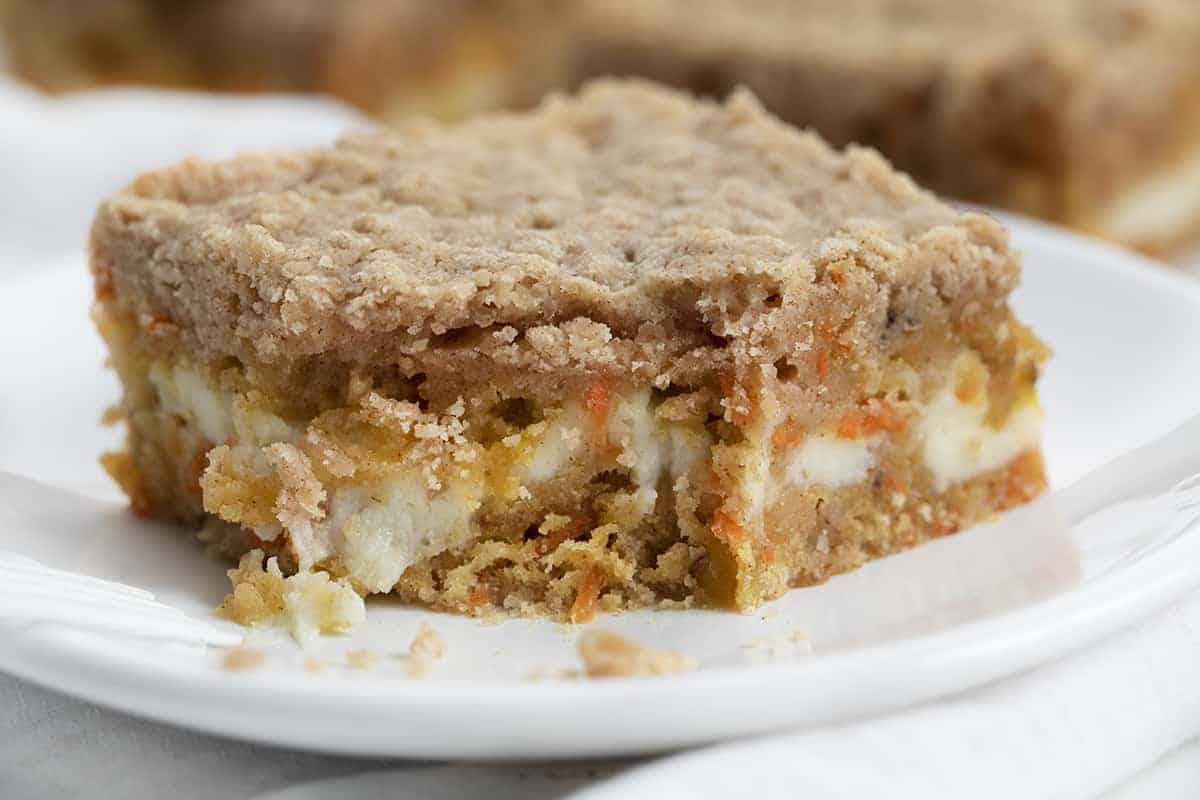 Ingredients
Crumble Topping
½ cup (1 stick / 113g) Challenge butter, cubed
¾ cup (94 g) all-purpose flour
⅓ cup (42 g) confectioners' sugar
1 teaspoon cinnamon
Bars
½ cup (1 stick / 113g) Challenge butter, melted
1 cup (200 g) granulated sugar
1 large egg, room temperature
2 teaspoons vanilla extract
1 cup (125 g) all-purpose flour
1 teaspoon ground cinnamon
¼ teaspoon baking powder
¼ teaspoon kosher salt
1 pinch nutmeg
1½ cups shredded carrots, approximately 2-3 large carrots
½ cup walnuts, finely chopped
Cheesecake Swirl
8 ounces cream cheese, room temperature
½ cup (62.5 g) confectioners' sugar
Instructions
Preheat the oven to 350°F. Spray an 8×8-inch baking pan with non-stick spray and set aside. You can also line the pan with parchment paper and lightly spray with nonstick cooking spray.
Crumble Topping
To a medium bowl, add the flour, confectioners' sugar, and cinnamon. Whisk together to combine.
Add the cubed butter. Using your fingers, sift the flour mixture over the butter and then start breaking down each cube into pea-sized pieces. When done, every ingredient should be well incorporated (with a few chunks). Place in the refrigerator until ready.
Carrot Cake Bars
Place the butter in a microwave-safe bowl. Microwave for 30 seconds. If needed, microwave another 15 seconds to melt the butter completely.
In a medium bowl, add the melted butter and sugar. Mix to combine.
Stir in the egg and vanilla extract.
Add in the flour, cinnamon, baking powder, salt, and nutmeg. Stir until completely combined.
Fold in the shredded carrots and chopped walnuts. Set aside.
Cheesecake Swirl
In a medium bowl, add in the cream cheese and sugar. Beat with a hand mixer until smooth.
Assembly
Add about half of the carrot cake batter into the pan and spread it out with an offset spatula.
Add the cheesecake batter to the carrot cake batter that is in the pan, spreading it out into an even layer.
Add the remaining carrot cake batter on top of the cheesecake batter and spread it out into an even layer.
Using a knife or skewer, swirl the batters together.
Top with crumble topping.
Bake for about 35-40 minutes until the edges are light golden brown. There will be very little jiggle to the center.
Cool completely before cutting. Store in an airtight container in the refrigerator.