Southwest Cobb Salad Dip is a seasoned sour cream-based dip topped with lettuce, eggs, chicken, tomato, avocado, and bacon.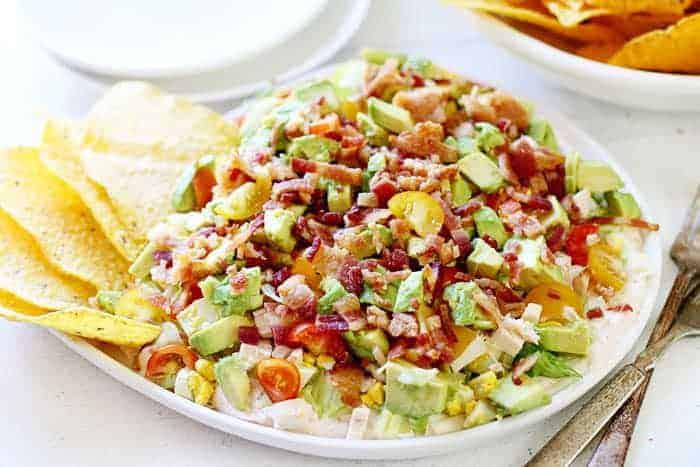 Southwest Cobb Salad Dip
When I think of a cobb salad, I think of a salad that can definitely be a meal. It starts with a layer of sour cream that is seasoned with a packet of Hidden Valley Fiesta Ranch dip mix. Then, it's topped with fixings you would find on a cobb salad, including hard-boiled eggs, tomatoes, avocado, and bacon.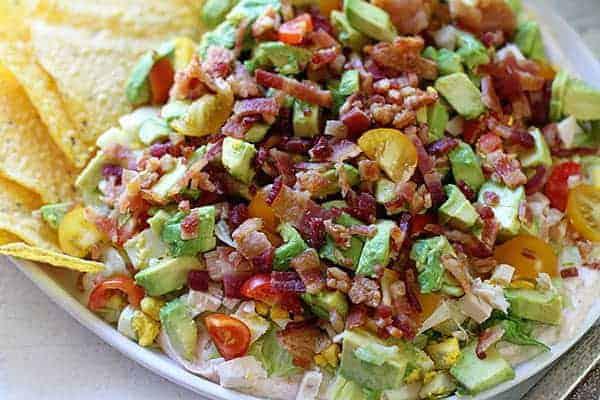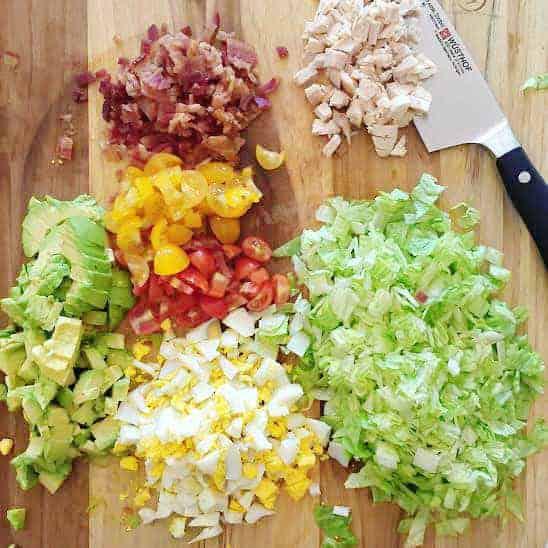 Dip Ingredients
Sour Cream: The base of this dip is sour cream.
Lettuce: Romaine lettuce and watercress are two kinds of lettuce generally used in a cobb salad. In this dip, I simply used iceberg lettuce.
Chicken: Use rotisserie chicken, deli meat, or even left-over chicken from last night's dinner.
Bacon: Cook and crumble the bacon ahead of time. To cook the bacon, simply place it on an aluminum foiled-lined baking sheet and bake it for 15 minutes or so at 415°F. You will only need 4 strips of bacon for this recipe; save the rest of the bacon for other recipes like my Cheesy Bacon Chicken Dip or Jalapeno Corn Dip.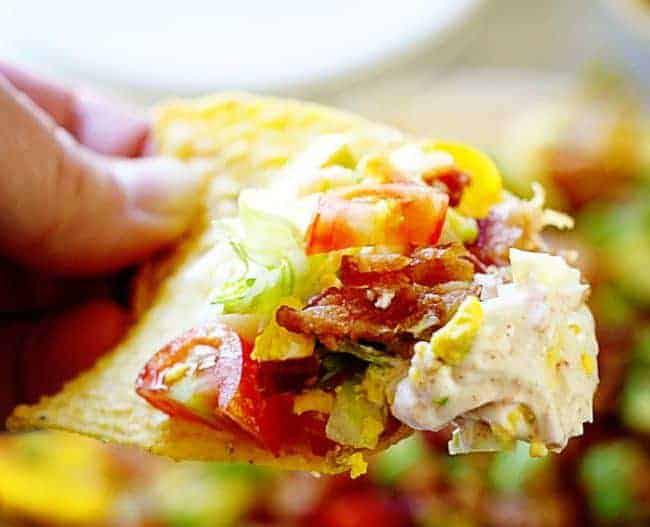 How to Make Southwest Cobb Salad Dip
To get started, you can mix the seasoning right in the sour cream container but just work slowly. Or, if you don't mind a dirty dish, transfer the sour cream to a bigger bowl, add a packet of the seasoning mix, and combine. Next, spread the seasoned sour cream onto a platter.
After you have the sour cream layer spread out, top it with all of the other fixings. As I stated above, be sure to serve the dip right away to prevent the avocados from browning. Use a sturdy chip or toasted baguettes for this dip.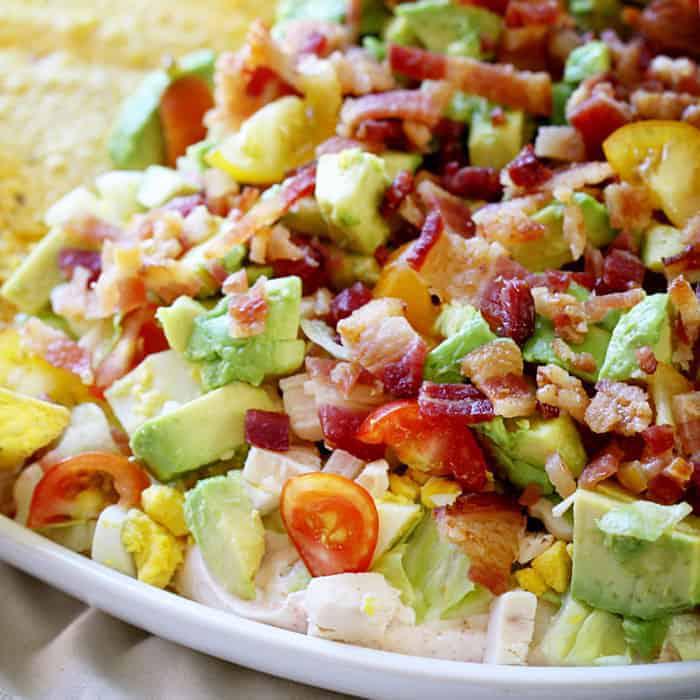 Variations to Cobb Salad Dip
You can add in whatever ingredients you prefer! Try refried beans for the bottom layer. Or, add black olives, jalapenos, and bell peppers on top. There is really not much that is easier than plopping some perfectly selected ingredients on top of a layer of seasoned sour cream and dipping salty chips into it.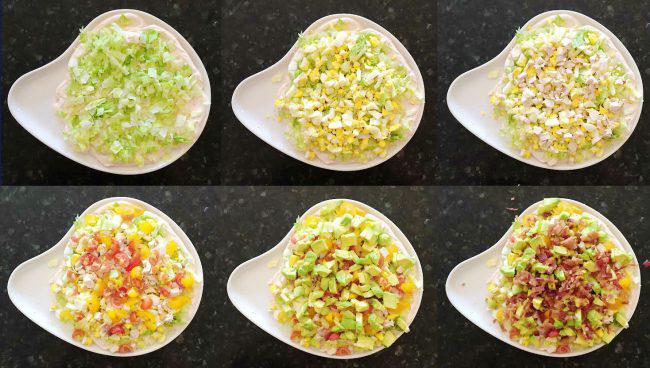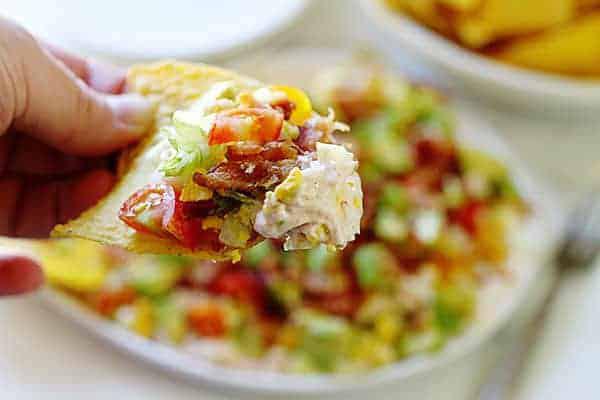 Ingredients
16 ounces sour cream
1 packet (1 ounce) Hidden Valley Dips Fiesta Ranch mix
1 cup iceberg lettuce, chopped
2 large hard-boiled eggs, peeled and finely chopped
½ cup cooked chicken, shredded or cubed
12 plum tomatoes
1 medium avocado, peeled and chopped
4 slices bacon, cooked and crumbled (or chopped)
tortilla chips, for dipping
Instructions
In a medium bowl, mix together the sour cream and the Hidden Valley Fiesta Ranch dip mix.
Spread the seasoned sour cream onto a serving platter.
Cover with lettuce. Then, add the eggs, chicken, tomatoes, avocado, and bacon.
Serve immediately with tortilla chips for dipping.