Sausage Stuffed Mushrooms are the perfect appetizer! Filled with creamy sausage mixture and topped with parmesan, these little bite-sized treats are bursting with flavor!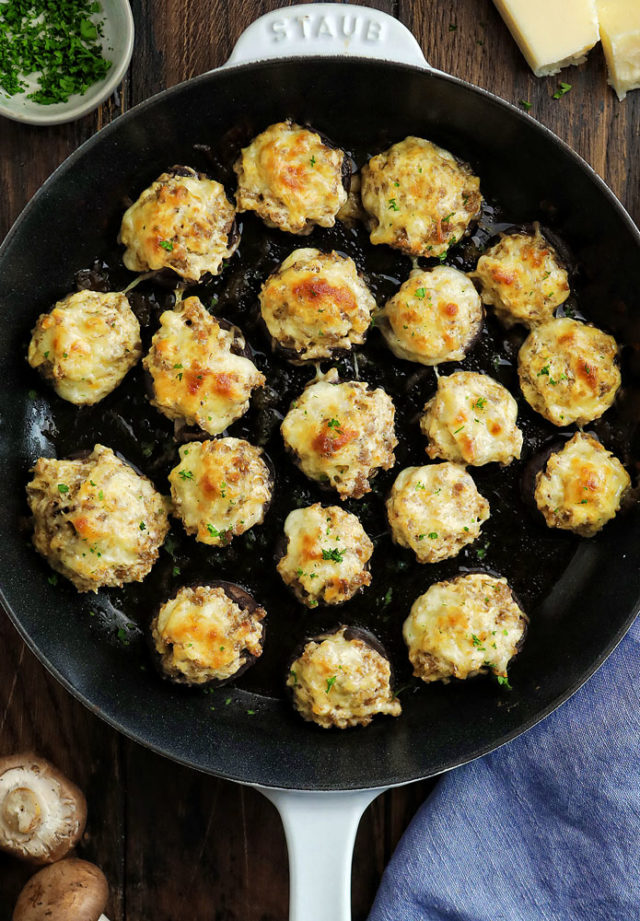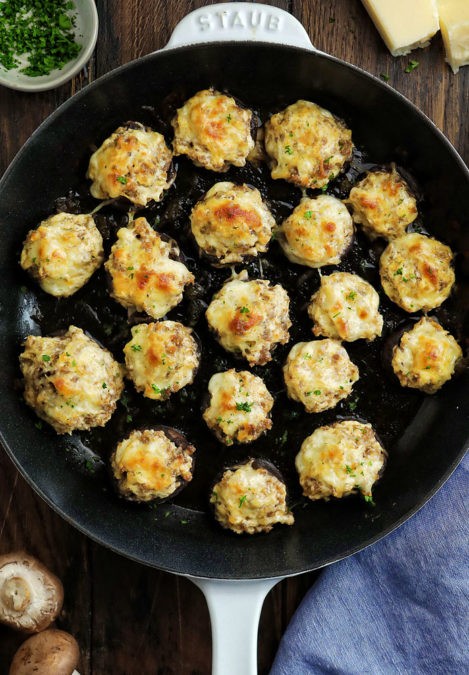 SAUSAGE STUFFED MUSHROOMS
I always see stuffed mushrooms or mushroom caps on the menu at fancy restaurants, so naturally, I just assumed that this was going to be far more complex than it was. Why do we always do that? Sausage Stuffed Mushrooms are incredibly easy to make and oh so glorious to eat. I started with making a decision on the base of the appetizer. In a sea of mushroom choices, which do you choose? I went with the medium sized baby Bella mushrooms. I know that some people are not a big fan of the mushroom flavor so I thought this was a good compromise. Keeping them small does limit the amount of the cream cheese sausage mixture, but it keeps it small and bite-sized. Perfect for a party appetizer.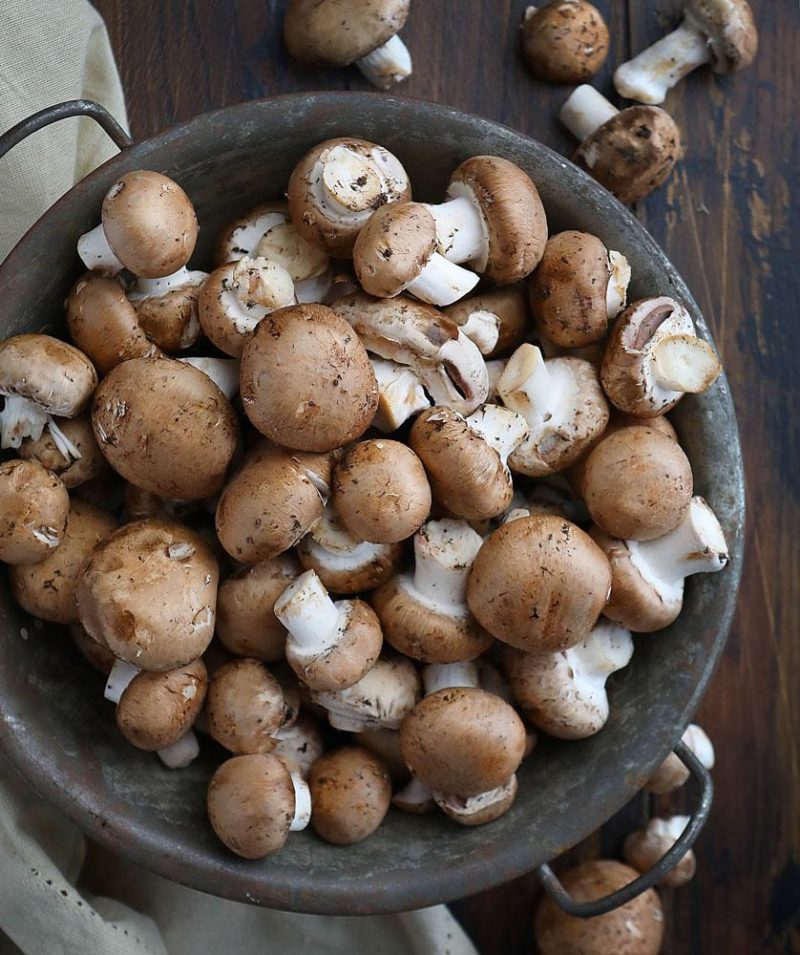 HOW TO CLEAN AND CUT MUSHROOMS
It may seem like a silly question, but it is one that I get quite often. Mushrooms grow low to the ground, so they get pretty dirty. Even the mushrooms you purchase at the store need to be cleaned. The trick to cleaning mushrooms is to use a damp paper towel and rub lightly, one at a time. Do not soak them or rinse them. Mushrooms will absorb liquid and they will lose texture and flavor if you submerge them in water. Once they are cleaned, sit the mushroom on its side and with a very sharp knife, or with your hands very carefully cut or pluck the stem off. You will want to get as high up as you can without piercing the top of the mushroom.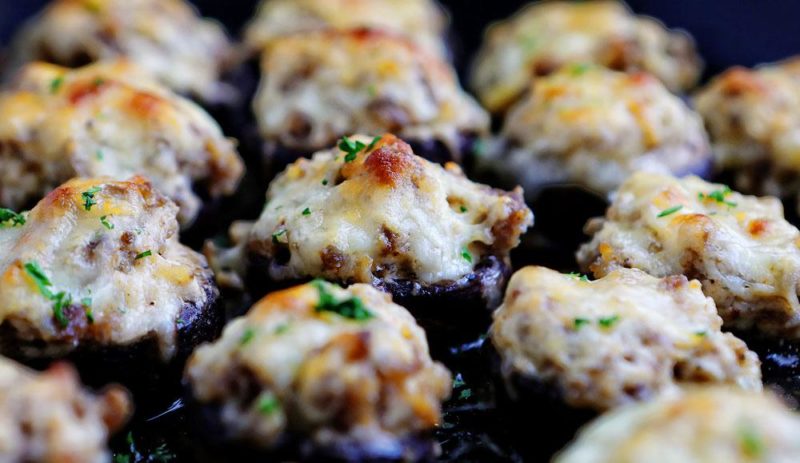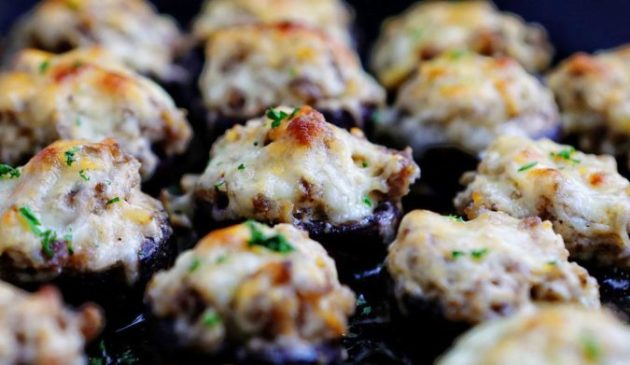 HOW TO PREPARE SAUSAGE STUFFED MUSHROOMS
After cleaning and removing the stem from the mushroom, the rest is a short mixture of chopping, heating, and mixing. It really doesn't take long at all! Chop up the stems, make sure to take your time and get them really small. Heat them up in a skillet along with some garlic until the moisture starts to cook out. Side note: every kitchen simply must have a good skillet! I love my Staub Skillet. They come with a lifetime warranty so they are worth the price tag in my opinion. Also, they are so easy to clean and care for.
Once you have your mushroom and garlic cooked you can mix everything together, cream cheese, sausage, parmesan, and all of the spices. Blend it all up and begin to scoop the mixture into the mushroom cap. Don't be shy with this step. If it cooks down over the edge it will still taste amazing. You can assemble these into the skillet (make sure you give it a good wipe with a paper towel first, just to sop up some of the greases from cooking earlier. Sprinkle some mozzarella cheese on the top and bake for about 20 minutes or until the cheese starts to bubble. That's it! You will want to serve these up right away, and probably shouldn't expect them to last long.
Ingredients
16 ounces baby bella whole mushrooms
1 tablespoon extra virgin olive oil
1 tablespoon minced garlic
8 ounces cream cheese, softened
1/4 cup parmesan cheese, grated
1/4 teaspoon ground black pepper
1/4 teaspoon onion powder
1/4 teaspoon ground cayenne pepper
2 cups sausage, browned
1/4 cup mozzarella cheese, shredded
Instructions
Preheat oven to 350°F.
Clean mushrooms with a damp paper towel. Carefully break off stems and set aside.
Chop stems extremely fine, discarding the tough ends.
Heat oil in a large skillet over medium heat. Add garlic and chopped mushroom stems to the skillet. Fry until any moisture has disappeared. Set aside to cool.
Once cooled, stir in cream cheese, sausage, parmesan cheese, black pepper, onion powder, and cayenne pepper.
Fill each mushroom cap with a generous amount of stuffing. Arrange the mushroom caps on clean cast iron skillet.
Sprinkle the mushroom caps with shredded mozzarella cheese.
Bake for 20 minutes in the preheated oven, or until the mushrooms are piping hot and cheese is bubbly.
Serve immediately.