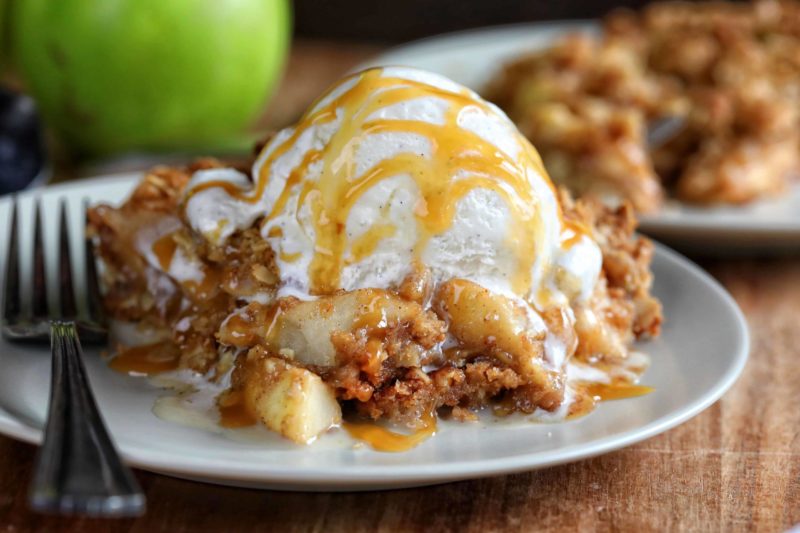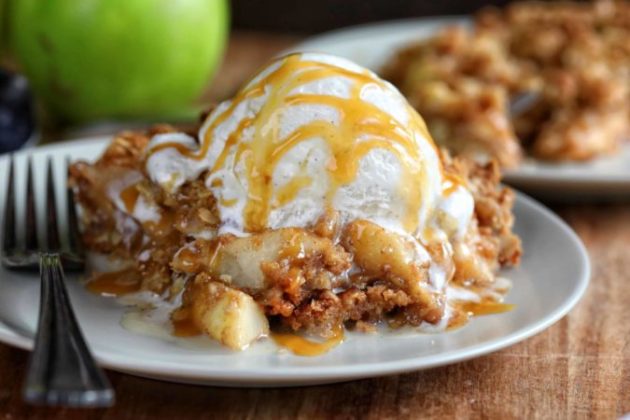 Apple Crisp Recipe
If you are anything like me, you always think your recipe is the best. I was convinced that the apple crisp I have been making for the last couple years couldn't be beaten but was I ever wrong. I tried this recipe last fall and have made it at least 15 times since. It is perfect every single time!
It is the ideal combination of rich oat crisp paired with a slightly tart apple (this is important, I will tell you why below) and just the right about of buttery richness. If you are looking for the best apple crisp you have ever tried, look no further. My Pumpkin Crisp recipe isn't too shabby, either!
I opted for Challenge Butter and to make sure that my cake would be the best tasting pound cake you will ever try!
Challenge Butter is made the old-fashioned way, from the freshest milk and cream from happy cows at family-owned dairies. In fact, Challenge is the only major U.S. dairy product company that controls the whole process when it comes to making its butter, from milking the cows, to transporting milk, to making the butter to packaging and distributing. Talk about quality control!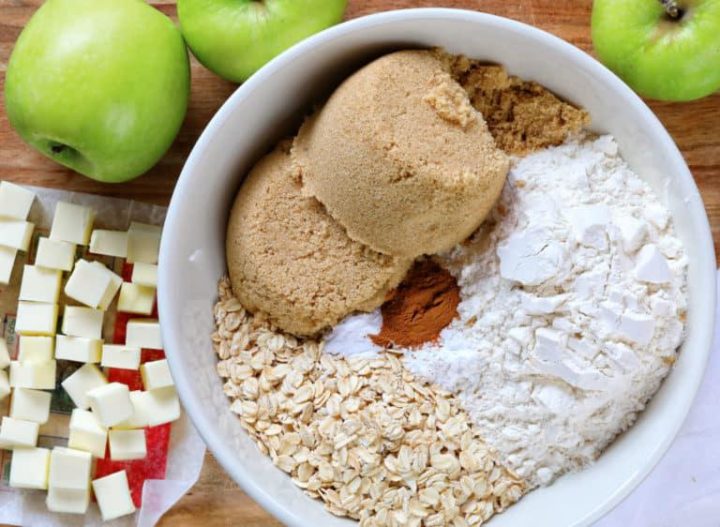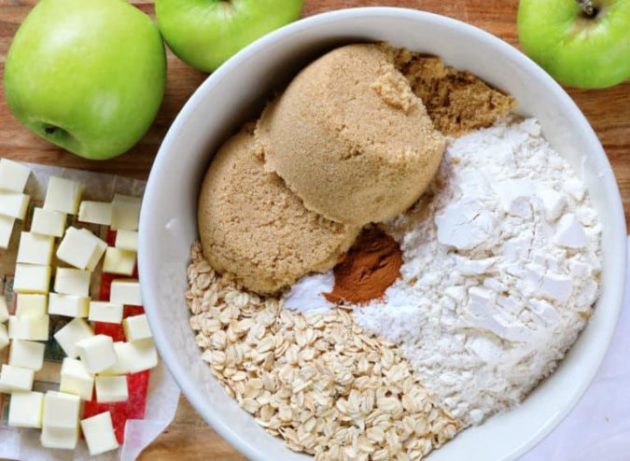 Brown Sugar Apple Crisp
Most recipes call for all granulated sugar or 1/2 granulated and 1/2 brown. While these recipes are sweet, they lack the depth of flavor that all brown sugar adds. And after you try this apple crisp, you will definitely understand what I mean! I used light brown sugar, but you can definitely use dark brown sugar as well. If you don't happen to have any brown sugar on hand, you can always make your own!
Homemade Brown Sugar
For light brown sugar add 1-2 tablespoons of molasses to 1 cup of granulated sugar. For dark brown sugar add 3-4 tablespoons to 1 cup of granulated sugar. I like to mix up a big batch in my food processor but you can also mix by hand if you prefer.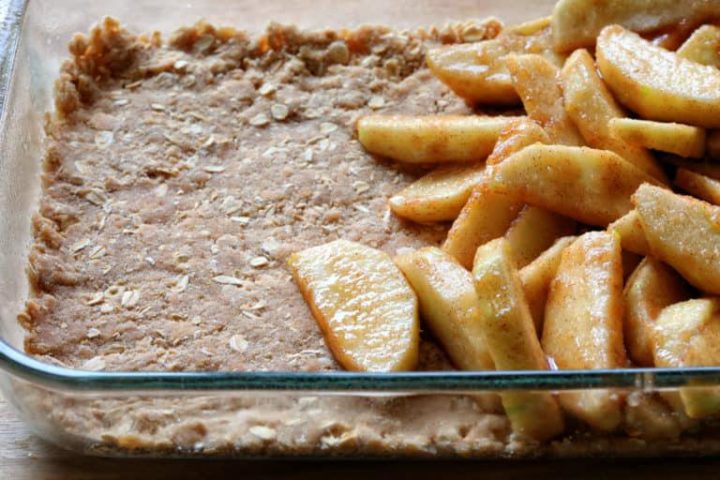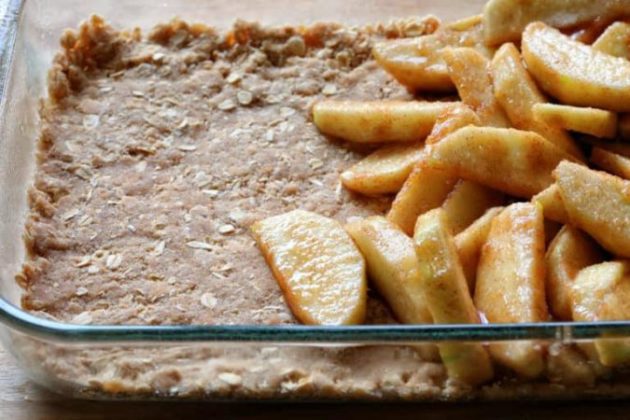 Oat Mixture
As you can see I use brown sugar in the apple coating as well as the oat mixture. (This is what makes it a crisp! A "crumble" used to not include oats, but the names are used interchangeably today.) But let's talk about the butter because that is equally important! I like to use good quality butter like Challenge Butter.
One thing that makes this recipe unique is that the oat mixture is used on the top AND the bottom. The amazing thing about this layer is that it changes depending on how long you bake the crisp.
If you bake at 375°F for 35 minutes, the bottom oat mixture will be slightly caramelized and gooey while the top will be perfect crispy deliciousness.
If you bake at 375°F for 45 minutes, the bottom oat mixture will be crispy throughout. The top will be darker, but if you prefer a less dark crispy top you can add a foil tent to the crisp after 35 minutes.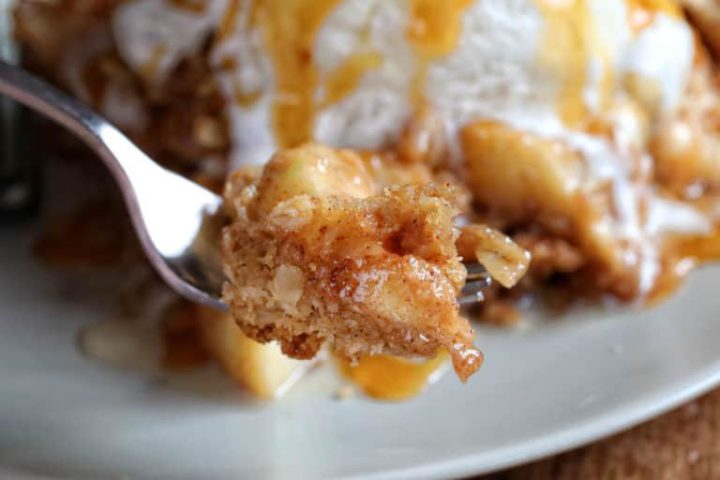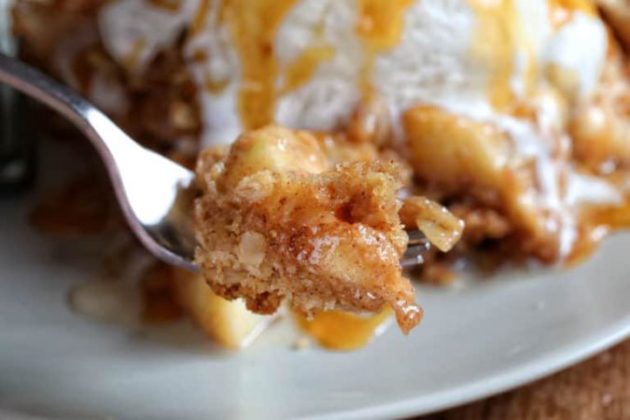 Best Apples to Use in an Apple Crisp
It is important to use tart apples in order to get that tang that contrasts well with the buttery topping in an apple crisp. Honeycrisp (they are crisp and juicy with a honey-sweet and tart flavor) or Granny Smith (they are crisp and very sour) are my top two favorites. The Honeycrisp was developed right here in Minnesota. #proudMinnesotan Either of those apples is ideal, but you could also do a combination of the two. Some folks in my extended family love to do a combination of a sweet apple (like Golden Delicious) and a tart apple. When we sampled this version we did enjoy it but found that the leftovers did not reheat as nicely as the version will all tart apples. (they were mushier than we liked)
This recipe calls for 10 cups of apples after they are peeled and sliced. I found this to be anywhere from 7-9 apples depending on the size. When preparing this recipe I like to wait until the very last moment to peel and cut my apples as I want them to stay as crisp as possible. And whatever you do, don't skip the peeling!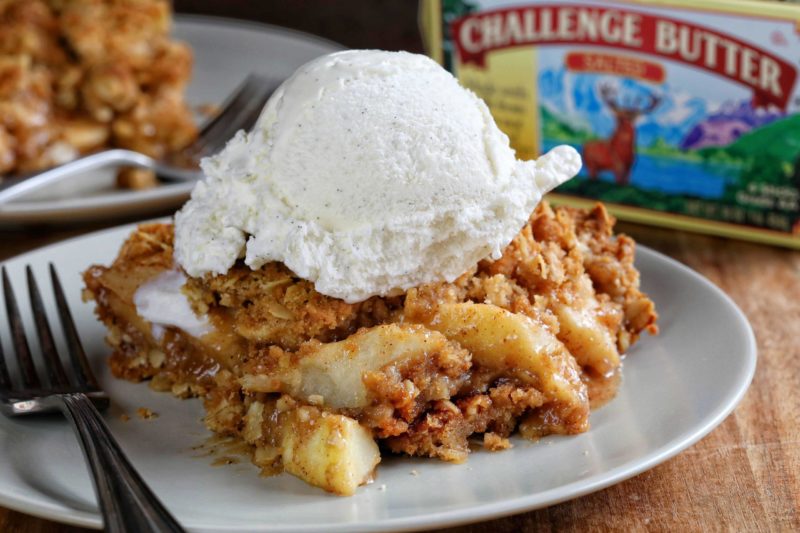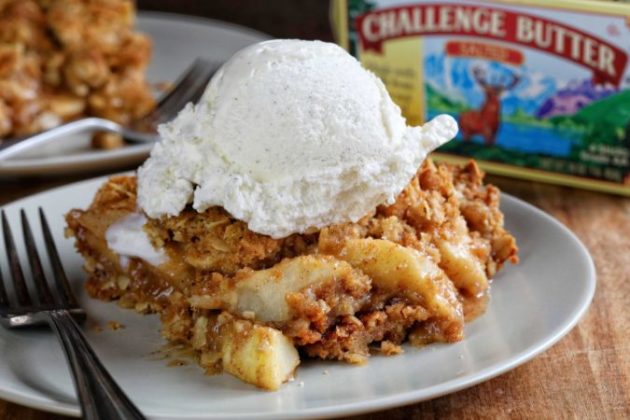 Want to Make This into an Apple Crumble?
Years ago there was a more notable distinction between Crisps and Crumbles. Usually, crumbles did not include oats; it was a wonderful mixture of flour, sugar, butter, and sometimes even nuts like walnuts or pecans. Today, the lines are very blurry between crisps and crumbles and the names are actually used interchangeably. However, you could simply add nuts to this recipe and call it the Best Apple Crumble and no one would be the wiser. ?
INGREDIENTS
APPLE MIXTURE
10 cups Granny Smith apples peeled, cored and sliced
1 cup (200g) brown sugar
1 tablespoon all-purpose flour
1 teaspoon ground cinnamon
CRISP MIXTURE
2 cups (180g) quick-cooking oats
2 cups (250g) all-purpose flour
2 cups (400g) packed brown sugar
1/2 teaspoon baking powder
1/2 teaspoon baking soda
2 teaspoons ground cinnamon
1 cup (2 sticks, 226g) Challenge Butter cubed while cold
INSTRUCTIONS
Preheat oven to 375°F. Prepare a 9×13 pan with baking spray or coating with butter.
APPLE MIXTURE
Place sliced apples in a bowl. Add brown sugar, flour, and cinnamon. Stir gently and make sure every piece of apple is covered in the sugar mixture. Set aside.
CRISP MIXTURE
Combine the oats, flour, brown sugar, baking powder, baking soda, and cinnamon together. Add in the cubed butter and use your hands to combine. You want the butter to be pea-sized and coated entirely. You should have 6 cups.
Spread 3 cups over the bottom of your prepared pan and press flat. Pour the apple mixture over top and press down with rubber spatula. Pour remaining crisp mixture over top of the apples and bake uncovered at 375°F for 35-45 minutes.