These are the perfect snacking appetizer. Soft pretzels coated with sea salt for a subtle crunch, these little bite-sized treats will fly off the table. We make a big batch and the kids have something to snack on throughout the week!
Homemade Soft Pretzel Bites
When you have a family of seven you are constantly thinking about how can I stay ahead of the hungry mouths in this house. Appetizers like these homemade soft pretzel bites are my saving grace. If I can make a big batch of something that my family will love, and that will still be good the next day, I am winning at life. This recipe makes a large batch of pretzels, so they are great for bringing to a party too. I love to serve them up with some of my homemade dips like chicken cheese dip or homemade ranch dressing. This recipe can also be modified into a pretzel bun shape, perfect for sandwiches!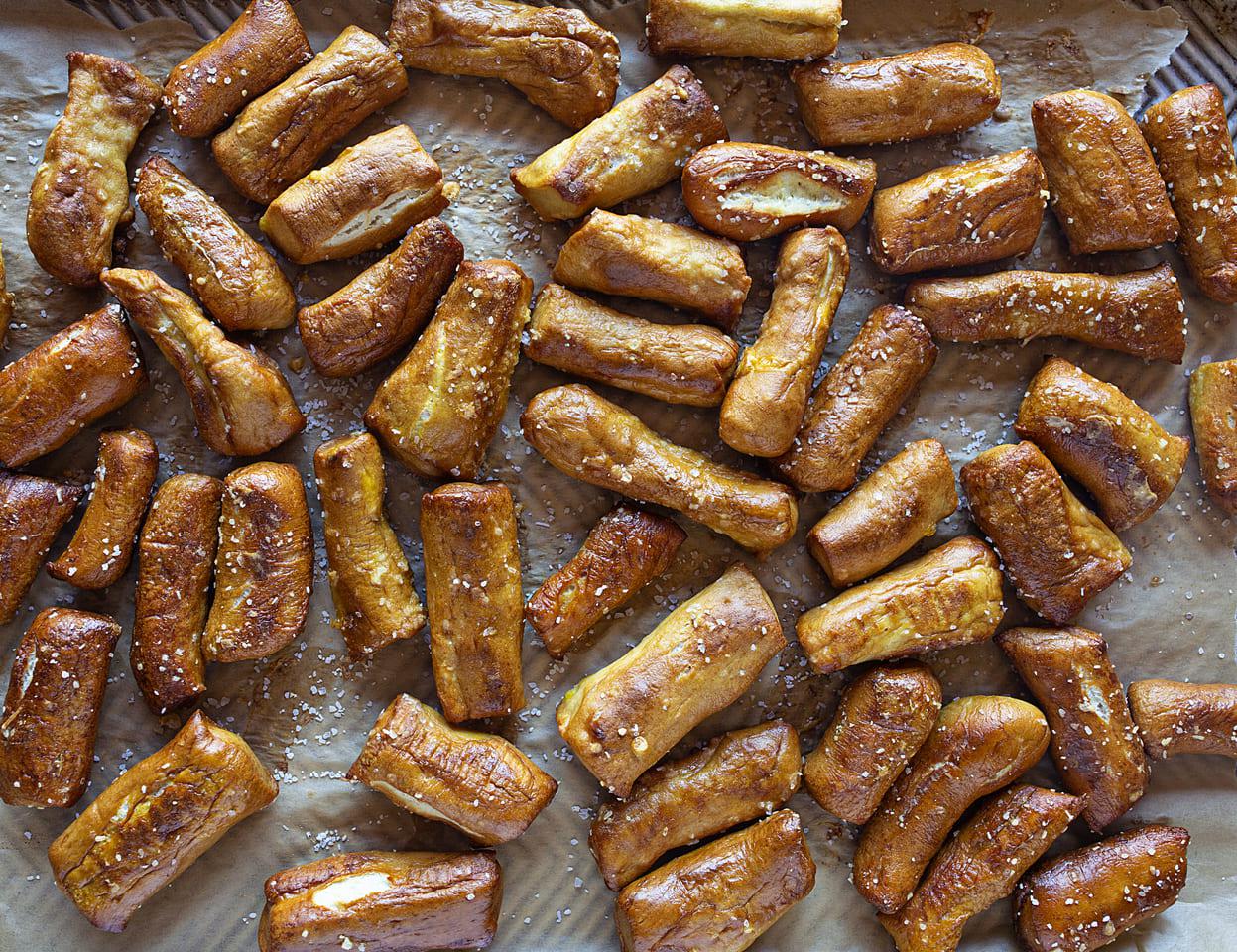 Homemade Soft Pretzel Recipe
Honestly, no one will believe the simple ingredients that you used to make these amazing little pretzel bites.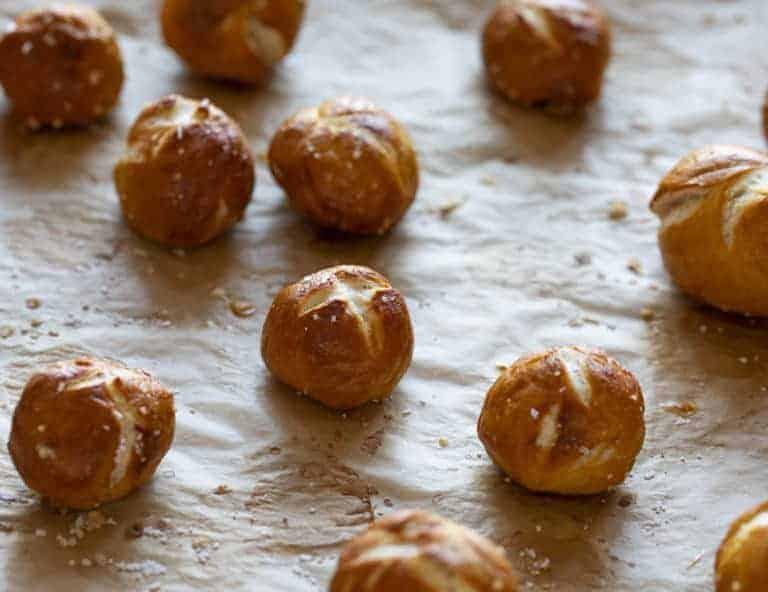 How to Make the Dough
Start by pulling together the dough. To do this, add some warm water to a small bowl and add in the yeast. The yeast will need about 3-5 minutes to fully activate, so let it sit for a bit. After a few minutes, add in the salt and sugar and stir everything together. In a separate large-sized bowl, add your flour and then pour the yeast mixture over the top. Knead in the bowl for about 5 minutes. This can also be done in the stand mixer with the dough hook.
Separate the dough into 6 sections. Roll each section into a 15-inch rope. It may end up being longer depending on how thick they are. You are shooting for about 1 inch in thickness. Cut the dough into 2-inch sections. This will be the "stick" shape for the pretzel bites. If you want round balls, roll each section in your hand until they are a uniform ball. You can also cut an X into each ball for a more authentic looking pretzel bite.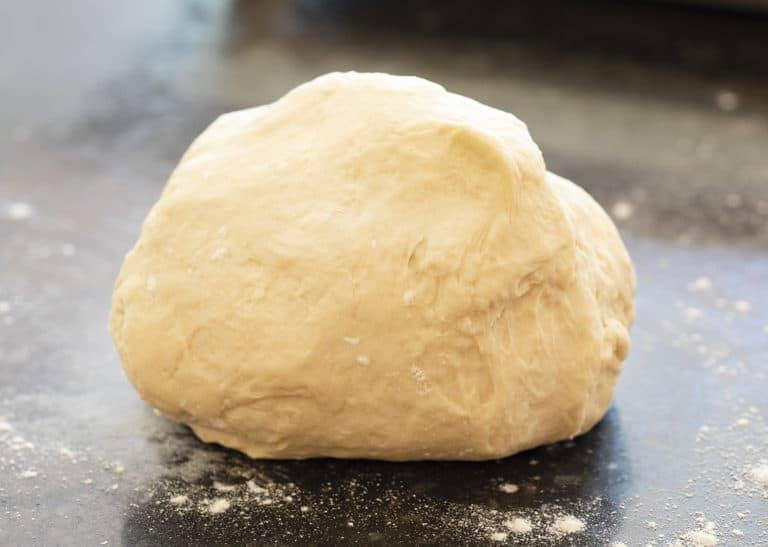 Boiling the Pretzel Dough
Next, you will drop the pieces into a boiling combination of water and baking soda. Drop a few in at a time, and only for about 30 seconds. Have a slotted spoon handy for easy removal. Place the boiled dough onto a baking sheet lined with parchment. Brush the tops with the egg wash and drop some sea salt over the top.
Baking the Pretzels
To make sure the pretzel bites are evenly cooked, you will rotate them every 5 minutes. At each turn, brush again with the remaining egg wash. Total cooking time should be between 13-15 minutes. Once they are golden brown they can come out of the oven.
These Pretzel Bites come together quickly. Once you start the boiling process, it can be good to have an extra set of hands to help.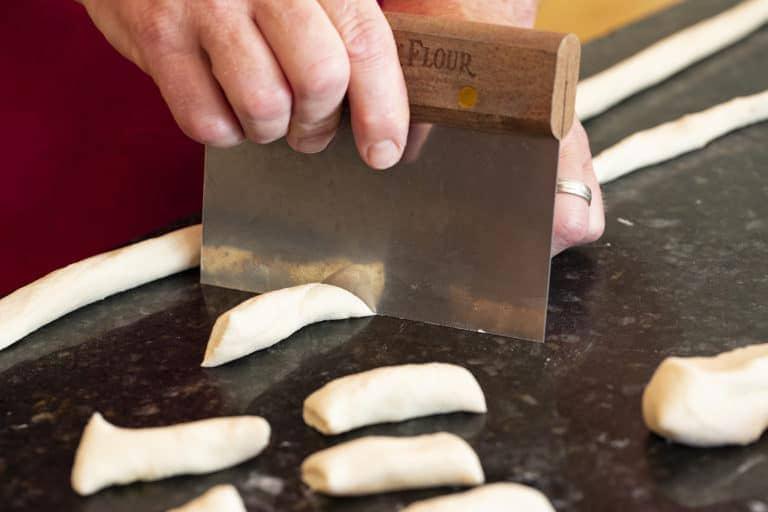 Other Pretzel Bite Flavors
One of the fun things about this recipe is the number of ways you can modify it to create all sorts of fun variations! Here are a few of my favorites:
Parmesan and Garlic Pretzel Bites: Add fresh garlic or garlic salt to the dough and coat the freshly boiled pretzel bites with butter, garlic, and parmesan cheese before baking.
Cinnamon and Sugar Pretzel Bites: Skip the salt in the dough and coat the boiled pretzel bites in butter cinnamon and sugar before baking.
Cheese Stuffed Pretzel Bites: This one takes a bit more work on the front end. After cutting into 2-inch sections, roll the dough around a fresh cheese curd or a small slice of a mozzarella stick. Boil and bake as normal.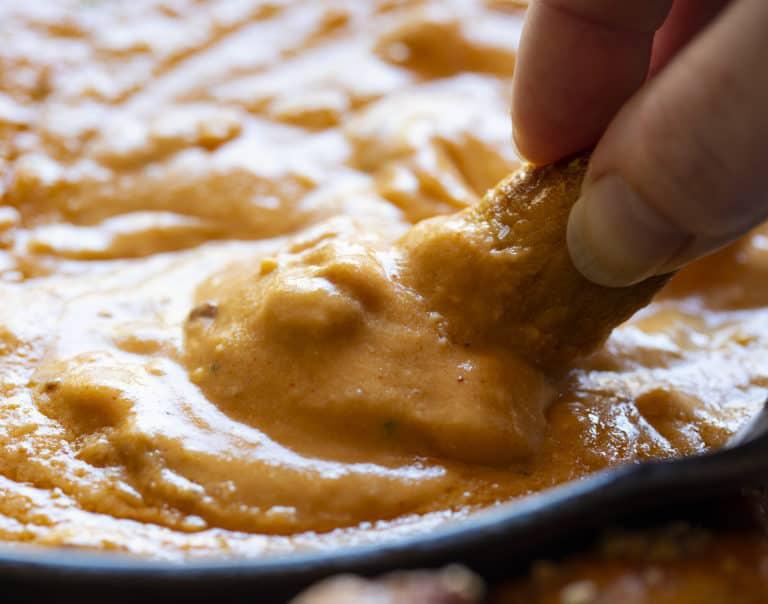 Ingredients
Pretzel Dough
1 1/2 cup warm water
1 packet (2 1/4 teaspoons) active yeast
1 1/2 teaspoon salt
1 tablespoon sugar
4 cups flour
Pretzel Boiling
8 cups water
1/3 cup baking soda
Pretzel Topping
1 egg whisked, for egg wash
kosher salt, for topping
Instructions
Pretzel Dough
In a small bowl, add warm water and yeast and allow yeast to activate (about 3-5 minutes). Add salt and sugar and stir to combine.
In a large bowl, add flour and then pour yeast mixture over top. Knead for about 5 minutes.
Separate dough into 6 sections. Create pretzel bites by rolling the dough into a 15 inch rope (about 1 inch thickness). Cut the rope into 2 inch pieces. If you have excess or leftover dough, create a small rounded ball (optional: cut an x into the top of the ball).
Pretzel Boiling
In a medium pan, add water and baking soda. Cook over high heat. Once water is boiling, place 6-8 pieces of pretzel dough into the water. Remove with slotted spoon after about 30 seconds and place the pretzel bites onto a baking sheet lined with parchment.
Pretzel Topping
Brush dough lightly with egg wash and sprinkle salt on top.
Bake for 5 minutes, and then flip. Using a basting brush, coat the tops of the pretzel bites with the remaining egg wash. Repeat again after 5 more minutes. Cook 3-5 minutes more (a total of 13-15 minutes) or until golden brown.