Chicken Broccoli Stuffed Shells are filled with shredded chicken, broccoli, cheese and topped with my homemade Cheddar Cheese Sauce to make this recipe a win for any night of the week!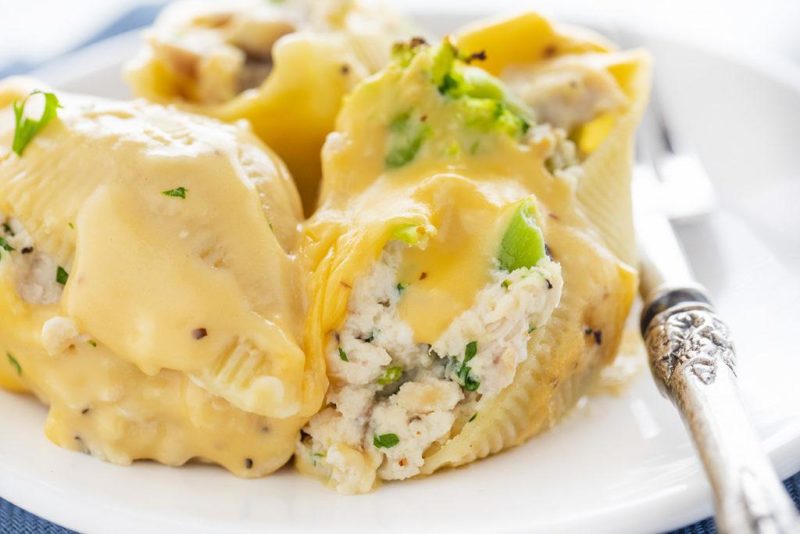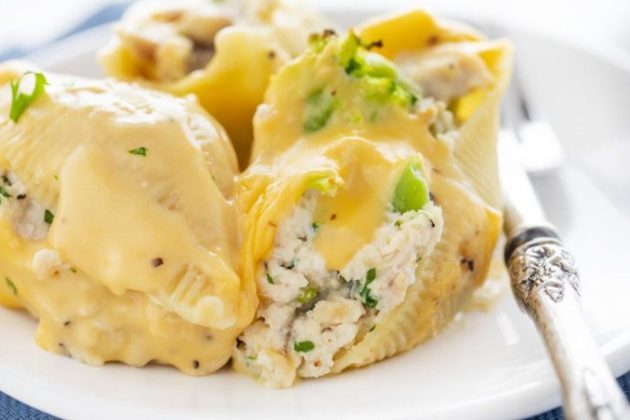 CHICKEN BROCCOLI STUFFED SHELLS
I have to say that I do like broccoli. As a kid, however, it was sometimes tough to get it down. But, with a little (or a lot of) cheese, the broccoli seemed much more edible. In this recipe, you get the protein from the chicken, a dose of vegetables from the broccoli and lots of cheese! It's a well-rounded meal in one dish!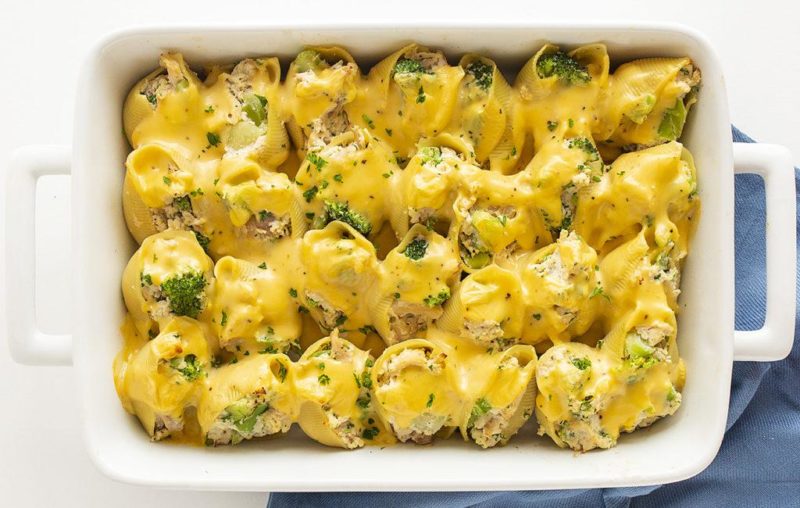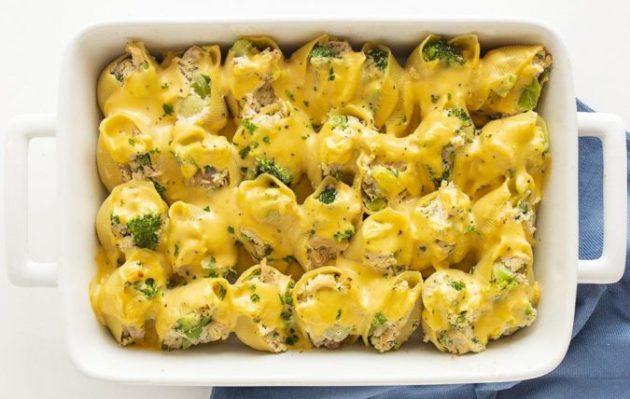 CHICKEN BROCCOLI STUFFED SHELLS RECIPE
This quick and easy dinner idea is loaded with flavor and topped with my homemade cheddar cheese sauce. It doesn't get much better than the combination of chicken, cheese, broccoli, and more cheese!
Stuffed Shells Ingredients
Jumbo pasta shells
Rotisserie chicken
Broccoli
Ricotta cheese
Parmesan cheese
Garlic powder
Parsley
Salt
Pepper
Cheese Sauce Ingredients
Whole milk
All-purpose flour
Salt
Sharp cheddar cheese
Black pepper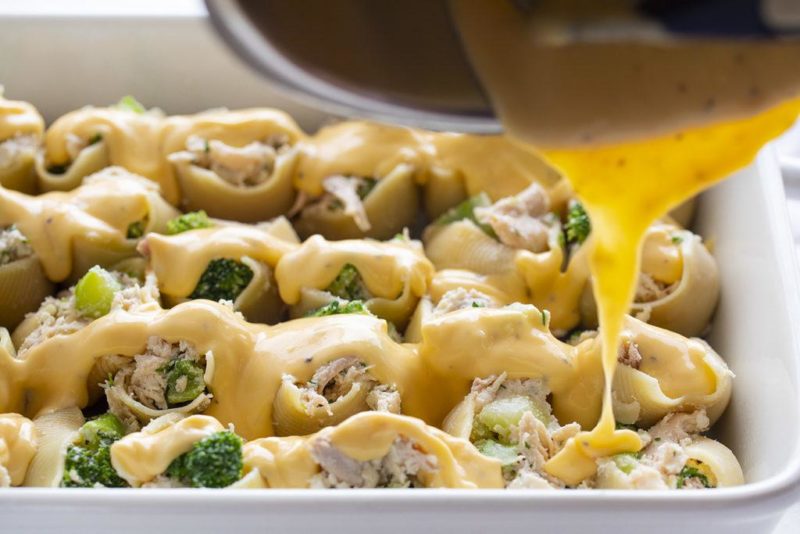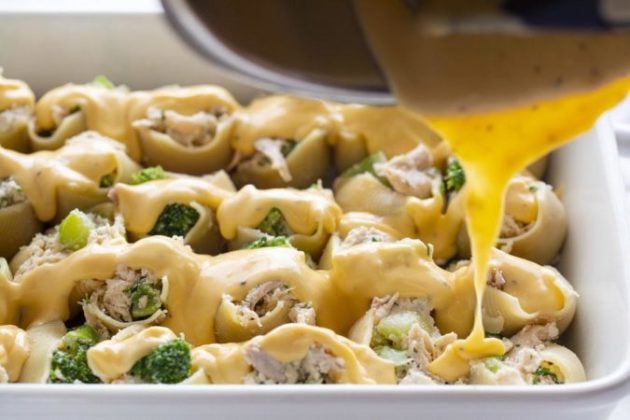 HOW TO MAKE CHICKEN BROCCOLI STUFFED SHELLS
Chicken Broccoli Stuffed Shells is easy enough to make any time, and it will surely be on rotation once you try them. While you are cooking the shells, you could be blanching the broccoli that will be a part of the chicken mixture going into the shells.
HOW TO BLANCH BROCCOLI
Blanching is a method to cook vegetables so they end up being crisp and bright in color. All it takes to blanch broccoli is a pot of salted boiling water and a bowl of ice water nearby. When the water gets to a boil, put in the broccoli florets and let them cook for 2-3 minutes. They should be bright green after a couple of minutes. With a slotted spoon, transfer the broccoli into the ice water immediately. This 'shocking' will stop the broccoli from cooking any longer. When the broccoli has cooled completely, drain it from the ice water and pat it down with a paper towel.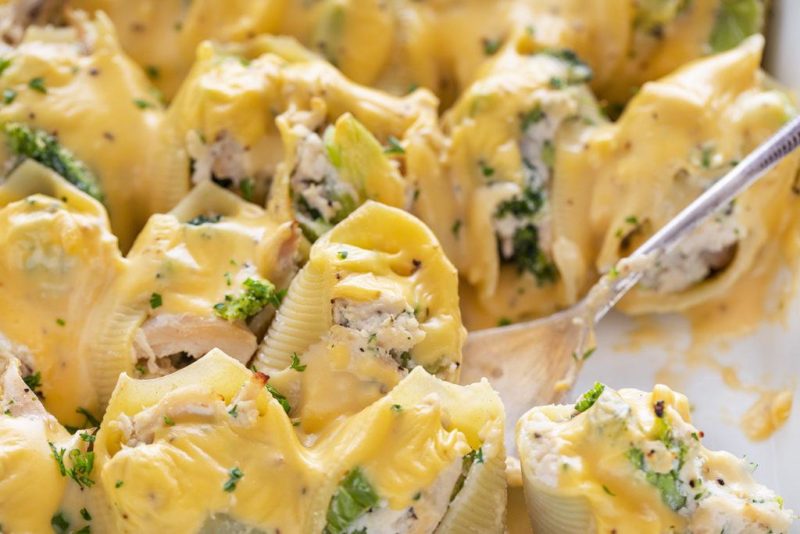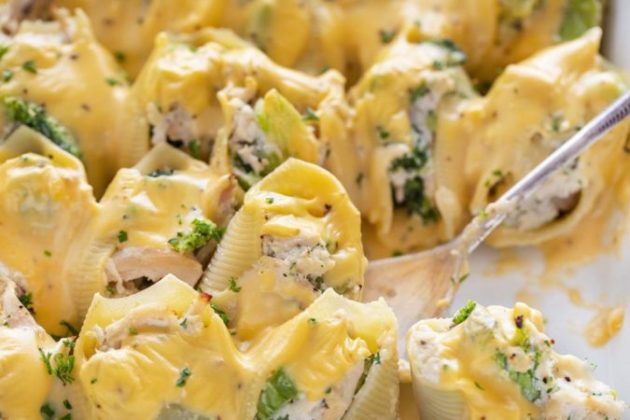 HOW TO MAKE CHEESE SAUCE
Before you bake the Chicken Broccoli Stuffed Shells, you will make a cheddar cheese sauce that will be poured on top of the shells. Forget buying processed cheese sauce; you can make your own! With a saucepan and ingredients that you probably have on hand, you can have some ooey-gooey cheese sauce ready to go! To make the sauce, combine 1/2 cup of the milk and flour in a saucepan. Stir it with a whisk, and then add the rest of the milk and salt. Bring it to a boil over medium heat, stirring a few times. Reduce heat to low and simmer for a couple of minutes, constantly stirring. Remove from the heat to stir in the cheese and pepper until the cheese melts. Yes, you do need to remove the saucepan from the heat when stirring in the cheese. If you leave the sauce over the heat, the cheese will curdle and you will not get that creaminess that you would expect.
ASSEMBLING THE SHELLS
After the shells have cooled for a little while, it's time to get them stuffed with the chicken and broccoli mixture. In a large bowl, combine the shredded chicken, broccoli, ricotta cheese, parmesan cheese, garlic powder, parsley, salt, and pepper. Stuff each shell with the mixture and place the shells in a greased 9×13-inch pan. Pour the homemade cheese sauce over the stuffed shells and cook them for about 15-20 minutes at 350°F. Serve hot and enjoy!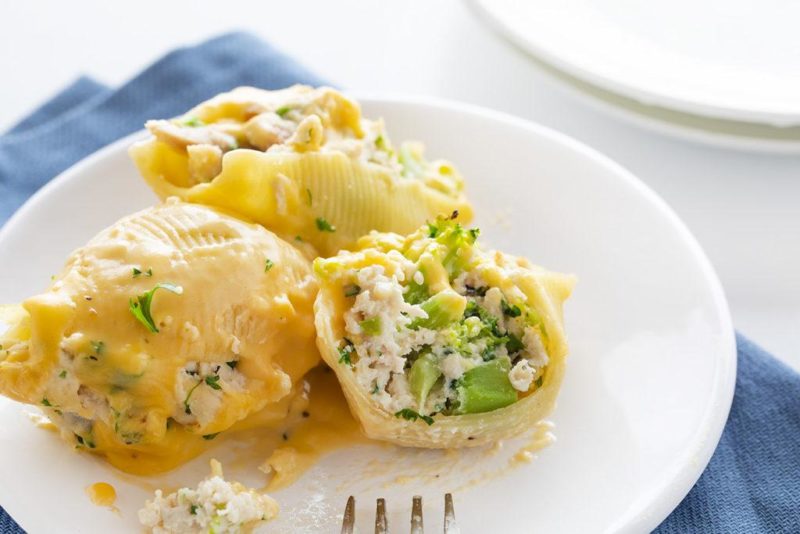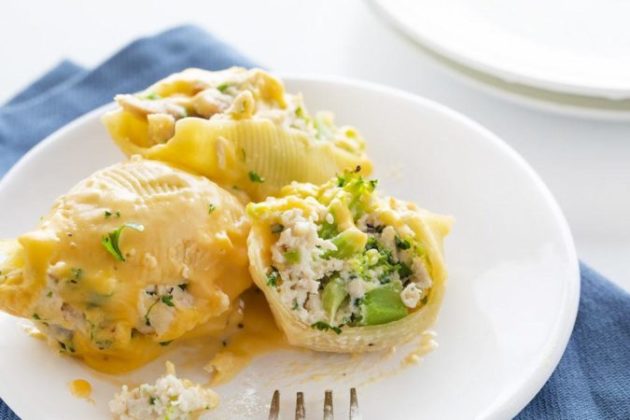 ALTERNATIVES TO RICOTTA CHEESE
Sometimes I hear that people just do not like Ricotta Cheese. It seems like it doesn't taste like a traditional "cheese". I tend to like it in small doses myself. If you are one of these people, don't fret…I have you covered. Although this recipe only uses a cup of ricotta cheese, there are some substitutes you could use.
Adjust the Ratios: You can reduce the amount of ricotta by half and increase the mozzarella by the same amount. That way you will still get the necessary moisture that makes this dish amazing, but it won't have the overwhelming flavor and texture of ricotta.
Substitutions: There are several options when it comes to Ricotta substitutions. They will all alter the flavor of the dish slightly but they will probably be better if you are against the aforementioned cheese in the first place.
Cottage Cheese – It has a mild taste, similar to ricotta but it is less creamy. Cottage cheese is also low in fat and calories, so it is a healthier option too.
Goat Cheese – Fresh goat cheese (not aged goat cheese) is rich and creamy, with a mild but slightly tart flavor.
Queso Fresco – This fresh Mexican cheese has a mild, salty, and milky flavor. The main difference is that queso fresco is drier than Ricotta, but it can be grated or crumbled in lieu of Ricotta cheese.
Cream Cheese – Both have a soft, creamy texture but cream cheese is higher in fat than Ricotta cheese.
Ingredients
STUFFED SHELLS
1 package (12 ounces) jumbo pasta shells, cooked al dente
3 cups rotisserie chicken, shredded
2 cups broccoli, blanched
1 cup ricotta cheese
1/4 cup parmesan cheese
1 teaspoon garlic powder
2 tablespoons fresh parsley
2 teaspoons salt
1 teaspoon pepper
CHEESE SAUCE
2 cups whole milk, divided
2 tablespoons all-purpose flour
1 teaspoon salt
6 ounces (1 1/3 cups) sharp cheddar cheese, shredded
1/2 teaspoon freshly ground black pepper
Instructions
Preheat oven to 350°F.
STUFFED SHELLS
Boil and drain pasta shells until al dente.
In a large bowl, combine the shredded chicken, broccoli, ricotta cheese, parmesan cheese, garlic powder, parsley, salt, and pepper. Set aside.
CHEESE SAUCE
In a medium saucepan, whisk together 1/2 cup of milk and the flour.
Pour in the remaining milk and salt, bringing it to a boil over medium heat. Stir frequently.
Reduce heat to low and simmer for 2 minutes, stirring constantly. The mixture will start to thicken.
Remove from heat and stir in the cheese and pepper until the cheese melts.
ASSEMBLING THE SHELLS
Stuff each jumbo shell with the chicken and broccoli mixture and place them in a greased 9×13-inch baking pan.
Pour the cheese sauce over the stuffed shells and cook for 15-20 minutes, or until bubbly.
Recipe Notes
MAKE AHEAD
The shells can be made ahead and frozen. To do that, add the chicken mixture to the cooked shells and place on a baking sheet covered with plastic wrap. Set in the freezer. Once fully frozen, the stuffed shells can be placed in a ziptop bag and stored in the freezer for up to 3 months.
When you are ready to cook them, take the shells out of the freezer and bring to room temperature. Follow the rest of the steps as instructed. You may need to adjust cooking time to ensure the shells are completely cooked through.