The origin of chili cheese fries is not really clear. Many want to take credit for creating this tasty dish so tracking down the actual origin is hard. There are a few different origin stories. What is known is that Chili Cheese Fries were being offered frozen as early as 1975.
4 serving. Each serving of chili cheese fries includes ¾ cup chili, 12-15 fries, cheese, salsa and ranch.
*This chili makes 6 cups total. You'll only use 3 cups for this chili cheese fries recipe. You can freeze the rest for another use.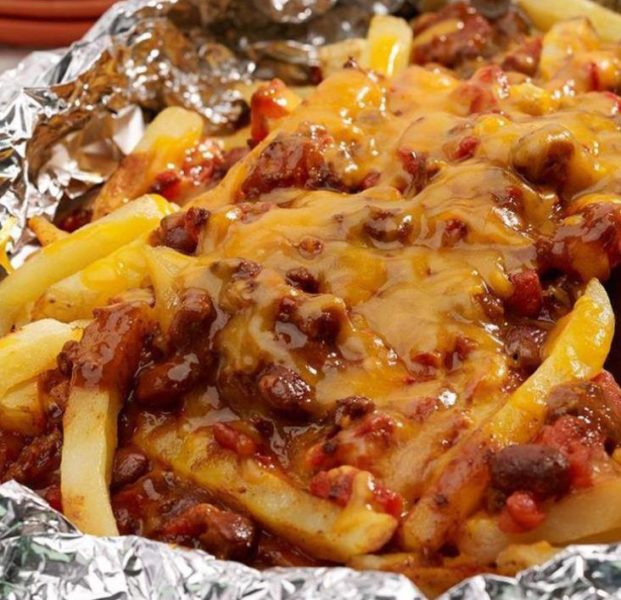 Ingredients
1 cup onions, chopped
1 (1.25 pound) package 99% fat free ground turkey breast
1 (14.5 oz) can diced tomatoes
1 (15 oz) can black beans, rinsed and drained
¾ cup water
1 (1 ounce) package taco seasoning, I used Lawry's
12 ounces frozen French fries, I used Alexia 98% fat free frozen fries, see shopping tips
¾ cup (3 ounces) reduced-fat cheddar cheese
¼ cup salsa, I used Pace Medium Chunky
¼ cup skinny ranch dressing or fat-free sour cream for each serving
Instructions
1. To Make Chili: Cook onions in microwave for 1 minute to soften. In a large, nonstick pan, brown turkey. Stir often and break up turkey into a crumble. Stir in onions, tomatoes, beans, water and taco seasonings. Bring to a boil. Turn heat to low and simmer for 15 minutes. You will only use ½ of this chili recipe (3 cups chili) for the 4 servings.
2. To Bake Fries: While chili is cooking, bake the fries. Preheat oven to 400 degrees. Line a baking pan with foil and coat all over with cooking spray. Spread the frozen fries evenly over the pan. Bake as directed.
3. To Assemble Each Serving: Line each plate with 12-15 baked fries. Pour ¾ cup chili on top of fries. Dollop a little salsa around the top of chili. Sprinkle with 3 tablespoons cheese. Zap in microwave for 1 minute. Drizzle with 1 tablespoon skinny ranch dressing or fat-free sour cream and serve. Repeat for the 3 other servings.