Blueberry Dump Cake is probably the easiest sweet treat to make of all time. Just three total ingredients and a few effortless steps and dessert is served!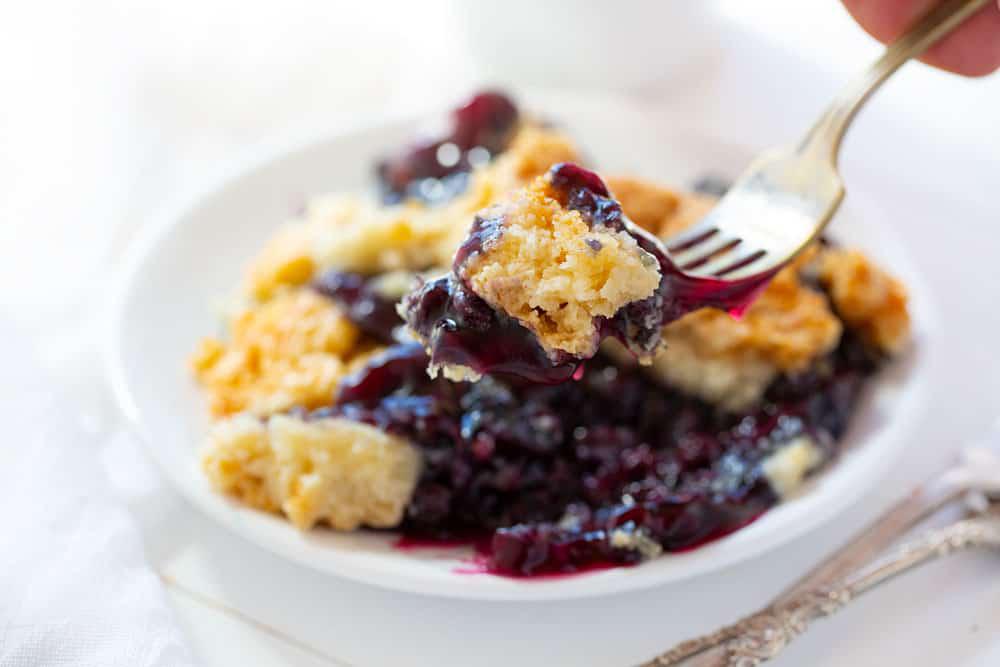 The genius that decided to dump a bunch of dessert staples into a pan and see what happens next deserves an award. They are my hero. Dump cakes are a dream recipe for busy moms and dads. For those days when just getting through the door is a chore, you can still impress the entire family with a tasty dessert that doesn't take much effort from you. The prep for this delicious blueberry dump cake recipe is five minutes. I'll say it louder, FIVE MINUTES. No mess, no fuss, just dump it in the pan and go.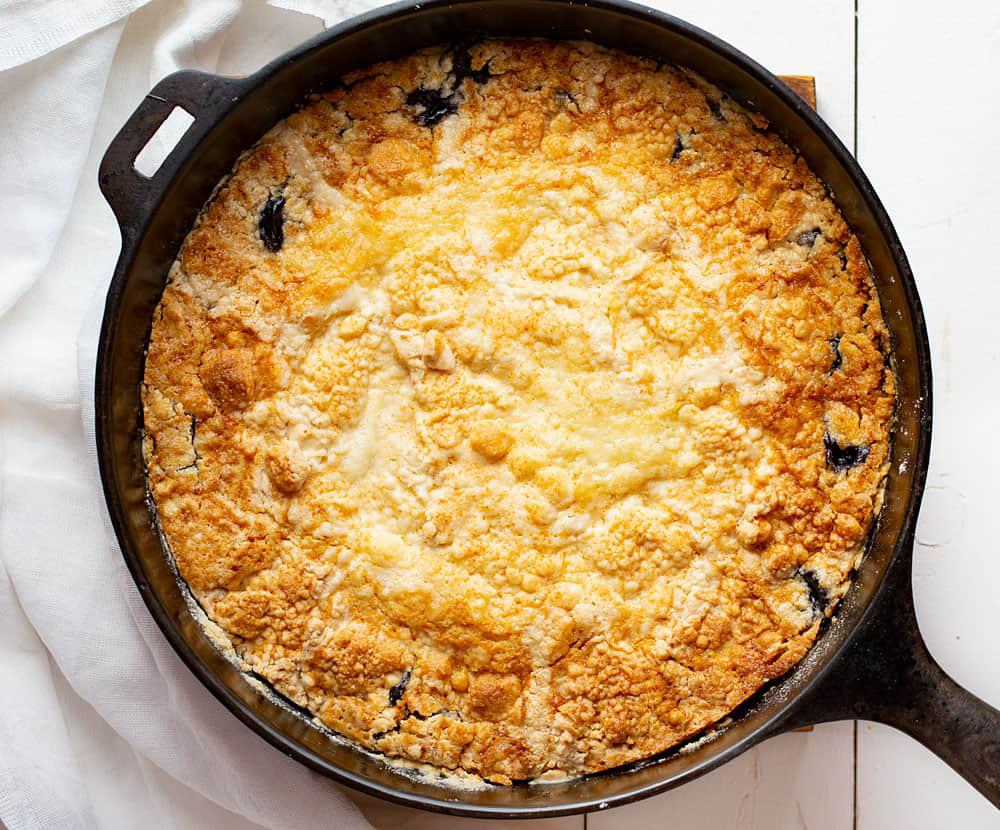 How to Make Blueberry Dump Cake
You hear me talking a lot about "your recipe is only as good as your ingredients" and in most cases, that is my primary rule of thumb. This dessert is designed for ease. So, in this case, you won't hear me say that. For this Blueberry Dump Cake recipe, you need a box of white cake mix, your favorite can of blueberry pie filling, and some cold butter. Yes, there are a few ways you can make this cake fancy, but with a name like Blueberry Dump Cake, you really can't dress it up too much. I've seen a few recipes for Lemon Blueberry Dump Cakes. For that variation, you basically exchange the white cake mix for lemon cake mix. Lemon zest grated over the top makes this version look stunning as well!
Can you Make Crockpot Blueberry Dump Cake?
You can and you should! It is literally the exact same recipe and instructions, except you use a crockpot instead of the skillet and an oven. For this method, you will put the blueberry pie filling in the bottom of a greased crockpot, and then top with the cake, and then butter, and then cover and cook on high for 2 hours or low for 4 hours.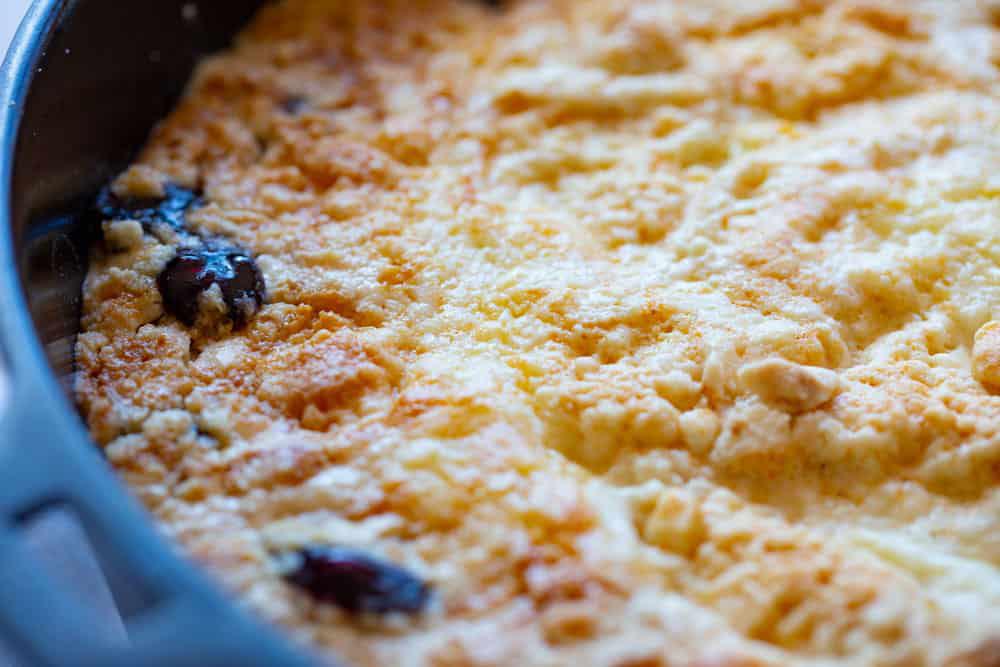 Topping Ideas for Blueberry Dump Cake
The basic topping choices for a blueberry dump cake are whipped cream or ice cream. Within those two categories, there are a few variations that can really take this dump cake to a whole new level. For the ice cream, we almost always have vanilla or vanilla bean as a staple in our freezer. The vanilla ice cream is a perfect compliment to the buttery, cakey, blueberry flavors in the dump cake.
Homemade Whipped Cream
Making your own whipped cream is probably one of the top recommendations that I will ever give you when discussing homemade desserts. To do that, you need heavy whipping cream and confectioners sugar. Essentially, from here you just pour the whipping cream into a bowl and whip until peaks start to form. I would recommend using a hand mixer or a stand mixer unless you are really focusing on those arm muscles. Slowly add in the sugar and serve. Super simple. You can put a few other fun twists on this by adding in freshly squeezed lemon juice into the whipped cream for a citrus whipped cream. You can do this with store-bought whipped cream too. The same method applies here, you just add lemon juice to the pre-made version. This is great over blueberry pancakes or blueberry waffles as well!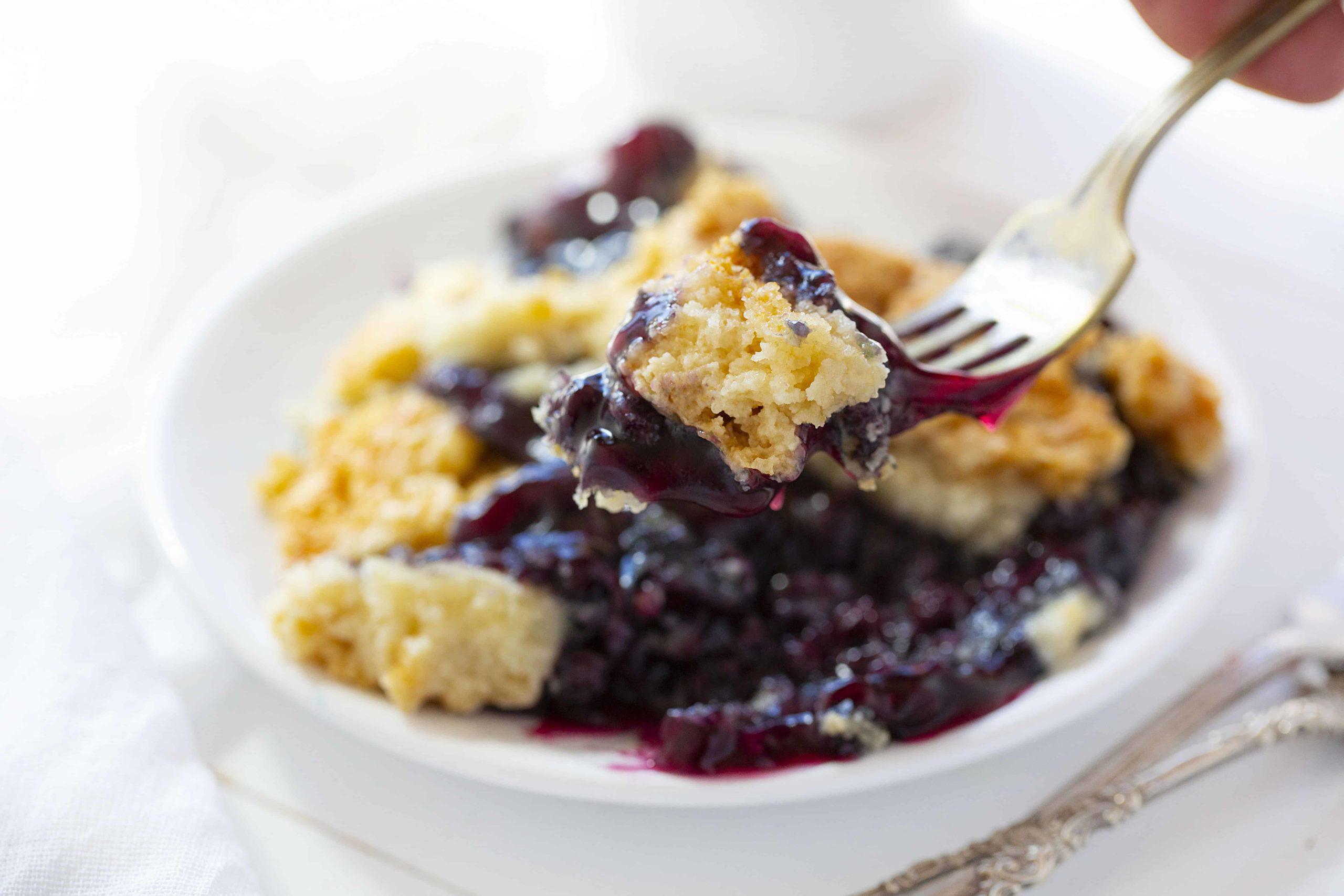 INGREDIENTS
1 box (15.25 ounce) white cake mix
2 cans (21 ounce each) blueberry pie filling
1/2 cup butter cold
INSTRUCTIONS
Preheat oven to 350°F.
In a large skillet or greased baking dish, add the blueberry pie filling and spread it evenly over the bottom of the pan. Sprinkle the cake mix over the top, being careful to cover all of the pie filling.
Slice the butter into small pads (about 16) and spread them out evenly over the top of the cake mixture.
Bake for 1 hour or until the topping is golden brown and the pie filling is bubbling.