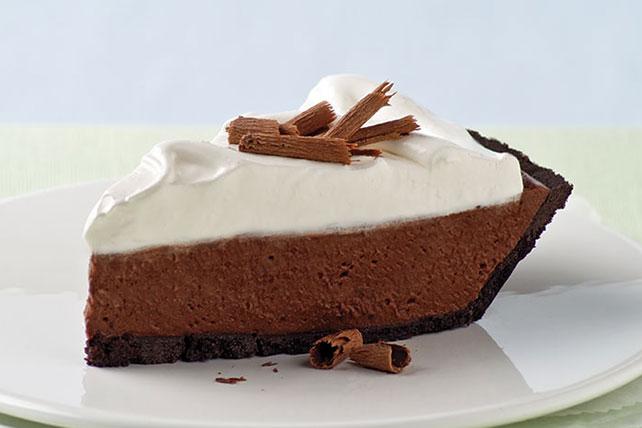 Ingredients :
1/3 cup unsweetened cocoa powder, preferably Dutch-process
7 tablespoons packed light brown sugar, divided
2 ounces bittersweet chocolate, chopped
2 tablespoons chopped pitted dates
1 1/2 teaspoons unflavored gelatin
2 tablespoons dried egg whites
1 1/2 teaspoons vanilla extract
1/2 teaspoon cream of tartar
1 tablespoon brewed coffee
25 thin chocolate wafers
1 tablespoon canola oil
2 tablespoons water
1 tablespoon water
1/2 cup low-fat milk
1 large egg
Instructions :
Preheat oven to 325 degrees .
To prepare crust: Combine chocolate wafers and dates in a food processor; process until finely chopped. Add water and oil and process until moistened. Press into the bottom and sides of the prepared pan.
Bake until crisp, about 10 minutes. Cool completely on a wire rack.
To prepare filling & garnish: Combine coffee and water in a small bowl. Sprinkle gelatin on top and set aside to soften.
Whisk egg, milk, 2 tablespoons brown sugar and cocoa in a small saucepan until smooth. Cook over low heat, whisking constantly, until thickened and an instant-read thermometer registers 160 degrees F, 7 minutes. Do not let the mixture come to a simmer.
Remove from the heat. Add the reserved gelatin mixture; stir until dissolved. Add chocolate and vanilla, stirring until melted. Set aside to cool to room temperature, about 35 minutes.
Beat reconstituted egg whites and cream of tartar in a large bowl with an electric mixer on low speed until frothy. Increase speed to high and beat until soft peaks form. Gradually add the remaining 5 tablespoons brown sugar, beating until the meringue is smooth and glossy.
Whisk one-fourth of the meringue into the cooled chocolate mixture until smooth. Scrape the chocolate mixture into the remaining meringue and fold in with a whisk. Spoon the filling into the crust and chill, uncovered, until set, about 3 hours.