Baking a delicious Lemon Cupcake doesn't have to be complicated! Try this easy recipe for a fast treat!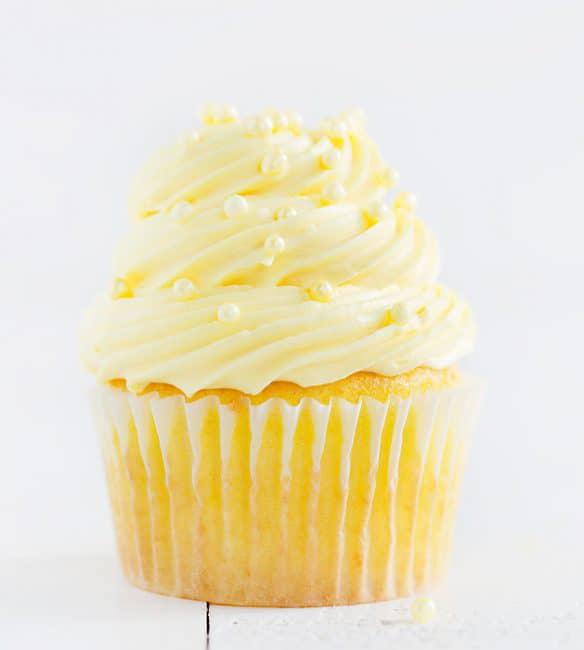 I got a craving for lemon the other day and knew I just had to make a delicious cupcake! These cupcakes are not overpowering in any way. Almost subtle in flavor! You will definitely want to play around with the amount of Lemon extract that you use. I have 2-3 teaspoons written into the recipe but have used as much as a tablespoon! It's important to test as you go so you can make them according to your tastes.
To make this cupcake you will need:
Cupcake recipe (below)
Lemon buttercream recipe (below)
Yellow food color
Cupcake liners
Cupcake/muffin pan
8B decorators tip & plastic disposable pastry bags
Sprinkles (optional)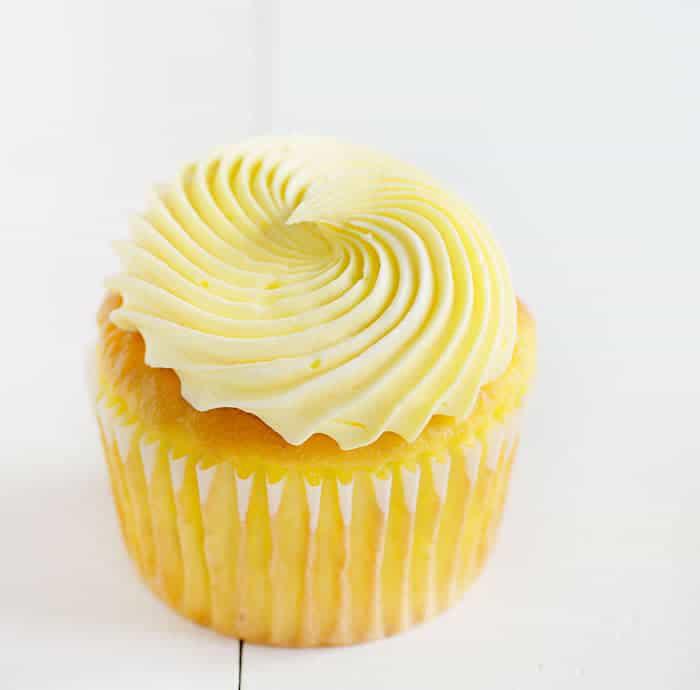 Lemon Buttercream
Just like with the batter, you will want to taste as you go. Start with 2 teaspoons of lemon extract and add more as needed. Remember to taste a cupcake WITH frosting on it… when tasting the batter and buttercream individually you may not get the full blast of lemon flavor.
To pipe the frosting on top, just fill your pastry bag fitted with an 8B tip. Starting at the center, apply pressure and then move the bag around the cupcake. If you want a tall frosting swirl, apply pressure and then build it up by going around 3 times.
Easy peasy!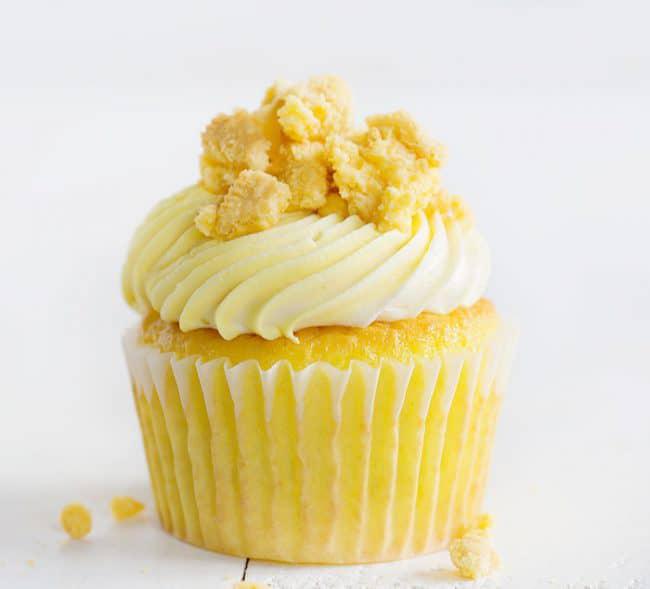 I happened to have some lemon oreo's so crumbled them and added them to the top of the lemon cupcake. And…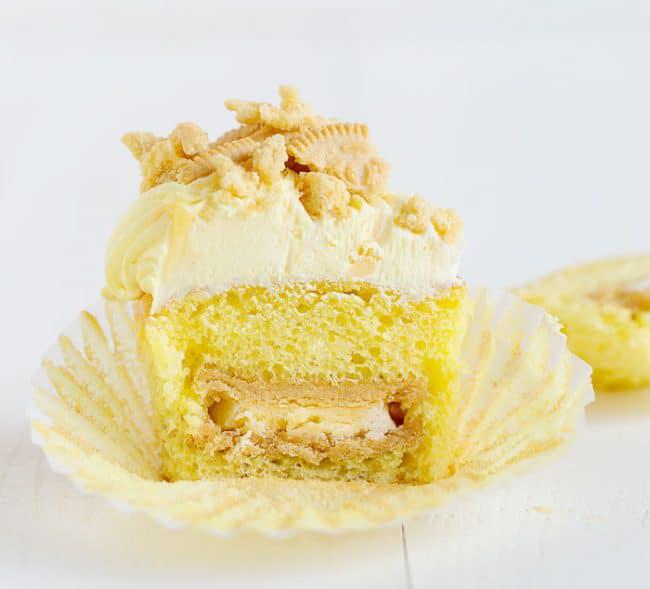 I added them to the batter! If you want to do this too, just fill your cupcake liners with batter as you normally would then drop an Oreo in and press it down. You can also drop the Oreo in first and then pour batter over top.
INGREDIENTS
LEMON CUPCAKES
3 cups (375g) self-rising flour
½ teaspoon kosher salt
1 cup (2 sticks, 227g)unsalted butter, at room temperature
2 cups (400g) granulated sugar
4 large eggs, room temperature
1 teaspoon vanilla extract
2 tablespoons lemon zest
1 cup (245g) whole milk, divided, room temperature
3 tablespoons fresh lemon juice, divided
LEMON BUTTERCREAM
3 tablespoons butter, room temperature
2-3 teaspoons lemon extract
1 teaspoon whole milk, or more as needed
1 cup (125g) confectioners' sugar, or more as needed
5 drops yellow food color
INSTRUCTIONS
LEMON CUPCAKES
Preheat oven to 375°F. Line 30 cupcake pan cups with paper liners.
Sift the self-rising flour and salt together in a bowl. In another bowl, beat the unsalted butter and sugar with an electric mixer until light and fluffy, about 2 minutes.
Mix in the eggs one at a time, beating each egg until incorporated before adding the next. Mix in the vanilla extract and lemon zest.
Gently combine the flour mixture into the butter mixture, one third at a time, alternating with half the milk and half the lemon juice after each of the first 2 additions of flour. Beat until just combined; do not over mix.
Fill the prepared cupcake liners with batter 3/4 full, and bake in the preheated oven until a toothpick inserted in the center comes out mostly clean, about 15 minutes. Let the cupcakes cool in the pans for about 10 minutes before removing them to finish cooling on a rack.
LEMON BUTTERCREAM
Beat 3 tablespoons butter, 2 teaspoons lemon extract, and milk together until smooth. Add yellow food color- optional.
Beat confectioners sugar into butter mixture until desired consistency is reached. You may want to add more sugar.
Please note! This is not enough frosting to decorate 12 cupcakes like I have in the pictures. You will want to at least double the recipe if using the 8B tip.