Delicious homemade Wonton Soup is the best way to satisfy any craving for Chinese food without having to leave the house. Tender wontons filled with seasoned pork swim in a clear broth flavored with ginger, soy, sesame, and garlic.
Big batches of wontons can be made ahead of time and frozen for a quick and yummy meal in minutes.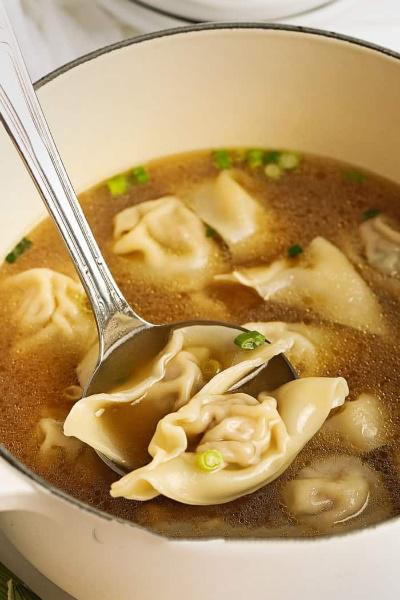 What is Wonton Soup?
Wonton soup is a standard of Chinese cuisine and made from seasoned chicken broth with filled wontons. Wontons are an Asian equivalent of ravioli or tortellini when they are folded around a spiced meat mixture.
This recipe calls for ground pork as the foundation for the filling because it has great flavor and a meaty texture. Other meats or proteins could be substituted, such as shrimp, ground chicken or turkey, or even ground beef.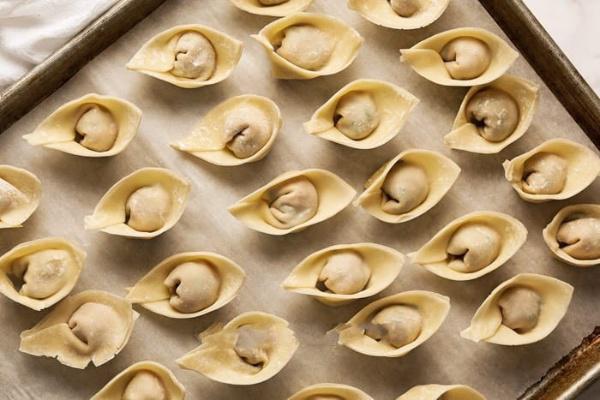 Wonton Wrappers
You can find wonton wrappers at most grocery stores, often in the produce area or near the fresh chow mein noodles. If you don't see them, ask the grocer as most stores do carry them.
Wonton wrappers are flat squares of fresh egg noodle dough and can be easily pinched, folded or cut into various shapes for different uses.
How to Make Wontons
There are many many ways to fold a wonton. I love the look and ease of folding them into this shape! Folding wontons is easy but does take a lot of time. I make big batches and freeze them.
Spoon a teaspoon of filling into the center. Do not overfill.
Moisten the edges with a few drops of water.
Fold into triangles, pressing the edges into a tight seal.
Squeeze the two edges of the triangle together and seal with a bit of water.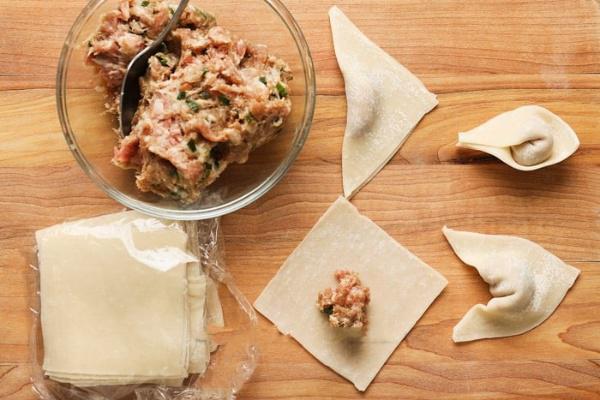 How to Make Wonton Soup
Once the wontons are prepped the rest is a breeze!
Place broth and seasoning in a pot and bring to a boil.
Remove the ginger and garlic and reduce heat.
Gently simmer the wontons in the broth until done.
Serve in bowls or cups garnished with chopped green onions or chives. Remember to treat the wontons gently to prevent them from tearing! If you'd like to add veggies and shrimp to turn this into a Wor Wonton Soup, these wontons work well for that too!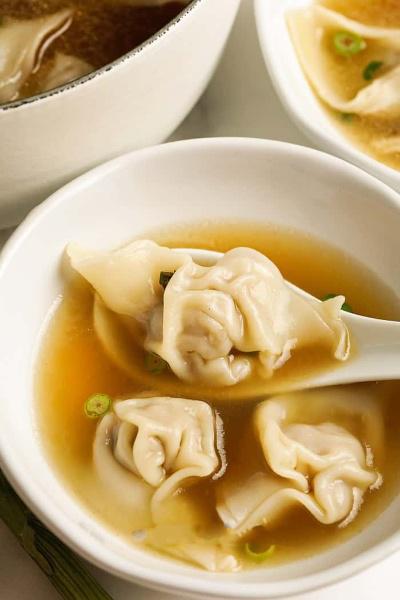 How to Store
Leftovers can keep in the fridge for up to four days (the noodles may soften a bit but should still be great). For make-ahead convenience, assemble the wontons for the freezer.
Fill wontons and place them in a single layer on a parchment-lined cookie sheet.
Place uncovered in the freezer. When frozen, transfer to freezer bags.
No need to thaw in advance. Just prepare the soup broth and pop in the wontons. Begin timing the cooking from when the broth returns to simmer.
Ingredients
Wonton Filling
8 ounces ground pork
2 green onions finely chopped
1 tablespoon soy sauce
1 teaspoon sesame oil
1 teaspoon fresh ginger grated
1 ½ teaspoons cornstarch
Broth
8 cups chicken broth
2 cloves garlic whole
2 slices ginger approx. 1/4″
2 tablespoons soy sauce
1 teaspoon sesame oil
2 green onions sliced
Instructions
Wontons
In a large bowl combine all filling ingredients.
Place 1 teaspoon filling in the center of a wonton wrapper. Moisten the edges and fold in half to create a triangle. Moisten the two longer tips and bring together. Press together.
Dip the bottom in flour and place on a parchment lined pan. Repeat with remaining wontons.
Soup
Bring all broth ingredients to a boil. Simmer 10 mintues.
Remove garlic and ginger and discard.
Add in wontons simmer 4-6 minutes or until pork is cooked through. Serve immediately.