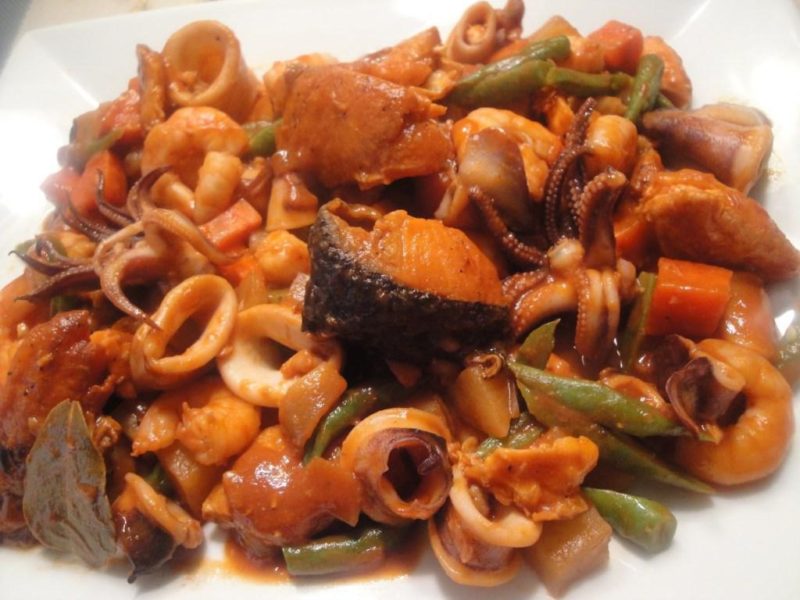 Ingredients
• 8 – 10 medium shrimp, deveined with tails
• 300 grams of small squid, cleaned
• 1 large fish fillet, cut into cubes
• ½ small carrot, julienne
• 1 small onion, chopped
• 3 cloves of garlic, chopped
• 1 tbsp cornstarch diluted in 1 tbsp water
• 1 green bell pepper, cut into strips
• 2 stalks of green onions
For the marinate:
• 1 tbsp soy sauce
• 2 tbsp oyster sauce
• ½ tsp sesame seeds
• black pepper
• green chillies
• cooking oil
Instructions
• Marinate the seafood in the soy sauce, chillies, oyster sauce, sesame seeds, and black pepper for about 30 minutes.
• Add cooking oil to a preheated pan. Sauté the onion and garlic until fragrant. Add in the marinated seafood. Stir and fry for about 3½ minutes over medium heat.
• Add in the carrots, green bell peppers, and the green onions. Stir and fry for a minute and a half over medium heat. Add in the diluted corn starch and stir for about 30 seconds until it thickens.
• Turn off the heat. Serve and enjoy your spicy seafood!