Apple Hand Pies are fried mini apple pies with a homemade pie crust loaded with apple pie filling and topped with a sweet glaze.
Apple Hand Pies are a fun and easy way to enjoy individual apple pies. There is no need to make an entire apple pie if you don't want to; these hand pies give you that apple pie taste in a matter of minutes. If you want to add your own touch to the dessert, you can make your own homemade pie crust and apple pie filling. But, of course, you can also simply buy those two things ahead of time.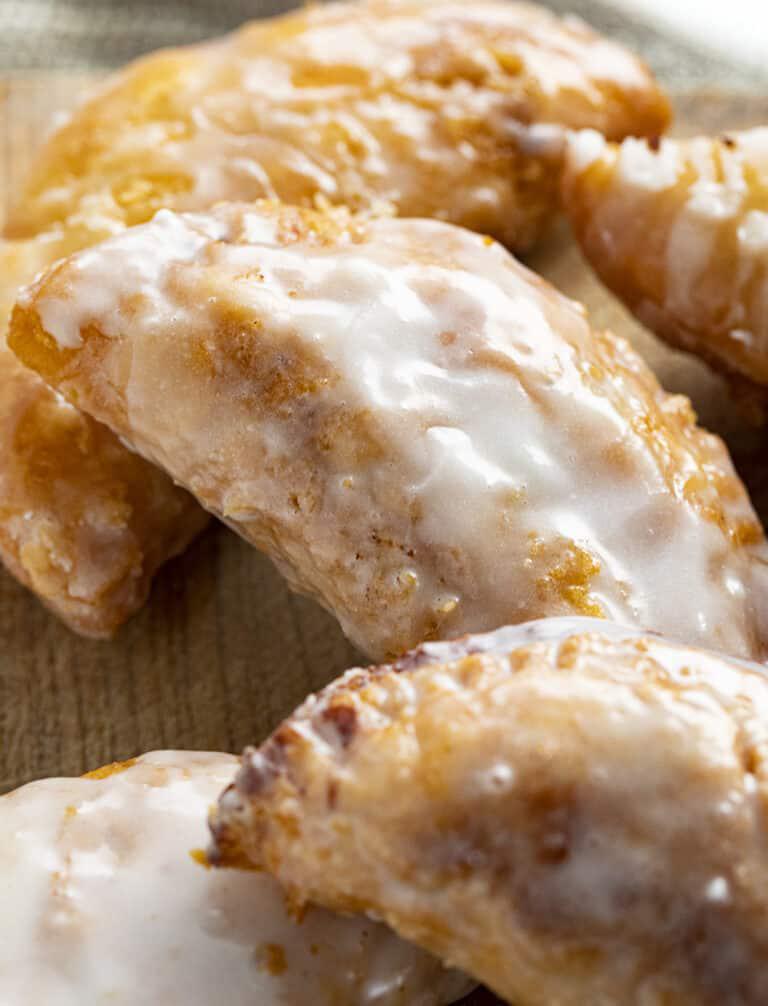 Apple Hand Pies Recipe
Again, you may want to make your own pie crust and filling, but it is not necessary if you need a fast dessert to serve. But, don't forget about the sweet glaze on top!
Hand Pies Ingredients (full recipe is in the recipe card below)
Pie crust–If you do make this homemade pie crust, be aware that you will only need half the dough since the recipe makes two crusts.
Apple pie filling–You will only use a cup of filling, so you will have some leftover from the homemade recipe; but, it's great over a scoop of ice cream!
Canola or vegetable oil
Glaze Ingredients (full recipe below)
Confectioners' sugar
Milk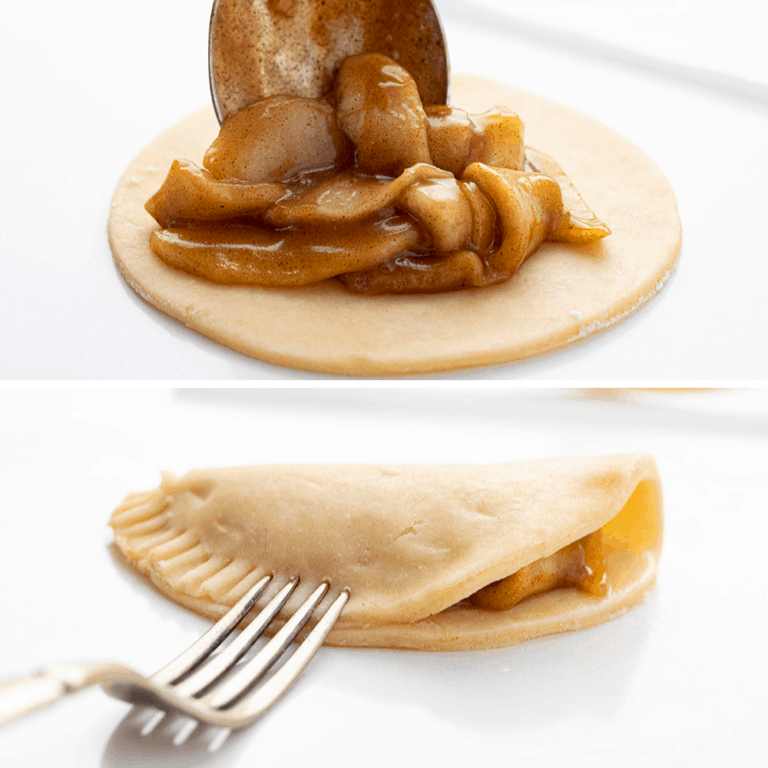 How to Make Apple Hand Pies
These apple hand pies are easy to make and such a fun treat to serve. First, roll out the pie crust to a thickness of 1/4 to 1/8-inch thick. Use a 4-5 inch round cookie cutter to cut out 10-11 mini pie crusts. (We used a 4 1/2-inch round cookie/biscuit cutter.) Next, add 1-2 tablespoons of the apple pie filling to each round. You may have to adjust this amount, depending on the size of each round.
Fold over each pie crust, like a half-moon shape, and seal and crimp the edges. To seal the crusts, dab water around the edge before folding. I just use a fork to get a crimped edge. Set aside as you make the glaze.
How to Make the Glaze
To make the glaze that will top the apple hand pies, simply mix the confectioners' sugar with 3 tablespoons of milk until smooth and creamy. If the glaze is too thick, add another tablespoon of milk to get to your desired consistency. Set the glaze aside as you fry the pies.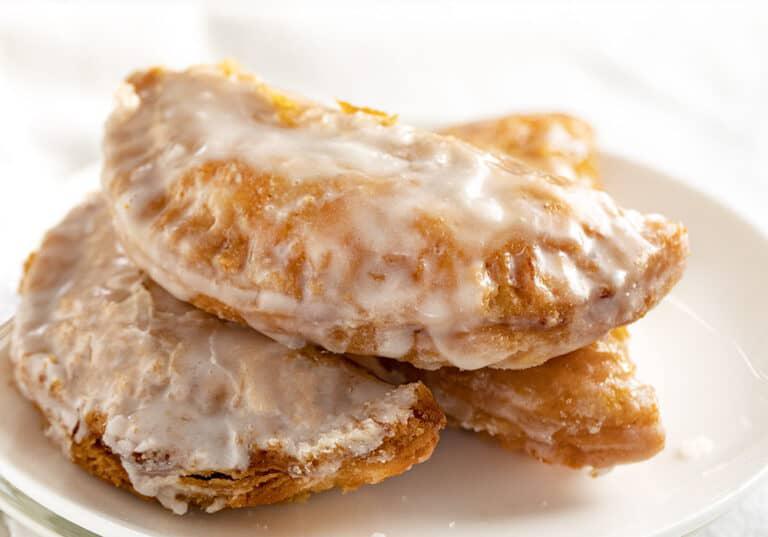 Frying Apple Hand Pies
Once your apple hand pies are folded, sealed, and crimped, it's time to get them fried and glazed. First, fill a pan 2-3 inches with oil. Use a candy thermometer to check for an oil temperature of 375°F. This usually takes about 15 minutes. If you don't have a candy thermometer, here are a few tricks you can use to check when the oil is ready:
One method to test the oil temperature is to put the handle of a wooden spoon into the hot oil. The oil will start to bubble steadily when it's good to go. If you are seeing the oil bubbling like crazy, it's too hot and needs to cool down a bit. If there are only a few to no bubbles, it's not hot enough.
Another method is using a 1-inch square of bread. Carefully put the bread into the oil and if it browns in 60 seconds, the oil is ready.
My favorite method is the popcorn test. Put a kernel of popcorn into the pan of oil as soon as you begin heating up the oil. As soon as that kernel pops, the oil is ready!
Once the oil is up to temperature, place 2-3 apple pies into the oil. Fry each until golden brown, or 3-4 minutes. Place the fried pies onto a cooling rack that is lined with a paper towel. Repeat with the remaining pies. Note: The oil temperature tends to cool down a bit after each batch, so you may have to wait a few minutes for the oil to heat up again before frying the next batch.
Can I use an Air Fryer?
Yes! To save on the mess and extra calories, these apple hand pies can surely be made in an air fryer. To make them, follow the instructions to make the hand pies. But, instead of heating up oil, spray the basket of an air fryer with nonstick cooking spray.
Place a few of the apple hand pies into the basket, spraying the tops with cooking spray. Air fry the pockets for about 5 minutes at 360°F. Flip them over and air fry them for another 4 minutes. Repeat with the rest of the pockets. They will be golden brown when done. Don't forget to add the glaze!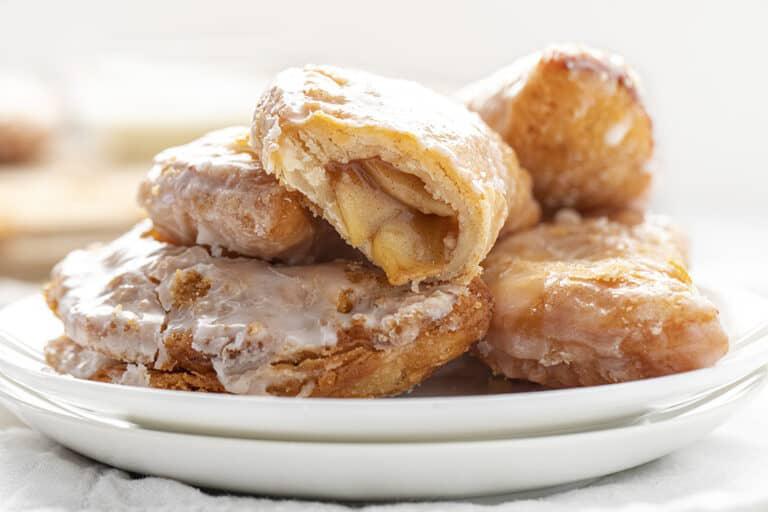 How to Glaze the Apple Hand Pies
There are a couple of ways to glaze the warm pies. One way to glaze them is to put a piece of parchment paper underneath the cooling rack and drizzle the glaze over each one. Another option would be to use a large fork to dip the pies into the bowl of glaze. Either way, they will be delicious and fun to share. Serve immediately.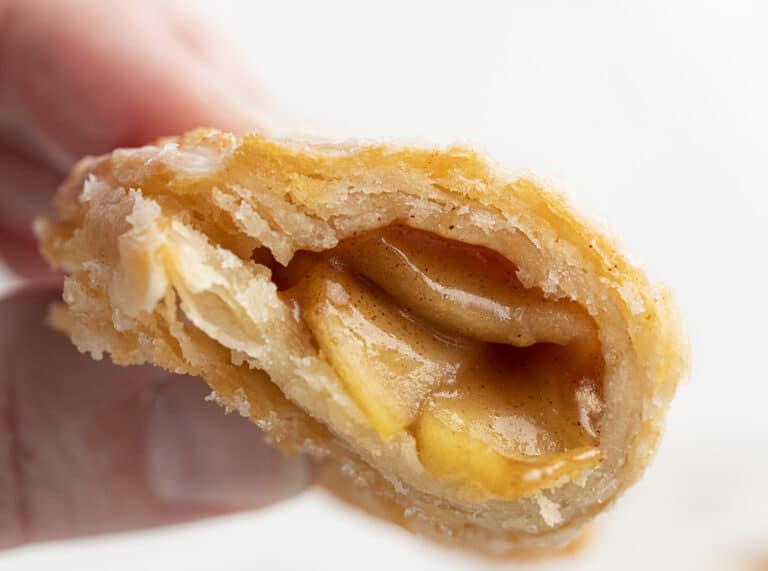 INGREDIENTS
APPLE HAND PIES
1 pie crust, homemade or storebought
Canola or vegetable oil, for frying
GLAZE
2 cups confectioners' sugar
3-4 tablespoons milk
INSTRUCTIONS
APPLE HAND PIES
Roll out the pie crust to 1/8 -1/4 inch thick and use a cookie cutter to cut the crust into 4-5-inch rounds. (You should get 10-11 pie crust rounds.)
Add 1-2 tablespoons of apple pie filling to each round. (If you made your own apple pie filling, let it cool before adding to the crust.)
Fold each mini pie crust (half-moon shape), rubbing water around to edge to help seal it. Crimp with a fork.
GLAZE
Mix confectioners' sugar and 3 tablespoons milk in a bowl until smooth and creamy. If too thick, add in another tablespoon milk. Set aside.
FRYING APPLE HAND PIES
Fill a frying pan 2-3 inches with oil. Heat over medium heat until the oil reaches 375°F with a candy thermometer.
Place 2-3 apple hand pies into the pan. Fry until golden brown (3-4 minutes). Transfer to a paper towel-lined cooling rack.
While the hand pies are still warm, coat with the glaze. You can coat the pies by drizzling the glaze over each pie or dipping each pie into the bowl of glaze using a large fork. Serve immediately.