This is a favorite to order at a Chinese restaurant and we eat it at home every week. Fried rice takes about 15 minutes start to finish (as long as you have leftover cold rice) and is the perfect side dish or main meal!
It's one of the dishes that everyone loves and it's the perfect way to use up any leftovers.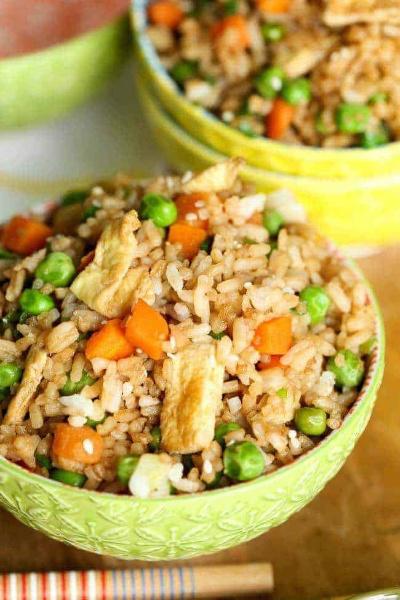 My daughter (who is almost 14) could pretty much exist on fried rice alone, it's her favorite! The great thing is that it's the perfect place to load up on vegetables!
What Goes into Fried Rice?
Of course, fried rice starts with day old (cold) rice, a bit of oil, and some aromatics like garlic and ginger.
To make a vegetable fried rice, we often add in leftover vegetables we have on hand (corn, mushrooms, green beans, and diced peppers are all great).
You can add in (or any protein at all) add protein, any cooked meat, including shrimp, chicken or beef would be great additions to this recipe!
Tips
Fried rice is so easy to make at home it's going to become a staple in your menu! Here are a few of my favorite tips to make sure your dish turns out perfectly every single time!
Use Day Old Cold Rice: You'll want to use pre-cooked cold rice. Starting with cold rice will help you to get a good crisp on it which adds flavor. Fresh rice has too much moisture and doesn't crisp up as well (although it does still taste great in a pinch).
Use a HOT Pan: Make sure your pan or wok is nice and hot. You'll add oil and you want the rice to crisp & caramelize a little bit to give it flavor.
Be Prepared: Fried rice is a VERY fast dish to make… you'll want to make sure all of your ingredients are measured and ready to go.
Pre-cook your eggs & protein: Once you have cooked your aromatics (garlic, ginger, onion) and vegetables, you want to crisp the rice and basically have everything else ready to go. This makes fried rice the perfect dish to use up leftover meat (beef, pork, shrimp or chicken). Just chop your leftovers and add them in with the eggs.
This easy rice dish is so quick to make and I have no doubt your family is going to love it as much as mine does!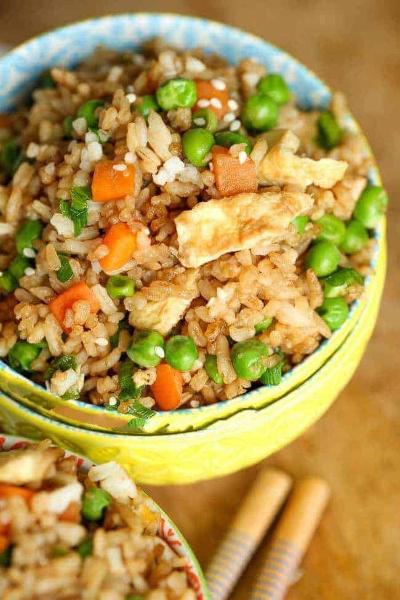 Ingredients
1 tablespoon canola oil
2 cloves garlic minced
2 teaspoons ginger minced
2 green onions sliced and separated
¾ cup frozen carrots or diced fresh
¾ cup frozen peas
2 eggs cooked and chopped
1 cup chopped cooked chicken pork or shrimp (optional)
3 tablespoons soy sauce
½ teaspoon sesame oil
3 ½ cups cold cooked white rice
Instructions
Heat oil in a wok or nonstick pan over medium-high heat. Add in garlic, ginger and the white portion of the green onions. Cook until fragrant.
Add carrots & peas, cook until heated and softened.
Add rice (and protein if using) continue to cook until rice slightly crisped and brown. Don't stir too much, you do want to get a little bit of caramelization.
Add in cooked egg, soy sauce & sesame oil.
Garnish with remaining green onion and sesame seeds if desired.