Nothing is better than a pot of cozy soup and this weight loss Vegetable Soup recipe is a favorite.
A variety of vegetables, including cabbage and zucchini, are cooked in a flavorful tomato beef broth for a healthy, heartwarming soup.
Naturally low in fat and calories, it's the perfect lunch, snack, or starter! While we eat it as a starter or lunch, to make this more of a main dish for dinner, we often add our favorite proteins.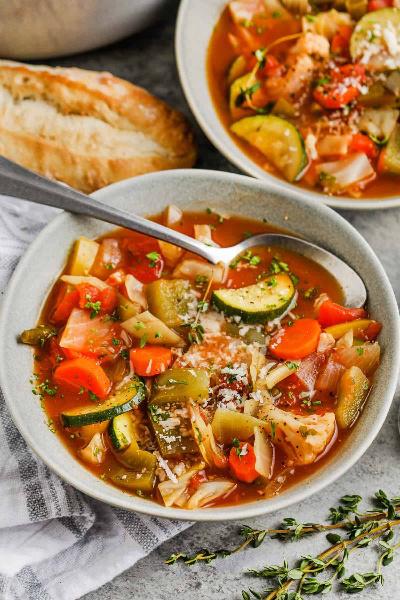 A Hearty Skinny Soup Recipe
Vegetable soup is delicious, healthy and filling!
It's great for weight loss because it's filling and low in calories. We enjoy a small bowl of this vegetable soup before each meal or I use it as a snack to tide me over until dinner.
And if you follow Weight Watchers, this is a 0 point soup… a freebie and it's low carb and keto friendly too.
This soup is quick to make, reheats well and you can add proteins or whole grains to make a hearty meal.
Prepared as directed, this vegetable soup comes in at only 52 calories per 1 cup serving and is loaded with protein, vitamins, and minerals.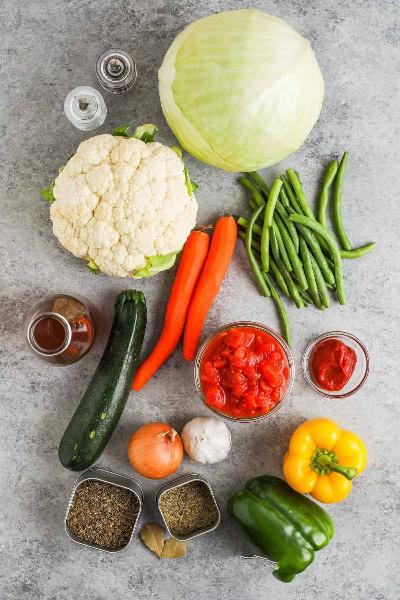 Ingredients in Vegetable Soup
This is the ultimate soup for any kind of add-in. It will still turn out perfect!
Beef Broth with a bit of tomato paste adds great flavor. I prefer beef broth over chicken broth but you can use any homemade stock or broth or vegetable broth if you prefer.
A variety of vegetables make this soup fun and flavorful. Cabbage adds bulk and fills your belly. If you're not a fan of cabbage, you can most certainly substitute kale or spinach. Keep in mind that kale will add more bulk and spinach will shrink down quite a bit.
Low Carb Veggies Cabbage, beans, cauliflower, bell peppers, tomatoes, zucchini, broccoli, celery
Starchy Veggies Carrots, potatoes or sweet potatoes (may need longer to cook), corn, green peas.
Add your favorite seasonings. Minced garlic, bay leaves, fresh thyme, and basil add a subtle flavor to the soup that complements the vegetables. Or, try one a DIY seasoning mixes like homemade taco seasoning, Italian Seasoning or Greek seasoning.
Optional additions include red pepper flakes, a squeeze of lemon juice.
SOUPER ADD-INS: Homemade vegetable soup is so versatile! Add fresh or leftover proteins like chicken, ground beef, or sausage. Or, keep it vegetarian and make a complete protein by combining white beans, chickpeas, or your favorite beans.
Hearty grains like barley or pasta like rotini, shells, or fun bowties will also make this a new dish every time!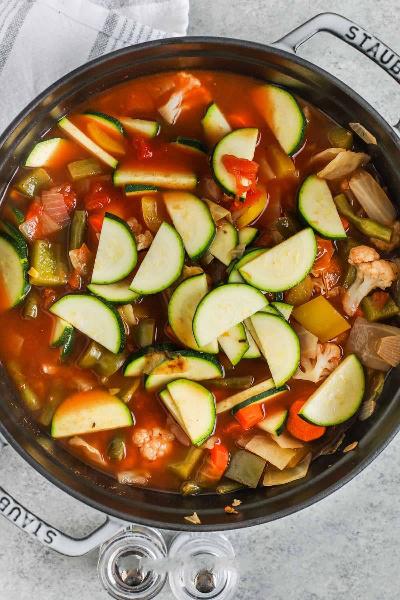 How to Make Vegetable Soup
Homemade vegetable soup is perfect for make-ahead lunches or batch cooking. I learned to make this healthy weight watcher's soup recipe years ago and it's always a staple in our kitchen.
Cook garlic & onion until softened.
Add cabbage, carrots, & green beans, cook until tender.
Add remaining ingredients (except for zucchini) & simmer as directed in recipe below.
Add zucchini & cook until soft. Remove bay leaves before serving.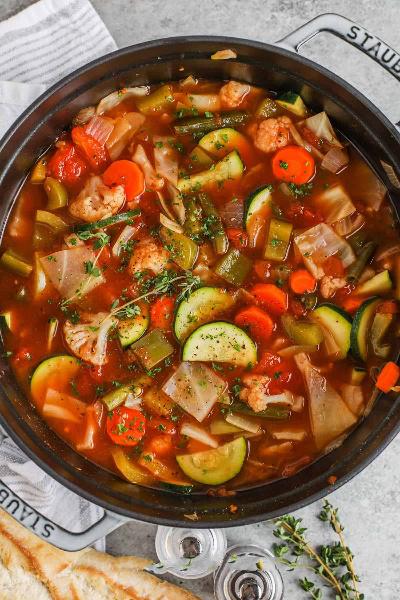 Slow Cooker
Saute onions & add all ingredients to the slow cooker.
Cook on high for 5 hours or low for 8 hours or until veggies are tender.
Remove bay leaves before serving.
Instant Pot
Cook onions using the saute function.
Add all ingredients to the Instant Pot and cook on high pressure for 6 minutes, naturally release for 5 minutes.
Remove bay leaves before serving.
Serving Suggestion: Serve soup with a sprinkle of fresh parmesan cheese or a small dollop of sour cream or Greek yogurt.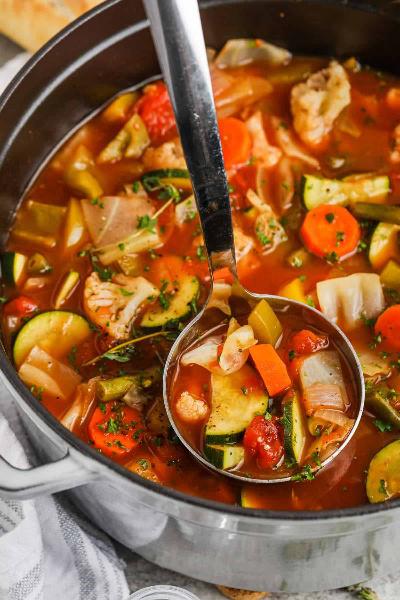 Storing Veggie Soup
While this soup isn't a magic weight loss secret, if you're trying to cut calories it is perfect to have in your fridge ready to enjoy when you need a snack or a quick meal!
This soup reheats well so mix up a big batch and enjoy throughout the week!
Keep vegetable soup in an air tight container in the refrigerator for up to 4 days. Freeze chilled soup in zippered bags or a freezer safe container for up to 4 months. Reheat or thaw directly on the stovetop.
Ingredients
1 teaspoon olive oil or butter
1 small onion diced
2 cloves garlic minced
4 cups cabbage chopped, approx. ¼ head of cabbage
1 cup carrots diced
1 cup green beans cut into 1″ pieces
2 whole bell peppers chopped
2 cups cauliflower florets or broccoli
28 ounces low sodium diced tomatoes with juice
6 cups low sodium beef broth
2 tablespoons tomato paste
2 bay leaves
½ teaspoon thyme
½ teaspoon basil
pepper to taste
2 cups zucchini sliced
Instructions
Heat olive oil in a large pot over medium heat. Add onion & garlic and cook until slightly softened, about 3 minutes.
Add cabbage, carrots, & green beans and cook for an additional 5 minutes.
Stir in bell peppers, cauliflower, undrained tomatoes, broth, tomato paste, bay leaves, and seasonings. Simmer 8-10 minutes.
Add in zucchini, simmer an additional 5 minutes or until softened.
Remove bay leaves before serving.
Recipe Notes
Add any type of vegetables you'd like. Quick cooking veggies like spinach and zucchini should be added at the end of cooking.
To make a hearty meal, add in cooked protein before serving such as shredded chicken or ground beef. Whole grain pasta or rice can be added to each serving as well.
Optional flavor additions include: a few dashes of hot sauce, a sprinkle of parmesan cheese, fresh herbs.
Leftovers can be stored in an airtight container in the fridge for up to 4 days. Freeze cooled soup in individual portions for up to 4 months. Reheat or thaw directly on the stovetop.